Rating: 2 Stars
Price: $32.99

PROS

CONS

Some Good Ingredients
No Proprietary Blends
Money back Guarantee

Ineffective & Under Researched Ingredients
Potential Side Effects
Missing Key Ingredients
Poor Serving Schedule
Boost Elite is manufactured by a company called Zhou Nutrition.
Their products are geared more towards outdoor types rather than your typical gym rat.
They have a range of food supplements and natural health products available including this test booster.
They project an image of you being in harmony with nature on their website; which is nice but are their products actually effective?
Does Boost Elite do what it says on the bottle?
They promise you just what you want to hear:
Ok the only place to start is with the nutrient profile. Let's break down the ingredients one by one and see if they support these claims.
---
What are the ingredients and how do they work?
Ingredient Overview
They get a big green tick for using a non-proprietary blend.
We can clearly see every ingredient quantity in the formula and therefore how effective it is overall.
However the actual nutrients get off to a very poor start by including a large amount of Tribulus Terrestris. This has been shown repeatedly to have no effect on T levels in human trials.
Unfortunately things only get worse, this blend is made up of largely libido boosters, Horny Goat Weed, Maca Root and LongJack none of which have been proven to raise your T.
We feel there is a real lack of research from Zhou Nutrition when it comes to effective T boosting ingredients.
Not only that but Yohimbe Bark is known to cause side effects.
It does have some saving graces though, with the herbs like Fenugreek, Ginseng and the mineral Zinc making an appearance. However this isn't really enough.
The performance of this blend could be massively improved by adding D-Aspartic Acid, Magnesium and Vitamin D3 all proven to raise testosterone.
All in all this is not a great formula, it will probably give you some libido enhancement but little to no effect when it comes to energy or boosted T levels.
Here is a more detailed breakdown of the ingredients:
Zinc (as Zinc Citrate) 40mg
Zinc is recognized as being one of the most important minerals for testosterone production.
It used for chemical reactions in your brain to trigger the production of the Luteinizing Hormone (LH).  LH is actually a precursor to testosterone while it also increases the production of growth hormone.
The more LH you have in your system the more you can raise your T Levels.
There are different types of Zinc and the amount you take will depend on the amount of elemental zinc involved.
For example; zinc citrate is 34% elemental zinc. To take a zinc dose of 50mg you would need 146mg of zinc citrate.
This product has 40mg zinc citrate; this equates to 17mg of zinc. This is just over the recommended daily allowance of 15mg although safely under the daily upper tolerance limit of 40mg.
A great addition to this formula, it is looking elite on the very first ingredient.
Tribulus Extract (45% Saponins) (fruit) 500mg
This is a natural herb prevalent in tropical parts of Europe, Asia, Australia and even parts of Africa.
Also known as the puncture vine this herb turns up in many T Boosters despite the fact that research completed in the last ten years has failed to show any discernible benefit of using it for enhanced hormone production.
The problem with this herb is that it has been shown to boost testosterone levels in studies on rats. Unfortunately the research results are not consistent when human studies are used.
There is no real scientific proof that shows this will boost your T levels, making this the first disappointing downward drop for an "elite product".
Horny Goat Weed 400mg
This is the herb to take if you're looking to boost your libido levels!
Unfortunately while this might help you feel hornier it won't actually boost your T levels.
Studies have again only been completed on animals but the results are mixed. There are some results which show improvements in testosterone and some which show a decrease.
Most importantly, these studies are on animals, not humans. This is the second ingredient which could have be left out, not a great start!
Fenugreek Seed Extract (60% Saponins) 300mg
This is a step in the right direction.
Although not one of the most powerful ingredients for testosterone boosting it has been shown to have an effect.
Fenugreek has been used in ancient Indian medicinal practices to boost libido and it seems to be effective at this.
But, research also shows that it can help to regulate your blood sugar level. This is a good thing.
When your blood sugar level goes up your body has to produce insulin to control it. The process of producing insulin reduces the facility of your body to produce testosterone.
Anything which lowers the need to produce insulin indirectly increases your capability of making testosterone. Fenugreek does just this!
Maca Root Powder 250mg
This herb comes from the High Andes of Peru, giving it an allure of the mystical. But that's as far as it goes!
Maca Root is believed to improve your libido. It is full of nutrients which make it a healthy addition to your diet. However, it does not boost your T levels.
Initial studies confirmed that this plant can mildly boost your libido. This was taken by many companies to mean that it was a T booster. However, studies show that it has no effect on T levels or your Luteinizing Hormone (LH) a precursor to testosterone production.
Another disappointing addition.
Panax Ginseng Root Extract 150mg
Here we have another libido booster, which probably makes you wonder what the aim of this pill actually is.
Fortunately it does have some effect on T levels as well.
Panax ginseng is also known as Red Korean Ginseng. Studies have shown that it is capable of boosting your nitric oxide levels.
This helps to expand your blood vessels allowing more oxygen and nutrients to your muscles and organs. This is why you'll have an improved libido and erection.
Ginseng can also reduce your blood sugar levels, allowing you to boost your testosterone levels indirectly; in the same way that fenugreek does.
So another good option.
Diindolylmethane (DIM) 100mg
This compound is found in plants, specifically dark green vegetables such as broccoli and cauliflower.
It is believed that DIM can help to balance your hormone levels and may increase free testosterone.
It does this by releasing estrogen that binds with the Sex Hormone Binding Globulin (SHBG). This reduces the amount of SHBG available for testosterone to bind to. The result is more free testosterone.
Unfortunately the studies available offer conflicting results. While it shows the potential to boost free testosterone other studies have shown that it can actually block the androgens responsible for producing a variety of hormones, including testosterone.
This seems to be the case in high doses, studies that used 100mg or more reported no increase in T levels.
It looks like in trying to be elite Zhou Nutrition might have gone a step too far and over dosed this under researched compound.
Tongkat Ali Extract (100:1) 50mg
Tongkat Ali is also known as Eurycoma Longifolia or LongJack and originates from Malaysia.
It has developed a reputation as a T booster. Unfortunately research does not back this up yet.
There have been several human studies. Increases in T levels were noted in men with very low levels of testosterone and in tests completed in a petri dish.
But more research needs to be completed before it can be definitively said that it acts as a T booster.
Perhaps this would have been better to leave this out until the research has been completed.
Yohimbe Bark Extract 1.5mg
Yohimbine is actually an alkaloid substance which comes directly from the bark of the Yohimbe tree. This tree is naïve to Africa and is known to be evergreen.
Research shows no effect on T levels, in humans or rats. In addition it is believed to increase your levels of cortisol which could actually damage your ability to produce testosterone.
It does appear to improve blood flow, particularly to the sexual organs so it may help with erectile dysfunction but evidence is not conclusive. Although the recommended active dose for sexual performance is between 15-30mg so 1.5mg her is unlikely to do anything.
What is concerning is that there are side effects associated with supplementing yohimbe bark orally, which will get to soon.
There are much better ingredients which could have been included.
---
How do I take it?
Take either 1 to 2 servings per day (3 capsules) with breakfast and/or lunch for at least 30 days.
It also emphasizes not to take within 5 hours of bed. Which is strange because there are no stimulants in it or anything to boost energy.
We would say this is a poor to mediocre serving schedule as the best T boosters require you to take 3-4 servings per day. This keeps T levels elevated around the clock for maximal results.
One thing to note is that if you take 2 servings a day (6 capsules) one bottle will only last you 15 days which isn't great value for money.
They should have at least of included 180 capsules per bottle not a stingy 90!
---
Are there any Side Effects?
Containing all natural ingredients and being vegan friendly it shouldn't cause you side effects with the exception of Yohimbe.
This nutrient is known to cause severe side effects which include:
Heart Attack
Irregular or Rapid Heart Beat
Kidney Failure
Seizures
Of course this is more likely to be with higher doses than contained here but we would err on the side of caution.
Typical doses are also known to cause cause gastrointestinal distress. It is has also been linked with hypertension and increased anxiety (through elevating cortisol levels).
The bottom line is you shouldn't be supplementing with Yohimbe especially long term without consulting a health professional.
---
PROS
Some Good Ingredients

Zinc is certainty a valuable addition to this T booster for getting your hormones moving upwards.

While the herbs Fenugreek and Ginseng offer many benefits including helping to support higher T levels indirectly.

Beyond these 3 ingredients however Boost Elite offers very little.
No Proprietary Blends

Good news for you the user, as you can see exactly how much of each ingredient you are taking.

Are there active doses or are you just wasting your money?

It also helps see potential side effects from overdosed nutrients.
60 Day Money back Guarantee

Although not a great formula Zhou does offer a 60 day money back guarantee for this product which is nice to see.
---
CONS
Ineffective & Under Researched Ingredients

Most of the ingredients including Maca root, Tribulus, Longjack and even Yohimbe are not backed by clinical studies to raise testosterone.

Although the synergistic effect of these nutrients together may enhance your libido but that is not the same thing.
Potential Side Effects

Yohimbe bark is a known to cause some quite serious side effects which we already covered.

Although in a small quantity here we would recommend you seek medical advice before supplementing with this nutrient.
Missing Key Ingredients

Although Zinc is present there is no trace of Magnesium, D-Aspartic Acid or even Vitamin D3.

These are powerful direct testosterone boosters found in the most effective products yet they haven't been included.
Poor Serving Schedule

One to two servings a day is not going to get you the best results.

A T booster needs to give 3 -4 servings a day in order to be truly effective at boosting and maintaining your T levels.

With just one serving the nutrients are soon used up or flushed out of your system after a few hours causing levels to drop.

When you take multiple servings over the day you keep T levels raised longer for the best results.
---
What are people saying about Boost Elite?
The reviews displayed on Zhou Nutrition's official website did give Boost Elite a 4.6 star rating. Considering there were 1,458 reviews this was quite an achievement!
Unfortunately the majority of these reviews reference how much more energy and motivation they have to complete their workouts. There is little to no mention of the other testosterone boosting benefits.
We did notice that this huge number of reviews has now dropped to just 3 reviews which should cause you to be slightly wary.
Amazon offers a very similar different view. The rating is a fairly impressive 4.2 stars but only 61% of people actually give it 5 stars.
The problem is when you start reading the reviews. There are some positive comments and detailed responses but they all talk about increased energy levels and libido.
This is not the same as increased T levels. I can only think this formula has more of a placebo effect for energy because none of the nutrients will help in this department.
The problem intensifies when you look at the 1 star ratings. Not only is there still no increase in T levels but there are several reports of headaches, nausea, stomach cramps, sore testicles and a lack of hunger.
In short, despite the good ratings no reviews are singing praises as an effective T booster!
---
Final Thoughts
I really liked the look of this product and Zhou Nutrition's overall approach.
A healthy outdoor lifestyle, keeping your body in tune with nature by using purely natural animal free ingredients.
But while it may give you some libido enhancement this formula is totally ineffective for raising testosterone levels.
We don't see anything here that will give you the energy or endurance that it is claiming to help with your exercise and workouts either.
The nail in the coffin is the inclusion of Yohimbe which is known to cause severe side effects. We recommend you avoid this product and look elsewhere.
---
Bottom Line
Our Rating: 2 Stars
There is no doubt that this product is disappointing.
Despite being offered by a reputable supplier which states quality is important; there appears to be a serious lack of research into the proper ingredients needed.
Many of the nutrients have been shown to do nothing for T levels and then there is the addition of a potentially dangerous ingredient in Yohimbe bark which signals game over.
Finally this might not be the worst T booster I have reviewed there are way better products you should be considering.
---
Updated! The 5 Most Effective Testosterone Boosters in 2022!
Find out for yourself the top 5 natural T-boosters currently available on the market right now.
These are the best choices if you want to...
Build Muscle Quickly
Rapid Strength & Size Increases
Promote Fat Loss
Increase Energy
Enhance Sex Drive
Click Here to See the Full List!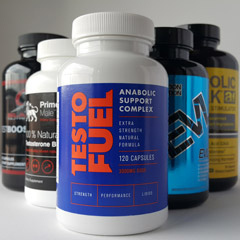 ---