Rating:
Price: $29.49

PROS

CONS

Increased Energy
Effective Ingredients
Improved Focus
Good Value
10 Flavors

Potential Side Effects
Some Ineffective Ingredients
Could Cause Insomnnia
Can't Double Scoop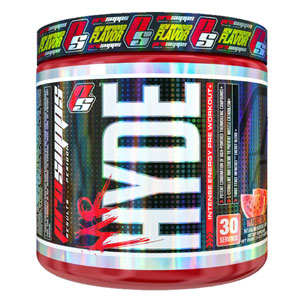 My Hyde is a high stimulant supplement from ProSupps. Their official website states this is the most extreme and effective pre-workout on the market.
So with that in mind lets take an in-depth look to find out if this is really true.
ProSupps claim Mr Hyde will give you:
Significant Muscle Pumps
Enhanced Endurance
Maximum Performance
Focus, Muscular Strength and Power
ProSupps are an established gym supplements company founded in 2004. Based in Allen Texas, USA they produce a variety of weight loss, pre-workouts and a testosterone booster called Halotropin.
First lets look at the science behind their nutrient profile…
---
What are the ingredients and how do they work?
Ingredient Overview
Overall we like the mix of great proven pre workout ingredients which includes caffeine, L-citrulline and creatine. On the downside there are one or two ingredient that either have side effects or just don't work.
While the label lists the formulas as proprietary blends the numbers do add up; we can see clearly what dosages of ingredients we are consuming.
Mr Hyde is certainly a high stimulant supplement with a whopping 376mg of caffeine. Without a doubt you will be highly energized but potentially fall victim to some negative side effects.
The L-Citrulline is under dosed, don't expect much of a muscle pump from 500mg. We would say the creatine dosage is effective for a pre workout.
Overall the formula looks promising, but let's take a closer look at the nutrients….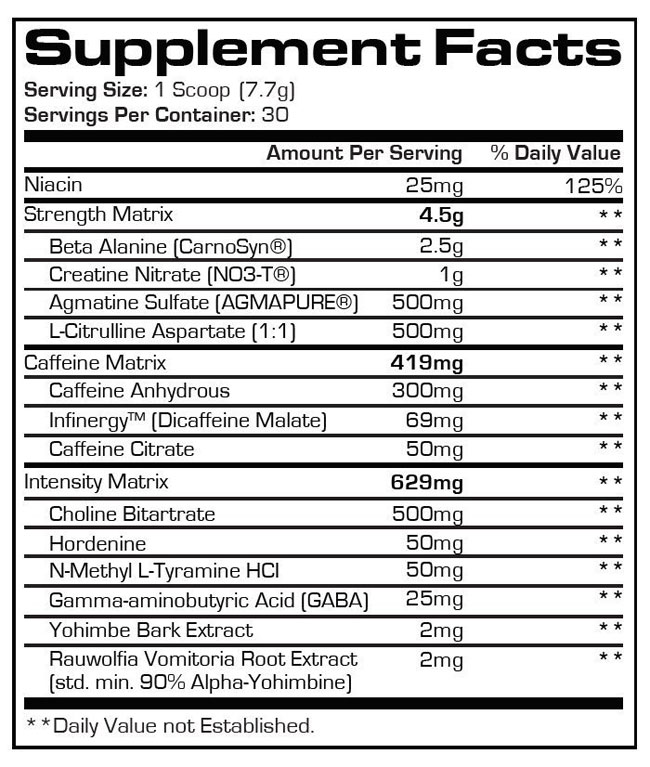 Niacin (25mg)
This is Vitamin B3 and nothing really special for a pre workout.
Although it is an essential vitamin most people don't have a deficiency in B3.
There are some theories that it has some mild cardiovascular effects – but nothing really promising.
Strength Matrix
(4.5g)
Beta Alanine (CarnoSyn®) (2.5g)
A popular pre workout ingredient because it can improve muscle endurance and power output.
This amino acid works by buffering the acid in your muscle. Great for explosive power; you should notice better performance in the first few minutes of your exercise.
However this performance comes with a price. Research has shown that it causes paresthesia (pins & needles) when consumed in quantities over 0.8-1g.
This is a tingling/burning sensation that you feel in your neck and arms.
While it is not harmless the side effects can be very distracting and ruin your workout.
Creatine Nitrate (NO3-T®) (1g)
An excellent choice for both strength & endurance.
Studies have shown that by supplementing with creatine the amount of adenosine triphosphate (ATP) in the bloodstream increases.
Your muscles use this ATP for energy. Therefore the increase means your muscles are able to perform with a higher intensity, with a higher power output for longer.
This is a good addition for those who want to boost their strength in the gym and it comes with an effective dose for a pre workout.
Agmatine Sulfate (AGMAPURE®) (500mg)
Not the best nutrient choice really.
This amino acid is meant to increase muscular energy by increasing muscle storage of glycogen and water.
It can also acts as a vasodilator promoting nitric oxide production and improving blood flow.
Human studies are limited so there is no real concrete evidence of its effectiveness so far.
L-Citrulline Aspartate (1:1) 500mg
One of the best amino acids available for both muscle pumps and endurance.
Numerous studies have shown that this nutrient promotes the overall levels of nitric oxide in the blood.
Nitric oxide is known as a vasodilator meaning it helps improve blood flow by dilating blood vessels and increasing blood circulation
What this means for you is that you'll experience some fantastic muscle pumps whilst training.
Research studies have shown that you need at least 4 – 6g of Citrulline to get the full benefit.
Unfortunately Mr Hyde only contains 500mg so you are unlikely to get the desired muscle pump.
Caffeine Matrix (419mg) (376.7mg pure caffeine)

Caffeine Anhydrous (300mg)
Arguably the best natural stimulant available if not the best.
The anhydrous version is essentially pure natural caffeine with all the water content removed.
Numerous research into caffeine shows that it helps promote both energy and power output while training.
In addition it has the ability to improve focus and even increase your metabolism which can help with fat loss.
However the potential problem we see here with the caffeine matrix is that it is super strong at nearly 400mg.
At this high amount it is likely to cause side effects depending on your caffeine tolerance.
We will go in to more detail on this later.
Infinergy™ (Dicaffeine Malate) (69mg) (51.7mg pure caffeine)
A bonded combination of caffeine and Malic acid. It is formulated to allow easier digestion by buffering the salts in caffeine.
It should help prevent a crash once the caffeine has worn off but there is little scientific research to support this.
Caffeine Citrate (50mg) (25mg pure caffeine)
Caffeine combined with citric acid monohydrate & sodium citrate dihydrate.
It is believed to help caffeine levels in the blood to peak much quicker at around 2 to 4 times quicker.
Again there few studies exist to prove its effectiveness over the anhydrous form.
We found that the pure caffeine content in Mr Hyde is actually 376.7mg taking into account the Malate & Citrate versions which have lower purity levels.
Intensity Matrix
(629mg)
Choline Bitartrate (500mg)
Normally found in nootropics (smart drugs) this nutrient has been added to improve focus in the gym.
Studies have shown that it enhances cognitive function promoting both concentration and learning.
However the clinical dosage required to achieve this benefit is around 1000 – 2000mg.
With 500mg you are unlikely to experience the full benefits.
Hordenine (50mg)
This is also known as N,N-dimethyltyramine and it's believed to work as a fat burner.
So far there is little concrete evidence that it does so and studies have shown that it give unreliable effects.
This won't improve your workout performance in any way. Furthermore this nutrient has been reported to give a false positive result for opiates in drugs tests.
So be careful if you compete.
N-Methyl L-Tyramine HCI (50mg)
Showing similar properties to Hordenine it can increase insulin secretion and decrease blood sugar levels making it suitable as a fat burner.
So far there is not enough evidence to show its effectiveness as a fat burner.
Gamma-aminobutyric Acid (GABA) (25mg)
A solid amino acid for improving cognitive function.
GABA promotes depressive neurotransmitters which leads to calming in the body.
This should help your concentration levels allowing you to be more focused and alleviate feelings of stress or anxiety.
However studies are mixed on its effectiveness so it's not completely reliable.
Yohimbe Bark Extract (2mg)
This is not a great choice.
Used mainly in fat burners as an appetite suppressant it has been shown to be effective in certain cases.
However there have been numerous reports of side effects from users when using Yohimbe.
Rauwolfia Vomitoria Root Extract (std. min. 90% Alpha-Yohimbine) (2mg)
Works in a similar way to Yohimbe as an appetite suppressant. However there is very little evidence out there to support its effectiveness.
Taking this in a pre workout is not going to give you much if any benefit overall.
---
How do I take it?
Mix 1 scoop (7.6g) with 8oz (240ml) of water. Take 15 to 30 minutes before you exercise.
Avoid consuming 4 hours before you sleep. Don't take any other products containing caffeine or stimulants whilst taking Mr Hyde.
---
Can I double scoop Mr Hyde?
Absolutely not!
Mr Hyde contains 376mg of caffeine which is the same as consuming around 4 cups of coffee. Double that would be getting on for a 752mg or 8 cups of coffee!
We actually recommend that you don't consume more than 300mg, but we are aware than some people are less sensitive to caffeine like myself.
If you have a low tolerance then we recommend you actually start with half a scoop and working your way up. This avoids any nasty surprises.
Double scooping is a definite no no unless you want the severe side effects…
---
Are there any side effects?
There are actually 3 ingredients that will potentially give you side effects. The caffeine, the beta alanine and the yohimbe.
On average most people start to experience side effects from caffeine over 300mg. So at 376mg you should expect these side effects depending on your sensitivity…
Sleep problems
Fast heartbeat
Jitters
Stomach upset
Anxiety
Beta Alanine isn't harmful but the side effects can become distracting and annoying. It causes paresthesia which you may know as pins and needles.
This causes your hands, face and scalp to itch or you may feel a burning sensation. This can be very off putting when you are trying to focus on your workout.
Reports into Yohimbe have shown it can cause hypertension, anxiety and gastrointestinal distress.
These are not the kind of things you want when trying to workout.
---
PROS
Increased Energy

If there is one thing that Mr Hyde does right, its give you high levels of energy. But not everybody is going to be able to handle such large amounts of caffeine, the same as 4 cups of coffee.

Effective Ingredients

A great mix of some of the top pre workout ingredients available. A good amount of Creatine, a huge dose of caffeine but an under dosed amount of L-Citrulline.

Improved Focus

There are a couple of good focus agents in there that will help you in the gym.

Good Value

For around $30 you are getting 30 servings.We would even go as far as saying not everybody needs to take a full scoop; so taking half scoops you get 60 servings for $30.

10 Flavors

There are a nice variety of flavors, but customer reviews suggest they are not all great.

Currently they have Berry Blast, Blue Razz, Cherry Bomb, Cherry Limeade, Cotton Candy, Fruit Punch, Green Apple, Mango Passion Fruit, Orange Burst and finally Watermelon.
---
CONS
Potential Side Effects

With such high caffeine content there is strong chance of overdosing leading to negative side effects.

Of course this is dependent on your sensitivity to caffeine.Beta Alanine and Yohimbe are both ingredients have the potential to cause unwanted reactions.

This can be both distracting and uncomfortable for you while exercising. See the side effects section above for more information.

Some Ineffective Ingredients

There are few unproven ingredients added to Mr Hyde.

Namely the thermogenic compounds Hordenine, N-Methyl L-Tyramine HCI & Rauwolfia which we believe should have been left out.

They also won't give you any performance benefit, so why take them?

Could Cause Insomnia

ProSupps do actually recommend that you don't consume this pre-workout 4 hours before bedtime.

But this really isn't an adequate safe measure for many people.

Consuming such high amounts of caffeine at any time of the day may lead to sleep problems at night.

Can't Double Scoop

If you want to take advantage of some of the other ingredients in higher dosages you can't.Again the high caffeine content means you can't double scoop.
---
What are people saying about Mr Hyde?
We couldn't find any user reviews on the official ProSupps websites.
However on retail websites such as Amazon and Bodybuilding.com we found reviews were generally favorable.
Many users really liked the big amounts of energy it gave them but on the flip side there are quite a few who experienced negative side effects.
This included jitters, headaches, rapid heartbeat and feeling dizzy which totally ruined their workouts. Crashes post workout were quite common too.
Lack of muscle pump was also an issue for many reviewers and that's undoubtedly down to the under dosed L-Citrulline.
When it came to the taste of flavors reviews were mixed, they either loved it or hated it.
---
Final Thoughts
Our feeling is that this product is suitable for pre workout junkies with very high caffeine tolerances.
All these potential side effects can quite easily make you ill and mess up your gym workout making it highly ineffective.
At least if you do try it, start with half a scoop to avoid any nasty surprises.
---
Bottom Line
Our Rating:
This is a highly effective pre workout if you are looking for huge amounts of energy and a good amount of focus.
The problem is that most users experience some or all of the negative side effects.
Long term this isn't the healthiest or the most effective pre workout available with the potential to ruin your workout and focus with its side effects.
Although we like this product there are better options available.
---
Updated! The #1 Pre Workout for 2022!
The best selling pre-workout supplements currently available on the market.
The best choice for you if you want...
Increased Energy
More Focus
Intense Muscle Pumps
Explosive Power
No Side Effects

See quicker, better results and maximize your body's potential...
---