Rating:
Price: $29.99

PROS

CONS

Effective Ingredients
Increases Energy
Some Improved Focus
Good Value
8 Flavors

Proprietary Blends
Potential Side Effects
Some Ineffective Ingredients
Unnecessary Ingredients

C4 Original is an extremely popular and widely known pre-workout by Cellucor first launched in 2010. The manufacturers claim its America's #1 selling pre-workout.
If true is it really the best product available? Here we look at the very latest formula and see how effective it is based on facts.
We want to know if it lives up to its popularity or if it's all just marketing hype.
On their website Cellucor claims the C4 formula will give you:
Explosive Energy
Better Endurance
Heightened Focus
Muscle Pumps
But how well does it really work? The first thing to do is analyze the ingredients to see how effective it is based on scientific research…
---
What are the ingredients and how do they work?
Ingredient Overview
C4 original looks to be a solid pre workout containing the effective ingredients caffeine, beta-alanine and creatine.
We can say the caffeine is nicely dosed at 150mg, the creatine nitrate is about optimal for a pre workout at 1g and the beta-alanine is just about right at 1.6g.
Remember you will feel the tingling/itching side effects of beta-alanine with dosages over 1g. With that being said you should experience some decent energy and endurance benefits from this formula.
A big negative is that they have used a proprietary formula for the "Explosive Energy Blend". We therefore don't know how effective overall some of the nutrients are.
These are the ones designed to enhance focus and the stimulant Theacrine.
What are Cellucor trying to hide by not telling you these amounts?
Another problem I can see is that they added arginine AKG to promote muscle pumps. This has been proven to be ineffective when consumed orally, so don't expect the major pumps they are claiming from this product.
There are a large collection of B vitamins in this formula along with a large amount of vitamin C.
Although these are essential micronutrients for your body to function and perform, they are something you can quite easily supplement. Either with a good multi-vitamin at a fraction of the cost or just get your diet right.
Although the formula looks fairly decent it's not the best we have seen.
Let's take a look at the all ingredients in closer detail…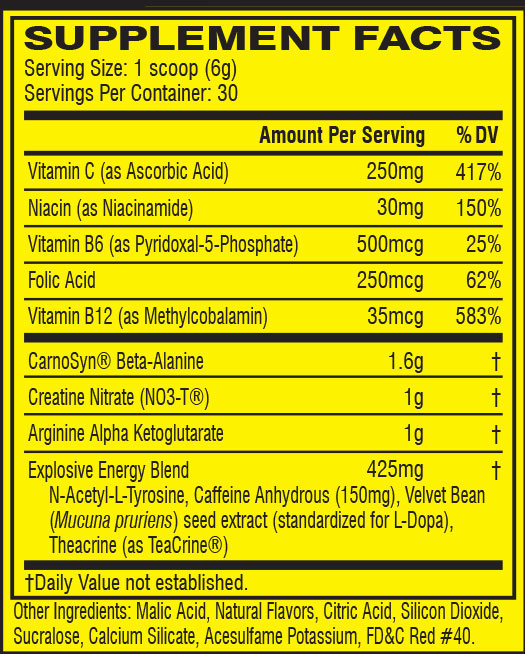 CarnoSyn®Beta-Alanine (1.6g)
This is one of the more effective amino acids for improving gym and athletic performance. The downside however is that it can cause you unwanted side effects.
Beta Alanine has been shown in studies to promote both power output and endurance.
It does this by buffering the acid in your muscles. By increasing the carnosine concentrations in your muscles and other tissues it slows the buildup of hydrogen ions (H+) which leads to a drop in pH. This drop is what leads to fatigue during intense exercise. Beta-alanine therefore increases muscular endurance.
Unfortunately lots of users have reported side effects – namely a tingling sensation known as paresthesia. We will go into more detail on this later.
Creatine Nitrate (NO3-T®) (1g)
A great choice for increasing strength and power.
Backed by hundreds of scientific studies. Creatine is an amino acid that has been shown to improve power output by fueling adenosine triphosphate (ATP).
ATP is basically what your muscles use for energy. Therefore the more ATP you have the higher your power and strength output.
C4 is using the nitrate version here. There are very few studies to show the benefits over the monohydrate version but it's supposedly meant to be more easily absorbed by your body.
This can avoid poor absorption issues which can result in dehydration, abdominal cramps and diarrhea. But there are no conclusive studies yet.
The nitrate content can supposedly also help with muscle pumps – but with hardly any studies into this form of creatine it is hard to say.
Arginine Alpha Ketoglutarate (1g)
Not the best option for muscle pumps.
This amino acid works as a vasodilator to help improve blood flow and promote muscle pumps. The problem lies in its delivery system.
Studies have shown that when Arginine AKG is taken orally it doesn't work all that well. This is because the body is unable to absorb it properly and therefore has very little effect.
A much better choice would have been L-Citrulline which is a much more effective vasodilator.
Explosive Energy Blend (425mg)
Caffeine Anhydrous (150mg)
Easily one of the best natural stimulants you can find for energy.
You are probably already aware of its effects if you have had a cup of coffee or tried an energy drink. Countless reports and scientific studies have shown it to promote high energy and power output.
It also has the benefit of increasing mental alertness meaning you can fully focus on your exercise form getting the most out of your session without distraction.
There is now also evidence to show it speeds up your metabolism and promotes fat loss.
N-Acetyl-L-Tyrosine (???mg)
An amino acid that can help reduce stress levels and boost focus.
It does this by reducing the stress hormone cortisol which your body releases when exercising. High levels of cortisol can make you feel anxious and distracted.
Tyrosine should help reduce overall stress levels in the body, keeping you calmer and more focused.
This is a nice supporting ingredient for a pre workout, however the dosage amount is not listed on the label so it's hard to say how effective it is.
At 150mg we would also say the amount is spot on, in fact you could probably double scoop this without any issues.
Velvet Bean (Mucuna pruriens) seed extract (standardized for L-Dopa) (???mg)
A tropical legume found in Africa and the tropics of Asia.
It is quite similar to Tyrosine in that it can help reduce stress. It is a good source of L-Dopa which directly promotes the "feel good" hormone dopamine elevating your mood.
You should therefore benefit from more concentration and focus while reducing stress during exercise.
Theacrine (as TeaCrine®) (???mg)
This alkaloid is structurally very similar to caffeine.
The benefit over caffeine is that this stimulant can help you build less of a tolerance to it.
Although it should help promote energy levels, the results from studies have been unreliable. It may not be as effective as first claimed.
Certainly this is not your best ingredient for a pre workout.
Vitamin C (as Ascorbic Acid) (250mg)
A very important nutrient that is sometimes hard to get in your diet if you don't eat enough fruits and vegetables.
Its main benefit is boosting your immune system and protecting against illnesses such as the common cold.
There have been studies suggesting that Vitamin C may have a role in promoting blood flow. However there have been no significant conclusions drawn yet. It may or may not work as a nitric oxide booster.
Not the best option to have it in a pre-workout supplement.
Niacin (as Niacinamide) (30mg)
This is vitamin B3 another essential vitamin but not really necessary in a performance supplement.
There have been suggestions that it can work as a vasodilator, improving your blood flow, but there is nothing conclusive as yet.
If it does work then you would need at least 100mg to experience the full benefits.
Vitamin B6 (as Pyridoxal-5-Phosphate) (500mcg)
Another vital vitamin for the health & function of your body – but does it help with performance?
There is some evidence that it can help promote testosterone but nothing significant.
Again we don't see any reason to supplement with B6 in a pre-workout as you can get this in any multi-vitamin. It won't boost gym performance.
Folic Acid (250mcg)
This is a synthetic version of vitamin B9.
Your body needs vitamin B9 to repair damaged muscle cells allowing your muscles to grow. You should get enough of this micronutrient from your diet, it doesn't offer any real performance benefit in the gym.
Vitamin B12 (as Methylcobalamin) (35mcg)
An essential vitamin included in a lot of gym supplements.
Your body uses B12 for a variety of energetic and metabolic reactions. So it should help boost your energy and metabolism.
Although if your diet is correct or you take a multivitamin you are not going to see a difference.
---
How do I take it?
Mix together 1 scoop (6 g) with 6 fl. oz. (177ml) of water. Consume 20 to 30 minutes before training.
You can increase the dosage to 2 scoops if your tolerance increases. Do not exceed 2 servings in a 24 hour period.
It is available in 3 different packages either 5, 30 or 60 servings.
---
Can I double scoop C4 Original?
We would say yes but be aware if you have a low tolerance!
Two scoops would give you 300mg of caffeine which is the maximum we normally recommend you consume.
However the "Explosive Energy Blend" does contain Theacrine listed as an unknown quantity. This is also a stimulant similar to caffeine.
There is no way of really knowing the overall effectiveness without the knowing the dosage.
The other thing to look out for would be the beta-alanine. Two scoops gets you 3.2mg which is still safe and within our recommended limits. But be prepared for heightened itching and tingly side effects.
---
Are there any side effects?
We have not found any reports of any major side effects when taking C4 original.
However the Beta Alanine is likely to cause you paresthesia on a dosage over 1g. This is a burning/itching sensation that you feel in the backs of your hands and across your scalp.
Although it is not harmful it can become very distracting and ruin your focus in the gym.
Those with a low tolerance to caffeine should avoid double scooping because of the potential side effects of caffeine such as headaches and nausea. Although with 1 scoop there shouldn't be any issues for most people.
---
PROS
Effective Ingredients

Contains the proven ingredients caffeine, creatine and beta-alanine. Scientific studies have shown these ingredients give you a better performance when engaged in exercise both mentally and physically.
Increases Energy

The caffeine content is labeled at 150mg which is just right if you have a low tolerance for caffeine. Those who can take more are able to take a double serving without going over our recommended maximum dosage of 300mg.

Some Improved Focus

The ability to stay focused and concentrated while performing exercises is certainly improved. Although it really isn't the best we have seen for focus.

The fact that some of the ingredients in this area are hidden behind a proprietary blend makes it even harder to determine the effectiveness.

Good Value

At $30 for 30 servings and $50 for 60 servings it is pretty good value compared to the competition. However if you start double scooping it obviously pushes the cost up.

8 Flavors Available

It's nice to see there is a variety of flavors available and the general feedback from customers suggests there are no bad flavors although this comes down to personal preference.

I tried the Icy Blue Razz flavored C4; it was quite sweet but tasted delicious. The other flavors are Cherry Limeade, Fruit Punch, Green Apple, Orange Burst, Pink Lemonade, Strawberry Margarita and Watermelon.

Trusted Company

When the majority of people think of pre-workout supplements then C4 by Cellucor certainly comes to mind.

Cellucor has been around since 2002 and over the years it has certainly gained a lot of trust from both customers and the industry as a whole.

You can be confident that the quality of their products is going to be of good and safe to use.
---
CONS
Proprietary Blends

Basically the dosages of certain ingredients in this formula are hidden. It's impossible for you to know how effective it is overall. You have to ask what Cellucor are trying to hide from you.

Potential Side Effects

Including Beta-Alanine means you will most likely experience paresthesia. This is an itchy/tingling sensation that occurs in your hands and on your scalp.

This can be very distracting and annoying if you are trying to focus on your workout. If you workout 5 to 6 times a week do you really want this every time?

Some Ineffective Ingredients

Arginine AKG is a dated ingredient when it comes to muscle pumps. Proven to be ineffective when compared to something like L-Citrulline which actually works and has more scientific backing.

Unnecessary Ingredients

Although not really a huge negative, the inclusion of the vitamins is not really necessary in a pre workout. They won't make a major impact to your performance. Supplementing with a good multi-vitamin is cheaper and offers a wider range of vitamins and minerals.

---

What are people saying about C4 Original?

Looking at Cellucor's official website the reviews are unsurprisingly very positive indeed. In fact we couldn't find a bad one negative which seems suspicious!

On the big retail websites such as Amazon.com and Bodybuilding.com the reviews were on the whole positive.

People found it gave them energy, strength and focus in the gym, but many reported getting side effects such as jittery sensations and itchiness.

Looking at more independent websites we see a different story. Complaints about no muscle pump and no focus makes sense considering the ingredient profile.

Another issue that seem to come up was that users were building up a tolerance rather quickly, meaning they have to take more and more to get the same amount of energy.

In conclusion we can say C4 is a solid pre workout blend, but there seems to be a lot of fan boys trying to make out that it is the perfect product.

Remember to look at the nutrient facts and to decide for yourself.

---

Final Thoughts

What we would say is that C4 has built up a huge following over the years.

People certainly like to follow the crowds and this has caused a snowball in popularity for C4. In fact many have never tried anything other than C4. They base their first buy off the hearsay of others.

If you are a smart buyer you should certainly look at the ingredients and look at the facts avoiding all the broscience.

C4 is a good pre workout but it certainly isn't perfect, falling down in certain areas such as muscle pumps, mental focus and having those unwanted side effects.

---

Bottom Line

Our Rating:

This is a solid pre-workout that should give you some energy, focus and strength benefits.

Although it is extremely popular we found it is not the best choice currently on the market.

Outdated ingredients, proprietary blends and unwanted side effects means it falls short from being our number one choice.

A good effort but there are better options available these days.

---

Updated! The #1 Pre Workout for 2022!

The best selling pre-workout supplements currently available on the market.

The best choice for you if you want...

Increased Energy
More Focus
Intense Muscle Pumps
Explosive Power
No Side Effects


See quicker, better results and maximize your body's potential...

---