Rating: 2 Stars
Price: $79.99

PROS

CONS

Some Effective Ingredients
Good Serving Schedule
May Lower Estrogen

Proprietary Blend
Missing Key Ingredients
Potential Side Effects
Expensive
ProSupps are the creators of Halotropin and they claim to provide the highest quality products.
This is supposedly done through a skilled and dedicated staff as well as an extensive research and development program.
They state that they are committed to providing a new standard of excellence in performance supplementation.
This is a big claim and one that we would love to say 'halo' to! But, can they deliver on their promises?
At first glance Halotropin makes a promising start; they don't adopt the traditional testosterone boosting claims. Instead they emphasize the need for the body to be balanced.
They state that boosting testosterone can be achieved by ensuring your body can use the testosterone it has and part of this is minimizing the levels of estrogen in your body.
Basically providing a hormonal balance.
---
This is certainly a beneficial goal to achieve. I therefore wanted to find out if it's capable of what it says; there are few T-boosters which recognize the importance of lowering estrogen to improve T levels.
This doesn't stop the claims from being bold, Halotopin aims to:
Support your body's natural testosterone production.
Help build strength and stamina.
Boost muscle building.
Improve body composition, specifically by lowering estrogen.
Assist you in getting better training results.
Boost libido.
Lots of great potential benefits then, but will it work for you? Let's dig a little deeper into the formula…
---
What Are The Ingredients And How Do They Work?
Ingredient Overview
At first glance the ingredient list looks hopeful.
There are certainly a large number of ingredients. However, on closer inspection you'll soon discover an absence of several key T-boosting ingredients.
Combine this with a proprietary blend and a number of questionable ingredients and we're already on the wrong track.
Let's take a look at the ingredients in detail:
Magnesium (as magnesium aspartate) (67mg)
Magnesium is an important part of the testosterone boosting process. It's a good addition to any T-booster.
Magnesium is an essential element for over 300 natural processes in your body including helping to boost the amount of free testosterone flowing through your blood stream.
It does this by lowering the amount of a protein called the Sex Hormone Binding Globulin (SHBG) in your body.
SHBG will bind to your free flowing testosterone stripping it of its anabolic potency essentially making it unavailable for your body to use. Magnesium however will bind to this SHBG instead of the testosterone.
Therefore lower SHBG means greater levels of free testosterone as it cannot bind to SHBG which is not there!
There have been numerous scientific studies to confirm this fact, so a good choice.
Zinc (as zinc bisglycinate chelate) (17mg)
Zinc is another excellent addition for boosting testosterone. In fact, it is important for your immune system, cell division and overall health
Once absorbed into the body Zinc is used for several reactions in the brain to create the Luteinizing Hormone (LH). LH is a precursor to both testosterone and growth hormone.
Essentially the more Luteinizing Hormone you have in your system the more support your T levels will have overall.
This is totally out of line with previous reviews. We need to explain the Luteinizing Hormone, we do know the process.
Unfortunately we also have to question the amount of zinc in this dose.
17mg per serving means a total of 51mg per day; this is more than the daily tolerance limit for Zinc (40mg) which gives you the potential for undesirable side effects.
A little less zinc and a little more magnesium would make it more worthwhile to say 'halo' to this product.
Selenium (as selenium citrate) (33mcg)
There is very little evidence to show this mineral will have any benefit to your T levels.
Although there are some links to show that it may help with prostate health.
You can get plenty of this mineral from foods such as Brazil nuts, walnuts, fish and grains.
This may be a good addition for overall male health but it won't do much for your T levels!
Copper (as copper chelate) (0.1mg)
This is an unusual addition to a testosterone booster but could be a valuable one. The average human should be consuming 3mg of copper each day.
Copper has been shown to improve the transportation of oxygen round your body, this will help your cells to work harder and boost your ability to work out.
Copper has been shown to be beneficial in boosting the production of luteinizing hormone; which is the foundation of testosterone production.
However, copper also reacts with zinc to remove it from the body and vice versa!
This T-booster is increasing your zinc levels but does not have enough copper in to counteract the copper reducing abilities of zinc.
Perhaps more worrying is that all research so far has been conducted on rats. This is one ingredient that should have been better left on the shelf.
Halotropin Proprietary Blend  (367mg)
It's never a good thing when you don't know what quantities of the ingredients are present in your T-booster.
You're either not getting any benefit from the ingredient or it could be detrimental to your health; you just won't be able to tell. The main ingredients in this proprietary blend are:
Ashwagandha Root Extract (???mg)
This traditional Indian herb has been used for centuries to boost virility, especially in older men.
In fact studies have shown the addition of this root extract can boost T levels in those with fertility issues.
Subsequent studies have suggested that it might be possible to boost test levels indirectly with this root extract by reducing your body's overall levels of the stress hormone cortisol.
Research has shown that cortisol is directly linked to effecting and reducing T levels. So by reducing cortisol in your body it will be easier to raise your testosterone.
While studies are certainly limited, there are promising signs that it might boost testosterone indirectly. It is certainly not a game changing nutrient however.
The quantity of Ashwagandha in Halotropin is completely unknown so it is impossible to say if it will benefit you or not.
Fenugreek Seed Extract (???mg)
Fenugreek has been shown to boost libido and stimulate your androgens. It is also very effective at balancing your blood sugar levels.
As high blood sugar levels can impede testosterone production this is a good ingredient to naturally boost your T levels.
There is also evidence to show that Fenugreek will help control the amount of Dihydrotestosterone (DHT) in the body. A sex hormone that left unchecked can cause hair loss and prostate problems.
Unfortunately, without knowing the quantity you won't know if this is going to have any affect.
White Button Mushroom (???mg)

This is being added to a number of T-boosting supplements on the market with the understanding that it can reduce the production of estrogen in your body.
Lower levels of estrogen allow for a higher level of free testosterone. Essentially testosterone and estrogen work like a seesaw, when one is up the other is down.
Of course, the unknown dosage combined with a lack of research involving humans makes it a dubious addition.
Tongkat Ali Root (Eurycoma longifolia) (???mg)
Also known as LongJack this ingredient has been claimed to promote testosterone.
So does it work?
Well the studies suggest no it doesn't. The only evidence that it does deliver any hormonal benefits has been in studies on rats.
When clinical tests have been scaled up to be used on humans the results have been negative.
There may be some mild libido benefits but without knowing the dosage it is impossible to say.
One thing we can say for certain is it won't boost your male hormones.
Urtica dioica (Nettle) Leaf Extract (???mg)
A good choice.
Nettle leaf extract has been shown to successfully lower the level of Sex Hormone Binding Globulin  (SHBG) in your body.
Lower levels of SHBG means there is less for testosterone to bind to and therefore more free testosterone to be used by the body!
However, we don't know if there is enough of this in Halotropin to have any effect!
Rhodiola rosea Root Extract (std. min. 3% Rosavins) (???mg)
This Scandinavian herb is an adaptogen which means it can help decrease your body's sensitivity to stress.
Therefore it can help to fulfill one of the claims on the bottle.
It will help to assist you in getting better training results in the gym by boosting mood and motivation.
Rhodiola reduces the response by your heart to exercise allowing you to work out for longer and potentially harder.
It has been seen to help reduce both fatigue and feelings of depression while also increasing your overall sense of well-being.
It does nothing for your T levels.
---
Maca Root (???mg)

Not a great option for in Halotropin.
This nutrient has been shown to mildly boost your libido which will help to fulfill some of the claims this product makes.
However, there is not yet an indication that Maca will help your T levels. In fact there have been no human studies to show that it will effectively boost testosterone,
Another unnecessary ingredient.
Tribulus terrestris Seed Extract (std. min. 20% Protodioscin) (???mg)

Definitely not a good option, a very poor performer.
This is the product that every T-Booster used to say 'halo' to. It had a reputation for boosting T.
Unfortunately this has now been disproven. The best amount of this is zero but, for all we know, it could be 90% of the blend!
Diindolylmethane (DIM) (???mg)

In the right quantity this compound can reduce estrogen production which will boost testosterone indirectly.
More research is needed as nothing has been really proven.
However, in large quantities it will boost estrogen, indirectly lowering T levels!
Are you ready to take that chance? Not knowing the quantity in this supplement mean it's a game of Russian roulette! T-boosting or T-reducing?
Mucuna pruriens Seed Extract (std. min. 20% L-DOPA) (???mg)

This is a good option.
Also known as Velvet Bean it increases LH and can even boost your FSH which improves teste growth as well as sperm production.
It has also been linked with reducing levels of prolactin in your body, a substance which reduces your T levels.
You'll also find that it stimulates T production by encouraging the production of L-DOPA. This is an amino acid directly linked to testosterone production.
In fact, it will also reduce the level of your stress hormone cortisol; leaving you feeling better and preventing stress from blocking T production.
But, what is the dose? It could be too small to have any effect.
Dodder Seed (???mg)

The seeds of Cuscuta plant has been used in traditional Chinese herbal medicine to treat diseases like infertility and fetal irritability.
There has been some limited research on its ability to boost libido and T levels. Unfortunately the surveys were on rats and there are very limited studies on humans.
There has been research which shows it can improve erectile issues in humans, but nothing on the effects of testosterone, unless you're a rat.
It's an unreliable ingredient with no real benefits.
Bulbine natalensis Extract (stem) (???mg)
Although potentially effective it is also a lot more dangerous.
Bulbine Natalensis is an African herb ordinarily used in South and South East Africa. It is believed to both raise T and increase libido.
One study showed an increase in serum testosterone levels and a decrease in estrogen. Unfortunately the study was on rats and subsequent liver and kidney issues were spotted!
This can only really be used if you cycle your supplements and even then, the improvement is unknown.
However the potential risk of organ damage is simply not worth it.
---
How Do I Take It?
This is good – 1 capsule needs to be taken 3 times a day.
3 servings a day means that whatever effect this supplement is having on your body will be sustained through the course of the day.
Regular doses are essential when boosting and maintaining higher levels of testosterone around the clock.
It's just a shame we don't know how effective the actual formula is.
---
Are There Any Side Effects?
It's a definite plus that the ingredients are natural. This should reduce the likelihood of side effects.
However, the high level of zinc could be an issue. Side effects associated with excess zinc include nausea, diarrhea and vomiting.
There have been numerous reports of these side effects along with issues sleeping and even some reports of digestive issues.
The use of Bulbine Natalensis has also been shown to cause kidney and liver problems.
---
PROS
Some Effective Ingredients

Contains Magnesium and Zinc which are two of the best minerals for T production.It also uses Fenugreek to balance blood sugars providing better conditions for T to rise but because we don't know how much Fenugreek is in the formula you may see no benefit.
Good Serving Schedule

Staggering your doses through the day will help to keep your T levels high.3 or 4 doses is the perfect way to do this because nutrients are constantly being supplied to your body around the clock. Halotropin uses 3 servings a day.
May Lower Estrogen

There are several ingredients which have been shown to reduce estrogen levels which can support higher test levels.White Button Mushroom has the potential to do this but research is still limited and again we have an unknown dosage. Diindolylmethane (DIM) can certainly help here but only in the correct quantity.
---
CONS
Proprietary Blend

If you don't know the quantities of a specific product it's impossible to say if it's going to be beneficial to you or harmful.Equally as worrying is there is no guarantee that the proprietary bend will be the same quantities each time you purchase. Proprietary blends are best avoided.
Missing Key Ingredients

The most damning part of this is the absence of key ingredients such as DAA and Vitamin D3 which are two of the most powerful test boosters currently on the market.Including Vitamin B6 would have been another solid choice proven to suppress estrogen.
Potential Side Effects

You should now be aware that there are potential unwanted and maybe even dangerous long term side effects using some of the nutrients in this formula.High levels of Zinc and unknown quantity of the herb Bulbine Natalensis should be avoided.
Expensive

At $79.99 for 90 capsules (30 days supply) from the ProSupps website; this is a premium priced product without a premium reward.It's difficult to justify this money when there are much better products on the market.

There are of cheaper offers on other retail websites but then even then it is still overpriced considering its effectiveness.
---
What Are People Saying About Halotropin?
Female users are reporting that Halotropin is helping them last longer and boosts their muscle growth.
Although this product is also aimed at women because it provides hormonal balance it's not so encouraging for men looking to boost their male hormone levels.
In fact the general consensus seems to suggest that it seems to do more for women than men.
You won't find any reviews on the Halotropin website which is slightly surprising.
However, one look at Amazon may explain this. The product gets positive reviews from just over half of its users, not a promising start.
When you look deeper you'll notice that the most in-depth reviews are from women, the rest appear to be very generic, such as 'done wonders for me'. There is no detail regarding how it has been effective.
The negative reviews are not so kind. Alongside the usual one line waste of money type comments there are a number which specify the issues.
Such as disorientation, stomach upset and a complete lack of results despite doing everything else they should be to boost fitness and muscle.
The few extremely positive reviews you will find appear to have been written by the athletes sponsoring the product; effectively they're paid to say this!
This is not a promising position for Halotropin.
---
Final Thoughts
Pro Supps was founded in 2004 and is a fairly established brand in the supplement industry.
It sells a number of products including T boosters, fat burners and a pre workout called Mr Hyde.
Before you even look at the questions over ingredient choices it is interesting to note that an FDA inspection of the ProSupps distribution facility in Plano, Texas showed a variety of issues.
These included a failure to deal with customer complaints properly and of more concern, a failure to establish and follow procedures for quality control.
Worryingly this translates as ProSupps not even being aware of the quality of ingredients in their own products.
---
Bottom Line
Our Rating: 2 Stars
This is not a mixture I will be saying 'halo' to any time soon!
There are simply too many question marks over the ingredients included. If this has been put together by skilled and dedicated staff then it might be time for ProSupps to look for new staff.
There are a few traces of inspiration but these are overshadowed by the missing ingredients, unknown dosages and some very poor nutrient choices.
We do not recommend you buy this product for effectively boosting testosterone levels; there are much better options available for you to make serious gains.
It's a goodbye to Halotropin and a 'halo' to nearly any other product!
---
Updated! The 5 Most Effective Testosterone Boosters in 2023
Find out for yourself the top 5 natural T-boosters currently available on the market right now.
These are the best choices if you want to...
Build Muscle Quickly
Rapid Strength & Size Increases
Promote Fat Loss
Increase Energy
Enhance Sex Drive
Click Here to See the Full List!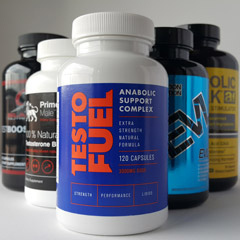 ---