Rating: 2 Stars
Price: $69.99

PROS

CONS

Potential Side Effects
Proprietary Blend
Expensive
Mediocre Serving Schedule
The Blade fat burner is made by the Blue Star Nutraceuticals company.
They already have a range of sports supplements on the market and confess to making unique, research proven solutions to your health issues.
That's enough to get my interest. Blue Star has been producing supplements for over 10 years and reckon they set the bar for others to follow.
If that's the case then the Blade fat burner should be the ultimate product for anyone looking to shed fat.
Let's take a look and find out then.
Blade makes the usual claims for a fat burner:
Burns more fat
Boosts energy levels
Improves focus
If you are interested you can check out our in-depth review on one of their other products the Status testosterone booster.
For now let's get on with looking at the science behind the Blade nutrient label and see if there is any truth behind their claims.
---
What are the ingredients and how do they work?
Ingredient Overview
There is some great potential in this Blade fat burner but really it is a mixed bag.
First the Green tea and Sweet Pepper are both excellent thermogenic ingredients beneficial for fat burning.
While the caffeine is great for boosting your stamina, energy and metabolism they have added too much per serving, which will cause side effects for those with a low tolerance.
Then unfortunately the whole formula is ruined through the poor choice of several ingredients. Yohimbine and Synephrine are both known to cause unwanted side effects.
Synephrine is especially troublesome when combined with caffeine and Yohimbine HCL is actually a banned substance which should only be available on prescription.
This is certainly not the best fat burning formula we have seen but let's take a closer look at the details of each nutrient to learn more:
CH-19 Sweet Pepper (0.75% Capsiate) 450mg
It may have a posh sounding name but really this is just chili!
This is a good ingredient when it comes to thermogenic fat loss.
The capsaicin it contains is what gives chili its heat and raises the core temperature of your body.
This will help to increase your metabolic rate and burn more fat.
The reason this works is because your body will instantly start to work harder to cool your body back down to its normal temperature.
In the process you'll use up more energy. The calories burned will increase your daily deficit helping you to burn more fat with no conscious effort on your part.
Although a more potent capsicum pepper containing even more capsaicin such as cayenne pepper would have been a better choice.
Acetyl-L-Carnitine 400mg
This amino acid is actually produced naturally by your body.
The purpose for supplementing is to boost your energy levels and increase your metabolic rate.
Again, this should encourage you to burn more calories, reduce your body fat and help keep you going throughout the day.
Unfortunately studies have shown that it is not generally not effective unless you are consuming between 500 and 2500mg per day.
This formula gives you 400mg which may not give you the best results as a single serving.
Green Tea Extract (45% EGCG) 300mg
This herb has been acknowledged as one of the best fat burning supplements available.
Originating from China, green tea is actually created from the Camellia sinensis plant but it has not been subjected to the drying process that black tea usually is.
Green tea is an excellent natural thermogenic. It is full of a type of antioxidant known as catechins which increase the amount of norepinephrine in your body.
Norepinephrine is also known as the fat burning hormone. The more you have in your system the more fat you'll burn overall throughout the day.
You will also get a nice caffeine boost with this herb as well which should increase your metabolism too.
Caffeine Anhydrous 225mg
One of the best natural stimulants available if not the best.
You already know caffeine boosts your metabolism and increases you energy levels.
This will enable you to burn more calories, using your energy stores and forcing your body to use its fat reserves.
It is especially useful if you are on a low calorie diet and you still want to keep the intensity up in the gym.
Of course it will also improve gym sessions and has been linked to improving overall power output.
This is a top nutrient to have in the mix but at 450mg for two servings it is going to be on the high side for many.
Expect some side effects with this amount of caffeine if you take two servings a day.
Advantra Z® (Citrus aurantium, 50% p-synephrine) 25mg
Evidence suggests there is little point in having Synephrine in any fat burner.
Also known as Bitter Orange Extract this alkaloid is taken from the Aurantium fruit is known to provide you with a range of unpleasant side effects including high blood pressure especially when combined with caffeine.
We will get to the specifics later in this review. More importantly research studies shows that its ability to destroy fat is negligible; if any.
There is really no reason to have this in the Blade fat burner mix.
Yohimbine HCL (98%) 8mg
Containing the man-made version yohimbine hydrochloride this substance is actually illegal to sell as a dietary supplement in the US.
In fact Yohimbine has been banned in many countries including the UK & Canada because of the potential harm it can cause.
This ingredient is actually bark from the Yohimbe tree in South Africa and has been used for centuries to help increase libido in women and deal with erectile dysfunction.
Unfortunately it has been shown by Swedish Medical Centre Health Library to only be successful in 30-45% of men.
In terms of fat burning goals it has proved useful as an appetite suppressant helping to curb hunger and help lower your overall calorie intake.
However, no research has yet confirmed that it can assist you with stubborn fat loss; although there are indications it has an effect on your body fat levels.
You should be aware that there are some potentially dangerous side effects when supplementing with yohimbe which makes this a bad choice here. More details later.
---
XD Delivery Technology Proprietary Blend 61mg
These are really just supporting nutrients but because they are in a proprietary blend we don't know the quantities involved and therefore how effective they will be. This is not good.

Furmaric Acid
A food additive used to keep the other ingredients stable.
BioPerine® Black Pepper (Piper Nigrum) (fruit)
In effect this is simply black pepper.
This is really just a supporting ingredient which had been shown to be effective at helping your body with overall nutrient absorption.
AstraGin™ (Panax notoginseng, Astragalus membranaceus) (root)
The first nutrient is part of the Ginseng family; Panax Notoginseng is good for improving blood flow and circulation.
In fact studies have shown that it improves your absorption of amino acids, vitamins and minerals.
Just as with the bioperine it may have some use in the Blade mix to encourage your body to absorb the nutrients in the fat burner.
The second nutrient Astragalus membranaceus has also been noted for its anti-inflammatory properties.
Neither however will do much for your fat burning goals though.
Sodium R-Lipoate
This chemical compound is believed to help with the metabolism of calories particularity with the natural metabolism of glucose and fatty acids. However it is not going to benefit your fat burning.
Succinic Acid
Another food additive which is used as an acidity regulator.
---
How do I take it?
Just 2 servings a day – this could be improved.
The recommendation is to take 2 capsules when you get up and another 2 in the afternoon, consumed with a glass of water.
Unfortunately this is not the best serving schedule. For any fat burner to be really effective you need to take 3 or 4 servings a day. This will ensure the effects remain consistent throughout the day.
It is worth noting that Blue Star recommend you take just one capsule at first to test your tolerance.
This is for good reason because 2 servings a day will give you 450mg of caffeine which is likely to give you side effects especially if you are also consuming other caffeinated beverages throughout the day.
400mg is the maximum amount of caffeine you should really be taking a day. It's probably fine, but you'll have to sacrifice your daily cups of coffee and tea.
This tolerance test is also most likely a safety measure concerning the potentially risky ingredients Synephrine and Yohimbe.
---
Are there any Side Effects?
Yes it is very possible that you'll experience side effects when using this fat burner.
The two biggest issues are the Yohimbe and the Synephrine.
Yohimbe is usually dosed in the range of 15 to 30mg per day. This fits with blade fat burner; 2 servings per day will give you 16mg.
Unfortunately side effects can happen as low as 5mg per day, individual tolerance varies wildly. If you consume too much of this natural extract you are likely to experience significant side effects:
Increased Heartbeat
Irregular Heartbeat
Raised Blood Pressure
Kidney Failure
Seizures
Heart Complications
There is a reason this is considered a prescription drug. We highly recommend you don't consume it without medical supervision.
Synephrine (Bitter Orange) is generally recommended to be taken in doses of between 10 and 20mg per day. Blade gives you 25mg in one serving!
Unfortunately synephrine reacts badly with caffeine products including green tea extract which can give you the following side effects:
Nausea
Headaches
Dizziness
Increased blood pressure & heart rate
Fainting
These 2 ingredients may have no benefit is it really worth taking that chance?
Caffeine may also be an issue for some.
At 225mg per serving plus the caffeine from the green tea those with a low tolerance or those taking two servings per day plus their usual caffeinated beverages are likely to experience the following side effects.
Nausea
Irritability
Diarrhea
Insomnia
Jitters
Nervousness
As you can see with such a long list of potential problems you really have to think twice before taking Blade, the risks and discomfort really aren't worth it for most people.
---
PROS
Some Good Ingredients

The sweet pepper and green tea extract are two of the best ingredients available for thermogenic fat burning. While the caffeine will boost energy, stamina and increase your metabolism.
---
CONS
Potential Side Effects

If you've read this review then you'll know that there is no place for Synephrine or Yohimbe in a fat burner.

The potential risks and side effects outweigh any gains you would make with fat loss.

In fact it would be hard to avoid any ill effects with this supplement considering the caffeine is on the high side too.
Proprietary Blend

Most of the ingredients quantities are listed but the inclusion of the proprietary blend for the delivery system is disappointing.

Suddenly you don't know exactly how much of these ingredients you're taking. That's not good when you're trying to look after your body.
Expensive

At $69.99 on the official website it is a high price to pay for its potential fat burning ability.

It is certainly not one of the best formulas on the market and it contains potentially risky nutrients that are known to cause you health issues.
Mediocre Serving Schedule

Although 2 servings a day is better than 1.

A really effective fat burner offers 3 or 4 servings a day which means nutrients are constantly being supplied to your body and you are in fat burning mode all day long for maximum results.
---
What are people saying about Blade Fat Burner?
We spent a long time looking for genuine customer reviews but had real difficulty.
Nobody seems to be able to vouch for its effectiveness when it comes to Blue Star's claims.
After looking on Amazon you'll find one review that states they love the product and wish it was in stock.
This is not particularly helpful!
Look into it a little further and you'll find several sellers; all with ratings between 4.5 and 5 stars. But these relate to the seller service and not the Blade product!
Bodybuilding.com gives it a rating of 8.7 out of 10. But interestingly their verified buyer rating is just 2 out of 10.
Some users mention how badly the stimulants effected them throughout the day with comments like "became jittery with an accelerated heart rate". This is no surprise considering the ingredients in this formula.
Many of the unverified reviews rave about the effectiveness of this product at increasing their energy levels. But not many talk about their fat burning results.
The fact is that there are so many unverified comments and that the verified ones recommend you save your money. This confirms my findings; there are better products available.
---
Final Thoughts
You are taking a risk with Blade.
Containing two substances that are known to cause health issues we simply cannot recommend this product.
Not only that, but what is good about this product, which is a couple of thermogenic ingredients, isn't enough to give you the best results anyway.
Add to that the difficulty in finding genuine customer reviews with real fat burning results and this product turns into a dud.
You can see for yourself that this is certainly not your best option.
---
Bottom Line
Our Rating: 2 Stars
Disappointing and risky.
This formula started with some good nutrients and had the potential to really achieve some good results.
Although the company has a long history of creating supplements and is supposedly dedicated to providing the best and most unique products on the market this isn't enough.
The Blade formula has too many potential health risks and side effects to be worth taking.
There are much more effective and safe products available on the market; that help you burn fat whilst retaining muscle without these unnecessary downsides.
---
Updated! The Most Effective Fat Burner For 2022!
This is the top fat burning supplement currently available on the market right now.
It's the best choice if you want...
Thermogenic Fat Loss
Boosted Metabolism
Increased Energy
Appetite Supression
Click Here to See the Full List!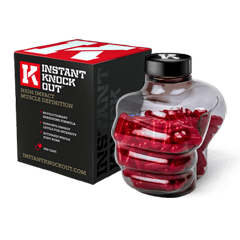 ---