Rating: 1 Star
Price: $34.95

PROS

CONS

Some Good Ingredients
Cheap Supplement

Proprietary Blend
Key Ingredients Missing
Potential Side Effects
Poor Serving Schedule
Unnecessary Nutrients
Hard Rock Supplements have created Alpha Lean-7 which claims to "initiate a violent assault on body fat".

Interestingly it proclaims to operate in a different way to conventional fat burners and uses chemical weaponry to torch fat.
If these claims are true then Alpha Lean-7 could be set to revolutionize the industry!
That's a good enough reason for me to take a closer look at this fat burner and see if it can live up to the claims it makes.
The manufacturer makes the following claims:
Boosts energy levels
Reduces cravings
Removes water weight
Burns body fat
Creates positive mood
Increases metabolic rate
Improves focus and concentration
It's worth noting that Hard Rock Supplements don't have their own website.
This makes it very difficult to confirm any solid information about the company or this product which means it lacks credibility and trustworthiness straight away.
Alpha Lean-7 was only introduced at the beginning of 2017 and is said to have had a huge increase in sales growth.
It also claims to be named to the top 10 fat burners list for 2017; although it doesn't say who created the list, hmm.
The benefits sounds awesome right?
However let's see if there is any truth to them by breaking down the ingredient formula and looking for scientific evidence behind each nutrient.
---
What are the ingredients and how do they work?
Ingredient Overview
The first thing to note is that all the ingredients in Alpha Lean-7 are contained within a proprietary blend which is bad news.
This means you have no idea of the quantities involved. Does it contain active doses or will it do nothing for you? There is no way of knowing for sure without this information.
To make it worse the entire volume of the proprietary blend is 675mg. There are plenty of fat burners who dedicate more than that to just one ingredient.
First the good. Caffeine is great for boosting your metabolism and energy levels while the green tea is one of the best thermogenic nutrients for naturally burning fat.
We also like the addition of L-Carnitine although we suspect that all 3 nutrients are not dosed correctly. Not knowing the caffeine content is certainly worrying.
Next the bad. Eria Jarensis and Yohimbe both have a very real potential to cause side effects and alarmingly not knowing the quantities makes this potential even worse.
There is an abundance of nutrients lacking real scientific backing. While they have been added to enhance focus they do not directly target fat burning.
For a better performing product they should have been replaced with more proven fat burning ingredients like green coffee bean, cayenne pepper and a dedicated appetite suppressant.
This is quite simply a bad formula for effective fat burning.
For those who are interested we break down each nutrient in detail…
Caffeine Anhydrous
This is a great choice and arguably the best stimulant on the market.
You have most likely experienced caffeine already; it is present in your morning coffee and a host of other drinks that you consume throughout the day.
It's great for boosting your metabolism to burn fat; it helps boost your energy levels, increases focus and promotes higher power output.
It is therefore ideal for both cutting your calories whilst boosting exercise performance.
Although it's a great start you don't know how much you're getting in this formula.
Remember too little of a nutrient and it will have no effect; too much and you will likely experience unwanted side effects.
How do we know this isn't 674g of caffeine, nearly all of the blend? This is sure to give you ill effects.
Taraxacum Officinate (Dandelion Powder)
This is the scientific name for the flowering plant dandelion.
From the manufacturer's point of view this is a great addition. It grows in abundance everywhere and is effectively free.
Dandelion has been used for centuries in traditional medicine to improve health.
It is actually classed as a diuretic which means it removes water from your body.
If you're carrying excess water this is a good thing.
If you're not then you could be encouraging dehydration and any water that is removed will simply return when you stop taking the supplement; destroying your 'weight loss'.
It has no positive effect on fat burning and shouldn't be in this mix, a bad choice.
Dimethylethanilamine
This is also known as DMAE which is reported to help prevent cognitive fatigue.
In other words you'll be able to concentrate and focus for longer.
DMAE was actually originally used in ant-aging creams before it transitioned to the supplements market.
Unfortunately studies show that it doesn't actually make an improvement to your cognitive functions & it also has no effect on fat burning.
It is not a good choice and another unnecessary ingredient.
Theophylline Anhydrous
Theophyline is actually a substance used to treat lung diseases such as asthma and bronchial issues.
Found in tea and cocoa it structurally similar to theobromine and caffeine. It is particularly effective at relaxing the muscles in your chest and lungs opening up the breathing passages.
This prevents your lungs from being sensitive to a variety of diseases. Although some studies have shown it can lead to weight loss this is as a result of it being used to treat bronchial conditions.
It's hard to see why it's in this fat burner and without further studies it is a fairly pointless addition.
Eria Jarensis Extract N-phenyl-dimethylamine
The FDA banned Ephedrine in 2006 paving the way for this 'replacement' which still isn't the safest option.
It is reputed to offer the same sort of benefits; improved energy, focus and decreased appetite.
It is also said to improve cognitive function and even amplify the effects of the other ingredients in this fat burner.
Unfortunately there is not yet any research to back up these claims.
As these claims are fairly substantial it would be better to leave this ingredient out until it can be confirmed to have such a positive effect.
In fact it may do more harm than good, see the side effects section.
Betaine Anhydrous (TMG)
This is actually a derivative of the amino acid Choline; you'll find it in many plants including red beetroot.
It has been found to benefit the body in formulating molecules and even regulating homocysteine levels.
Research also shows it can help promote blood flow and plasma nitrate in your body helping you to push your body harder for longer.
In this way it may benefit fat burning through intense exercise.
It's a surprise ingredient to us because it is not usually not found in a fat burner but in a pre-workout supplement.
It's a nice addition but without knowing the quantity it may do nothing for you at all.
Green Tea Extract (50% catechins)
Finally we have a second great ingredient and one of the best natural fat burners on the market.
Green tea originates from China where it was originally eaten before people realized it was possible to make a drink from it.
The extract is simply the leaves ground down to create a supplement.
Green tea extract has been shown in lots of studies to work effectively as a thermogenic. This means it increases your core temperature and forces your body to burn energy regulating it.
In the process of burning extra energy it will increase the calories you burn and help you to burn fat. This is due the antioxidants it contains called catechins which help promote the fat burning hormone norepinephrine.
This herb also contains traces of L-Theanine which promotes the calming hormones GABA and Serotonin helping you concentrate and focus whilst exercising.
It's a good addition but we just don't know how much of it there is so it may do nothing for you at all.
Cissus Quadrangularis (5% ketosteroids)
This has been used for centuries in Ayurveda medicine (traditional Indian medicine) to help reduce joint pain and improve bone health.
It actually does this by reducing inflammation thereby taking more pressure off your joints potentially allowing you to train for longer.
It has been suggested it can even help your body to grow more bone. However, it is not a fat burner although very limited research suggests it may help you to regulate weight.
It is a nice touch but it is unlikely to help your waistline directly.
L-Carnitine
This may not help you to lose weight directly but it is a good addition.
It will help you to transfer fatty acids into energy; allowing your body to workout harder and for longer. In the process you'll burn more fat.
It is actually an amino acid which occurs naturally in the body and many plants.
You'll find it helps to boost your energy levels and ability to workout; resulting in more calories being burned and greater fat loss.
However studies have shown that you need 500 to 2500mg per serving for the most benefit.
Considering the whole blend is 675mg it seems unlikely you will get the best results from this formula.
Rauwolfia Vomitoria Root Extract (std. min. 90% Alpha Yohimbine)
The final ingredient in this proprietary blend has an impressive name although it is mainly yohimbe and that is worrying.
This is a root bark extract from the yohimbe tree in Africa is well known to cause side effects in users.
It has been used for centuries in traditional medicine and research confirms it has the ability to work on the receptors in your brain that limit fat burning.
By opening up these receptors you're able to burn more fat.
It can even help to improve concentration and focus but it can also cause jerky movements and shakiness.
Due to the lack of research on this compound and the possibility of side effects it would be far better to leave this one out.
---
How do I take it?
Two servings per day – which is not the most effective serving schedule.
The serving size is just one capsule which is unlikely to have a significant effect because of how few milligrams are in it. You're recommended to take 1 pill in the morning and one 6-8 hours later.
This simply isn't enough to sustain the release of nutrients in your body. You need to be taking a fat burner 3 or 4 times a day to ensure your fat burning abilities remain high throughout the day for maximum results.
Alpha Lean-7 is less alpha and more underdog in this respect.
---
Are there any Side Effects?
It's difficult to say if you'll have definitely have side effects.
Even the manufacturers are not sure as they recommend you take just one a day to assess tolerance.
In part the problem is the proprietary blend. Caffeine in high doses can cause headaches, sickness and dizziness. In fact Yohimbie has the same side effects and can cause stomach issues as well as anxiety.
The major problem is Yohimbine which is also known to cause the following problems even in doses as low as 5mg:
Irregular or rapid heart beat
Kidney failure

Seizure
Heart attack
Eria Jarensis is also a big problem. It is a substance very similar in structure to the banned stimulant Dimethylamylamine (DMAA) which has been linked to some severe side effects and was therefore banned.
Without proper research and testing we would deem it unfit for consumption. N-phenyl-dimethylamine (aka Eria Jarensis) is also banned from drug-tested competitions.
DMAA has been reported to cause:
Heart Attack
Liver Injury

Lactic Acidosis

Stroke
Death
There is no way of knowing if there are enough of these ingredients to cause you an issue or not; you simply don't know how much you are putting into your body.
We would recommend you avoid altogether.
---
PROS
Some Good Ingredients

Green tea extract and caffeine are the two strongest ingredients in this mix for effective fat burning.

Unfortunately it is not possible to know exactly how much you're taking. This means you don't know if they are effective or not.
Cheap Supplement

While it may not break the bank some of the components may break your body.
---
CONS
Proprietary Blend

By far the biggest issue with Alpha Lean-7 is that you don't know how much of each ingredient you're getting.

This makes it impossible to decide if it is an effective fat burner or not and won't help you control what is going into your body.

The fact that it has risky nutrients in there makes this problem even worse.
Key Ingredients Missing

It's great to see caffeine and green tea extract.

However it would be good to see a few more proven active ingredients for thermogenesis such as top components like cayenne pepper, green coffee extract and a proven appetite suppressant like Glucomannan.
Potential Side Effects

As described above there are several potential side effects associated with Alpha Lean-7.

That should be enough to steer you away from this product. After all; not knowing how much is in the mix means you can't assess the potential risks.

Add to this N-phenyl-dimethylamine is banned from drug tested competition and this is not a good option.
Poor Serving Schedule

2 servings a day is better than 1 but it's not enough to maintain the fat burning boost your body needs.

The schedule needs to be improved to 3 or even 4 times a day to improve the effectiveness of any fat burner.

Unnecessary Nutrients

Far too many of the nutrients added are not necessary.

They may be good for a preworkout like L-Carnitine but not needed in a fat burner.

Add to that many components lack scientific testing like Dandelion powder, Theophylline and Cissus Quadrangularis, you are in effect being a guinea pig for Hard Rock Supplements.
---
What are people saying about Alpha Lean-7?
The reviews on the retailer website Strong Supplements are certainly excellent.
Users tell you how you'll be fired up all day with massive increases in energy. Unfortunately they sound too good to be true; meaning that they probably are too good to be true.
With faceless names, very short paragraphs and an over praising of the product.  I feel they lack a certain amount of credibility.
Interestingly this seems to be the only place that you can purchase Alpha Lean-7 and there is a distinct lack of other reviews on other websites.
This can only lead me to believe that either the product is not as popular as they state or that any negative reviews are being suppressed.
That's a shame because a balanced opinion installs more faith in any product.
---
Final Thoughts
This simply isn't good enough!
A very poor fat burning formula with the real potential for unwanted side effects. We highly recommend you avoid.
The company behind this product also seems highly dubious, with no official website it is impossible to know who they really are.
Is it a serious supplement company with real scientific research behind their products or has it been formulated in some dodgy lab in China just to make a profit?
From the research that has gone into this supplement probably.
---
Bottom Line
Our Rating: 1 Star
The bottom line is simple, don't buy Alpha Lean-7 the nutrient formula sucks.
Thanks to the proprietary blend you don't know what you'll be putting into your body.
Alongside this there is a distinct lack of genuine user feedback, a poor serving schedule and the potential for dangerous side effects.
There are much better and safer fat burning products available that will get you that lean physique, but not this.
---
Updated! The Most Effective Fat Burner For 2022!
This is the top fat burning supplement currently available on the market right now.
It's the best choice if you want...
Thermogenic Fat Loss
Boosted Metabolism
Increased Energy
Appetite Supression
Click Here to See the Full List!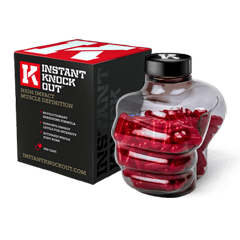 ---