Rating:
Price: $69.99

PROS

CONS

Contains Fenugreek, Zinc and Magnesium
Longjack may raise libido
Reputable Company

Expensive
Missing Vitamin D3 & D-Aspartic Acid
Contains a Proprietary Blend
Some Ineffective Ingredients
Poor Serving Schedule
Blue Star Nutraceuticals state that you can boost your T levels by 434% by using their Status testosterone booster.
This bold claim certainly merits us taking a look at the product and finding out if it can really deliver on everything it promises.
Their supposedly revolutionary approach apparently does more than any other testosterone supplement and it does it quicker! Let's have a look then…
They claim this product will:
Increase the bioavailability of zinc and magnesium to increase free T levels.
Increase your testosterone by 434% while weight training; as compared to weight training by itself.
Extend the lifespan of testosterone in your body, improving muscle gain and reducing body fat.
Block estrogen from producing feminine effects.
Unlock your inactive testosterone.
This review will help you understand if there is any truth behind these claims; this is what we discovered.
You may also interested in a review on Blue Star's Blade fat burner which is also part of the same supplement lineup.
---
What are the ingredients and how do they work?
Ingredient Overview
It is always pleasing to see a non-proprietary blend for the main ingredients and it's a positive sign for any T-booster.
No matter what the claims at least you know exactly what you are putting in your body every time you take one.
Being able to see the exact quantities of the main ingredients means we can determine how effective it really is.
Unfortunately they didn't do this with the XD Delivery Technology Complex (supposedly improves absorption) which is less important but is still an unfortunate red flag in our eyes.
The first set of  main ingredients in Status are listed as Magnesium and Zinc which are scientifically proven to be effective at raising testosterone; whilst vitamin B6 has been proven to reduce estrogen. This is a solid start.
However we did expect to see some other key beneficial T-boosting nutrients on their list such as Vitamin D3 and D-Aspartic Acid considering the premium price.
It is also worth noting that the nutrient Ashwagandha has been found to have no direct effect on boosting testosterone levels. Although it should help improve performance by reducing bodily stress.
Longjack is another wasted opportunity we feel, this is an ineffective ingredient here but it may mildly enhance your sex drive.
Overall the formula shows some promise but overall it looks rather mediocre.
Let's take a look a closer look at the nutrients in more detail:
Magnesium (as Magnesium Aspartate) (450mg)
One of the better ingredients in Status and a great addition to any test booster.
Magnesium has been shown to raise T levels by restricting the activity of a protein called Sex Hormone Binding Globulin (SHBG).
SHBG is known to bind to testosterone which stops it from being available to your muscles.
As magnesium inhibits this process it is important to consume it every day. Essentially it allows more T to circulate freely in your system by unlocking inactive T.
Zinc (as Monomethionine Aspartate) (30mg)
This is a valuable addition to the T-booster as it has been shown to be the cornerstone of test production in your body.
Once absorbs it helps to produce the Luteinizing Hormone (LH). This is a precursor to both testosterone and growth hormone.
The more LH you have in your system the more support your T-levels will have overall.
As it cannot be produced by the human body it must be consumed daily.
Vitamin B6 (as Pyridoxine HCL) (10.5mg)
Vitamin B6 has been shown to reduce the amount of estrogen in your body.
This shifts the balance in favor of testosterone and prevents estrogen from converting the testosterone into fat.
It probably won't make too much of a difference to your T levels. More research is needed into this area.
However, you must question the need to have 525% of your daily value in one serving.
KSM-66 Ashwagandha (Withania somnifera) (600mg)
This herbal supplement is often found in Indian medicine, it has been shown to reduce the level of the stress hormone cortisol in your body.
Working as an adaptogen it reduces bodily inflammation and bodily stress which should allow you to workout longer therefore boosting performance.
However, at this moment in time there has been no established research showing that it increases testosterone levels directly.
In theory however with less cortisol in your body, the easier it should be to raise your testosterone.
More clinical studies are again needed in this area.
Longjack Extract 100:1 (Eurycoma longifolia) (300mg)
Also known as Eurycoma Longifolia or Tongkat Ali.
Originally this herb was believed to help promote testosterone. There were promising findings when used by men with a medical issue of low testosterone.
However recent scientific investigations have shown there is little evidence that it raises T levels.
It does not appear to provide any significant gains on healthy men and certainly won't take you to the optimal levels you are hoping for as a muscle builder.
At the most it may mildly raise your libido, this nutrient is not a good option.
Diindolylmethane (108mg)
Unfortunately this substance has no successful scientific studies in relation to improving T levels.
DIM is commonly found in vegetables and is supposed to inhibit the production of the enzyme aromatase.
A reduction in this will lower your estrogen levels but there is no proof that this actually does happen.
It would have been better not to include this as it simply clouds the image of the product and may have no actual effect on your body.
TestoSURGE (Trigonella foenum-graecum) (100mg)
Listed by its scientific name on the label 'Trigonella foenum-graecum', this nutrient is more commonly known as Fenugreek seed extract.
As well as boosting your libido it can reduce your insulin levels which will help to increase your T levels.
Fenugreek has been scientifically proven to promote T and enhance libido; its addition to the Status ingredients list is a good sign.
XD Delivery Technology Complex (61mg)
This is a proprietary blend which is said to speed up the delivery of Status into your body and as such the nutrients won't raise T directly.
Although there is no way of verifying its effectiveness without exact quantities; which are unknown to everyone accept Blue Star.
The ingredients in this delivery system are:
Despite the fancy title this is just a form of black pepper. It is good at helping your body to absorb nutrients and may even improve your fat burning abilities.
This is normally used to treat deficiencies in iron. However there are indications that can also help to raise your absorption of nutrients at a cellular level.
Studies show that succinate can assist fumarate in absorbing nutrient. The ingredients Astragin and Sodium ALA are believed to provide the same benefits.
It would seem that these ingredients are unnecessary. Black pepper by itself will help your body absorb Status.
However, as you will only be taking one serving a day the real concern is how long this T-Booster will last, not how fast it gets into your system.
---
How do I take it?
Each container has 90 capsules which is 30 servings.
Blue Star states that, one serving of 3 capsules should be taken in the morning; with or without food.
Unfortunately the fact that you can take it with or without food raises alarm bells and it is unlikely that one serving a day will be enough to keep your test levels high.
The best solution would be to take the required amount 3 or 4 times during the day. More doses spread out over a longer period will ensure your T levels are raised all through the day.
---
Are there any side effects?
There have been no reported problems and the listed ingredients at the recommended dose should not cause an issue.
However, the product does state that it is produced in the same factory as nuts. This would make Status a risky product to take if you have a nut allergy.
---
PROS
Contains Fenugreek, Zinc and Magnesium

These are some of the best nutrients you can have in a T supplement and they have been proven to be very effective at raising T levels.
Longjack may raise libido

AKA Tongkat Ali this herb may not benefit your muscle building goals but it has been shown to have mild libido enhancing properties.
Reputable Company

Blue Star Nutraceuticals are a premium Canadian supplement company better known for their fat burner Blade.

Their supplements are produced in FDA and cGMP approved facilities, so you know they are not a fly-by-night company. Their products should be of good quality.
---
CONS
Expensive

Status is more expensive than most of its competitors at $69.99 for 90 capsules (30 day supply). Considering the formula isn't the best and it is lacking in some areas it is vastly overpriced.
Missing Vitamin D3 and D-Aspartic Acid

These are two of the most effective T boosting ingredients on the market. Every good T supplement should have these core ingredients.
Contains a Proprietary Blend

Whilst all of the main ingredients quantities are listed the delivery complex formula is not.  Unknown quantities are a warning sign when you are looking to control what goes into your body.
Some Ineffective Ingredients

The nutrients Longjack and Diindolylmethane won't give you any real benefit when it comes to your goals. Neither have any solid scientific backing that therefore a wasted opportunity.
Poor Serving Schedule

One serving a day is just not optimal at all.

The best test booster have 3 to 4 servings a day meaning a constant supply of nutrients throughout the day and therefore T levels are increased for longer meaning you benefit for longer.
---
What Are People Saying About Blue Star Status?
Although there are no customer testimonials there appears to be one comment on their website from their Chief Scientific Officer.
He states that he firmly believes that Status
helps to naturally optimize testosterone levels, restore vitality, and enrich men to live a lifestyle truly worthy of today's modern man.
In short, it's an opinion not a fact based comment and it's from a company employee.
More concerning is the reviews posted on Amazon. It has been awarded 3.2 stars from 82 reviews.  The feedback is, at best average. There are many comments from people who have taken the capsules for a month and experienced no benefits. Others simply state it is excellent.
It is worth noting that there appeared to be only one review which suggested there was a skin reaction.
However, it is interesting to note that all the reviews on Bodybuilding.com are suspiciously positive with an array of men extolling the muscle gains and virtues of this T-Booster.
Most of these reviews also comment that sleep has improved but this is a common effect of taking most T-Boosters.
Overall results seem mixed.
---
Final Thoughts
While Blue Star Nutraceuticals claim that you can increase your testosterone levels by 434% using Status and lifting weights we are unable to find the clinical study to back this statement up.
On their website there is no reference to any study or research papers. After a long time searching online for the evidence we gave up and contacted them directly. They never got back to us and after several weeks there has still been no reply.
Of course this claim seems far too good to be true and based upon the formula listed highly achievable. Essentially the 434% is just hyped misinformation.
---
Bottom Line
Our Rating:
The inclusion of zinc, magnesium and fenugreek is encouraging and we believe it is not a terrible booster overall.
However the ingredients do not seem to be well balanced with more effective components such as vitamin D3 and DAA missing.
Altogether there are too many gaps on the label to be comfortable with the overall product.
It is likely that this will have some minor effects on your testosterone levels; but if you are looking to increase them to their peak potential then there are much better products available on the market which have better proven formulas.
Considering the premium price of the product and the strength of the Status formula it really can't match up to the top boosters.
---
Updated! The 5 Most Effective Testosterone Boosters in 2023
Find out for yourself the top 5 natural T-boosters currently available on the market right now.
These are the best choices if you want to...
Build Muscle Quickly
Rapid Strength & Size Increases
Promote Fat Loss
Increase Energy
Enhance Sex Drive
Click Here to See the Full List!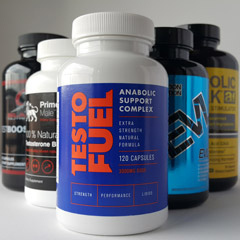 ---