Rating:
Price: $45

PROS

CONS

No Proprietary Blends
Boosts Energy
Some Effective Ingredients
Trustworthy Company

Stimulant Overload
Potential Side Effects
Some Ineffective Ingredients
Servings Need Improving
Hydroxycut hardcore next gen is a well-known popular all natural fat burner from Muscletech.
This version is meant to be the most effective so far from their performance series so we had to give it a try.
The manufacturers claim it promotes:
Increased Weight Loss
Extreme energy
Mental Focus
Muscle Tech also produce a another popular fat burner in the range called Hydroxycut Black and they do a testosterone booster named AlphaTest which you may be interested in checking out.
However let's take a look at the science behind this supplement's formula and see how well it can achieve these goals…
---
What are the ingredients and how do they work?
Ingredient Overview
Well done to Muscletech for using a proprietary blend. We can clearly see what ingredients are in this product; and with the exact dosages we can determine its overall effectiveness.
Although there are only a few really good ingredients included, it does contain an effective green coffee bean blend which is a great foundation to this fat burner.
Get ready for an intense ride though because this formula is bursting with stimulants in high dosages, 3 in fact (caffeine, green coffee bean and guayusa). One of the very best is also one of our favorite stimulants caffeine which is a great fat burning weapon.
But because of the potency of all these stimulants it may not be the best option for most people, especially those with a low tolerance to caffeine.
Although it does contain the problematic appetite suppressant Yohimbe, known to cause side effects, there is a lack of real appetite suppression here.
So this is a formula great for high energy levels. We would say almost on a par with a pre workout and should potentially promote some fat burning whilst boosting your metabolism.
But you should be aware there are better top end nutrient options that they could have included such as green tea and cayenne pepper instead of the more ineffective options like coleus forskolin and ophiopogon.
These two ingredients lack the proper clinical results to really back up their effectiveness.
So on the whole this is not the best nutrient profile we have seen, but great for energy if you can handle it.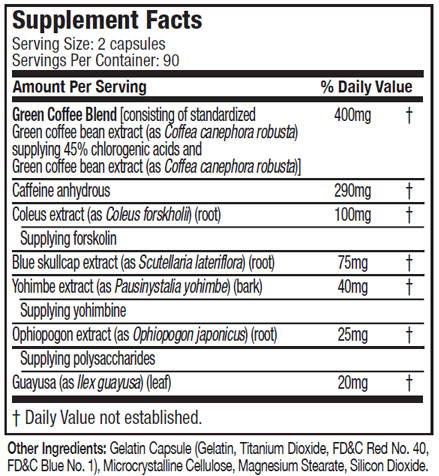 Green Coffee Blend – [consisting of standardized Green coffee bean extract (as Coffea canephora robusta), supplying 45% chlorogenic acids and Green coffee bean extract (as Coffea canephora robusta)] (400mg)
A great addition to any fat burning formula because green coffee bean is one of the best natural thermogenic ingredients available. It is therefore highly effective for fat loss.
Rich in chlorogenic acid this compound works by helping to cut down the amount of glucose in your liver.
Usually your body uses this glucose for energy but with less of it in your system it has to look elsewhere. The best alternative is your stored fat cells which get used up instead.
Basically by supplementing with Green Bean you are encouraging your body to burn more stored fat than normal without any additional effort.
400mg is maybe on the high side here but that's not such a bad thing.
Caffeine Anhydrous (290mg)
Caffeine is arguably the most effective natural stimulant for weight loss.
Numerous studies have shown how effective it is for boosting energy, increasing metabolism, focus and even power output.
This is an excellent addition to a fat burner as it helps sustain energy levels when on a low calorie diet while increasing your ability to burn more calories in the gym.
However we must take issue with the dosage here. They recommend two servings a day which works out at 580mg of caffeine which is really quite a lot and above the recommended daily dosage of 400mg a day.
Those with a low tolerance to caffeine are likely to have issues such as energy crashes, insomnia and jitters.
Coleus extract (as Coleus forskholii) (root) (100mg)
This ancient subtropical herb is a member of the mint family and believed to have some fat burning properties.
Unfortunately there are very few studies into this nutrient. However one promising study conducted in 2005 found it helped overweight participants reduce their body fat and increase testosterone after 12 weeks of supplementation – but not all of them.
The dosage used was 250mg per serving so with only 100mg per serving in this formula it's not absolutely clear whether you will be able replicate the same results.
Blue skullcap extract (as Scutellaria lateriflora) (root) (75mg)
This isn't going to help with your fat loss directly.
Although this herb has been shown to have cognitive benefits that can help lower anxiety levels and improve mood.
Certainly this should help counterbalance the huge amount of stimulants in this product.
It should help you to focus more when in the gym and helping you stay more alert on a calorie restrictive diet.
Yohimbe extract (as Pausinystalia yohimbe) (bark) (40mg)
A tree bark that works well as an appetite suppressant but it may cause side effects.
Several studies have shown that it helps to reduce hunger cravings which could help you lower your calorie consumption.
The downside is that many users have reported unwanted side-effects such as anxiety and hypertension when using higher doses.
Ophiopogon extract (as Ophiopogon japonicus) (root) (25mg)
Also known as Dragon's Beard this traditional Chinese medicine is believed to help regulate blood sugar levels.
By using this nutrient to regulate blood sugar levels it may help lower insulin levels. Higher levels of insulin can lead to increases in fat storage.
Unfortunately the only studies so far have involved rats with smaller dosages and therefore is yet to be proven in human subjects.
Guayusa (as Ilex guayusa) (leaf) (20mg)
This highly caffeinated herb that is brewed like a tea by the indigenous people of the Ecuadorian Amazon.
Although it contains many antioxidants that are beneficial to your overall health it is the caffeine content we are interested in here.
Expect it to help you with energy levels and increased metabolism.
This is yet another stimulant added to an already stacked stimulant formula. Expect some dizziness and nausea with the overload of energizing nutrients in Hardcore Next Gen.
In addition Guayusa contains Theobromine which is a natural diuretic which helps you lose excess water weight. Hence the instructions to drink 10 glasses of water a day.
---
How do I take it?
A serving size is 2 capsules. It is recommended that you take two serving a day.
Take a serving 30 to 60 minutes before two of your largest meals of the day, e.g. breakfast and lunch.
This isn't the ideal dosage schedule however because the most effective fat burners are dosed at 3 to 4 servings per day.
You want a constant supply of nutrients throughout the day to remain in fat burning mode.
With 3 or 4 servings your body gets regular top ups maximizing your fat and calorie burning potential.
---
Are there any side-effects?
Potentially there are side effects from two ingredients in this product, the caffeine and the yohimbe.
As already mentioned with a two daily servings of hydroxycut hardcore you are getting 580mg of caffeine per day and that is without taking into consideration the green coffee bean and guayusa.
Generally the recommended daily intake for caffeine is 400mg a day but of course this depends on individual tolerances.
Either way you should be aware that you could face stimulant side effects such as:
Headaches
Insomnia
Nausea
Raised Heart Rate
Raised Blood Pressure
Dizziness
Jitters
If that wasn't enough then you do risk potential side effects of yohimbe bark. These include:
Anxiety
Hypertension
Gastrointestinal Distress
So be warned, these aren't really the things you want to experience while cutting fat.
---
PROS
No Proprietary Blends


Transparency is always a good thing. You should know exactly what you are putting into your body and how much.

Although technically the green coffee bean here is a blend it's not really an issue, we can see everything included and we can determine how effective this formula is for fat loss.

Boosts Energy


If this product does one thing well then it is boosting energy! Packed with stimulants it should help keep you energized allowing you to exert extra effort in the gym, burning extra calories and ultimately fat.

If you are on a low calorie diet then this is going to help keep you going through the tough times.

Some Effective Ingredients


Green coffee bean and caffeine are two of the best nutrients available for promoting fat loss. Green coffee bean has a thermogenic effect on the body whilst the caffeine promotes energy and boosts metabolism.

Trustworthy Company


You have probably heard of Muscletech. They are a huge operation that has been built up over 20 years in which time they have produced a full range of workout supplements.

They certainly have a large loyal customer base worldwide. Produced in the US the quality and safety of this product is going to be fairly high even if they do have a few questionable ingredients.
CONS
Stimulant Overload


You really can't sugar this. There are way too many stimulants in this formula and while it may work well for some it is going to be a bumpy ride.

Those with a low tolerance to caffeine should certainly look somewhere else.

Potential Side Effects


With the abundance of stimulants in this formula you are going to have some kind of side effect at some point which include insomnia, jitters, headaches etc.

You also have the potential problems coming from the yohimbe extract too.

Some Ineffective Ingredients


The Ophiopogon extract and coleus forskholii really seem like a wasted opportunity. These are nutrients that lack the proper scientific evidence to support their effectiveness.

Include green tea or cayenne pepper that does actually work as a fat burner.

Servings Need Improving


To maximize your results and to remain in a fat burning state throughout the day there should be 3 or 4 servings.

Unfortunately this formula is designed to only give you 2 servings a day leaving you with a lot of time during the day when your body is not in fat burning mode.
---
What are people saying about Hydroxycut Hardcore Next Gen?
The official Muscletech website has no user testimonials however this is a well marketed and popular product so there is no shortage of customer reviews on the retail websites.
Overall the reviews are positive and customers praise the energy it gives them but there are mixed results when it comes to fat loss results. It either works for them or it doesn't.
On the other hand numerous people have had issues with side effects and that is no surprise from such a stimulant heavy supplement.
Many talk about being in an uncomfortable supercharged jittery craze throughout the day. This is not going to be pleasant for most people and unstainable too so not an effective way to burn fat.
---
Final Thoughts
If you are a fan of stimulants and you love caffeine then this could be a good pick for you.
However customer feedback shows actual weight loss results are mixed. The main reason is because the formula is not balanced it is lacking other core fat burning ingredients.
You would benefit greatly by having more ingredients that actually work such as green tea and cayenne pepper.
These will really ramp up the fat burning potential of this supplement. As it stands it more like a pre workout, it should help you shed some fat but it's far from being the most effective or even fun way to do it.
A more rounded fat burner would include a better appetite suppression too.
---
Bottom Line
Our Rating:
A heavy stimulant based fat burner that may work for some but it's not the smoothest or most effective way to get your body lean.
If you can deal with the stimulant overload that comes with jitters, energy crashes and feeling anxious all day long then you could give it ago.
For certain it is not the most well rounded or best fat burner on the market we have seen.
---
Updated! The Most Effective Fat Burner For 2022!
This is the top fat burning supplement currently available on the market right now.
It's the best choice if you want...
Thermogenic Fat Loss
Boosted Metabolism
Increased Energy
Appetite Supression
Click Here to See the Full List!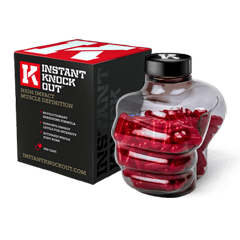 ---