Rating: 3 Stars
Price: $24.99

PROS

CONS

Some Effective Ingredients
No Proprietary Blends
Attractive Price

Key Ingredients Missing
Unproven Nutrients
Contains Tribulus
Mediocre Serving Schedule
MuscleTech is potentially one of the biggest supplement names in the industry.
This should add assurance to any product they create or endorse. But with this reputation comes a responsibility to produce the very best formulas each time.
Their website states they are passionate about researching the best possible ingredients for all their supplements.
They want to create the most advanced and effective supplements on the market. This got my attention! Have they succeeded? Let's find out!
Pro Series Alpha Test is designed to make you alpha by:
Boosting your total testosterone levels & ATP
Increasing your muscle mass
Improving your strength
Supercharging your energy levels
You maybe interested to know that MuscleTech do fat burner line with two notable products Hydroxycut Hardcore Next Gen and Hydroxycut Black.
First let's look at the most important aspect of a testosterone booster, the ingredients. What are the clinical studies and the science behind MuscleTech's formula?
---
What are the ingredients and how do they work?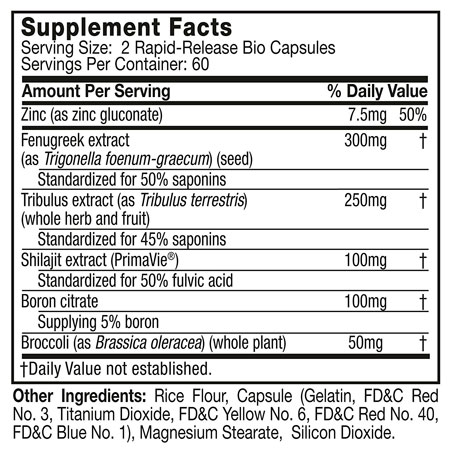 Ingredient Overview
An excellent start from Muscle Tech because AlphaTest uses a proprietary blend.
Which means all the nutrient quantities are listed and we can determine its overall effectiveness.
The ingredients list is short but this is not necessarily a bad thing. It certainly starts well with the addition of one of our favorites Zinc albeit slightly under dosed.
Unfortunately the rest of the ingredients are a little mixed.
Fenugreek and Boron are good additions. However there a two nutrients Shilajit extract and DIM that need more research done to prove their effectiveness in a test booster.
The biggest downside is the addition of tribulus terrestris which is a big no, it just doesn't work.
It is really missing some key nutrients such as D-Aspartic acid and Vitamin D3. So there is really lots of room for improvement!
Zinc (as zinc gluconate)  (7.5mg)
It's always good to see Zinc in a T-Booster.
This reliable mineral is known to be used for various chemical reactions in your brain and is vital for promoting the Luteinizing Hormone.
This hormone is essential to the production of testosterone and growth hormone. You can't boost T levels and muscle size without this.
However, the daily allowance for zinc is 15mg with an upper tolerance limit of 40mg.  With only 7.5mg AlphaTest could have added a little more in our estimation to be more alpha.
Fenugreek extract (as Trigonella foenum-graecum)(seed) (300mg)
This Indian herb has been used for centuries in traditional medicines but is now a popular addition to many T boosters. There is a good reason for this.
A study conducted on 60 healthy men over a 3 month period showed that fenugreek is successful at lowering your blood glucose levels. This is not the only study to confirm this.
By regulating blood sugar levels your body will not need to produce as much insulin. This is good because insulin interferes with testosterone production.
Reducing it therefore supports a better environment for T levels to rise higher.
It also offers a variety of other benefits, such as reducing bad cholesterol, lowering body fat and raising libido.
This is a good addition.
Tribulus extract
(as Tribulus terrestris) (whole herb and fruit)

(250mg)
For years tribulus was seen as the ultimate T booster. Unfortunately this is not actually the case.
Tribulus has the potential to boost your libido but only in high quantities such as between 200 and 400mg per day. It's possible that the amount in Alpha Test will help your libido, but this won't boost your T production.
The only studies which show any positive results are in infertile men; and even then this is a weak increase.
This is a poor addition which leads me to question the research behind these ingredients.
Shilajit Extract (PrimaVie) (100mg)
This organo-mineral compound contains a mixture of 85+ minerals and originates from the Himalayas.
It is a common ingredient in Ayurvedic, the traditional Indian system of medicine.
Research on healthy males was undertaken in 2015 which showed that 250mg of this per day increased free testosterone levels by 19%.
Unfortunately this was completed by a company manufacturing Shilajit Extract, so there is a real conflict of interests.
Subsequent studies have shown less positive results. This is one substance that needs more research and, if the earlier studies are to be believed, MuscleTech need to put a little more of this into the mix.
Boron Citrate (

Supplying 5% boron

) (100mg)
You might not know it but boron is actually a rare mineral which actually originates from space matter, such as meteoroids.
It could be called the alien boost to your metabolism!
With this Alpha Test return to the alpha status. Boron is known to boost your levels of free and serum testosterone and can even lower estrogen levels.
Studies have confirmed its capabilities. One program found that 6mg of boron a day for 2 months increased free testosterone by an impressive 29.5mg!
There is another study that showed an increase of 28% in free testosterone after just 10 days, with a dose of 10mg every day.
This ingredient has 5% boron, a comfortable 5mg and a good addition to this T-Booster.
Broccoli (as Brassica oleracea) (whole plant)  (50mg)
You'll be familiar with the leafy green that is known as broccoli.
It grows well in the spring or the fall and can be grown virtually anywhere, although it prefers cooler climates.
Broccoli is packed full of a substance known as Diindolylmethane (DIM). This is known to be an estrogen reducer.
Studies show that it helps the liver to remove estrogen more efficiently, potentially lowering the amount of estrogen in your body.
There are also some studies which show that it is capable of blocking the production of estrogen by preventing the production of aromatase. However there are other studies which show the opposite effect!
In reality this is a good addition for general health but an unproven one for testosterone boosting. There are more alpha alternatives.
---
How Do I Take It?
MuscleTech tells you not to take more than 4 tablets a day.
The T-Booster should be taken twice a day with a glass of water; 2 capsules each time.
This is not bad but 3-4 doses a day will provide a more sustained increase in your testosterone levels. There is definitely room for improvement here.
---
Are There Any Side Effects?
The ingredients are natural and although not the best blend you are unlikely to experience any side effects.
There are certainly no common ones reported by those that have used this product. The good news is that you know exactly what you are taking as there are no proprietary blends.
---
PROS
Effective Ingredients

Boron and Fenugreek are both excellent additions to this T-booster both with generous doses.

Zinc is also a top choice too but we would have liked them to increase the dosage slightly. Either way all three nutrients have been clinically proven in some way to benefit your T levels.
No Proprietary Blends

It's always encouraging to see that the quantity of every ingredient has been declared.

This ensures you know exactly what you are putting into your body and whether the dose is effective or not. Under dosed and it potentially won't have any benefits.

Over dosed and you could be risking side effects.
Attractive Price

For $25 you can buy a 30 day supply which is highly competitive price point.

Although it is far from being the best formula available and you can do a lot better for your T. However it does offer some benefits and could be a potential option if you are on a tight budget.
---
CONS
Key Ingredients Missing

Although Zinc, Boron and Fenugreek are present this isn't really enough for effective test boosting.

The key T boosting ingredients like Magnesium, Vitamin D3 and D-Aspartic Acid (DAA) are all missing. These are powerhouse nutrients that you would expect to find in an alpha product.
Under Researched Ingredients

More research is needed into Shilajit Extract and even DIM to confirm they are actually valuable additions to a T booster.

This is disappointing as Muscle Tech states they are "backed by fully disclosed formulas, human clinical studies".
Contains Tribulus

Tribulus used to be seen as the king of testosterone boosters but research has shown it has no real effect and should not be included in a quality product.

Again this suggests a lack of research which is disappointing and worrying. This is 250mg straight down the drain.
Mediocre Serving Schedule

The best T-Boosters give you 3 – 4 servings per day.

This helps to ensure your testosterone levels stay high throughout the day and gives you the maximum results. While 2 does are better than 1, it could be better.
---
What Are People Saying About AlphaTest?
Take a look at the reviews on bodybuilding.com and you'll see some very positive feedback.
Unfortunately this feedback states things like "noticed an increase in energy right away". This is likely to be a placebo effect as any supplement will take time to working your body.
Other customer reviews simply state "great product" but the more concerning ones are those that have tried and wanted the supplement to work but haven't seen the results.
Amazon shows a similar picture, with 372 people reviewing it, only 61% have given it 5 stars. Here are plenty who state that it did nothing for them while others extol its virtues.
The picture is definitely mixed and perhaps indicates there are other factors involved to make this a successful product.
This view is actually confirmed by many of the users who are simply not sure whether Alpha Test has helped them increase muscle or it has simply been their own hard work.
---
Final Thoughts
Only 3 out of the 6 ingredients are really going to make a difference to your testosterone levels.
I feel this is really a wasted opportunity with the only upside being the cheap price. MuscleTech really need to go back to the drawing board and add in better performing nutrients.
---
Bottom Line
Our Rating: 3 Stars
AlphaTest may come from a big name but it appears to have only got this product T booster half right.
Of course there is some possibility that it will boost your testosterone levels and your muscle size. It is just as possible that these are increasing from the effort you are putting into your workouts.
At the end of the day the scientific research doesn't fully back up this formula.  Remove the Tribulus and add in DAA & Vitamin D3 for better performance.
If you want the best results then you should avoid Alpha Test. There are much better products available on the market, click on the link below to see our top 5 recommended testosterone boosters.
---
Updated! The 5 Most Effective Testosterone Boosters in 2022!
Find out for yourself the top 5 natural T-boosters currently available on the market right now.
These are the best choices if you want to...
Build Muscle Quickly
Rapid Strength & Size Increases
Promote Fat Loss
Increase Energy
Enhance Sex Drive
Click Here to See the Full List!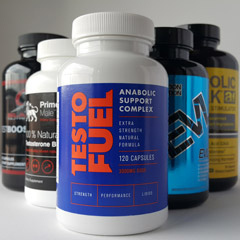 ---