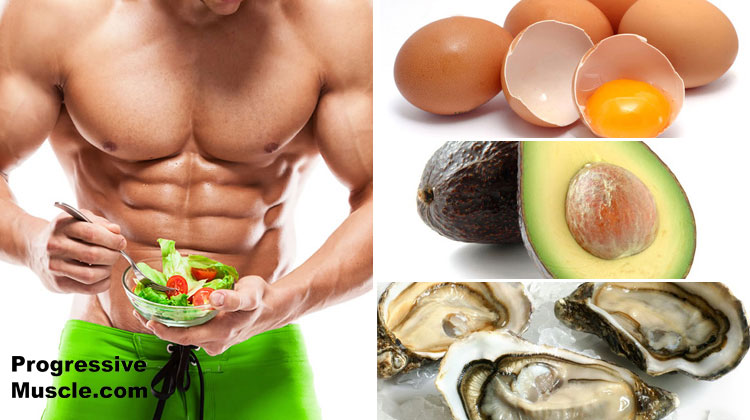 Testosterone is vital to male health; you are almost certainly aware of its importance to your sex drive, but are you aware that it is responsible for promoting bone growth and improving muscle mass?
It has also been linked with the general well being of men; low levels of testosterone generally lead to osteoporosis and consequent issues of frailty in men.
Testosterone is produced By Your Body
This is absolutely correct; it is produced in men in their testes; there is even a small amount present in women; although this is developed in their ovaries.
However, as you age your testosterone levels will decrease; research suggests that this is at the rate of 1% per year after you have reached the age of 30.[1]
As this hormone is essential to improving your muscle mass and bone strength, it is important to boost your testosterone consumption.
Testosterone Boosting – The Options
There are three ways of increasing the amount of testosterone in your body as you age:
Testosterone boosters

There are a huge range of testosterone boosters available on the market.

They do exactly what they say; increase the level of testosterone in your body. However, this does not mean all testosterone boosters are created equally.

The best ones will offer additional benefits, such as vitamins D3, K2 and B6. They should also include magnesium and zinc.

Steroids

These offer an artificial replication of testosterone.

Unfortunately, it is not an exact replica of the human testosterone and the slight difference can have serious side effects. [2]

These are often illegal and best avoided.

Food

It is also possible to boost your levels of testosterone through the food you eat.

Because it is a naturally occurring product, your body can assimilate it from a variety of other sources; incorporating the right food into your diet is an easy way to boost your testosterone levels.
---
The Top 10 Testosterone Boosting Foods
The majority of these foods have been used for medicinal purposes for many years, what you may not have realized is that they are very effective at increasing your testosterone levels:
#1 Pomegranate
You may be surprised to learn that one glass of pomegranate juice a day can increase your testosterone levels by as much as 30%!
Other benefits of this fruit include a more positive mood and a natural lowering of blood pressure. The benefit is usually linked with the juice of the pomegranate.
However, you may prefer to eat the fruit and not just the juice. The added fiber in your diet will aid your digestive system and keep you feeling full for longer.
---
#2 Tuna
Tuna can be enjoyed in a variety of different ways, including part of a salad or even a jacket potato.
More importantly, tuna contains a high level of vitamin D which is essential to the body for testosterone production.
Vitamin D is produced in large amounts in your body when you are exposed to the sun. Unfortunately this is not beneficial if you do not live in sunnier climes.
You will also find there is a range of health risks associated with too much sunlight on your skin.
Studies have shown that men with sufficient levels of vitamin D have higher levels of testosterone than those who do not have a significant amount of vitamin D in their bodies. [4]
Tuna has a high vitamin D content and can be safely consumed several times a week. A can of tuna will give you the recommended daily amount of vitamin D.
You should note that fresh tuna is generally considered to be the healthier option.
---
#3 Meat
Unfortunately for vegetarians, meat; particularly red meat, is high in zinc.
This metal is essential to ensure your brain produces a hormone called Lutein; which has been demonstrated to boost the natural production of male hormones.
This includes testosterone; allowing your muscle mass to increase.
---
#4 Eggs
For many years eggs have had a bad reputation; especially the yolks.
The white is known to be a protein based which can assist your muscles in repairing and even in fuelling them.
However, the yolk is packed full of cholesterol. This cholesterol is actually necessary for the human body to produce testosterone.
Cholesterol is the fuel for the leydig cells in your body. These are the cells responsible for manufacturing testosterone.
Studies suggest that you can increase your testosterone production without causing health risks by consuming up to 3 eggs per day. [3]
---
#5 Oysters
You already know that oysters are an aphrodisiac, but did you know they are an excellent source of zinc?
In fact, they are the largest source of zinc you can obtain naturally. Research suggests that an oyster is as much as 78% zinc!
The increased zinc consumption will boost your testosterone levels and improve your liver function, as well as your mood and even your immune system!
The high levels of omega 3 fatty acids in them have also been linked with a healthy heart and reduced risk of stroke.
It really is one of the ultimate super foods!
---
#6 Olive Oil
There are many different sources of fat which can boost your testosterone levels.
Olive oil is one of the best as it has very few negative side effects. Its main role is to help your testes absorb more cholesterol; effectively increasing the rate at which they can produce testosterone.
Coconut oil is also said to offer the same level of benefits; making these your go to oils when you wish to fry any food.
---
#7 Avocados
By now you should be aware that fat is an important element of your diet and does boost your testosterone production.
When you discover that an avocado is approximately 80% fat you will quickly realize it should be an essential part of your diet.
The fact that avocados have all the different fats you could need to help balance your diet is an added bonus!
But the real benefit is that avocados are high in healthy monounsaturated fats and low in polyunsaturated fats.
As polyunsaturated fats are shown to decrease testosterone levels whilst monounsaturated fats increase them the avocado has the balance just right; as opposed to many other fatty foods.
---
#8 Pumpkin Seeds
This is a great snack to keep available when you really cannot resist temptation; or need a little boost.
Pumpkin seeds are full of zinc; which we have already shown is linked to increased testosterone production.
However, they have also been shown to limit the conversion of testosterone to dihydrotestosterone; [4] which has been established as the cause of enlarged prostrates.
---
#9 Cabbage
Cabbage may not be the most appetizing food, although roasted in olive oil they can be delicious! It is, however, a very important addition to your diet.
The indole 3 carbinol present in cabbage is very effective at eliminating oestrogen from your diet; improving the effectiveness of the testosterone in your body.
It may not increase your testosterone levels but it will maximize the benefit of the testosterone you have in your system.
---
#10 Honey
Honey is a natural sweetener which limits the amount of sugar you have in your diet. While sugar is essential to power your muscles, too much is the main contributor for fat building.
Honey has another use when consumed. It contains a chemical called chrysin which is an estrogen blocker. It acts on testosterone, preventing it from being converted into estrogen.
Although it does not increase your levels of testosterone, it does prevent them from decreasing; which can be just as effective as testosterone boosting foods.
---
Why Boost Testosterone Levels?
Testosterone is the male hormone and is often linked with an increase in aggressiveness in men.
This connection is often made because of the use of steroids, which are seen as testosterone substitutes and can lead to aggression.
Fortunately, this is because they are not an exact copy of the testosterone produced by your body. Testosterone levels are naturally present in the body to ensure its health.
The decline of testosterone leads to the reduction of muscle mass and aging; through weaker bones and a loss of core strength.
But, it does not have to be this way!
Testosterone production in your body can be increased via the food you eat. If you need to boost it further then a testosterone booster can be of assistance.
Combined with exercise, this increased level of testosterone will enable you to build your muscle mass and bone strength.
---
Summary
Testosterone is essential to your body and these foods can ensure the levels of this hormone remain high as you age; regardless of the natural tendency for levels to drop.
The majorities of these foods are delicious and can be eaten on their own. However, it is important to calibrate them into your diet as this is the key to your muscle building success.
A balanced diet, with a calorie level 300 – 400 above your maintenance level will help to ensure you achieve optimum growth; the high levels of testosterone will simply support this and even make it possible.
---
Updated! The 5 Most Effective Testosterone Boosters in 2022!
Find out for yourself the top 5 natural T-boosters currently available on the market right now.
These are the best choices if you want to...
Build Muscle Quickly
Rapid Strength & Size Increases
Promote Fat Loss
Increase Energy
Enhance Sex Drive
Click Here to See the Full List!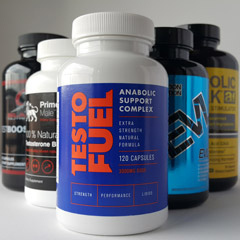 ---
References
[1] http://www.healthline.com/health/low-testosterone/testosterone-levels-by-age#adolescence3
[2] https://www.drugabuse.gov/publications/drugfacts/anabolic-steroids
[3] https://springer.elmjo.com/cgi-bin/nph-v3s1.cgi/en/00/https/link.springer.com/article/10.1007/s11745-017-4230-9
[4] https://en.wikipedia.org/wiki/Dihydrotestosterone
---