Rating: 3 Stars
Price: $139.99

PROS

CONS

Some Good Ingredients
Libido Boosting

Proprietary Blends
Missing Key Ingredients
Unproven Ingredients
Mediocre Serving Schedule
Expensive
If you read the spiel on the Force Factor website you'd be forgiven for thinking you've just found the secret to becoming alpha male.
Test X180 Alpha is billed as the compound that will give you super strength and immense sexual prowess.
If this is true then the formula should be outselling every other product on the market.
Force Factor is the brainchild of 2 Harvard University rowers.
It was started in 2009 and proclaims itself to be the nutrition of champions!
That hefty price tag is certainly enough to get anybody's attention so let's take a closer look at what they're offering.
The claims are as follows:
Improve your libido
Enhance your sexual performance
Increase your muscle mass
Boost your stamina and power
Strengthen your blood flow
This product is actually a new and updated version of their original Test X180 geared towards people looking to build more muscle mass.
They also manufacture another booster called Test X180 Ignite which is aimed specifically at boosting metabolism and burning fat. While they also produce a dedicated fat burner called LeanFire XT.
Let's start by looking at the nutrient formula and at the specific components to see if this product will offer you any real benefit.
---
What are the ingredients and how do they work?
Ingredient Overview
You'd be forgiven for thinking that Force Factor have taken a little of everything and added it to their mix.
With 18 ingredients the theory is certainly 'more is better'. Unfortunately many of these ingredients are included in proprietary blends so you don't know if you're getting an effective dose or not.
The good nutrients here are Zinc, Vitamin B6, Fenugreek and Stinging Nettle Root.
These are all proven ingredients when it comes to ramping up testosterone production although the Fenugreek & Nettle quantities are not given.
It is therefore impossible to say if these nutrients are active doses meaning they might not give you any benefit.
Essentially these 4 nutrients are really not enough to see a serious effect on your T levels.
Next come the libido enhancers, Maca Root, Damiana Leaf and Muria Puama. Again they may have a synergistic effect of raising your sex drive but are the dosages high enough?
What is definitely under dosed is the L-Citrulline, don't expect strengthened blood flow with this very small amount.
So the unproven nutrients Catuaba, DIM and Chrysin have no solid scientific evidence backing their claims.
The rest of the formula you will find is a bunch of vitamins which you should be getting from your diet anyway.
Of course the performance of this product could have been dramatically improved with more powerful T boosters such as D Aspartic Acid, Vitamin D3 and oyster extract.
This is certainly not the best formula for testosterone boosting although it may have some merit when it comes to your sex drive.
Check out a more in-depth analysis of each component below.
Thiamin (Vitamin B1) (as Thiamin Mononitrate)

1mg

Vitamin B1 is known to help boost your energy levels. It's also been linked with improved neural activity.

However, there is no indication that this vitamin will actually help to boost your T levels.
Riboflavin (Vitamin B2) 1mg
It has been suggested that this vitamin can help to boost T levels by inhibiting the enzyme 5a reductase.
This enzyme transforms testosterone into dihydrotestosterone which is one of the causes of male pattern baldness.
However, there is limited research to confirm these findings at this stage.
Vitamin B6 (as Pyroxidine Hydrochloride) 2mg
B6 is a much better choice in what is currently shaping up so far to be a multivitamin tablet.
This vitamin reacts directly with the brain to boost androgen production. This triggers the production of testosterone. In sufficient levels it is also known to bind with the female hormone estrogen.
Lowering your levels of estrogen helps gives you a greater hormonal balance in favor of testosterone.
Vitamin B12 (as Cyanocobalamin) 4mcg
Yet another vitamin in the mix!
This vitamin is thought to help protect and even promote testicular health. While this may create an indirect link to boosting T levels it has not been proven.
It is also good for improving both energy and metabolism. Which can be beneficial for helping you train longer in the gym and improving recovery times.
Although really this is an unnecessary nutrient here.
Zinc (as Zinc Oxide) 8mg
This mineral Zinc is great for testosterone and the first really good choice in Test X180 Alpha.
Zinc works directly within your brain to trigger the release of Luteinizing Hormone (LH). This hormone is the precursor to testosterone production and a valuable addition to this supplement.
Essentially the more LH you have in your system the more support your T levels will have. Many studies on men have shown a direct link between a low Zinc intake and low testosterone levels.
We would have liked to have seen them add a bit more though.
Selenium (as Selenium Amino Acid Chelate) 50mcg
Selenium is a mineral known to boost the health of your prostate and your sperm quality as well as your libido.
However, there are no studies which suggest it can directly help your T levels.
Copper (as Copper Amino Acid Chelate) 1mg
Regularly taking large dosages of Zinc supplements, greater than 40mg daily, has been linked with a deficiency in copper.
This is due to Zinc affecting the absorption rates of copper. This may in some cases lead to anemia.
Adding copper to the mix allows your resources to be replenished. It's certainly a good idea but not really necessary here, it plays no role in promoting more T.
Manganese (as Amino Acid Chelate) 2mg
Manganese is thought to help you with the synthesis of fatty acids, processing protein and bone health.
There are also reports that suggest it can benefit your testosterone levels. Unfortunately these are limited and more research needs to be done, especially as too much of this mineral can potentially damage your brain.
The rest of the ingredients are divided into 2 separate proprietary blends with hidden dosages. You won't know how much of each component you are getting.
Sexual Performance Blend: (860mg)
L-Citrulline
Great for blood flow and muscle pumps L-Citrulline is classed as a non-essential amino acid.
This simply means that your body is capable of manufacturing this substance itself. Once absorbed by the body L-Citrulline is converted into L-Arginine by your kidneys. L-Arginine then promotes overall levels of nitric oxide.
As you may be aware, nitric oxide helps to expand your blood vessels increasing the flow of oxygen and nutrients to the organs in your body. This could help you workout harder and for longer and could help with erectile dysfunction.
Most studies have shown this vasodilator to work when dosed between 6000-8000mg. Although we don't know the exact amount here, it is not nearly enough when the whole blend is just 860mg.
You are unlikely to notice any of the benefits here, the claims of strengthened blood flow are therefore unfounded.
Catuaba Bark Extract
This is actually the bark from several trees, all of which originate in Brazil. It is used in local culture as an aphrodisiac.
While this may be true there are not yet any studies on humans which confirm its ability to boost testosterone or enhance libido.
In fact, there does not seem to be any discernible change in hormone levels even in animal studies!
A pointless addition.
Maca Root Extract
This herb is traditional found in Peru at altitudes of 4,000 – 4,500 feet. It has been used for centuries as a libido booster.
It is considered a super food as it is densely packed with nutrients.
Unfortunately, while studies do support its libido boosting effects there are none which show an increase in T levels when it comes to human studies.
Damiana Leaf Extract
Here we have another potential libido booster.
This wild shrub is found in Central America. It's used as an aphrodisiac and can be traced back to the Mayan and Aztec cultures.
Surprisingly research into this herb is extremely limited. One study on rats showed an increased libido in rats with low energy but no change in those that were active.
In one of the very few human studies there was no discernible effect on T production; this is not likely to help your T levels.
Muira Puama Root Extract
This Amazonian based flowering plant has featured in a Brazilian government approved book of medicines.
It was written in 1929 and advises you to use this if you have erectile issues or symptoms of impotence. In effect the government confirmed it was an aphrodisiac.
However, while there are several studies which do show an improvement in sexual performance there are none that have looked at its effect on T levels.
It does show potential but without more concrete research it shouldn't be in this T booster.
---
Free Testosterone Boosting Matrix (350mg)
Testofen Fenugreek Seed Extract
Fenugreek is an herb used in Ayurveda (traditional Indian) medicine.
It does have some interesting properties regarding libido and indirectly promoting higher T levels.
Testofen is a formula which takes the best parts of Fenugreek and magnifies them.
Research shows that it is effective at increasing your nitric oxide levels; increasing the flow of nutrients round your body.
More importantly fenugreek is known to help regulate your blood sugar level. This lowers the release of insulin which enables your body to produce more testosterone.
This is actually a good addition although it's impossible to say how well as there is no indication of quantity.
White Mushroom
The humble white mushroom is a fungus which can be found virtually anywhere actually does help your T levels indirectly.
It works by inhibiting the production of aromatase enzyme. This is the enzyme which converts testosterone into estrogen. It effectively reduces your T levels and makes you more feminine!
There have been several studies which confirm the ability of white mushroom to reduce estrogen levels making this another good addition.
I just wish we knew how much of it was in the formula so we can confirm you will benefit from this nutrient.
Stinging Nettle Root Extract
There's a substance in your body known as Sex Hormone Binding Globulin (SHBG). Testosterone naturally binds with this.
Unfortunately once it does it is no longer considered free testosterone and cannot be used by your body for things such as muscle growth.
The humble stinging nettle has been seen to bind with SHBG, preventing your T from doing so and increasing your levels of free testosterone.
There are a limited number of studies into the effectiveness of stinging nettle as a SHBG inhibitor. However, the studies that have been performed are encouraging.
The key to stinging nettle being effective is the dose. It appears to achieve full inhibition at doses of 10mg/ml squared.
Of course, we don't know how much is in Test X180 Alpha because the quantity is hidden.
So we could flip a coin to decide if it will work or not!
Chrysin (5,7-Dihydroxyflavone)
This is a natural substance found in passion flowers, chamomile, honeycombs and even some mushrooms.
It is believed to be an aromatase blocker; working in a similar way to white mushroom. Lowering your estrogen levels increases the GnRH release by your brain. The result is a higher level of T production.
However, in studies Chrysin has only shown to be effective when injected directly into your testicles! This might not be an approach you want to take.
It certainly leaves you questioning why it is in this formula, not a good choice.
DIM (Diindolylmethane)
If you like eating dark green vegetables like broccoli and kale then you're already consuming DIM.
It is thought that this compound can reduce your estrogen levels, which in turn triggers an increase in testosterone production. It does this by helping the liver to get rid of estrogen more efficiently.
It is also believed to reduce the amount of SHBG in your body, preventing your T from binding to it.
Unfortunately the research is scarce and while some shows positive results there are some studies which suggest DIM has no discernible effect.
It has potential but without a quantity and more research needed it's a poor choice.
---
How do I take it?
Only 2 servings a day so the serving schedule could definitely be improved.
The instructions tell you to take 2 capsules with breakfast and another 2 with lunch. This means your T levels should increase in the morning and be sustained until mid-afternoon.
But, there's a big gap between lunch and the next breakfast. The chances are that your T levels will drop in this time.
It would be better to space the servings out more; 3 or 4 servings is a better approach to sustain your T levels and maximize your results.
---
Are there any Side Effects?
The ingredients are all considered all natural and save. Therefore they should not provide you with any undesirable side effects.
There are plenty of reports which suggest your libido will increase but this is a positive side effect!
Obviously if you have any allergies you should check the ingredients thoroughly before taking this T booster.
---
PROS
Some Good Ingredients

Zinc, Vitamin B6, Fenugreek and stinging nettle have all been linked with boosting testosterone.

Even the white mushroom may potentially help control estrogen.

Overall these nutrients aren't really enough especially when we don't know the quantities involved.
Libido Boosting

There seems little doubt that this should boost your libido.

With a handful of proven libido improving ingredients and the positive reviews in this area you should feel more sexually energetic.
---
CONS
Proprietary Blends

There are 2 proprietary blends in this formula; that's just not good enough.

You simply don't know how much of each ingredient you're getting. This means it may or may not be effective.

If it doesn't contain active doses you are wasting your money.

You can't even be sure you're going to get the same dose with each bottle you buy either.
Missing Key Ingredients

Although it has some good picks it is missing some of the key T boosting ingredients. Magnesium, vitamin D3 and even D-Aspartic Acid are three of our favorite powerhouse nutrients for reliable test boosting.

These could replace some of the unproven and unnecessary ingredients and really ramp up the performance of this product.
Expensive

At a shocking price of $139.99 from their official website this is definitely one of the more expensive T boosters on the market.

Considering it provides more of a libido boost than an increase in T levels this is not money well spent.
Mediocre Serving Schedule

2 servings a day is ok but not enough for maximal results. You will find the best testosterone boosters use 3 to 4 servings.

This ensures your body is given a constant supply of nutrients around the clock for maximal results.
Unproven Ingredients

There are several ingredients which require more research to show whether they are really effective for boosting T levels or not.

Until more research is completed it would be better to leave these out and include ones that are known to boost T levels.
---
What are people saying about Test X180 Alpha?
The Force Factor website lists only five testimonials. Unsurprisingly these are all positive reviews.
Comments range from having increased energy to gaining lean muscle and a tighter body.
Take a look at Amazon and you'll see a more average picture. The star rating is 3.6 and only 44% of users give it 5 stars.
The majority of the low ratings simply state that the product did not work for them. However the telling factor is really the 5 star reviews.
These are all fairly short and refer to energy boosts and feeling happier. While there are a few comments regarding muscle growth these are from users who are already active in the gym
The reality is that this T booster will make you feel better but won't necessarily boost your T levels.
---
Final Thoughts
A fairly good libido booster but a poor performing testosterone booster.
Remember that if you boost your T levels properly you enjoy an enhanced sex drive anyway. You also get the strength, muscle, fat loss, confidence and self-esteem benefits included.
Let's be honest with you $140 is an absolute rip off especially when it doesn't compete with the very best on the market right now.
---
Bottom Line
Our Rating: 3 Stars
It's a good attempt by Force Factor.
There are some positive ingredients here so there was some potential to create a good T booster.
Unfortunately these efforts are ruined by hiding most of the ingredients behind a proprietary blend.
This allows them to use cheap substitutes or to simply use just trace amounts of the more powerful ingredients.
The fact that it leans more towards libido boosting makes me wonder if it shouldn't be competing with other "penis pills" rather than other T boosters.
The bottom line is save your money, there are much better options on the market. This product is just one of the pack and not the alpha product you are looking for.
---
Updated! The 5 Most Effective Testosterone Boosters in 2022!
Find out for yourself the top 5 natural T-boosters currently available on the market right now.
These are the best choices if you want to...
Build Muscle Quickly
Rapid Strength & Size Increases
Promote Fat Loss
Increase Energy
Enhance Sex Drive
Click Here to See the Full List!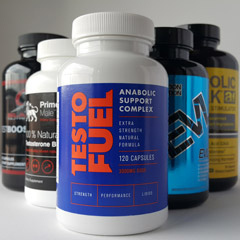 ---