Rating: 2.5 Stars
Price: $69.99

PROS

CONS

Proprietary Blends
Potential Side Effects
Mediocre Serving Schedule
Expensive
LeanFire XT is made by Force Factor who has an impressive website and a long list of sports supplements.
The company has been in existence since 2009 and has even won several awards.
This is enough to make me want to take a closer look at their fat burning offering.
Is LeanFire XT going to put the fire in your weight loss journey or are they just experts at marketing?
The claims made by the manufacturer are as follows:
Increase Fat Burning Ability
Improve Energy & Stamina
Boost Your Focus & Clarity
ForceFactor have certainly built up a solid customer base with their supplement line. In particular with their popular Test X180 Alpha testosterone booster.
However let's look to see if there is any truth behind their claims for LeanFire XT by analyzing the nutrient profile more closely:
---
What are the ingredients and how do they work?
Ingredient Overview
The first thing you will note is that all the ingredients are enclosed in 3 proprietary blends.
Essentially we don't know if there are active doses of each nutrient. Will they work or are they overdosed causing potential health issues?
With 721mg for the whole capsule it is most likely that most if not all of the nutrients are under dosed.
Take for example that you need 500mg of green tea for it to be effective. Therefore all 10 other ingredients would then need to fit into a tiny 221mg rendering them ineffective!
This formula does contain 4 excellent fat burning ingredients: Green Tea, Green Coffee Bean, Cayenne Pepper and Caffeine.
However without the exact quantities it is impossible to determine if they will give you any benefit.
Next come the bad ingredients. DMAE, Yohimbine and Bitartrate are all unreliable nutrients with associated side effects.
In particular Yohimbine HCL which is a banned substance in many countries has significant side effects.
Other notable components include L-Theanine which is more often found in pre-workouts and can help with focus but not really a core ingredient for an effective fat burner.
Certainly this formula has potential with some good ingredient choices. However without active doses and the high risk of side effects this is not your best option.
Peak Thermovigilance Triplex (721mg)
The entire capsule is 721mg and contains 3 separate proprietary blends with 11 ingredients.
Fat Incineration Weight Loss Blend
This is the first proprietary blend which is designed to improve fat incineration using thermogenic nutrients. No quantities are given so we are unable to determine the overall effectiveness.
Verilean Green Coffee Bean Extract (Coffea canephora)
Green coffee extract is simply the coffee beans before they are roasted; so they are naturally green.
This is a great natural thermogenic nutrient which has high levels of chlorogenic acid.
This has been shown to improve weight loss and help regulate post meal sugar levels.
It does this by reducing overall glucose levels in your liver.
Your body uses this glucose for energy, however with less of it your body it will start burning your fat stores instead to make up the difference.
This is a good start but it would be better if we knew how much there is. Current guidelines suggest 100g is an effective amount. It seems unlikely there is this much in this mix.
Green Tea Leaf Extract (standardized to polyphenols, catechins, and EGCG)
This is an excellent choice for a fat burner.
Green tea extract is packed full of antioxidants known as catechins which are known to increase the amount of norepinephrine in your body.
Norepinephrine is also known as the fat burning hormone.
It works by naturally increasing your body temperature which forces your metabolism to work harder to correct your temperature.
This increases your calorie burn and helps to burn fat. Unfortunately we don't know how much or how little is in this mix.
L-Carnitine
This is often referred to as an amino acid but it is actually made by your body from amino acids.
Studies have shown it is reliable way to boost energy and metabolism.
The compound is excellent at breaking down long chains of fatty acids and converting them into energy; ready to be used by your fat burning organs.
However current research suggests that between 500-2500mg is best for good results. It is unlikely that the amount in LeanFire XT even approaches the bottom of this guide.
Cayenne Pepper (Capsicum annuum) (fruit) Powder
Another good thermogenic.
This naturally hot chili is known to increase your core temperature; forcing your body to work harder to maintain its regular body temperature.
This cooldown process will burn more calories and fat than you would do normally.
The great thing here is that you don't need to do expend any extra effort to boost your metabolism and burn more fat.
Of course, we don't know how effective this is as no quantity is supplied.
BioPerine Black Pepper Fruit Extract
This does not help fat burning but it is found in most fat burners.
It is very effective at speeding up the absorption of nutrients through the stomach wall.
It is a good addition to improve the speed at which LeanFire XT will work; assuming it is effective.
---
Metabolic Mind Matrix
A second proprietary blend which is the manufacturer's unique selling point for improving focus and concentration.
L-Theanine
This amino acid has been added to help you train more.
It is shown to improve your concentration, focus and motivation.
This ensures you workout as hard as possible and increase your fat burning abilities.
It does this by promoting the relaxation hormones like GABA, Dopamine and Serotonin.
It is actually more common in pre workout supplements and as such not really necessary in a fat burner, but it is a nice addition.
You will find L-Theanine in green tea and research has shown that it can help with weight loss in animals.
However, there is not yet enough research into how it affects humans. Either way it seems unlikely there is an active dose here.
Caffeine Anhydrous (150 mg)
This is another good addition.
You already know caffeine is one of the best natural stimulants available. It will boost your energy levels, allowing you to move more and burn more fat.
It will also speed up your metabolic rate and even boost your endurance; allowing you to train harder and for longer.
It has even been linked with better reaction times and cognitive function. Finally a dose is given and 150mg per serving is a good amount.
---
Pure Energy Complex
This final proprietary blend doesn't give you the nutrient quantities although it is riddled with nutrients likely to give you side effects. This is very bad.
TeaCrine Theacrine (tetramethyluric acid)
You can actually find this natural substance in Chinese tea.
It is believed to enhance your performance and improve your mood.
It works in a similar way to caffeine but it doesn't have the same highs and lows associated with caffeine consumption.
Unfortunately research also suggests that it is not as effective as caffeine and again; there is no way of knowing how much is in this mix.
DMAE (dimethylamioethanol)
Not a great option.
This product also known as Deanol and is commonly found in beauty creams.
It is now being marketed as a means of improving cognitive function; particularly as you age.
There is not yet any scientific research that backs up the improvements in focus and cognition, studies have shown little to no improvement across a number of subjects.
In fact, it appears likely that there are some side effects associated with DMAE which we will come to shortly.
Bitartrate
This is not a good addition to LeanFire XT.
Research is very limited but it suggests that in can improve the movement of fat cells round the body to provide energy.
Current studies do not back up these claims and it also has side effects associated with it!
Yohimbine HCL
Bad choice!
This is actually derived from the bark of the Yohimbe tree in Central Africa. In fact it is used by vets to reverse the effects of sedation.
It is also believed to reverse hunger but research as an appetite suppressant is currently limited. There are also many significant side effects linked to its usage.
This version is the synthetic version which actually requires a prescription to buy in the US.
This ingredient has also been banned in the UK, Canada, Australia and New Zealand due to the reports of serious side effects especially in high dosages.
In short the Pure energy complex is more than likely going to give you side effects.
---
How do I take it?
Two servings per day – this could be improved.
LeanFire XT recommends you take one serving twice daily 30 to 60 minutes before your two biggest meals.
An effective fat burner needs to be taken 3 – 4 times a day so that the body is constantly supplied with nutrients and kept in a higher fat burning mode.
Remember once your body has absorbed the capsule and used the ingredients the effects will only last a few hours.
You want to be maximize your fat burning potential around the clock for the best results with as many servings as possible.
---
Are there any Side Effects?
Yes most likely.
As already mentioned the ingredients Yohimbine and DMAE will potentially cause you an array of side effects.
Yohimbine has some very worrying and severe symptoms:
Irregular or rapid heart beat
Kidney failure

Seizure
Heart attack
No surprises why this has been banned in many Western countries then.
DMAE meanwhile has the following issues when taken orally.
Headaches
Constipation
Itching
Insomnia
Drowsiness
Depression
Increased blood pressure

Schizophrenia symptoms
It is highly recommended that women avoid DMAE throughout pregnancy as numerous reports have shown it causes birth defects in children.
This is a big enough list to put me off. Remember the risk is even greater with these nutrients because the dosages are unknown.
Even if these were two of the best nutrients for fat burning (which they are most definitely not) the ill effects and long term health issues are simply not worth it.
---
PROS
Some Good Ingredients

The formula had a promising start with some of the best ingredients to promote fat loss: Green Tea, Green Coffee Bean, Cayenne Pepper and Caffeine.

Unfortunately the dosages are not mention, so without active doses these may do nothing for you all.
---
CONS
Proprietary Blends

The biggest sin connected with any supplement is not disclosing the amount of each ingredient.

LeanFire XT has not just one but three proprietary blends. With just 721mg per capsule it is not possible that they have actives doses for all the ingredients.

Even worse the risky nutrients may be over dosed, you just don't know.
Potential Side Effects

As you will have seen there are a number of significant side effects connected with the ingredients in this fat burner.

This is enough to put most people off and should certainly concern you.
Mediocre Serving Schedule

While two serving per day is better than one. This is still not going to maintain your fat burning levels throughout the day.

Force Factor need to revise the ingredient formula to ensure you have 3 or 4 servings per day for maximum results.
Expensive

At $69.99 it is at the higher end of the fat burner price scale.

This price would be justified if it was a brilliant and effective formula but this simply isn't.
---
What are people saying about LeanFire XT?
Take a look at the Force Factor website and you'll see a list of testimonials.
They all state how good the product is, although there are not many of them and they are all posted within a couple of months of each other.
Turn to Amazon and you'll see a different story. The star rating is just 2.5 with an amazing 48% of users giving it just 1 star!
The majority of user reviews center on the side effects of taking this supplement; it doesn't have a chance to work as jitters, nausea and light headedness seem to be common place.
This is not a good endorsement.
---
Final Thoughts
This is so disappointing because it does contain some of the very best fat burning ingredients.
However the use of proprietary blends and some very badly chosen nutrients completely spoil it.
It just isn't effective enough as borne out by user feedback; and the risks from Yohimbine and DMAE are just too much.
We can't recommend this formula, it just isn't worth your time, health or money.
---
Bottom Line
Our Rating: 2.5 Stars
On first glance this looks like a great fat burner with some very effective ingredients.
Unfortunately when you look more closely at the formula you soon realize how ineffective and potentially dangerous it really is.
The manufacturer should develop a transparent label listing all the quantities with active doses and remove the nutrients with known side effects.
Either way Force Factor certainly haven't managed that here. Avoid this product, there are much better products available on the market to aid your fat burning goals.
Updated! The Most Effective Fat Burner For 2022!
This is the top fat burning supplement currently available on the market right now.
It's the best choice if you want...
Thermogenic Fat Loss
Boosted Metabolism
Increased Energy
Appetite Supression
Click Here to See the Full List!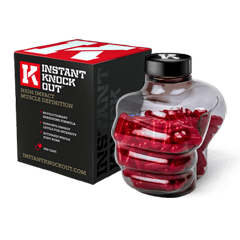 ---