Rating: 1 Star
Price: $59.95

PROS

CONS

Organic Natural Ingredients
Supplied as a Liquid
Could Boost Libido

Missing Key Ingredients
Proprietary Blend
Unproven Ingredients
High Price
If you were to judge a product by its name then this one has it all going on!
Super male vitality gives the impression that you're about to become Superman, so who wouldn't want to take it!
But, can the ingredients live up to the name, or is this one T booster that's about to come crashing to the ground?
This T booster was formulated by Dr. Edward Group at the Global Healing Centre and is endorsed and sold through the Infowars website.
You might recognize this name as the company is run by Alex Jones, a famous conspiracy theorist and American radio show host.
Infowars Life make several claims for this supplement:
Boosts testosterone levels
Increases libido
Improves strength & stamina
Better overall health and energy
Apparently the formula took more than 5 years to formulate. It uses a special process known as Spagyrex to separate and combine the herbs in this formula without changing the chemical nature of the ingredients.
The website boasts they are using "high quality naturally derived essences". Due to this being a liquid supplement this extraction process may have some merit.
More importantly though you should be asking are the individual ingredients proven in scientific studies?
So let's forget the marketing hype and start analyzing the formula now.
---
What are the ingredients and how do they work?
Ingredient Overview
If you're looking for a libido booster then you could be in the right place.
As a T booster it's disappointing to note an absence of key ingredients for directly increasing testosterone.
Either way it is impossible to determine the effectiveness of the formula because all the quantities are hidden behind a proprietary blend.
Add to this the fact that many of the ingredients lack scientific backing and it includes the dethroned king of testosterone Tribulus.
You end up with a T booster which is highly unlikely to give you the results you want.
We can only see one beneficial nutrient for testosterone and that is Ashwaganda. However this only indirectly promotes T production so it is certainly not a game changer.
Overall this is terrible formula and one of the worst we have seen.
Don't expect to notice any difference with this one; it may have some mild libido enhancement but without knowing if it contains active doses it's have to say.
If you are still not convinced let's look at the nutrient profile in more detail:
Proprietary Blend (1.23ml)
All the following ingredients are part of a proprietary blend which means nobody apart from Info Wars Life knows how much of each ingredient is present.
This is not good news for you. Without this information you can't determine the overall effectiveness of the formula.
Does it contain an effective dose of each ingredient or is it potentially over dosed which could cause health issues? It's impossible to say.
Organic Tribulus Terrestris (fruit)
You might not be aware of it but Tribulus was the first herb to be marketed at weightlifters as a T booster.
Yet, despite its early success the more recent trials don't back up the statements. Studies on rats showed an increase in the Luteinizing Hormone (LH).
This is the precursor to testosterone production and the main reason that tribulus was proclaimed to be so good. However clinical studies on humans see no changes in LH levels or testosterone levels.
It simply doesn't work!
There are studies that show it can have a mild effect on libido but this isn't why you are taking a T booster!
Unfortunately this is probably the highest dosage of all the ingredients in the blend which is a real waste, although we can't actually tell you exactly how much of a waste.
This is one nutrient that should be left out you are not going to notice any difference with this. It simply to show that Super Male Vitality has done its research properly.
Organic Tongkat Ali (root)
This herb also known as Longjack or Eurycoma Longifolia is claimed to promote your testosterone levels.
However, the results of studies are mixed. Some show increases in testosterone and some show no effect at all.
To be clear it is only the studies on rats that have shown any positive results. These studies have also shown it enhances sex drive and can even work well as a pro-erectile.
Unfortunately in all the human studies they have not been able to replicate the same beneficial results.
So it is highly unlikely to raise your testosterone although it may be a promising option for your libido. Although without knowing the amount in the mix it's impossible to tell how effective it really is.
Organic Ashwagandha (root)
This plant is also referred to as Indian ginseng and has been used in Ayurveda medicine for centuries.
There are a range of benefits associated with this herb, including improved fertility and assisting with erectile dysfunction.
But, the most important benefit is its ability to reduce anxiety and stress. Every time you're anxious your body will release the stress hormone cortisol.
This is to prepare your body to deal with the stressful situation. Unfortunately when cortisol is continuously released at high levels it causes other problems.
It will inhibit the production of other hormones, including testosterone. Therefore anything that can reduce your stress levels will help to boost our T levels.
This makes Ashwagandha the best ingredient so far because it helps reduce overall levels of cortisol giving your body more support to allow T levels to rise.
However it is impossible to know how effective it is as we don't know how much is in the mix.
Organic Maca (root)
This plant originates from Central Peru. Interestingly it is sometimes referred to as Peruvian ginseng!
It has been associated with a list of benefits to the body and is known to be a powerful aphrodisiac. Studies are not conclusive but it does seem likely that this herb may boost your libido.
Unfortunately research also shows that it has no effect on raising your T levels.
It's debatable whether it's worth including in this booster but either way you won't notice much difference using it in this blend.
Organic Avena Sativa (leaf/stem)
This has a more commonly used name, Oat Straw.
For centuries it has been quoted as being great for masculinity and improving hormone levels.
The problem is there is no research to back-up these claims. In fact in one study in rats wild oats actually reduced the level of testosterone.
While it is known to be anti-inflammatory which could help you exercise for longer and recover quicker, more research is needed before it can be safely added to a T booster.
This isn't a great option.
Organic Suma (root)
You might hear this referred to as Brazilian Ginseng, although it is not from the same family of plants.
It does originate from Central South America and has been used for years to improve fertility and energy levels.
Suma root contains ecdysterone which is an anabolic agent and has led to claims that it can boost testosterone levels naturally.
There are studies which show that it boosted T levels in mice and can even inhibit the production of estrogen. However this research has not yet been backed up with human studies.
For now this is an under-researched and probably unnecessary nutrient.
Wildcrafted Catuaba (bark)
This originates from Brazil and is actually related to the coca plant, classifying it as a stimulant.
It has been used for centuries to boost male libido. However, there are no real studies looking at its link with test levels; that means it's impossible to say if it will be any benefit or not.
Without the any clinical evidence this one should definitely have been left out.
Wildcrafted Muira Puama (bark)
This herb also originates in Brazil and is promoted as being great at boosting libido and testosterone in conjunction with catuaba.
However, the truth is that it has also not been fully researched. In fact there doesn't appear to be any studies on men and testosterone.
There are some studies to suggest it can benefit you when it comes to cognition, so you may notice improved focus and concentration.
Although this is a T booster so really this herb would be best left out of the mix.
Fulvic acid
This is actually a family of organic acids that are derived from humus (soil organic matter).
It is said to be beneficial at improving gut and cognitive health as well as detoxifying the body.
As well as boosting energy levels it has been linked with testosterone increase.
A study in 2010 of 35 infertile men showed an increase in serum testosterone of 9% with a second study in 2015 showing increases of 19%.
However, the amount in this mix is unknown and more research is needed to really confirm its ability to raise T levels.
---
How do I take it?
This is actually a liquid supplement.
Infowars Life recommend you take approximately 2 droppers full in the morning and another serving in the afternoon at around 3pm. So two servings a day – this could be improved.
Both servings should ideally be taken on an empty stomach.
This is a fair offering although 3 – 4 servings is better at maintaining elevated levels of testosterone throughout the day.
Each bottle contains 48 servings which will last you exactly 24 days.
---
Are there any Side Effects?
As the ingredients are all natural it's unlikely that you'll suffer from any unwanted side effects.
It's worth noting that this is supplied and endorsed by conspiracy theorists. This means it's unlikely to have anything harmful in it!
---
PROS
Organic Natural ingredients

All the ingredients are both natural and organic.

Natural means it is free of synthetic chemicals reducing the risk of damage to your body when you take them.

It is also nice to see they use using organic nutrients that are completely free of GMOs (genetically modified ingredients).

It's just a shame they chose the wrong ones.
Supplied as a Liquid

This can be considered a pro for anyone who dislikes swallowing capsules.

In some rare cases some people may have a gag reflex when it comes to tablets or capsules. So a liquid form is certainly easier to consume.

However, most people don't have an issue with this and might find a dropper or teaspoon an unusual and inconvenient way of taking this supplement.
Could Boost Libido

There are plenty of nutrients in this which are known to enhance the male libido.

So you should may feel manlier after taking this for a few weeks.

However as already mentioned without the dosage quantities we can't say if there are active doses for any of the libido boosting ingredients.

It may well do nothing at all for your sex drive.
---
CONS
Missing Key Ingredients

Worryingly there is no trace of the core nutrients you would expect to find in an effective T booster.

Zinc, Magnesium, D-Aspartic Acid (DAA) and Vitamin D3 are considered the most powerful direct testosterone boosters available.

Yet none of these are present in this formula. You have to question the research behind this product, adding these nutrients would have gone a long way to improving performance.
Proprietary Blend

The entire T booster is made up of a proprietary blend so you have no information regarding the quantity of each ingredient.

Not only do you not know exactly how much of each ingredient is going into your body, you don't even know whether they will be effective or not!
Unproven Ingredients

There are several ingredients which could boost libido and may indirectly increase testosterone levels.

But there is not yet sufficient research to confirm some of these nutrients effectiveness.

It would be better to leave the Suma root, Catauba root, Avena Sativa root, Muira Puama root and even Fulvic Acid out of the mix until more research has been completed.

Unfortunately that won't leave you with much.
High Price

On the official website it retails at $69.95 although it has been discounted to $59.95.

You can find it cheaper on Amazon for around $50. This is a fairly shocking price when you consider this is little more than a natural libido enhancer.

Add to that one bottle only lasts for 24 days, you don't even get a full month's supply.
---
What are people saying about Super Male Vitality?
Infowars has a large number of customer reviews for this product.
Impressively nearly all of them are 4 or 5 stars. There are just 360 below this out of 4,000!
Strangely many of the reviews are posted on the same day and there are very few which give any specific details. Most confine themselves to general comments of improved energy and better performance in the bedroom.
This backs up the libido enhancing ingredients but does little to confirm its power as a testosterone booster.
It's a different story when you head over to Amazon. Here just 46% of users give it 5 stars and nearly as many give it 1 star. Again these reviews are general, "Excellent" or "very satisfied".
The 1 star users' have more to say. Along with the usual comments of "no effect", there are several who reported diarrhea and insomnia.
It seems the reviews are only positive if you're looking for an increase in energy, which is not the same as a testosterone boost.
---
Final Thoughts
This is not what I would call a testosterone booster. At best it is a libido enhancer but even then not a very good one.
We hate proprietary blends here at Progressive Muscle; we are always very dubious about what the manufacturer is trying to hide from us when the quantities are undisclosed.
You can see there is not one direct T boosting ingredient in the whole formula.
What people don't seem to realize is that by actually raising testosterone properly you automatically get the libido benefits along with more energy, more strength, less fat and more muscle.
We recommend you pick a product that contains proven T boosting ingredients to enjoy all these benefits.
---
Bottom Line
Our Rating: 1 Star
This is not a T booster that we can comfortably recommended to anyone.
There is insufficient research into most of the ingredients and a lack of detail regarding the quantities of each ingredient.
If you want to actually raise your testosterone and get some serious results then avoid this product.
There are currently much better options available. Click on the link below for the highest rated boosters.
---
Updated! The 5 Most Effective Testosterone Boosters in 2020!
Find out for yourself the top 5 natural T-boosters currently available on the market right now.
These are the best choices if you want to...
Build Muscle Quickly
Rapid Strength & Size Increases
Promote Fat Loss
Increase Energy
Enhance Sex Drive
Click Here to See the Full List!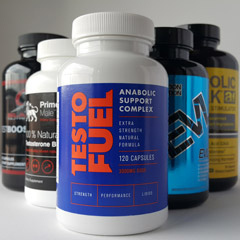 ---