Two test booster warriors lift up their swords and prepare for a battle to the death.
Which has the most powerful formula? Which will give you the maximum testosterone boosting results?
These two products normally make it on to many of the highest rated testosterone booster lists, so this is certainly a duel worth watching.
To my left is Testofuel one of the most popular and trusted test boosting supplements available produced by Roar Ambition.
This product has benefited many thousands of men to optimize their T levels since 2012 helping them to increase both strength gains and muscle strength.
To my right is the well-known Test Freak from the company PharmaFreak who are also known for producing another T booster called Anabolic Freak and the fat burner Ripped Freak.
They are a well-known brand and have been producing gym supplements since 2008.
Both worthy contenders then, but who will win the fight?
---
What are the rules?
We will judge this based on 5 critical factors.
Each of the rounds will test one of these important factors, the product winning the most rounds is the winner. Unless of course there is a fatal blow!
Here is the judging criteria round by round:
1) The Benefits – What will this product do for you? Is there any proof behind these claims?
2) The Ingredients – The most important aspect of a supplement. Does it contain effective ingredients to boost T? Have they been scientifically proven? Do they use effective clinical dosages?
3) The Servings – Almost as important as the nutrient profile. The way you consume a supplement determines how effective it will be. Is the serving schedule designed to maximize results?
4) Side Effects – Your safety and health come first. We assess if the formula may cause side effects or long-term health issues.
5) Price – How much will it cost you? Is it good value for money?
---
Round 1: The Benefits
What do the manufacturers claim their product will do and how will it benefit you? We have checked their claims and listed them below:
Testofuel's Benefits
Test Freak's Benefits

Contains proven ingredients that boost testosterone levels
Increases Muscle Growth
Boosts Strength and Energy
Helps Reduce Body Fat
All Natural and Drug Free Formula
Improves Gym Recovery
Endorsed By former Mr. Olympia Robby Robinson
Enhances Sex Drive
90 Day Money Back Guarantee

May Support Testosterone
Enhances Muscle Growth
Supports Strength Gains
Promotes Sex Drive
As you can see both of these products make similar claims.
However the stand out benefit is from TestoFuel which gives you a 90 day guarantee.
If you don't see the results you want then you can get a full refund. This shows that Roar Ambition have complete confidence that the formula will work for you.
In fact while Test Freak doesn't have any review or testimonials on their website while TestoFuel has a huge list of them from satisfied users.
We recommend you check them out for yourself here: https://www.testofuel.com/our-testimonials/
Another thing that gives TestoFuel credibility is the endorsement from a former Mr. Olympia Robby Robinson.
He is well into his seventies and packs on some serious muscle. He claims that his secret isn't just how he eats or trains but how he optimizes his hormones and TestoFuel plays a major role in this process.
While PharmaFreak does have its own athletes they are not mentioned on the official website and they don't actually endorse the products.
However Robby Robinson has put together a full video which you can watch here:
Winner: TestoFuel. A huge number of positive customer reviews and user feedback. It is also used by a former Mr. Olympia pro bodybuilder.
---
Round 2: The Ingredients
No matter how you slice it the ingredient formula is always the most important consideration when it comes to an effective testosterone boosting product.
Not only must we look at the science behind the chosen ingredients but also what quantities of these ingredients you are consuming.
Under dosed and you are wasting both your time and money. Over dosed and you could be facing side effects and long term health issues.
Remember we can only make this judgment with non-proprietary blends.
Below you will find TestoFuel and Test Freak's ingredient labels side by side:
TestoFuel looks good, no proprietary blends. However the Test Freak formula is riddled with them, at least two of which we cannot see the quantities, which is not a good start at all.
Both formulas contain some similar ingredients so let's being by comparing these:
Fenugreek
This is certainly one of the better testosterone boosting herbs you can find on the market right now.
Lots of studies have shown a link between this nutrient raising testosterone levels and increasing libido.
It does this by helping to regulate your blood sugar levels. By doing so to can help manage your insulin levels.
What you need to understand is that insulin and testosterone are closely linked in a hormonal balancing process within your body known as homeostasis.
Essentially the more insulin you have in your system the less testosterone you will have. Fenugreek is a great way to combat high blood sugar reducing your body's need to produce as much insulin.
It's a great option to support your body naturally allowing T levels to rise unhindered.
So looking at the labels now and TestoFuel contains an active 100mg dose while it is unclear how much is in Test Freak because it is contained in a proprietary blend.
While we can confirm that TestoFuel is using an optimal dose of Fenugreek we can't say the same about Test Freak.
This is a big problem for proprietary blends because you are unable to determine whether the quantities of nutrients offered are effective or not. Worse still is that over dosed ingredients can cause side effects.
Winner: TestoFuel
Magnesium 
This is really a great addition to any testosterone boosting supplement.
The mineral Magnesium has been shown to have very strong links to improving your levels of free testosterone.
It does this by inhibiting the Sex Hormone Binding Globulin (SHBG).
SHBG is a protein that will bind to free testosterone within your blood stream and strip it of any anabolic potency. This effectively makes it useless and cannot be used by your body.
What Magnesium does then is bind with the SHBG instead of your testosterone freeing up more active T for your body to make use of.
Both products contain this great free testosterone promoter then. TestoFuel has 200mg which is a nice strong dose while Test Freak has a weaker 90mg dose.
Expect to see fairly similar results with these dosages although we would have liked to see Test Freak go a little higher.
Winner: Draw
Zinc
An essential addition to any test booster.
This mineral is vital for improving testosterone production and overall male health.
Zinc is used by your brain for a variety of important reactions to help produce the Luteinzing Hormone (LH).
This is a key step because LH is a precursor to both testosterone and growth hormone.
In basic terms the more LH you have then the more support these hormones will have.
One important factor with Zinc supplementation however is that there is a daily 'Safe Upper Limit' of 40mg.
More than this and you are at risk of unwanted side effects such as nausea, vomiting and diarrhea to name a few.
So back to our labels and we can see TestoFuel has a clinically effective dose of 10mg and Test Freak has a much higher dose at 30mg.
Therefore be aware then that when taking a daily 30mg dose you are just 10mg away from the safe limit.
It is really important to eat foods that a lower in Zinc to avoid any issues with going over the limit and keeping you healthy.
So while both products contain an optimal dose you need to be cautious when taking Test Freak's higher dose. We will call this round a draw though.
Winner: Draw
---
Exclusive Ingredients
Ok so that's where the similar nutrients end, let's now take a look at ingredients that are unique to each formula and assess their pros and cons.
Both combatants grab their swords for some serious fighting, because this section is what makes the real difference.
TestoFuel
Vitamin D3
This is hands down the very best natural vitamin you can take for improving testosterone production.
It really is a great choice.
Vitamin D3 is so effective because it is technically a hormone.
Normally you absorb the large majority of vitamin D3 with direct skin exposure to sunlight.
However if you work indoors or you live in a country with less daylight hours especially during the winter months you are most likely to be deficient.
There are very strong links between long term use of D3 increasing testosterone levels, promoting healthy bones and improving joint health.
Not only that but doctors are now recommending patients supplement with vitamin D if they have problems with low energy levels and fatigue.
Recent studies from The Vitamin D Council have shown the recommended daily dose is 5000 IU. So we highly recommend you check your test booster contains this optimal dose.
Thankfully TestoFuel contains the most active dose at 5000 IU. Excellent choice.
D-Aspartic Acid
This natural amino acid is probably the most effective T boosting ingredients of recent times.
Extensive studies have shown this amino acid has ability to raise your T levels by 45% when consumed daily in quantities between 2000mg and 3000mg.
Once absorbed into your system D-Aspartic Acid (DAA) is used for several reactions in your brain to help increase levels of the Lutienizing Hormone (LH).
LH is your body's precursor for both testosterone and growth hormone, so the more LH you have in your system the more testosterone your body will produce overall.
Clinical research shows that DAA actually gives you the best results when consumed repeatedly over a 90 day period.
So the TestoFuel formula is certainly one lethal weapon as it contains 2300mg of DAA which is an optimal dose for getting T levels raised.
Asian Red Panax Ginseng
This herb is good choice for both your libido and T levels.
This Asian variety of Ginseng has been used in traditional Chinese medicine for centuries and is still used today.
In the West it is becoming more and more popular for its many health benefits.
For sex drive clinical studies have shown that using ginseng can help promote nitric oxide in your blood stream.
This is a vasodilator and essentially means that it allows more blood to move through your blood vessels at a time. Which means it can help enhance and promote stronger erections.
For testosterone it works by helping to regulate your blood sugar levels which in turn helps lower insulin levels. The hormone insulin directly affects your T levels in a big way.
The less insulin in your system the more potential you are giving your testosterone levels to rise. All the studies have been concussive that ginseng can really help in this department.
Another smart choice from TestoFuel.
---
Test Freak
Tribulus Terrestris
Although this has been a very popular nutrient in the past there is very little actual evidence that it works.
The reality is that there have been no human studies to confirm its ability to boost testosterone.
Supplement companies started adding it their products based on various promising but limited animal studies.
The fact is these studies have never been successfully scaled up to humans.
Evidence does suggest you may expedience a mild libido boost from taking Tribulus however new reports are suggesting it may give some men long term health issues.
Tribulus Terrestris may in fact cause increased weight of the prostate (hyperplasia) which is a real concern for your health and something you should avoid at all costs.
So really it is up to you to decide if it is worth supplementing with in Test Freak. Either way the Vitamin D3 found in TestoFuel is a far more effective nutrient for increasing testosterone.
Stinging Nettle Extract
Test Freak is determined to fight back bravely with this next nutrient and it does well with this strike.
Stinging nettle is great for promoting free testosterone.
This is due to its ability to help combat the Sex Hormone Binding Globulin (SHBG).
SHBG is a protein found in your blood stream which binds to the testosterones within your blood stream and strips it of its anabolic potency.
Essentially this testosterone is now useless and cannot be used by the body.
Stinging Nettle however helps by binding to the SHBG instead of your T. By inhibiting SHBG it frees up more testosterone for your body to use.
The studies are pretty concrete when it comes to this nutrient's effectiveness. So while it is a great addition overall it is not nearly as powerful as D-Aspartic Acid.
Saw Palmetto Extract
This plant will not help you boost testosterone according to modern studies, but it can help in other ways.
Several studies have been published that show Saw Palmetto can help with overall male health.
In particular this ingredient can help promote good prostate health. It can actually lessen the symptoms of hyperplasia (enlarged prostate).
While it may not be as effective as taking modern medicine it is a great natural alternative that offers relief for sufferers of this ailment. Plus it's good for overall prostate health.
So if it doesn't promote testosterone has it been added to combat the side effects of Tribulus which is known to enlarge the prostate?
Either way neither of these nutrients will benefit you when it comes to raising T levels and as such really a waste of time in such a supplement.
Exclusive Ingredients Winner: TestoFuel
---
Ingredient Round Summary
Although both products have some great ingredients it is TestoFuel that is all killer and no filler.
It contains optimal clinical dosages of some of the very best nutrients available on the market including Vitamin D3, D-Aspartic Acid and Asian Ginseng. These alone are what gives it the edge here.
On the other hand Test Freak has some really bad options like Tribulus Terrestris in addition to all the ingredients being hidden behind proprietary blends.
How can we assess how effective they are? What are PharmaFreak trying to hide?
So while they may share some of the same core ingredients TestoFuel has really loaded up on the best nutrients available while Test Freak has made some serious errors in judgment.
Of course due to space and time limitations we are unable to cover all nutrients in the TestoFuel formula but you can check it all out on their website here: https://www.testofuel.com/ingredients/
Without a doubt TestoFuel has Test Freak on the floor this round begging for mercy!
Final Ingredients Score: TestoFuel: 4 TestoGen: 3
Winner: TestoFuel. More effective testosterone boosting ingredients using a transparent non-proprietary blend.
---
Round 3: The Servings
TestoFuel uses 4 daily servings while Test Freak just uses 1 serving.
Although the ingredients formula is the most important factor the serving schedule will ultimately determine how effective your T boosting will be.
The longer you can keep your testosterone levels raised then the more you will maximize results in terms of strength and muscle mass.
The more servings a day the better so you should be looking for products that require 3 to 4 servings a day. In fact we would say the optimal serving schedule is therefore 4.
This allows your body to receive nutrients around the clock and giving you maximum gains. TestoFuel then delivers exactly that whereas Test Freak comes up short with only 1 serving.
With one serving your body will only benefit for a few hours before most of the nutrients are flushed out of your system.
Winner: TestoFuel. Uses the optimal serving schedule meaning testosterone levels are supported for longer giving you maximal results.
---
Round 4: Side Effects
It is one thing to have an effective supplement that works but if it gives you health issues then there is little point in taking it.
TestoFuel contains 100% natural ingredients so there is unlikely to be any major side effects taking it.
In fact there has been no reports from users about ill effects over the several years that TestoFuel has been available.
Test Freak is very similar in that regard, it contains all natural nutrients that shouldn't give you any issues.
Although there has been some worrying reports recently about the herb Tribulus Terrestris causing benign prostatic hyperplasia (BPH) which is essentially prostate enlargement and something to be avoided.
Although more research is needed to confirm these claims we will call this round a draw.
Winner: Draw. Both products use all natural ingredients.

---
Round 5: Price
The final round is price comparison; so which is going to put a bigger dent in your wallet?
Right now TestoFuel retails at $65 while you can buy Test Freak for $49.98.
As you can see there is really not much in it. But you can get TestoFuel cheaper when they run one of their multibox deals.
Currently they are offering a free bottle for every 3 bottles you buy. This brings the price down to $48.75 which is cheaper than Test Freak.
Ok so we are going to give this round to Test Freak based on the per bottle cost.
However it really depends on how much you want to buy, most users find that the best results come after 3 months of consistent use with a T booster.
Winner: Test Freak. If you only buy 1 bottle it is cheaper, however if you get the multi-box deal TestoFuel is cheapest.
---
Overall Winner: TestoFuel
| | TestoFuel | Test Freak |
| --- | --- | --- |
| | | |
| Round 1: Benefits | | |
| Round 2: Ingredients | | |
| Round 3: Servings | | |
| Round 4: Side Effects | | |
| Round 5: Price | | |
| Overall | 4 | 2 |
If you compare the two nutrient profiles it paints a clear picture. TestoFuel clearly has the better performing formula and the more reliable ingredients.
A big issue that we see with Test Freak is that many of its ingredients are hidden behind a proprietary blend.
Without knowing the exact quantities of ingredients it is impossible for us to determine how effective the formula is.
Also the addition of Tribulus Terrestris is a big thumbs down. As mentioned already it has never been proven to raise testosterone levels and there are links with it causing prostate enlargement when used long term which is absolutely not what you want.
Personally we would rather pay a bit more for more effective ingredients that work, better servings to maximize your results and no worries about potential side effects.
Which is why TestoFuel is the testosterone booster we recommend but we will leave it to you to make your own choice.
Buy TestoFuel Right Now!
Limited Time Offer Buy 3 boxes Get 1 Free
---
Updated! The 5 Most Effective Testosterone Boosters in 2023
Find out for yourself the top 5 natural T-boosters currently available on the market right now.
These are the best choices if you want to...
Build Muscle Quickly
Rapid Strength & Size Increases
Promote Fat Loss
Increase Energy
Enhance Sex Drive
Click Here to See the Full List!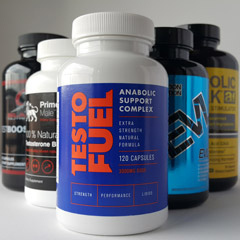 ---