Testosterone is known as the male hormone but it is present in women as well. The question is whether women should take a testosterone booster or not.
Despite what you may think the answer is a resounding Yes.
Boosting testosterone levels in women doesn't mean they need to pack on the muscle. In fact there is an array of benefits connected with women taking testosterone boosters:
---
The Benefits to Women
Testosterone is actually essential to the health and well-being of any woman. In fact there are a number of important benefits:
Peak Performance
Whether you need more confidence and energy in the office or you want to perform at your best in your chosen sport.
Women with optimal levels of testosterone perform better at pretty much any task physical or mental.
Sex Drive
As both men and women age they can find their sex drive starting to lag. This has been linked with low testosterone levels. Taking a T booster can help to restore your libido.
Cardiovascular Health
Studies have shown that testosterone is beneficial in dilating blood vessels which will increase blood flow round the body. This will improve the supply of oxygen and nutrients to your organs; helping to ensure they are healthy.
The result is better cardiovascular health and a reduced likelihood of heart related health issues.
Insulin Sensitivity
Testosterone reduces your resistance to insulin; helping to prevent the onset of type 2 diabetes.
Symptoms of Menopause
Testosterone therapy is often used to help alleviate the symptoms of the menopause. This includes the need to urinate frequently, hot flushes and even vaginal dryness.
Although more research is needed it is highly likely that increasing your levels of testosterone naturally will have the same effect.
Breast Cancer
Recent studies show that testosterone can actually be beneficial in reducing your risk of breast cancer.
Cognitive Function
Although it is not understood exactly how it works testosterone does help to improve your ability to focus. It also reduces fatigue; improves mental clarity and can reduce anxiety.
A Better Body
Optimal levels of testosterone will help to maintain your bone density; keeping your bones strong as you age.
It will also help you to maintain your muscle mass and can help with definition. But, your body knows its natural limit.
A testosterone booster will not give any woman the look of a competitive bodybuilder.
---
Symptoms of Low Testosterone
Not surprisingly the symptoms of low testosterone in women are similar to men:
Weight gain
Hair loss
Anxiety
Mood swings
Difficulty with losing weight
Low libido
---
Keep It Natural
A good quality testosterone booster works by providing you with essential nutrients; such as zinc, magnesium and vitamin D.
These nutrients occur naturally and it is possible to get them from food. However, it can be difficult to plan and stick to a diet that will give you the right amount of nutrients each day. The T Booster supplies the necessary nutrients for you.
These compounds encourage your body to produce more testosterone; using the chemical reactions in your body. The ingredients are natural and so is the process of generating testosterone.
That's why it's essential that you choose a good quality, all natural T booster. This can be used by men and women without side effects and without the need to cycle your usage.
---
Updated! The 5 Most Effective Testosterone Boosters in 2023
Find out for yourself the top 5 natural T-boosters currently available on the market right now.
These are the best choices if you want to...
Build Muscle Quickly
Rapid Strength & Size Increases
Promote Fat Loss
Increase Energy
Enhance Sex Drive
Click Here to See the Full List!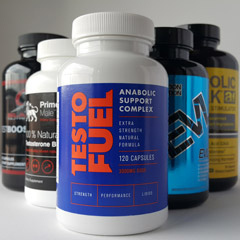 ---