You know testosterone decreases as you age, but you should also know that it is essential for the repair and growth of your muscles.
There are several options regarding the best way to improve your testosterone levels but the easiest solution is using a natural test booster.
Of course, if you are concerned about what you put into your body you will want to know what side effects are commonly linked with T-boosters.
These supplements have grown rapidly in popularity over recent years and there are some precautions which you need to take and certain facts that you should be aware of.
Understanding the facts will help to ensure you select the right T-booster for your needs and you can successfully increase your energy, stamina and muscle growth; providing you are prepared to put the effort in at the gym.
---
Testosterone – The Facts
Testosterone is the male hormone although it is also present in small amounts in women.
In men it is potentially the most important substance in their body. Having the right level of this hormone will help keep you healthy and active throughout your life.
This is shown by the numerous number of symptoms associated with low testosterone levels:
Low or even loss of libido
Weight gain
Fatigue
Mood swings; particularly depression
Muscle loss
Reduction of cognitive ability
The fact is that, if you do nothing about it, by the time you are 80 you are likely to have 20% or more of the testosterone you had at age 20!
In fact this is a recognized as a process called andropause which is similar to the menopause that women experience. However, because it happens over an extended period of time it is often overlooked.
Fortunately it is possible and relatively easy to boost your testosterone levels.
Foods rich in magnesium and zinc as well as nutrients such as d-aspartic acid will help to encourage your body to produce more testosterone.
However, it can be difficult to consume enough of these every single day. So the simplest solution is through supplementation using a testosterone booster.
T-Boosters are a potent source of the nutrients that your body needs to produce its own testosterone; most importantly they use natural ingredients which helps them to stay in tune with your body and provide the maximum benefit.
---
Benefits of Testosterone Boosters
Aside from the fact that it is very easy to take, testosterone boosters offer a range of benefits; these generally reverse the symptoms of low testosterone.
Which means optimal levels of T will give you the following benefits:
1) Rapid Muscle Growth
Testosterone is essential for a process known as protein synthesis which enables your muscles to heal and grow after exercise; making you stronger.
2) Increases Libido
Improved sex drive is linked with higher levels of testosterone in your body.
3) Promotes Fat Burning
Testosterone increases muscle size which means you will burn more calories. One pound of muscle burns between 3 and 5 times the number of calories than a pound of fat does! Increasing the calories you burn means you will burn a greater level of fat.
4) Balances Your Hormones
Having the right level of testosterone in your body assists you with balancing your hormones, helping you to maintain your mood and gives you a more positive outlook.
---
Potential Side Effects Associated With Testosterone Boosters
T-Boosters are a natural product and as such are generally considered to have negligible side effects.
However, there are some issues which can develop but it should be noted that these are generally consistent with taking too high of a dose.
So stick to the recommended dosage but also be aware of the following possible side effects:
1) Skin Changes
When you were 16 you may have complained about oily or even spotty skin.
This is seen as a natural part of adolescence. However, research shows that this is actually connected with the surge of testosterone which occurs at puberty and continues into early adulthood.
It has been suggested that this is why men who take testosterone boosters may experience oily skin and even a resurgence of acne from their youth.
This has no detrimental effect on your health but can have an effect on your confidence levels.
2) Sleep Problems
There have been some incidents of men struggling to sleep simply because they have too much testosterone in their bodies.[1]
In fact several studies have been done to confirm this issue, including one by the Department of Andrology in Australia.
They assessed 17 men and gave them testosterone boosters or a placebo three times; one per week for three weeks with a washout period of 8 weeks between the treatments.
The results confirmed that high levels of testosterone are linked with shortened sleep times.[2]
3) Problems with Rapid Muscle Growth
Testosterone encourages muscle growth however it does not help your tendons and ligaments grow.
If your muscles are growing too quickly then it is possible that your ligaments and tendons will be unable to keep up with your new lifting power.
If this happens then you are likely to cause yourself an injury or create issues for the future.
To prevent this from being an issue you should make sure you train with a well-balanced program.
Remember to ensure plenty of rest periods to promote not only muscle growth but to repair ligaments and tendons too.
4) Aggression
High levels of testosterone have been linked with an increase in aggressiveness.
Studies have shown that the more violent a man is the higher the level of testosterone. This is also the case when men indulge in competitive sports.[3]
Although violent behavior is considered to be normal in the animal kingdom it is generally suppressed in today's human society. High levels of testosterone decrease your ability to suppress this aggression.
The result is an outburst of violence which is in keeping with the animal kingdom and not an evolved species such as humans who live in the civilized society we do today.
Fortunately this aggressive behavior can be instantly reduced by decreasing the amount of testosterone booster you are taking.
5) Elevated Blood cells
Another side effect of testosterone boosters is the elevation of your red blood cell count.
This is a side effect which is associated with long term use of test-boosters. Red blood cells are essential for carrying oxygen round your body.
However, too many red blood cells will make your blood thicker.
This will make it more difficult for your heart to pump it round your body increasing the chance of high blood pressure, heart disease, strokes and even heart attacks.
To avoid this issue it is advisable to take scheduled breaks from your testosterone booster.
We recommend you cycle off for a week every 2 to 3 months if you are committed to long-term use. Long-term use is anything over a year.
6) Prostate-Specific Antigen Levels
It has been suggested that elevated levels of Prostate-Specific Antigen (PSA) are linked with using very large dosages of test boosters.
PSA is the antigen which is specific to the prostate; elevated levels means there is an issue with your prostate. This could be inflammation or potentially prostate cancer.
7) Headaches
Some users of test boosters have reported a minor increase in the frequency of their existing headaches.  These headaches are a minor nuisance and do not normally develop into migraines.
8) Urination Issues
Although testosterone is essential for many of your everyday functions too much of it has been linked with a thinner urine stream and less desire to urinate.
This can cause issues in your kidneys as toxins are not being removed from your system fast enough.
The reason this happens is because testosterone is known to stimulate the tissues in the prostate and this can cause the prostate to enlarge.
A result of this is that it puts pressure on the urethra which makes it more difficult to urinate.
9) Nausea & stomach upsets
Too much testosterone has been said to cause nausea and upset stomachs.
Unfortunately this is extremely difficult to monitor as there are many reasons why you might have an upset stomach or be suffering from nausea.
Remember that these rare potential issues only come about because a minority of users abuse their supplements. Stick to the recommended dosages and they are absolutely safe.
---
How to Avoid the Side Effects from Testosterone Boosters
The simple fact is that your body needs a huge range of minerals and micro-nutrients to survive on a daily basis.
Many of these minerals and micro-nutrients can be potentially harmful to your long term health if you take more than the recommended daily amount.
The same is true for T boosters.
If you adhere to the recommended daily dose and have intermittent breaks, a week off every 2 or 3 months, from your supplement then you will find that the benefits of testosterone boosters significantly outweigh the side effects; if you experience any at all.
Although the majority of people are unlikely to experience any of these side effects, it is important that you are aware of what the possible side effects are and you can stay on the safe side.
Should you experience any of these symptoms then you will need to reduce the dosage. Failing that stop taking the test-booster altogether.
Fortunately there are several steps you can take to help avoid the side effects of T-boosters:
1) Buy a Quality Product
The best way to ensure you avoid side effects is to purchase only high quality T-Boosters and avoid products with proprietary blends.
A non-proprietary blend has every ingredient quantity listed on the label.
This will ensure the ingredients are just what you need and not padded out with cheap synthetic ingredients.
Many proprietary blends are virtually guaranteed to give you a stomach ache and potentially more serious issues simply because you do not know what is actually going into your body.
Also look for products that are produced in FDA & cGMP approved facilities.
2) Correct Forms of Zinc
Your body needs zinc in order to create testosterone.
But, zinc comes in several forms and your body is not capable of absorbing it in every form.
Zinc gluconate is the most expensive but easier form to absorb while zinc oxide is much more difficult but far cheaper to buy.
To ensure your body is able to absorb the zinc you are consuming it is best to use a quality T-Booster.
Look for the Monomethionine or Aspartate versions on the label.
3) Absorption boosters
There are several different compounds which can help your system to absorb the zinc you are consuming.
One of the most effective is black pepper (aka BioPerine); you will find this in some testosterone boosters.
Providing you stick to the recommended dose it will help ensure you have all the zinc and other minerals you need to boost your testosterone levels without side effects.
---
Conclusion
It is important to remember that thousands of people take these supplements every year and enjoy the benefits without any side effects whatsoever.
Certainly the pros outweigh the cons by a wide margin. Having low testosterone is far riskier option for your long term health and lifestyle.
However if you are one of the unfortunate few to have any ill effects then you need to reduce the dosage or stop taking your T-Booster altogether.
If symptoms persist then do seek advice from a medical professional as quickly as you can.
Just remember to stick to the recommended dose.
---
Updated! The 5 Most Effective Testosterone Boosters in 2022!
Find out for yourself the top 5 natural T-boosters currently available on the market right now.
These are the best choices if you want to...
Build Muscle Quickly
Rapid Strength & Size Increases
Promote Fat Loss
Increase Energy
Enhance Sex Drive
Click Here to See the Full List!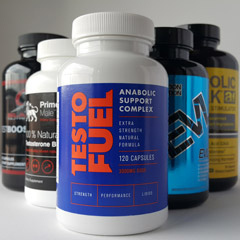 ---
References
[1] https://www.ncbi.nlm.nih.gov/pubmed/24435056
[2] https://academic.oup.com/jcem/article/88/8/3605/2845283
[3] https://www.ncbi.nlm.nih.gov/pmc/articles/PMC3693622/
---