Rating: 2.5 Stars
Price: $36.95

PROS

CONS

Contains Some Excellent Ingredients
Reasonable Price
Reputable Company

Many Proprietary Blends
Unproven Ingredients
Under Dosed Ingredients
Poor Serving Schedule
Supplement Cycling Ineffective
The original version of Animal Stak hit the market an impressive 9 years ago. But, the product has changed considerably since.
It's important to note that Universal Nutrition is a highly reputable company which has been in existence for approximately 40 years.
What hasn't changed is the way that Animal Stak is marketed as the non-steroid answer for those who want to use steroids, but are afraid of the side effects.
If you believe the hype this T-Booster should have you jacked in no time.
They make several impressive claims:
Offers complete anabolic hormone support.
Boost testosterone and growth hormone.
Reduce stress.
Enhances performance.
Let's looks at the hard scientific facts to see if there is any truth in these claims…
---
What Are The Ingredients And How Do They Work?
Ingredient Overview
The first thing that will go through your head when you look at the list below is that there are a huge amount of ingredients in this product; you could say a 'stak' of ingredients!
But this is just the first issue. The extensive range of ingredients is compounded by the fact that most of them are tucked into proprietary blends.
This makes it impossible for you to know exactly what you are taking and whether it will have any real benefit.
It should be noted that it's not all bad news, there are some excellent ingredients in this T-Booster; Zinc, Magnesium, Vitamin B6 and Vitamin D3 are all worth adding to your supplement regime.
But really from this huge list of nutrients that is about it when it comes to effective T boosting. This is certainly not a good formula.
Vitamin B6 (pyridoxine HCl) (10.5mg)
You've probably heard of estrogen, the female hormone.
You might not realize that it is very good at converting testosterone to fat. Reducing levels of estrogen in your body is essential to maximize the testosterone you have available to use.
Vitamin B6 is a good starting point for this T-Booster. It promotes androgen production which increases your T levels. In sufficient quantities it also regulates estrogen.
The only question I have is why 10.5 mg. Half this dose would be enough to have the desired effect.
Magnesium (as oxide) (450mg)
There are two types of testosterone in your body, free testosterone which is usable and testosterone which is bound to SHBG; this cannot be used by your body.
Magnesium can inhibit the production and operation of SHBG. In the process it will prevent free testosterone from binding to SHBG and provide more free testosterone for your body to use and grow.
It is worth noting that although magnesium is present in your diet, it escapes from your body through sweat, topping up via a supplement such as this is a good idea.
Zinc (as oxide) (30mg)
Zinc levels are the starting point when medical professionals look at a variety of illnesses, including low T levels.
It's still not clear why zinc plays such an important part in T production but studies suggest it has a direct effect on your testes.
Topping up your zinc levels is a great way of boosting testosterone. This is good news for Animal Stak!
However I must question the amount. The upper limit of zinc consumption for the average adult is 40mg per day. As zinc is likely to be in your diet it is possible that the amount in this mixture is on the high side.
Excess zinc in your diet can cause nausea, stomach cramps and headaches.
Vitamin D3 (as cholecalciferol) (1,000 IU)
This is another good addition, so far this T-booster is staking up to be a bit of an animal!
There have been several studies into the effects of vitamin D3 on the body and they show that this vitamin can significantly increase your testosterone levels.
One study of 54 overweight men was conducted over 12 months. The participants were given 3,300IU of zinc daily and a diet program.
At the end of 12 months the testosterone levels had increased in all the men being given zinc; the placebo group were unaffected.
The vitamin D council recommends you take 5,000 IU daily to ensure you have enough of this exceptionally important vitamin in your body.
Sadly this animal of a T-booster is already tiring, it offers just 1,000 IU.
---
Our first proprietary blend, which is a big mistake for this T-booster as it attempts to get you jacked. Proprietary blends are never a good sign because you just don't know what you're really getting. There are 5 blends listed on the label, just count them…
Proprietary Blend 1 – Pro Testosterone Complex (1500mg)

Tribulus Terretris Extract (standardized for protodioscin & steroidal saponins) (???mg)

There have been many studies completed on animals with Tribulus and they all conclude the same things.
It's excellent at increasing your libido but it won't do much for your T levels or even your fertility.
Animal studies suggest a dose of 5mg in humans is sufficient for this libido increasing effect. You'll be left stacked, but not in the way you want to be!
Longjack Extract Complex Eurycoma Longifolia (root) LJ-100™ (EuryPeptides™, glycosaponins & polysaccharides) (???mg)

Longjack, or Eurycoma Longifolia as it is properly known, originates from Malaysia and has earned a reputation as an aphrodisiac. Research suggests this title is therefore genuine 😉
However, despite claims that it can boost testosterone there is very little research to support this. In fact, the few studies which have been completed have been done on animals.
A study undertaken in 2014 on 15 athletes showed no change in testosterone levels for all the men, whether they were in the placebo group or one of those getting 400mg of Longjack every day.
This simply doesn't need to be in this T-booster.
Fenugreek (seed) (steroidal saponins) (???mg)

Here we go again!
Fenugreek is used in traditional Indian cooking for centuries but it is only recently it has been claimed to increase T levels.
In fact, it does!
Fenugreek does not act directly on your T levels but it does improve your libido and regulates blood sugar levels. This allows your body to produce testosterone, if your blood sugar level is wrong the testosterone production process is halted.
The question is whether Animal Stak has included enough or not, 100mg is a good starting point.
Stinging Nettle Root (???mg)
This common garden weed is known for its vicious sting.
In fact, this sting is an important part of the Animal Stak offering. Stinging nettle contains a beta sitosterol which acts directly on the SHBG in your body, restricting it.
The result is more free T, definitely a good thing!
Maca Extract (Lepidium meyenii) (???mg)

If this proprietary blend was intending to improve your libido then it would be on the right track!
In fact you could say you'd be stacked! But, it's not and all the studies completed confirm this. It is excellent at improving your sexual appetite but it has no effect on testosterone levels.
Another ingredient which doesn't need to be in this T-booster; this is starting to become a trend.
---
Proprietary Blend 2 – Growth Hormone Support (1500mg)
Arginine Complex (Arginine HCl, ArginoCarn® [acetyl-L-carnitine arginate dichloride]) (???mg)

The amino acid Arginine is produced naturally in your body.
However, even if you eat plenty of protein rich foods you might be suffering from low levels of this compound.
This amino acid has been show to help people with erectile dysfunction. It has also been shown in studies to increase testosterone levels. However, these studies were completed on mice.
Human studies do not show any increase in T-levels, but growth hormone is increased, which can help to increase the size of your muscles.
Until proven otherwise it might be best to leave this supplement for the animals.
You might also want to know that doses in excess of 10mg at one time can cause a variety of issues with your gastric system.
Mucuna Pruriens (seed) (standardized for L-dopa) (???mg)

This Indian bean is a staple of traditional Indian medicine.
In fact it is known to increase the size of your testicles! What is known is that this substance can reduce your stress levels by lowering the amount of cortisol in your body.
This is actually a good thing as high amounts of the stress hormone will prevent your body from producing testosterone.
A good addition but it's still unknown how much you are digesting.
SuperSerum™ (???mg)

If you know what this is then let me know, answers on a postcard please! Otherwise we have to assume it's a marketing trick.
Sustamine™ (???mg)

The same goes for this one; it's really not helping this T-booster 'stak' up.
Alpha Glycerylphosphorylcholine (alpha GPC) (???mg)

Boost your libido by taking this compound.
Unfortunately with all the other libido boosters in this T-booster you might find yourself going into overdrive. You might feel horny all the time but you won't actually be increasing your T levels or muscle gains.
---
Proprietary Blend 3 – Anti-Aromatase Complex (300mg)
Polygonum Cuspidatum Root (resveratrol) (???mg)

This herb is used extensively in Chinese medicine.
But in reality there is nothing known about it and whether it has any effect on T-levels. This is definitely one ingredient that shouldn't be in your T-Booster.
Calcium D-Glucarate (???mg)

Surprisingly, in with so many disappointing additions this one is actually worthwhile, in part!
Studies suggest that CDG can reduce the amount of estrogen in your body. This will prevent testosterone from being converted and is a good thing.
However, there are already substances which do this in this T-Booster, specifically vitamin B6, which is proven to reduce estrogen.
It would be better to leave this one out.
Diindolylmethane (DIM) (???mg)

This is also known as DIM and you can get it by eating your greens; just like your mother told you too.
Unfortunately, although it may have an effect on your estrogen levels there have not yet been any studies to confirm this.
It's safer to simply leave it out.
---
Proprietary Blend 4 – Hormone Amplifying Blend (500mg)
L-Carnitine Fumarate (???mg)

Research shows that L-Carnitine is effective at increasing the androgen receptors in your body; this increase free testosterone levels, boosts your energy and can even help you to lose excess body fat.
That's great, but the research also shows you need between 500 and 2,500mg of this amino acid to have the desired effect.
Unfortunately this proprietary blend is only 500mg, there's simply no way that you will get enough L-Carnitine from this.
AgmaPure, GlyoCarn, Quercetin, AstaPure (???)             
These ingredients are known only to Animal Stak, they could be excellent but it seems unlikely.
Bioperine® (fruit) (???mg)
This is just Black Pepper. While it is not effective for promoting more testosterone it can help with the nutrient absorption.
Without a dose listed we can't tell you if it will work for Animal Stak or not.
---
Proprietary Blend 5 – Restorative Support Complex (500mg)

Milk Thistle Extract (silymarin) (???mg)

This herb has been shown to be helpful in dealing with liver issues.
It actually promotes liver cell growth and prevents inflammation. It is commonly used by bodybuilders who use oral steroids.
The fact that Animal Stak has included this suggests that this T-Booster is so powerful you need to protect your liver.
The truth is you don't! It's simply a marketing trick and an unnecessary addition.
Astragalus (root) (???mg)

You'll find that this herb has been associated with boosting testosterone, specifically by boosting androgen levels in your body.
However, there have not been any studies completed on humans. There was a study completed on rats which showed an increase in T levels after receiving 100 ug.ml.
Of course, we don't know how much of this is in this T-Booster but there is not enough research to make me comfortable in saying it is a worthwhile ingredient.
Ashwagandha Extract (???mg)

This herb is very popular in traditional Indian medicine, it has been used for centuries to improve male virility. This has led to the assumption that it will boost testosterone levels.
There is a study which shows an increase in testosterone levels after taking this. However, research is seriously limited and there are better options.
You can't be sure this contains an active dose either.
Na-R-Alpha Lipoic Acid (Na-R-Ala) (???mg)

There is at least one study which suggests that lipoic acid is effective at preventing testosterone from being converted into estrogen. While it might not boost your T-levels protecting what you have is important.
However, there is, again, simply not enough research to confirm that this is an effective or necessary ingredient.
Coenzyme Q10 (???mg)

The final ingredient on this extensive list is known to help boost energy levels.
While this might make you feel better it will not actually help to increase your testosterone levels.
---
How Do I Take It?
Animal Stak says it needs to be taken once a day and that you should take it for three weeks before taking a break.
This mimics the way steroids are taken but is not going to give the ingredients enough time to really affect your body.
In addition, one dose a day is not sufficient to maintain elevated levels of T. To do this you need to take a serving 3 to 4 times a day; not something that is recommended with this T-Booster.
---
Are There Any Side Effects?
All the ingredients on this list are natural and should have no negative effects on your body.
However, there have been several reports of the following side effects:
Erections which won't go away; an alternative to Viagra?
Nausea
Diarrhea
Upset stomach.
Ability to sleep properly.
The issue is that we simply don't know how much of each ingredient is in the mix and how their interaction can affect your body.
It is worth noting that Tribulus Terrestris has been linked with reducing testosterone levels. In effect this goes against what this product is designed to do.
---
PROS
Contains Some Excellent Ingredients

Includes some of the top ingredients we look for when choosing a quality T boosting supplement.

Zinc, Magnesium, Vitamin D3 and vitamin B6 are all nutrients that work with your body to raise test levels.

Reasonable Price

For $36.95 you get 21 servings which will last you a month because you cycle one week off.

However as mentioned this really isn't necessary with natural T boosters. We recommend you stay on a booster non-stop for at least 3 months for maximum benefit.

On a monthly basis it's a fair price but it's not a great formulas at all.

Reputable Company

Started back in 1977 Universal Nutrition are a very well-established supplement company delivering a variety of natural products.

It's a shame however after all these years that they are still using lots of proprietary blends in their products. What have they got to hide here?

Don't buy based solely on company reputation, look at how effective the product is.
CONS
Many Proprietary Blends

In total there are 5 different blends contained in this formula.

Regular readers of Progressive Muscle will know this is a very bad thing; you won't know exactly what you are putting in your body.

Either you get an ineffective formula because nutrients are dosed too low or you get a dangerous one because there are over dosed ingredients.

This means you are either wasting your money or worse at the risk of side effects. Add to this you won't know exactly what you are putting in your body or if this changes between batches.

Unproven Ingredients

So many of these nutrients have very limited research.

How do we know if they work? Are we expected to be human guinea pigs for Universal Nutrition?

Tribulus is certainly one that stands out in particular; this has long been proven to be ineffective when it comes to boosting T.

Under Dosed Ingredients

Vitamin D3 has been considerably under dosed. This is one of the powerhouse nutrients when it comes to ramping up T production naturally.

It could also do with some D-Aspartic Acid to be really effective.

Poor Serving Schedule

Just one serving a day.

Your body is not going to be able to absorb such a large amount of ingredients in one dose.

Essentially it is expensive urine, you are literally pissing your money away. The most effective way is to take a supplement that has been deigned to be taken 3 to 4 times a day.

This keeps nutrients constantly supplied to your system and keeps testosterone levels high longer.

Supplement Cycling Ineffective

They seem to suggest that using their product is a strong as using dangerous anabolic steroids which is complete BS.

Hence they recommend you cycle 3 weeks on 1 week off. This is absolutely not needed for natural test boosting ingredients.

Your levels will never go above the normal range. In fact it is actually detrimental to cycle off so soon. You should stay on a T booster non-stop for 3 months for maximum results.
---
What Are People Saying About Animal Stak?

Surprisingly there are no reviews or testimonials on the official Animal Stak website. However, if you take a look at Amazon you'll quickly understand why.
There are plenty of reviews which state this T-Booster does nothing for them. But, there is one in particular which emphasizes this.
A gentleman known only as Mike actually had his testosterone levels checked before taking this and after using it for several cycles. The result was a decrease in testosterone by a whopping 23%.
Although generally on the whole customer reviews seem positive. They still raise questions as they are generally one liner's with no support to statements like 'great stuff'.
---
Final Thoughts
It seems Universal Nutrition want to use you as guinea pig for this product.
There are so many weird and unproven nutrients in this formula its quite shocking. Not only that but we don't even know what the doses are. Maybe you get an active dose, maybe a dangerous dose, but most likely an ineffective dose. Who knows?
It's annoying that they market this product as something that is comparable to anabolic steroids. As yet there are no natural ingredients that will give you those kind of results safely, it's just a marketing gimmick.
This formula isn't even comparable to the best boosters on the market. We strongly suggest you give this one a miss if you are serious about raising your T levels.
---
Bottom Line
Our Rating: 2.5 Stars
If you're hoping to build muscle and strength fast with this product you're on the wrong track.
There are simply too many ingredients and too little information regarding the quantities of these ingredients to safely consider taking this T-Booster.
It's disappointing to see a company which has been established for so many years rely on marketing gimmicks rather than scientific fact. But that's what animal stak does.
It is likely to leave you feeling more like a mouse than an animal. It's just not an effective supplement for boosting your T levels.
---
Updated! The 5 Most Effective Testosterone Boosters in 2022!
Find out for yourself the top 5 natural T-boosters currently available on the market right now.
These are the best choices if you want to...
Build Muscle Quickly
Rapid Strength & Size Increases
Promote Fat Loss
Increase Energy
Enhance Sex Drive
Click Here to See the Full List!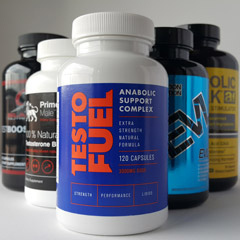 ---