It's fight time!
Two of the top heavyweight test boosters on the market battle it out over 5 rounds. Fighting out of the red corner is Roar Ambition's TestoFuel and fighting out of the blue corner is Evlution Nutrition's EVLTest.
Many of you have been requesting Progressive Muscle do this matchup for a while now. Both are hugely popular supplements with fairly similar nutrient profiles.
But which is better?
Fight!!!
---
How are we judging this?
There are 5 rounds each looking at what are regarded as the most important aspects of a testosterone boosting supplement:
1) The Benefits – What do the manufacturers claim and how is this going to benefit you?
2) The Ingredients – Does it contain clinically backed ingredients? What is the proven science behind the formula?
3) The Servings – Does it provide the optimal number of servings to maximize testosterone levels?
4) Side Effects – Are any of the ingredients in the formula likely to give you problems
5) Price – Is the cost really worth your hard-earned cash?
The product winning the most rounds will be declared the winner. Simple!
---
Round 1: The Benefits
Testofuel's Benefits
EvlTest's Benefits

Contains proven ingredients that boost testosterone levels
Increases Muscle Growth
Boosts Strength and Energy
Helps Reduce Bodyfat
All Natural and Drug Free Formula
Improves Gym Recovery
Enhances Sex Drive
90 Day Money Back Guarantee
While both of these supplements claim to do the same things it is only TestoFuel that offers you a 90 day guarantee.
This really shows how much confidence they have that their formula will actually do what it says it does. If you don't see and feel the benefits after taking this product you can get your money back.
Of course claims are nothing unless they are backed up with results however.
So while the EvlTest website lacks any user testimonials; many of TestoFuel's satisfied customers have come forward to give their opinions and show off their results.
You can see for yourself here what kind of results real users are getting: https://www.testofuel.com/our-testimonials/
Winner: TestoFuel. The money back guarantee and the tons of positive testimonials gives TestoFuel a clear edge in this round.
---
Round 2: The Ingredients
The ingredients are the most important element to a testosterone booster.
Of course they must be highly effective at raising your testosterone levels but they should also be completely safe. Its a tricky balance and only a few manufacturers do manage it.
Let's see how each formula stacks up with have put each nutrient profile side by side to see which is the most effective formula:
Its good to see that neither of these products contains proprietary blends so we can see the exact amounts for each ingredient in the formula.
Lets start comparing the main ingredients that both formulas share:
D-Aspartic Acid
There are lots of great studies to show that this nutrient is one of the most effective ingredients on the market to boost your testosterone levels.
It is used for several chemical reactions in your brain which help create the Luteinizing Hormone (LH).
LH is your body's precursor for both testosterone and growth hormone.
Subjects in various studies have seen increases in testosterone of up to 50%
The most effective clinical dose has been shown to be between 2000mg and 3000mg. Therefore both TestoFuel and EVLTest have given you the optimal amount in their formulas.
Winner: Draw
Vitamin D3
Arguably one of the very best vitamins for testosterone.
This essential nutrient is so effective because it is technically a hormone; studies have shown long term use of vitamin D3 supplementaion leads to huge increases in testosterone production.
Doctors are now recommending patients consume vitamin D3 supplements if they are suffering from depression or fatigue. These are symptematic of having low T.
Scientific research has show that the optimal dosage is 6000mg per serving which you can find in the TestoFuel formula. However EVLTest has come up short with only 1000mg and its therefore not going to be as effective.
Winner: TestoFuel
Fenugreek
Another major ingredient found in the current generation of testosterone boosters.
This herb is good for increasing your libido whilst also having T boosting benefits.
So although it is in both formulas; EVLTest contains a large 500mg whilst you will find TestoFuel has just 100mg.
Whilst you maybe thinking more is better, studies have actually shown the optimal dosage for fenugreek seed extract is actually only 50mg. So both formulas are both effective in this regard.
In fact the 500mg in EVLTest is overkill based on the scientific evidence. We feel it would have been better for them to top up some of ingredients that don't contain the optimal dosage instead.
That being said we are going to give the win to EVLTest this round.
Winner: EVLTest
Zinc
One of the best minerals for testosterone production. It's a great addition to both product formulas.
What you need to know however is that there is an upper limit for how much zinc your body can tolerate. This limit has been set at 40mg per day.
Medical guidelines warn us that is is wise to consume less than 40mg to avoid unwanted side effects such as nausea, vomiting, stomach damage and diarrhea.
Therefore TestoFuel has hit the nail on the head here because it uses 10mg. Clinical research has shown this is a beneficial dosage and it keeps you safe.
However with EVLTest they have gone overboard with 30mg per serving. We feel there is a good chance of you going over the safety threshol here.
Winner: TestoFuel
---
Exclusive Ingredients
So far we have been focusing on the ingredients that are in both formulas but now we are going to have a look at the main ingredients unique to each product.
This is when the rubber hits the road and we find out which formulas has the better ingredients.
TestoFuel
Asian Red Panax Ginseng
This version is also known as 'True Ginseng' and is considered a super-herb due the number of health benefits it gives you.
A great libido enhancer it has also been seen to raise your testosterone levels as well.
It is also good for promoting blood flow and supporting a healthy immune system.
While it is not the most effective T boosting ingredient by itself it does have its place in a testosterone supplement. Adding extra test production and a host of health benefits.
EVLTest
Tribulus Terrestris
This isn't a great choice.
You may well be surprised to learn that Tribulus doesn't promote testosterone at all.
In fact all recent studies have shown it to be completely ineffective when it comes to testosterone production in humans.
The reason it is still used constantly in test boosters is because at one time it was believed to work and was heavily marketed as doing so All the postive studies have only ever been done on animals.
However there has been evidence to suggest it can mildly raise your libido. Overall its not your best option.
Winner: TestoFuel
---
Ingredient Round Summary
So while they both have a lot of the same core ingredients, TestoFuel has got the clinical dosing correct unlike EVLTest.
It really is all killer no filler from Roar Ambition. There are some nice additional ingredients in there too such as ginseng and oyster extract .
In fact we don't have enough space to cover every ingredient in Testofuel; but you can learn more about them here: https://www.testofuel.com/ingredients/
Apart from the ineffective dosing on some of the ingredients EVLTest also has problems using Tribulus.
This has now long been proven to fail at boosting T so why include it now?
Clearly TestoFuel has the better ingredients and formula. In a real fight TestoFuel would have delivered the knockout blow here.
Final Ingredients Score: TestoFuel: 4 EVLTest: 2
Winner: TestoFuel. A blueprint formula for raising T-levels. With more proven ingredients and every nutrient is clinically dosed.
---
Round 3: The Servings
Testofuel has 4 servings a day whilst EvlTest only has the one.
The fact is the more servings you get from your test booster throughout the day the better. Clearly then TestoFuel is the winner here. But you may well ask why more servings is better?
Well when you take a T boosting supplement the nutrients are only active in your system for a few hours before your body either uses them up or flushes them out.
So with EvlTest you are really only getting those nutrients for a short period of time each day.
However with TestoFuel you take four individual servings every few hours throughout the day. By doing this you keep your body constantly supplied with the nutrients it needs to keep your T levels elevated.
Essentially the more servings the more effective the testosterone support giving you better results. One serving a day is just not enough to truly maximize your results.
Winner: TestoFuel. With 4 servings throughout the day TestoFuel maximizes your testosterone production for longer.

---
Round 4: Side Effects
So now we have looked at the ingredients and the servings its time to see how safe these two testosterone boosters are.
As far as we are aware there have been no reported side-effects for either product. Both use completely natural ingredients that haven't been linked to any side effects.
Both test boosters appear to be clean so you can take either one safely.
Winner: Draw
---
Round 5: Price
Finally we come to the price comparison so which one is better value?
Currently TestoFuel retails for $65 while EvlTest costs $40.
Although if you decide to buy TestoFuel in bulk things do become a lot more competitive. When you buy a 3 box purchase they include an extra bottle.
Therefore making the price $48 per bottle. Of course this all comes down to how much you would like to buy.
Clearly EvlTest is cheaper than TestFuel on a single box basis.
Winner: EvlTest. It's cheaper
---
Overall Winner: TestoFuel
| | TestoFuel | EVL Test |
| --- | --- | --- |
| | | |
| Round 1: Benefits | | |
| Round 2: Ingredients | | |
| Round 3: Servings | | |
| Round 4: Side Effects | | |
| Round 5: Price | | |
| Overall | 4 | 2 |
If you want the absolute best formula with the most effective ingredients then you have to go with TestoFuel.
Although the price is more expensive you do really get more bang for your buck when it comes to results. Plus you can always save money with the multibox deals.
With a money back gaurantee it is really hard to go wrong. We recommend you check out their website to learn more:
Buy TestoFuel Right Now!
Limited Time Offer Buy 3 boxes Get 1 Free
---
Updated! The 5 Most Effective Testosterone Boosters in 2022!
Find out for yourself the top 5 natural T-boosters currently available on the market right now.
These are the best choices if you want to...
Build Muscle Quickly
Rapid Strength & Size Increases
Promote Fat Loss
Increase Energy
Enhance Sex Drive
Click Here to See the Full List!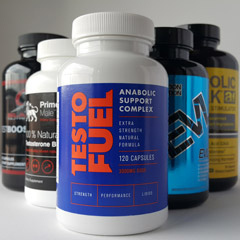 ---