Rating: 1.5 Stars
Price: $34.99

PROS

CONS

No Proprietary Blends
Some Effective Ingredients

Several Ineffective Ingredients
Key Ingredients Missing
Potential Side Effects
Health Warnings
Poor Serving Schedule
Testosterone Up is manufactured by Irwin Naturals.
They have been operating for several years although it does not seem possible to find out exactly what 'several years' means.
They are relatively unknown but produce a wide range of supplements.
By their own admission they are a market leader and yet most people don't know who they are!
This was certainly enough to get my interest! They claim Testosterone Up will:
Boost testosterone levels
Improve Performance and muscle mass
Enhance libido
Maximize your strength
Interestingly this supplement is marketed as a T-booster and yet it says it will only boost testosterone levels of those already in the normal range. Which makes it somewhat of a limited product.
However let's cut through the marketing BS and find out if it actually works. Let's look at the science…
---
What are the ingredients and how do they work?
Ingredient Overview
A look at the ingredients will leave you feeling both up and down!
It's great to see the presence of Zinc, Ginseng and Nettle Extract. Even the Copper is a good idea to balance out the Zinc.
But, key ingredients such as D-Aspartic Acid (DAA), Vitamin D3, Magnesium and Vitamin B6 are all missing.
Combine this with a possible excess of Zinc and the inclusion of the potentially harmful nutrient tribulus and you'll be left feeling more down than up.
This is definitely a case of could do better, or 'the only way is up'!
Here are the ingredients in detail:
Zinc (As Zinc Methionine) OptiZinc®  (30mg)
Using the important trace mineral Zinc is an excellent starting point.
It has been shown to be vital to many reactions in your body and to be an essential part of cell membranes. It is also responsible for triggering the release of Luteinizing hormone (LH) by your brain.
This hormone is the precursor to the production of testosterone and growth hormone.
It will therefore help to increase your T levels. It is also worth noting that this form of zinc (Methionine) is easier for your body to absorb.
However with the recommended daily amount of zinc at 11mg and the 'Tolerable Upper Intake' of 40mg. Testosterone Up is treading a fine line with 30mg.
Considering you will also get some zinc from the food you eat this is a little on the high side for my comfort.
Too much Zinc and you are prone to side effects which we will cover in a later section.
Copper (As Copper Citrate)  (2mg)
Copper is a valuable addition to this particular T-booster.
Excessive amounts of zinc in your body can result in your copper being flushed out.
As copper is essential for the production of red blood cells and nerve cells it is important to keep this topped up.
Adding this recognizes the downside of high zinc doses used, but it does leave me questioning that high zinc dose…
MCT (Medium Chain Triglyceride) Oil (900mg)

This is a fatty acid that can be found in coconuts.
Research has shown it can help promote overall joint health and it can boost your metabolic rate.
This will allow you to burn more calories which can help with weight loss. It could also help you to boost your performance in the gym.
Unfortunately the effects of MCT are very short lived so unless you are taking it just before you hit the gym you're unlikely to find much benefit in this.
It certainly won't boost your T levels so really a waste to add it to the formula.
Pumpkin Seed Oil (900mg)
Pumpkin seed has been found to be rich in both Zinc and Magnesium, two key ingredients for your body to produce testosterone.
There are a variety of other benefits which studies have shown that pumpkin seeds can offer, these include improving bladder function, promoting sleep, helping your intestines and even relieving anxiety.
Whilst potentially a T-boosting ingredient I have to question why there is additional zinc from this nutrient when it is already present in a high quantity.
It might have been better to leave the pumpkin seed out and add some magnesium.
Nettle (Urtica Dioica) Extract (4:1)(Root)  (300mg)
Also known as utica dioica this perennial flowering planet is found all over the world and has been used medicinally since Ancient Greek times.
It is a good addition for improving levels of free testosterone.
Although an annoying and painful weed it can be a valuable addition to a T-booster. Nettle extract has been shown to inhibit the production of the Sex Hormone Binding Globulin (SHBG) in your body.
SHBG binds to testosterone and strips it of any anabolic potency. Therefore a reduction in this substance will leave more free, usable testosterone in your body.
This is definitely one of the best ingredients in this mix!
Plant Sterols (40% Beta Sitosterol) (300mg)
Studies have shown that plant sterols can be beneficial in reducing your bad cholesterol.
This will certainly make you healthier and may make you feel more energetic.
Unfortunately we don't know what 60% of the plant sterols component are. However we do know that 40% of this compound is Beta Sitosterol which is commonly found in plants like Stinging Nettles.
As already mentioned this is great for improving free testosterone by reducing SHBG (see section above).
Tribulus Extract
(40% Saponins)(Plant)
  (300mg)
This herb is a definite no.
Its one ingredient you've probably heard of and it used to be the main ingredient in many T-boosters.
However, research has confirmed that this has no effect on your T levels. Unfortunately it does have several potential side effects.
These include diarrhea, sickness, intestinal issues and long term may lead to prostate enlargement.
Definitely not a substance I want to see in my T-booster.
Asian Ginseng Extract (80% Ginsenosides)(Root) (100mg)
This is a better ingredient.
Also known as Panax Ginseng this species of plant grows in the mountains of Eastern Asia and has been used for centuries in traditional Chinese medicine.  It is beneficial for many reasons.
Ginseng releases nitric oxide which improves the flow of nutrients round your body. You might notice a difference in your libido! But, it is also effective at lowering your blood sugar level.
This means that your body will produce less insulin. As more insulin actually blocks testosterone production the lower your levels of insulin the more support you give your body to produce greater amounts of testosterone.
Even better, this is the perfect dose to add to a T booster, Irwin Naturals really nailed this one.
LJ100® Tongkat Ali (Eurycoma Longifolia) Extract (40% Glycosaponins And 22% Eurypeptides)(Root) (100mg)
This flowering plant is native to South East Asian countries such as Malaysia and Indonesia.
It has a reputation as an aphrodisiac and studies have indeed shown that longjack can be effective at raising libido.
Although studies show conflicting results regarding its effectiveness as a T booster. In fact, the majority of the research has only been completed on rats.
The limited human trials which have been conducted show no significant change in testosterone levels.
This is good for boosting your sex drive and making you feel manlier, but not for boosting your T levels.
Chrysin (99mg)
This mineral has been proven to boost your testosterone levels; an apparent score, or one Up for testosterone up!
Unfortunately the research shows that it is only effective when injected directly into your testicles. This supplement doesn't offer to do that and it's certainly not something I intend to do!
You might have heard of or even been referred to studies regarding the ability of chrysin to reduce estrogen. This is true but only in a test tube.
When research was carried out to assess if it worked inside your body the conclusion was a definite no, your cell membranes wouldn't allow this substance in!
This is one ingredient that could be left out completely.
Gamma Oryzanol (50mg)
This is the second ingredient in this product which can help to reduce your cholesterol levels.
That's great if your cholesterol levels are high! Unfortunately it doesn't offer any benefit if you're simply trying to boost your T levels.
There is no research which suggests it will boost testosterone! Its inclusion has also meant they have needed to put a health warning on the bottle which we will come to shortly.
BioPerine® Black Pepper Extract (95% Piperine)(Fruit), Ginger Extract (5% Gingerols)(Root) (6mg)

The main part of this compound is the same black pepper you use to season your food.
The use of black pepper in supplements is great for increasing absorption and nutrient flow. It can help the other nutrients in the formula to activate quicker potentially giving you faster results.
---
How Do I Take It?
This supplement comes in the liquid soft-gels form and you'll get 20 servings in each bottle.
A 20 day's supply is inconvenient, why can't they offer a full 30 day supply to see you through a whole month?
It advises you to take 3 of these capsules daily with a meal and a full glass of water. This means unfortunately you are only taking one serving a day.
This is simply not effective to boost and maintain elevated testosterone levels throughout the day. Your body gets one big hit of nutrients and then nothing for another 24 hours.
The very best T-booster are designed to be taken 3 to 4 times a day to maintain your T levels around the clock.
---
Are There Any Side Effects?
Unfortunately this formula does present several issues of concern.
Tribulus has in the short term been seen by some users to cause diarrhea, sickness, stomach pain and difficulty sleeping.
Whilst more worryingly long-term usage has been linked with enlarging your prostate which can cause urination issues.
The amount of Zinc is slightly concerning. Although not at the recommended daily value it is ¾ of the way there.
There is more zinc present in the pumpkin seed and you are likely to consume some zinc in your diet; it is possible you'll be taking too much in which will result in a number of side effects.
These include vomiting, nausea, diarrhea and potentially kidney or stomach damage.
Gamma Oryzanol has been recognized as interfering with the normal operation of your thyroid. In fact there is a health warning on the booster relating to this ingredient on their website and product label:
California Residents Proposition 65 WARNING: (State of California Prop 65) This product contains a chemical known to the State of California to cause birth defects or other reproductive harm.
This should be enough to send any user scurrying away from this booster!
---
PROS
No Proprietary Blends

It's always a good sign when a manufacturer decides to declare exactly what's in their product and the dosages for each.

Whether it's good or bad at least you can tell how effective overall it will be because either it uses clinical dosages. Or whether there are any potential side effects due to over dosed nutrients.
Some Effective Ingredients

Zinc, Nettle Extract and Ginseng are all valuable additions to this t-booster. They are all shown to help boost T levels; but is it enough? Well definitely not because some of the most powerful nutrients are missing which we will get to in a moment.
---
CONS
Several Ineffective Ingredients

Tribulus has no place in a T-booster due to its ineffectiveness and its potential to cause unwanted side effects.

You'll also note that the inclusion of pumpkin seed, chrysin and gamma oryzanol are not really providing any assistance in boosting testosterone.

So several wasted opportunities and dangers with this formula and you are paying for them!
Key Ingredients Missing

The most powerful T boosting ingredients are missing.

D-Aspartic Acid (DAA) and Vitamin D3 are powerhouse nutrients when it comes to.

Magnesium should always be paired with Zinc in a test booster and maybe some Fenugreek would have been a welcome addition.

Vitamin B6 is also useful for suppressing estrogen. These would be better than many of the ingredients in this mix.
Potential Side Effects



Long term supplementation of Tribulus Terrestris has the potential to cause benign prostatic hyperplasia (prostate enlargement).

Whilst in the short term users have reported side effects such as diarrhea, sickness, stomach pain and difficulty sleeping.

The potential to overdose with the higher Zinc content is also an issue which you can read more about in the side effects section above.

While these issues may not affect all users, you certainly need to be aware that the risks are there.
Health warning on bottle

You'll note the health warning on the bottle concerning birth defects and reproductive harm.

This is a big enough issue to keep most people away from this supplement.
Poor Serving Schedule

A good T-booster is designed to be taken 3 or 4 times a day to give your body a constant supply of nutrients and keep T levels elevated for a longer period of time for maximum results.

Testosterone Up is only one serving a day which won't give you maximum results.

The effects of one serving will wear off after a few hours and simply won't maintain boosted T levels throughout the day.
---
What Are People Saying About Testosterone Up?
The Irwin Naturals website is relatively well laid out but there is no sign of any testimonials from happy, (or sad), customers.
If you take a look on Amazon you'll find a 3.5 star rating. However, the reviews are spread across the entire range. Less than 50% of users have given it a 5 star rating.
The majority of these are just a few words, such as 'great product'. This does not inspire me to believe they are genuine.
The negative reviews are more telling. They range from ineffective to capsules melting together, smelling like rotten fish and even fatigue and headaches.
The problem is that there are very few other consumer reviews available online; leaving me to believe the product is not popular or effective.
Bodybuilding.com is even worse with just a 2/10 score! Basically customer feedback is on the negative side, users are not seeing results.
---
Final Thoughts
There are so many negatives with this formula we better start with the positives first. It uses a proprietary blend and has three good ingredients Zinc, Nettle Extract and Asian Ginseng.
Aside from that, this is possibly the worst formula we have ever come across. You are highly unlikely to experience the benefits they are claiming for this product, so no increases in strength and muscle mass and no extra energy and vitality.
A highly ineffective test booster with the potential to cause all sorts of side effects, we give this a big thumbs down and highly recommend you avoid Testosterone Up.
---
Bottom Line
Our Rating: 1.5 Stars
Testosterone Up tries hard to up your T levels but it is missing the most powerful ingredients available for doing so.
Not only that but it has more than one dubious item on the nutrient label that are both ineffective and possibly dangerous.
There are also simply too many health implications and not enough T-boosting potential to make me feel comfortable with this supplement.
Without a doubt you should stay away from this product. There are so many better choices available elsewhere, giving you far better results and without these unnecessary risks.
---
Updated! The 5 Most Effective Testosterone Boosters in 2022!
Find out for yourself the top 5 natural T-boosters currently available on the market right now.
These are the best choices if you want to...
Build Muscle Quickly
Rapid Strength & Size Increases
Promote Fat Loss
Increase Energy
Enhance Sex Drive
Click Here to See the Full List!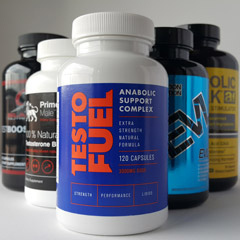 ---