Two heavyweight contenders of the testosterone booster world battle it out to see who will be crowned champion!
On my left fighting out of the blue corner is TestoFuel from Roar Ambition. This supplement is a hugely popular trusted brand for many thousands of its customers. In fact it has been helping guys get bigger and stronger since 2012.
On my right fighting out of the red corner is TestoGen manufactured by a company of the same name. Although a less established brand compared to its rival, it first appeared in 2014 with a very similar nutrient profile to TestoFuel.
Ok the fight is about to begin, take your seats because this is going to be brutal!
---
What are the rules?
There are 5 important aspects when it comes to a testosterone booster.
Therefore the fight will take place over 5 rounds and at the end of each round one will be declared the winner.
Thus the product winning the most rounds will be crowned champion. Here are the rounds and what they mean:
1) The Benefits – Every company claims their product will benefit you. So what are they and is there any truth behind them?
2) The Ingredients – The most important factor. Are the ingredients scientifically proven? How effective are they? Is the dosage right?
3) The Servings – The way you consume a supplement is important too. Is the serving schedule designed to give maximum benefit?
4) Side Effects – You want a safe product that will give you no side effects or long term problems.
5) Price – How much does the product cost and is it value for money?
---
Round 1: The Benefits
Testofuel's Benefits
TestoGen's Benefits

Contains proven ingredients that boost testosterone levels
Increases Muscle Growth
Boosts Strength and Energy
Helps Reduce Bodyfat
All Natural and Drug Free Formula
Improves Gym Recovery
Endorsed By former Mr. Olympia Robby Robinson
Enhances Sex Drive
90 Day Money Back Guarantee

Increase Strength & Stamina
Improved Focus
Helps With Energy
Enhance Libido
As you can see for yourself both of these supplements claim to do very similar things.
But it's TestoFuel that delivers the first blow in this round because it has the backing of bodybuilding legend and Mr. Olympia winner Robby Robinson.
He may be in his seventies but he still
keeps his testosterone levels high
and packs on muscle with TestoFuel.
He has decades of experience when it comes to strength training, nutrition and supplementation so if anybody knows he does. Watch the video above to learn more.
A respected name in the bodybuilding world Robby Robinson wouldn't put his name to something he didn't believe in. On the other hand it does say a lot that there are no athlete endorsements from TestoGen.
But what about regular users?
Are they experiencing these benefits? Well we checked out various forums, websites and testimonials to find a long list of customers who have come forward to give positive reviews for TestoFuel.
You can see more on their website here: https://www.testofuel.com/our-testimonials/
TestoGen gets a real beating this round, it has no testimonials on its website and a very limited number of positive reviews online which is not good.
Winner: TestoFuel. Lots of positive feedback from customers who can vouch for the benefits. Backed & used by a pro bodybuilding legend.
---
Round 2: The Ingredients
The ingredient formula is the most important factor to an effective T booster supplement.
Formulating the perfect product is tricky because too little of an ingredient and it is ineffective at raising testosterone; whilst too much of an ingredient can cause unwanted side effect.
So let's have a look at the supplement facts labels side by side for a comparison. Which is the safest and most effective formula?
Both products contain non-proprietary blends. Which is important because we can see all the ingredient quantities and we can assess how effective it is overall and uncover any possible side effects.
Both formulas contain similar nutrients so let's start by comparing these:
D-Aspartic Acid
One of the best choices for a test booster, with solid clinical studies backing its effectiveness for raising T.
Once absorbed by your body, DAA is used for several reactions within your brain to help promote the Luteinizing Hormone (LH).
LH is a precursor to both testosterone and growth hormone so having more of it within your system will help increase T production.
The optimal dosage for this nutrient is between 2000mg and 3000mg.
So we can see TestoFuel has a solid helping of DAA at 2300mg while TestoGen just squeezes in there with 2000mg.
Winner: Draw
Vitamin D3
Another one of the heavyweights when it comes to the top test boosting ingredients.
Vitamin D3 is technically a hormone with numerous studies showing that it improves both testosterone and bone health whilst also strengthening your immune system.
Most people are deficient in this nutrient so it is important to get at least 3000 IUs on a daily basis. Whilst for optimal T levels 5000IUs is the clinical dose.
Therefore you'll experience the most benefit with TestoFuel because it contains the best dose at 5000 IUs.
By comparison Testogen only offers 400IUs which is significantly underdosed and therefore ineffective in this formula.
Winner: TestoFuel
Fenugreek
This is a reliable herb that has shown to both increase libido and boost testosterone.
Understand that insulin and testosterone are closely linked due to a process that takes place in your body called homeostasis.
Essentially when your insulin levels are higher your testosterone levels will be lower.
Fenugreek has the ability to help regulate your body's blood sugar and therefore helps keeps insulin levels in check allowing more space for your testosterone to rise. The less insulin you have the more T you have.
So while TestoFuel has 100mg of Ginseng and TestoGen has 200mg you may be thinking more is better.
But studies have shown that the optimal dosage for fenugreek seed extract is just 50mg. As long as you are getting this amount you will benefit your testosterone levels.
More is really overkill here and TestoGen could have lowered the price of the product by reducing the amount of this nutrient. We judge this round is a draw because both formulas give you optimal dosages.
Winner: Draw
Ginseng
This is a good choice with scientific evidence to show it helps with both testosterone and libido.
This nutrient works by helping with blood sugar regulation, reducing your body's need to produce insulin just like Fenugreek. Less insulin means higher T.
It can also help to promote the levels of nitric oxide in your blood stream. This means it helps improve your body's overall blood flow which aids problems with erectile dysfunction.
The TestoFuel's formula contains 100mg while TestoGen has 250mg. Bear in mind however that compared to very best T boosting ingredients Ginseng isn't the most effective at getting the job done.
But it is again hard to fault its usefulness in a testosterone booster.
So while the TestoFuel formula contains 100mg and TestoGen 250mg, you are unlikely to see much difference if any in results. That being said this round goes to TestoGen.
Winner: TestoGen
Zinc
This is one of the best minerals you can find in a T booster being an essential part of the T boosting process.
Once your body has absorbed Zinc it is then used for many reactions that take place in your brain.
Here we are concerned with its ability to increase the levels of the Luteinizing Hormone (LH). That is because LH is a precursor to both testosterone and growth hormone.
Essentially the more you have in your system the more support you have to help increase T.
So TestoFuel has hit the nail on head here with 10mg because the majority of studies show this to be the most beneficial amount for a T supplement.
The big concern with TestoGen is that the 72mg dosage is too high and could cause you side effects. You need to be aware that there is a TUL (tolerable upper limit) for zinc and it has been set at 40mg.
We highly recommend that you do not supplement more than this amount to avoid side effects and diarrhea.
Winner: TestoFuel
---
Exclusive Ingredients
Now we have finished comparing the main T boosting ingredients that are the same we shall look at main nutrients unique to each formula.
This is really where the brawling gets serious and ultimately decides the winner:
TestoFuel
Oyster Extract
This is an ingredient that gives TestoFuel an edge over a lot of test boosters out there.
A natural super food that is often referred to as "Nature's Multivitamin".
It is rich in both Zinc and Iron as well as a host of other nutrients that have been proven to have a beneficial effect on your T levels, overall health and sex drive.
Not only that but it contains many amino acids that help with protein synthesis which essentially means it helps you grow and pack on more muscle.
TestoGen
Tribulus Terrestris
This is a non-starter as far as boosting T levels go, basically it doesn't work.
You have probably come across claims from supplement companies that the herb Tribulus will give you all sorts of benefits but sadly the evidence just isn't there.
In all human scientific studies where supplementation has been used there have been no positive results for increasing T. That being said it may give some mild libido enhancement.
It's a bad option and should have been left out.
Winner: TestoFuel
---
Ingredient Round Summary
Both products contain many of the same ingredients but the formula designs are different.
TestoFuel has gone with providing higher optimal dosages of the most effective nutrients, like vitamin D3 and D-Aspartic Acid.
However TestoGen has tried to cram as many ingredients in there as possible regardless of their effectiveness. Therefore they have underdosed and overdosed some key nutrients to make them all fit.
TestoFuel has used correct clinical dosing throughout, making it both safe and effective. TestoGen has really messed up with the levels of Zinc, they are too high meaning ill effects are a real concern for you.
What seals the deal for TestoFuel is that it contains Oyster Extract which contains a multitude of benefits for both health, muscle building and T levels.
While TestoGen is still stuck in the past using a nutrient that has now been proven to be ineffective for T production.
Due to limitations of time and space we can't cover every single ingredient in TestoFuel, but you can learn more here: https://www.testofuel.com/ingredients/
TestoGen is very bruised and bloody after round 3, its going to have to dig deep to hang in there.
Final Ingredients Score: TestoFuel: 5 TestoGen: 3
Winner: TestoFuel. The most effective and safest choice. More effective ingredients using optimal clinical dosages.
Important! The nutrient formula is really the most important factor, so while this is a clear KO victory this round for TestoFuel, we will continue with the fight to ensure all areas are covered. Clearly TestoGen is on wobbly legs for the last three rounds!
---
Round 3: The Servings
TestoFuel maximizes testosterone support with 4 servings a day while TestoGen just has one.
This is a clear cut round. What you should be looking for is a testosterone booster that provides 3 to 4 servings per day.
This allows your body a constant supply of nutrients throughout the day keeping your T levels elevated around the clock.
TestoFuel gives you exactly this with 4 servings spread throughout the day.
However TestoGen dumps its load prematurely with one serving. The supply of T boosting nutrients only last a few hours, so expect a peak and then a decline until the next serving.
This is not the best way to maximize the use of a T booster.
Winner: TestoFuel. More servings a day is best because it keeps testosterone elevated around the clock for maximum results. TestoFuel wins with 4 servings.
---
Round 4: Side Effects
An effective supplement is one thing, but if it cause you to be ill then you need to look elsewhere.
TestoFuel – Uses 100% all natural ingredients which means you are highly unlikely to experience any side effects. We can also see that the dosages are at safe levels.
Plus there has been no reports of any side effects from thousands upon thousands of users.
TestoGen – As we mentioned before contains far too much Zinc at 75mg.
Remember that the safe limit intake has been set at just 40mg so the likelihood of side effects is very high.
Have a look here at some of the potential side effects:
Nausea
Vomiting
Diarrhea
Indigestion
Headaches
Long term be aware that high dosages may also cause kidney and stomach damage.
Winner: TestoFuel. The formula uses both safe and effective clinical dosages for all of the natural ingredients in the formula.
---
Round 5: Price
The final round comes down to a battle of cost. Which is cheaper?
TestoFuel can be found for $65 while TestoGen comes in slightly cheaper at $54.90.
However if you decide to buy TestoFuel in bulk you can get a free bottle with every 3 bottles purchased. This brings the cost down to $48.75 per bottle.
We feel that although TestoGen is cheaper you are getting better value with TestoFuel because the formula is more effective.
Such a formula will give you higher testosterone levels and greater muscle mass long term.
TestoFuel is more of a premium product overall and the clinically dosed formula shows that. But on a single bottle basis we have to give the win to TestoGen.
Winner: TestoGen. Cheapest product of the two.
---
Overall Winner: TestoFuel
| | TestoFuel | TestoGen |
| --- | --- | --- |
| | | |
| Round 1: Benefits | | |
| Round 2: Ingredients | | |
| Round 3: Servings | | |
| Round 4: Side Effects | | |
| Round 5: Price | | |
| Overall | 4 | 1 |
If you are going to take a testosterone booster then choosing the most effective ingredient formula is vital.
You don't want to waste months of your time taking something that gives mediocre or poor results when you look in the mirror.
TestoFuel is by far the most powerful supplement of the two. Expect to maximize your muscle gains both short term and long term when you choose this product.
One sticking point maybe the price, but you generally you do get what you pay for which is safer and more effective formula.
The smart choice is to go with the multi box deal that comes with a money back guarantee.
Buy TestoFuel Right Now!
Limited Time Offer Buy 3 boxes Get 1 Free
---
Updated! The 5 Most Effective Testosterone Boosters in 2022!
Find out for yourself the top 5 natural T-boosters currently available on the market right now.
These are the best choices if you want to...
Build Muscle Quickly
Rapid Strength & Size Increases
Promote Fat Loss
Increase Energy
Enhance Sex Drive
Click Here to See the Full List!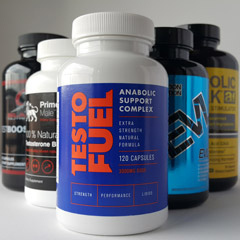 ---