Rating: 2 Stars
Price: $19.99

PROS

CONS

Some Effective Ingredients
Libido Boost

Missing Key T Boosting Ingredients
Proprietary Blend
Unproven & Pointless Ingredients
Poor Serving Schedule
Prime Labs state they are a leading distributor of dietary supplements yet there seems to be no listing for their Alpha Xplode product on their official site!
They appear to have a good status on Amazon yet they provide little information about their company.
This is enough to make me curious and find out more about the product they are offering.
Is Alpha Xplode likely to explode your T levels or leave you wanting more?
Here's what they claim their product will do:
Boost your testosterone levels.
Increase your energy.
Build strength and muscle mass.
Enhance your libido.
Burn fat.
It's worth noting that they state 'Alpha Xplode formulation contains only the best proven ingredients at their proper dose'.
The facts below don't quite agree with this statement as you will soon see!
---
What are the ingredients and how do they work?
Ingredient Overview
The first thing to say is that there is a proprietary blend in this formula. This is an immediate red flag.
Even if all the ingredients in the blend were beneficial you don't know how much of each nutrient it you'll be getting and therefore you don't know how effective it will be overall.
In fact there are only 4 other main ingredients with exact dosages listed. 3 of these will mildly boost your libido while only Ginseng has been seen to have a positive effect on your T-levels.
That's the issue, your libido might go up but your testosterone is not going to show the improvements you want.
Most disappointing is the lack of key ingredients which are proven to boost T levels, such as Zinc, Magnesium, Vitamin D3, D-Aspartic Acid, and Vitamin B6.
Tongkat Ali (400mg)
This flowering plant originates from Malaysia and is often referred to as Longjack.
It is certainly a very popular addition to many testosterone boosters. Sadly, it doesn't appear to be an effective one.
Research shows that Tongkat can boost your libido and potentially improve fertility in men with fertility issues.
However, much of the research has been completed with rats, successful studies on adult men show potential T-boosting capabilities but only in those with low testosterone levels.
Other studies show conflicting results; this is one ingredient that could be left out until more is known about it.
You are unlikely to notice any benefits with this nutrient. You may get some mild libido enhancement.
Maca (0.6% extract) (250mg)
This is another ingredient which has been linked with boosting libido.
It originates from central Peru and looks a little like a turnip. A study on 8 male cyclists showed a significant improvement in libido in just 12 weeks.
Unfortunately further studies have not linked the increased libido with an increase in testosterone. T levels have stayed the same.
That's the 2nd ingredient, out of 2, that could be left out!
L-Arginine (250mg)
This is actually an amino acid. It has been liked with improved blood flow and an increase in nitric oxide; which helps to carry oxygen round your body and to your muscles.
This won't build testosterone directly but it will enable you to work out harder.
It can also help to resolve erectile problems. But, this is not done via boosting hormones. In fact, this is unlikely to be achieved through Alpha Xplode as L-Arginine does not absorb well when taken orally.
There is little point in adding this to the T-booster especially as it is known to cause potential side effects in some people.
These include nausea, diarrhea, fatigue, weakness, lower back pain and even inflammation!
Ginseng Blend  (125mg)
This is the first positive ingredient in this T-Booster!
It is considered to be one of the oldest medicinal plants in Asia; ginseng is known to help regulate your blood sugar levels. Lower blood sugar levels equates to lower levels of insulin.
Reducing the amount of insulin in your body will allow your body to produce other hormones and substances which can boost your T levels.
This is also reflected in the fact that ginseng is reputed to lower stress levels, again allowing your body to focus on other hormones.
This is a useful T boosting ingredient which has been dosed correctly.
---
Proprietary Blend (745mg)
It goes without saying that this is a big negative.
While Prime Labs are listing the ingredients you have no idea of what quantities are present, this can make a big difference as to whether they are effective or not.
Sarsaparilla (herb powder) (???mg)
This ingredient has potential. It contains a steroid saponin called diosgenin which is the building block for many hormones, including testosterone.
Unfortunately it's impossible to tell if there is enough to be effective or not.
Pumpkin Seed Powder (???mg)
Pumpkin seed is high in zinc and magnesium making it an excellent addition.
These two compounds are key precursors to the successful production of testosterone in your body.
Again, we can't tell if there is enough to have any effect or not.
Muira Puama Powder (???mg)
This powder is actually the ground roots and bark of a tree. It has a history of use as a libido booster and research shows it can improve the quality of your erection.
Sadly, there is no catalogued effect on your T levels.
Oat Straw (herb powder) (???mg)
You might also have heard of this as Avena Sativa. There is some research that suggests it can boost your libido but this is now quite dated.
In addition limited research has been carried out on its testosterone boosting capabilities. However, the results are currently inconclusive; more research needs to be done.
Due to lack of knowledge this ingredient could easily be left out.
Nettle (herb powder) (???mg)
This is a good option for promoting free testosterone.
Nettle has been shown to bind with the Sex Binding Globulin (SHBG) in your blood stream.
This prevents your testosterone from binding to the SHBG which strips it of its anabolic potency. Essentially once it is bound to SHBG it cannot be used by your body for growth.
Nettle extract can therefore reduce this process allowing you to have more T circulating in your bloodstream.
While this ingredient is a definite plus it's still impossible to know how effective it is, no amount is indicated.
Cayenne Pepper (40M HU/G) (???mg)
Unsurprisingly this hot pepper will raise your body temperature. This will force your body to work harder to reduce your core temperature again.
In doing so you'll burn more calories and will burn fat. It will certainly help you achieve your weight loss goals although it might not directly boost your T levels.
It is worth having although this nutrient more suited to a fat burner supplement.
Astragalus (4:1) (???mg)
This herb originates from China and has been used for centuries to help treat diarrhea, fatigue and even breathlessness.
Many people claim that it can boost your T levels but there are not yet any studies which can confirm this.
It's an unnecessary addition.
Catauba Bark Powder (???mg)
Yet another libido booster makes an appearance! Taking Alpha Xplode was certainly designed to cause your libido to Xplode off the charts!
Unfortunately there is no research into whether this powder can affect your hormone levels. For now it is best left out of the mix.
Licorice (4:1) (???mg)
This might have been added as it has been called a stress reducing herb, which has the potential to improve T levels.
However, research shows that it can actually increase the stress hormone, disrupting the production of testosterone!
Definitely one to be left out.
Tribulus Terrestris (herb powder) (???mg)
A bad ingredient choice.
Although it has been popular to add to T boosters in the past and many manufacturers still do the scientific evidence just isn't there.
When studying animals this compound has been shown to boost testosterone levels. Unfortunately the results don't translate into humans.
It's unlikely to have any effect on your T levels. Although it may have some mild libido enhancement it would have been better to leave out altogether.
Orchic (???mg)
Orchic extract is actually a polite name for bovine testes, which you are more likely to know as cow's testicles!
You could certainly consider it a macho ingredient but there is no research which shows it has any effect on your T levels.
This is yet another ingredient which is ineffective and won't give you any noticeable benefit.
Oyster Extract (???mg)
Oysters are loaded with Zinc, Vitamin D3 and a host of other beneficial micro nutrients which are essential to the body when producing testosterone.
Great for overall male health this is nature's multivitamin.
Although this makes a good addition not knowing the quantity in Alpha Xplode should cause you to question whether it will have any effect or not.
An educated guess would say there is not nearly enough here.
Boron (amino acid chelate) (???mg)
The final ingredient is good, research has shown it can boost your T levels and lower your estrogen levels. This is backed up by an array of studies.
However, there is still no amount indicated, it might be too little to have a positive effect.
Is it using an effective clinical dose? Only Prime Labs knows!
---
How Do I Take It?
The instructions state to take 2 capsules per day which is one serving daily.
Each container has 30 servings which will last you for just one month. Just one dose per day is an ineffective dosage schedule.
To boost and maintain elevated testosterone levels you will need to take a booster 3 or 4 times a day; one dose is simply not going to xplode anything.
---
Are There Any Side Effects?
The ingredients are 100% natural so it should be safe. However, it is worth noting two points:
It contains shellfish (oyster extract) so will be an issue if you have a shellfish allergy.
Contains L-Arginine which have been known to cause nausea, diarrhea, fatigue, back pain and even general weakness.
Proceed with caution.
---
PROS
Some Effective Ingredients

Pumpkin Seed, Ginseng; Nettle Extract and Oyster Extract are all nutrients shown to help boost T levels.

However aside from the Ginseng we can't tell you whether they are clinical doses and therefore if they are going to be effective enough to give you results.

It is unlikely to be powerful enough.
Libido Boost

There are plenty of ingredients in here which should help raise your libido. Although if it did actually raise T effectively you would see this benefit anyway.
---
CONS
Missing Key T boosting Ingredients

Zinc, Magnesium, D-Aspartic Acid, vitamin D3 and Vitamin B6 are all proven to boost T levels and they are all missing.

These are the most important ingredients for any effective T-Booster and would dramatically improve the performance of this supplement.
Contains a Proprietary Blend

With a proprietary blend you simply don't know how much of each ingredient you're getting.

This means they may or may not be effective because they under dosed a nutrient. Without seeing if it it's a clinical dosage you are playing Russian roulette with your results.

This is made worse because ingredients could be over dosed potentially leading to side effects and health issues.
Unproven & Pointless Ingredients

There are so many ingredients that may provide some mild libido boost and even more that don't have any proven effect on T levels.

These should be removed and a little more research conducted to add the ingredients which do work.
Serving Schedule Very Poor

Just one serving a day. This just doesn't offer a good enough dose or schedule. To be effective you need a T-Booster with 3 or 4 servings a day.

Your body needs supplying with nutrients throughout the day to keep T levels elevated for maximum results.
---
What Are People Saying About Alpha Xplode?
The fact that the product doesn't appeared to be listed on their own website leaves no opportunity for customer reviews.
However, if you take a look at Amazon you'll see 70% of customers have given it a 5 star rating!
The problem is when you start to read the reviews they are all talking about feeling like they have more energy. This is likely to be linked to the libido boost.
But it doesn't relate to a testosterone boost which is the point of this supplement!
Worryingly there appear to be very few other reviews on the web for this product outside of Amazon. This tells a story in its own way and confirms you'd be better looking elsewhere.
---
Final Thoughts
We really don't like proprietary blends here at Progressive Muscle and this is a perfect example of why.
So many nutrients listed with no way of assessing if they are effective or not. The good ingredients it does contain really aren't enough to get your male hormones moving in the right direction.
To be fair Prime Labs looks like a fairly legitimate operation with all their supplements made in the USA to GMP certified standards and they even offer a 30 day money back guarantee.
However at the end of the day it's just a poor product for raising testosterone.
---
Bottom Line
Our Rating: 2 Stars
The only thing that has the potential to explode with this T-Booster is your libido level.
It might help you feel like you have more testosterone but it won't actually boost T levels. This is one T-booster that needs to go back to the drawing board and explode in a new direction.
We can't recommend Alpha Xplode because it won't give you the testosterone boost you want or the results you are looking for.
There are much better more effective testosterone boosters available which will help you reach your goals.
---
Updated! The 5 Most Effective Testosterone Boosters in 2022!
Find out for yourself the top 5 natural T-boosters currently available on the market right now.
These are the best choices if you want to...
Build Muscle Quickly
Rapid Strength & Size Increases
Promote Fat Loss
Increase Energy
Enhance Sex Drive
Click Here to See the Full List!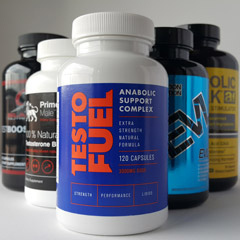 ---