Rating: 2.5 Stars
Price: $59.99

PROS

CONS

Contains Some Effective Ingredients
Reputable Company

Contains a Proprietary Blend
Unnecessary Ingredients
Unproven Ingredients
Expensive
Mediocre Serving Schedule
What dedicated weight lifter wouldn't want to take a look at a product called 'The Beast'?
After all, that's what you're after, something that will help you turn into a muscle beast; someone that even Superman would think twice about taking on!
With a name like this I simply had to take a look at what the beast was offering and see whether this is the definitive answer to your testosterone boosting needs.
I have to say though, one look at the official website for beast sports nutrition and I'm concerned. They mention it contains Ashwagandha and that it may enhance testosterone levels.
May? I'd expect more from a beast, it should be shouting its strengths, not suggesting that it might help you.
While I want to believe, I have a strong feeling that this beast is less roar and more squeak…
If you believe their own hype and a good marketing package then this is the product for anyone looking to:
Boost your testosterone levels.
Increase your lifting power
Improve your libido
Become more motivated
Help improve liver and kidney function
In principle this sounds great.
But I have to ask, what is a company that has been established for over 20 years and has built a good reputation, doing providing a T-Booster with proprietary blends?
---
What Are The Ingredients And How Do They Work?
Ingredient Overview
The red flag should go straight up when you realize this supplement contains a proprietary blend.
This means there are unknown quantities of ingredients that you'll be putting into your body. Which are potentially ineffective or worse the unknown quantities cause side effects. You just don't know with a proprietary blend.
Although it's pleasing to see magnesium, zinc, fenugreek and vitamin B6; the proprietary blend and the lack of vitamin D3 and D-Aspartic Acid are seriously concerning.
It's not a great nutrient profile for boosting your T. But let's take a closer look at what Beast Super Test's formula to see if it has anything good to offer:
Vitamin B6

(as Pyridoxine Hydrochloride)

(5mg)
Vitamin B6 is essential for the formation of hemoglobin in the body. This is how oxygen is carried to all your organs and muscles. It is also responsible for fighting infection.
But that's not all! B6 also helps to regulate insulin levels, create amino acids and send messages across your body.
Most importantly it encourages androgen production which increases your level of testosterone. At the same time if you have enough B6 in your body it will suppress the female hormones, like estrogen.
This is a good ingredient!
Magnesium (as Magnesium Citrate) (26mg)
Research has shown that magnesium is essential for a healthy body. It boosts testosterone levels and improves the health of the heart, muscles and kidneys. This is a good addition but the level is low.
While it is true that you get some magnesium from your food, the recommended daily value is 400mg. A good T-booster should contribute about half of this. 26mg is a start but it's not the roar of a beast.
Zinc (as Zinc Citrate) (14mg)
Zinc fares much better, this is a good amount of this vital mineral. Definitely a win for the beast!
Zinc is essential for protein synthesis which is a vital part of muscle repair and growth. In addition, research shows that zinc has a direct effect on testosterone regulation.
---
PRO-TESTOSTERONE SUPPORT FACTORS
Fenugreek Extract (seed) 50% Steroidal Saponins (300mg)
This compound has been shown to regulate your blood sugar level; keeping it stable and avoiding spikes. This is important as studies have shown that spikes in blood sugar equate to a reduction in testosterone production.
Even better is that there is a reasonable amount of this compound almost guaranteeing an increase in testosterone.
KSM-66® Ashwagandha Extract (root) (300mg)
Ashwagandha originates from Indian medicine and some pretty impressive claims have been made regarding how it can literally turn you into a sexual beast.
While these are exaggerated there has been some interesting research completed on this herb.
It has been shown to reduce inflammation, anxiety and stress. Specifically it will reduce the levels of your stress hormone, cortisol.
This will allow the other functions in your body to continue as normal; including those that control the production of testosterone.
One survey showed that 300mg of Ashwagandha given daily to humans over a 60 day period reduced their cortisol levels by an impressive 27%!
This is the second ingredient the beast has got right!
---
MALE SUPPORT COMPLEX (800mg)
Unfortunately a fairly promising start now comes to an abrupt end.
There are 800mg of this support complex in the beast T-booster, although it lists the ingredients there is no way of knowing if this is all of them and how much of each is in the booster.
In addition we can see it contains Tribulus and Eurycoma longfolia which are both nutrients that lack scientific human studies when it comes to increasing your T levels…
Tribulus Extract (whole plant) 40% Saponins (???mg)

Tribulus is actually a herb which is often perceived to boost testosterone levels and is in many T-Boosters. Unfortunately the research does not say the same thing.
For example one group of 16 men in good health took Tribulus for 16 weeks. When compared to the placebo group their testosterone levels were the same.
The evidence shows that it can boost your libido but not your testosterone levels; despite what you might feel.
Eurycoma longifolia (root) Extract (???mg)

Eurycoma longfolia fares little better. It is also in many T-Boosters but there are some signs that this is beneficial.
Research suggests that this substance can prevent your testosterone form binding to the SHBG in your body. This will increase the amount of free testosterone available.
Again, this ingredient suffers from a lack of conclusive research.
The studies which have been conducted revolve round rats and the results are inconclusive due to the amount given and the fact that it has not been studied on humans. In fact, it is only likely to have an effect if your testosterone levels are already low.
This is not a promising sign!
---
---
NITRIC OXIDE FACTOR

Agmatine Sulfate (as AGmass™) (500mg)

Agmatine Sulfate has been shown to work in your body by creating nitric oxide which dilates your blood vessels.
Wider blood vessels will allow your blood to move through faster, increasing the amount of oxygen and nutrients available to your organs and muscles.
It can help you to increase your muscle gains and grow stronger, like the beast you want to be!
---
ANTI-ESTROGEN FACTORS
Reducing estrogen is important, it converts testosterone to fat so the less estrogen you have the more testosterone you will have available. There are two main ingredients disclosed in this part of the mixture.
Polygonum cuspidatum (root) Extract 20% trans-Resveratrol (200mg)

Also known as Japanese Knotweed. Studies show that Japanese knotweed is effective at reducing inflammation. But, no studies have shown that it can help testosterone levels.
This is an unnecessary ingredient.
White Button Mushrooms (Agaricus bisporus) Fruit Extract 10:1 (100mg)
You probably get plenty of white button mushrooms in your diet, but this might make you think twice. A study on animals showed that the button mushroom actually reduces levels of estrogen and testosterone in your body.
While you might argue that less estrogen will create more free testosterone, less testosterone is never a good sign in a T-booster.
---
LIVER & KIDNEY FACTORS
Milk Thistle Extract 80% Silymarin (seed) (200mg)
Cranberry Extract (fruit)

(100mg)

Both of these ingredients do not need to be in a test-booster. They are effective at removing toxins from your body, but these are toxins produced when you take steroids not T-boosters.

This is another completely unnecessary ingredient.
---
ANTI-DHT FACTORS
Stinging Nettle Extract (leaf) (150mg)
If this is being included to boost your testosterone levels then it's good! If the makers of Beast are hoping to reduce your cholesterol levels then this will not help!
There has been research which suggests that stinging nettle extract can be good at inhibiting the production of SHBG. This is the compound in your body which testosterone sticks to.
Reducing it is a good thing!
However, research has only been done in a lab, not on live subjects and you need to use the extract from the roots of this plant for it to be effective. The Beast uses extracts from the leaf, which is cheaper and not as effective.
Another ingredient which serves little if any purpose.
Beta Sitosterol 42% (plant sterol) (100mg)
Unfortunately without knowing what plant sterols the ingredients are referring to it is impossible to comment on whether it is beneficial or not.
Pumpkin Extract (seed) (Cucurbita pepo) (20mg)
Studies show that pumpkin seeds have some benefits. However, the primary ingredient is magnesium which is already in this T-booster, (although not in a large enough quantity).
Pumpkin seed extract has been linked by research in The Journal of Sports Medicine and Physical Fitness to boosting testosterone through fat oxidation.
However, this research is 20 years old and there has been little to support these claims since.
---
How Do I Take It?
The manufacturers recommend that you take 3-4 capsules right before you eat your breakfast and then the same just before you eat your evening meal.
Interestingly they recommend that you do this for 8 weeks and then wait 4 weeks before starting again.
While 2 servings a day is better than 1, it is still not regular enough to ensure a consistently high testosterone level. In addition, taking 4 weeks off is guaranteed to reduce your T levels.
The fact that they recommend this should make you question what's really in this T-booster.
---
Are There Any Side Effects?
Most users do not appear to have an issue with this T-Booster, unless they already have an in-tolerance to any of the ingredients.
There are some reports of diarrhea and cramps but with so many undisclosed and irrelevant ingredients it is hard to pinpoint a specific one.
---
PROS
Some Effective Ingredients

Fenugreek, vitamin B6, magnesium and zinc are all effective and proven ingredients for boosting your testosterone levels.
Reputable Company


Beast Sports Nutrition was founded in 1995 and has grown into a strong firmly established brand.

It has a full range of sports supplements but it is probably most well known for its Creature Creatine which it won an award for in 2014 & 2015 from a leading bodybuilding website.
---
CONS
Proprietary Blend

Contains a proprietary blend which does not inspire confidence in the product. We are therefore unable to determine how effective the nutrients will be overall or whether they cause side effects.
Unnecessary Ingredients

A range of unnecessary and irrelevant ingredients means you are supplementing yourself without reason which could potentially cause issues for your body and wallet.
Unproven Ingredients

The majority of the ingredients listed have very little effect on testosterone and lack real scientific backing. This really tries to be a  Jack of all trades formula but it is certainly master of none.
Expensive

At $60 per bottle we would really expect a very powerful cutting edge T boosting formula guaranteed to get your T levels moving upwards. The cost is far too high for what you are getting.
Mediocre Serving Schedule

Only two serving a day. The most effective schedule is 3 to 4 times daily to maximize T boosting around the clock.
---
What Are People Saying About Beast Super Test

Take a look at the website and you will see a string of complementary testimonials regarding this T-Booster.
However take a look at Amazon reviews and you'll see a different story. Less than 50% of people seem to be satisfied with this product.
In fact negative comments range from 'total waste of money' to 'severe anxiety, low blood pressure, chills, fatigue and generally feeling horrible'.
These aren't exactly glowing references from men who have now become beasts!
---
Final Thoughts
The problem with Beast Super Test is that it tries to do too much while not doing any one particular area very well.
T-Boosting: It doesn't contains the most powerful ingredients proven to sky rocket test levels such as D-Aspartic Acid and Vitamin D3.
Libido Boosting: Tribulus and Eurycoma longfolia have been shown to have a mild effect on libido but because the quantities are hidden in a proprietary blend, we can't determine how effective they are.
Estrogen Suppressant: Apart from vitamin B6, the choices for estrogen control are unproven.
Liver & Kidney Detox: Pointless addition. You are not taking synthetic steroids and with the right diet you can detox your system anyway.
---
Bottom Line
Our Rating: 2.5 Stars
Tries to be a Jack of all trades but is most definitely master of none.
The host of unnecessary and irrelevant ingredients, the fact that many of them have no proven effect on testosterone levels plus the inadequate schedule for taking these capsules leaves me to believe that this product is more pussycat than beast.
You are unlikely to see many gains from this T-Booster and it certainly won't turn you into a beast.
Besides there are much better products available on the market that will greatly benefit your goals.
---
Updated! The 5 Most Effective Testosterone Boosters in 2023
Find out for yourself the top 5 natural T-boosters currently available on the market right now.
These are the best choices if you want to...
Build Muscle Quickly
Rapid Strength & Size Increases
Promote Fat Loss
Increase Energy
Enhance Sex Drive
Click Here to See the Full List!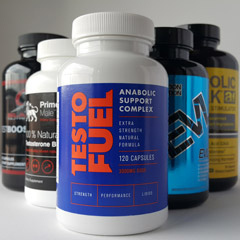 ---