Rating:
Price: $89.99

PROS

CONS

Contains Some Effective Ingredients
Non-Proprietary Blend

Missing Key Ingredients
Expensive
Contains Ineffective Ingredients
Poor Serving Schedule
This is one of the most popular testosterone boosters available on the market and yet it contains no Zinc.
However it does seem to have a fairly good ingredient profile so maybe there is something to its popularity.
Combine thus with the very high end price tag and you certainly have our interest!
A review was necessary to establish whether this product is as good as it says and whether it's really worth the money.
Challenge accepted!
Nugenix is a supplement company based in Salt Lake City Utah USA where they focus solely on male health and boosting T levels.
In fact they have also produce the Nugenix Free Testosterone Booster which you maybe interested in reading about, although its not as good as this product.
If you believe the claims then you can expect this T-Booster to assist you with the following:
Boosting testosterone levels
Giving you more energy & vitality
Improving your libido
Building muscle mass
Increasing your strength
Let's take a closer look at the scientific facts behind these desirable benefits:
---
What are the ingredients and how do they work?
Ingredient Overview
The good news is that Nugenix have given us a non-proprietary blend in this supplement and several excellent nutrient choices. Unfortunately this is not enough.
It markets itself as having 'no fluff'. But the inclusion of Epimedium grandiflorum , Maca and Eurycoma Longifolia is exactly that, fluff.
With a little more research these poor choices could have been substituted with Magnesium, Vitamin D3 or Asian Ginseng for example.
More importantly, studies show many low T levels are linked with Zinc deficits, but there is no Zinc in this.
It is this which is most worrying. A product that suggests its hard core but is missing some of the most important testosterone boosting ingredients is not one that can be readily endorsed.
It has the potential to be much better than it currently is.
Let's go deeper and have a more detailed look under the hood…
D-Aspartic Acid (DAA) (3000mg)
This should be the core ingredient of any good test booster.
Not only is its inclusion a good sign, Nugenix have managed to get the dosage right.
The recommended daily value is between 2000mg and 3000mg. This T-booster is at the top end of the range, showing its commitment to hard core muscle growth.
DAA has been shown to induce chemical reactions in your brain. This encourages the production of Luteinizing Hormone which is essential to the creation of both testosterone and growth hormone.
There is no doubt that this level of DAA should help you with the muscle growth you desire.
Fenugreek Extract (Trigonella foenum-graecum) (standardized to 50% saponins) (700mg)
This herb is used extensively in Indian cuisine and is believed to offer a range of medical benefits.
More recently it has become a popular addition to T-boosters as it offers two important benefits.
Increased libido – It is not known exactly how this works but Fenugreek is effective at boosting your libido, helping you to feel manlier.
Blood Sugar Level Regulation – It is a scientific fact that the higher your insulin levels the lower your test levels will be. This is a process which is constantly monitored and adjusted in your body; known as homeostasis.
Fenugreek reduces your blood sugar levels which reduces your need for insulin and consequentially boosts your T levels.
This is a good addition!
Boron (as Boron Citrate) (10mg)
This is commonly found in fruits and vegetables, but a little extra in your T-Booster won't do any harm.
In fact, Boron has been linked with reducing levels of estrogen in your body and effectively increasing your T levels.
The most recent research suggests that this is achieved by reducing the amount of SHBG in your body; allowing you even more free testosterone.
This is worth including in the mix.
Epimedium grandiflorum (650mg)
This ingredient is also known as horny goat weed, which might explain its addition in this test-booster.
In fact, in Chinese medicine it is used to treat erectile dysfunction. It is reputed to have positive effects on your sex drive.
Unfortunately the research into this substance has been focused on rats; there are very few human trials.
While it might improve your libido, the quantity if this substance in rat research is critical, too much led to harmful side effects, including lowering their T levels!
This is one nutrient that should be left out, it hasn't been shown to help increase your testosterone level or offer any other benefits that the other ingredients are not already giving you.
Mucuna Pruriens Extract (Mucuna pruriens) (seed) (standardized to 20% L-dopa) (250mg)
This is an excellent choice!
Mucuna Pruriens has been scientifically shown to improve your sperm quality, increase dopamine levels and, perhaps most importantly, reduce your levels of cortisol.
Cortisol is your stress hormone. Every time you feel stressed your body will release this chemical.
However, while this is essential to prepare you to fight or flight it also inhibits the natural process of testosterone production in your body.
Mucuna Pruriens reduces the level of cortisol in your body and allows you to produce more testosterone.
Maca Root (lepidium meyenii) PWD (250mg)
If you're looking for love this could be the right ingredient for you.
It is known to enhance your libido. Unfortunately there is no research which suggests it could improve your T levels.
Boosting your erection is not the same as boosting your muscle growth. This ingredient is not necessary in Nugenix Ultimate, or any other test booster.
Stinging Nettle Extract (Urtica diocia) (root) (360mg)
Did you know you have a protein in your blood stream called the Sex Hormone Binding Globulin?
It's generally just referred to as SHBG.
Testosterone in your blood sticks to SHBG; this cannot be used by your body. The higher the level of SHBG in your body the less testosterone you will have available; no matter how much you produce!
Stinging nettle root is here to help! It sticks to the SHBG before the testosterone can, increasing the amount of free testosterone you have.
This makes it a valuable and appreciated ingredient.
Tongkat Ali 100:1 Extract (Eurycoma longifolia jack) (root) (200mg)
This substance is an extremely popular addition to T-booster supplements.
Unfortunately there is not enough evidence to back it up as an effective way to increase your T levels.
It has been shown to boost testosterone in rats, but human trial shave only shown an improvement in men with low T levels and those who are stressed.
This suggests it is effective at increasing testosterone to a normal level but not at boosting your levels ready for muscle building.
It might improve your libido but it's not really worth including.
---
How Do I Take It?
Each container has 120 capsules.
You need 4 per serving so this is enough for 30 servings. The cost is $89.99 per bottle. Take 4 tablets on an empty stomach with a glass of water.
One serving is not the best approach. No matter how effective it could be at boosting your testosterone levels, it will only be able to sustain this for a few hours.
To effectively boost testosterone all through the day you need to be taking servings 3 or 4 times per day.
Of course, you can't do that with this one as you will be taking too much of it which could potentially have harmful effects.
---
Are There Any Side Effects?
This is unlikely, although increased muscle growth is a possibility. Hopefully these grow in the right places.
All the ingredients are safe to take within the serving doses and should not offer any detrimental side effects.
If you do have any issues then you should contact a medical professional immediately.
---
PROS
Contains Some Effective Ingredients

The overall package is promising. The inclusion of DAA, Fenugreek and several others of the ingredients shows that Nugenix is committed to providing a high quality testosterone booster.
Non-Proprietary Blend

It is always encouraging to see a complete list of the ingredients and their quantities.

This ensures you know what you are putting into your body and enables us to perform a comprehensive analysis of the T-Booster.
---
CONS
Missing Key Ingredients

There is no Zinc. Yet zinc is one of the most important minerals for testosterone boosting and overall male health.

This is not the only one that's missing. It would be great if Nugenix included some vitamin D3, K2, B6 and magnesium.

These are all shown to elevate T levels and should be included in a high quality booster. The fact they are missing suggests that Nugenix could have done a little more research.
Expensive

According to their official website one bottle costs $89.99!

This puts it at the top end of the T-boosters. This is simply not acceptable when you consider the ingredients and what the competition can offer.

For this money you want the best of the best. While this is good it is not the best.
Contains Ineffective Ingredients

Frustratingly there are several nutrients, such as Eurycoma Longifolia (Togkat Ali) which are going to have very little, if any effect on your testosterone levels.

These should have been left out, perhaps there would have been remove for the essential missing ingredients then.
Poor Serving Schedule

It can't be stressed enough that an effective testosterone booster will give you 3 or 4 servings per day.

Common sense, as well as science, will tell you that regular doses ensure your system stays topped up. One dose per day, no matter how big, will last just a few hours.

Then your T-levels will return to your normal rate and the benefits will be limited.
---
What Are People Saying About Nugenix Ultimate Testosterone?
The official website says surprisingly little about the product or its abilities.
Yet there are approximately 40 reviews and every one of them says how great this product is. While it would be great to accept this at face value, or muscle value. This seems a little too good to be true.
A quick look at Amazon and you'll see a better mix of reviews. There are 213 reviews which give an overall rating of 3.5 stars.
This seems to be appropriate for a product which will work but could have been better designed.
The reviews range from 'excellent' to 'did nothing for me'. Perhaps the most concerning are the couple which mentioned this T-booster made them ill.
But without further information it is impossible to judge too much into this.
One thing is certain, a mixed bag of responses on Amazon reflect the product accurately.
---
Final Thoughts
This is way too expensive for what this test booster offers.
Maybe if it was the very best cutting edge formula available on the market it would be justified but it simply isn't that advanced.
Reduce the price and add more effective nutrients. We can't recommend this as the best formula to maximize muscle mass.
---
Bottom Line
Our Rating:
Nugenix have tried hard to produce a T-Booster which will give you exceptional results. Unfortunately they have failed by missing several important ingredients, particularly Zinc.
Perhaps if the price were dramatically reduced it would be worth considering. But, there are much better products available, at better prices.
---
Updated! The 5 Most Effective Testosterone Boosters in 2023
Find out for yourself the top 5 natural T-boosters currently available on the market right now.
These are the best choices if you want to...
Build Muscle Quickly
Rapid Strength & Size Increases
Promote Fat Loss
Increase Energy
Enhance Sex Drive
Click Here to See the Full List!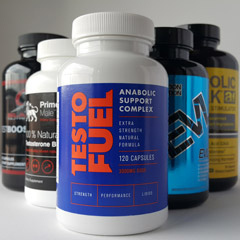 ---