Vitamin D is a naturally occurring hormone produced by the body when the skin absorbs the sun's rays.
It can also be found in meat, eggs, and fish, although the majority of people produce it via direct sunlight absorption.
There are two types of vitamin D, which are D2 and D3. Vitamin D3 is the most potent version and can help with building muscle mass by increasing testosterone and energy levels.
The increased testosterone helps build muscle, while the increased energy helps you work out for longer and harder.
Vitamin D is one of 24 vital vitamins that help to regulate over 1,000 bodily functions. It is also great for the heart and bones and is commonly mistaken as only being a vitamin when in fact it's a vital hormone.
---
What Are Some of the Health Benefits of Vitamin D?
Vitamin D helps to regulate various mechanisms throughout the body.
Being a steroid hormone it is beneficial for bones, muscle building and boosting testosterone levels to higher levels of growth.
When vitamin D levels are low, the body's functioning cannot work as well as it should. This can also lead to lower testosterone levels which can inhibit and impair muscle growth and make maintaining them a chore.
In older men, low vitamin D levels lead to low free testosterone, which in turn increases the risk of fracture to the bones.[1] In further studies, it has been found that improved vitamin D levels directly correlate to improved sperm counts and sperm mobility.[2]
---
How Much Vitamin D Should I Take?
The ideal quantity of vitamin D in the blood serum should be range from 50-70 ng/dl.
There are three ways to boost low levels of vitamin D3, which is by multi vitamins and supplements, dietary foods, and spending a few hours a day in direct sunlight. It is best to combine all three methods, if at all possible.
Evidence shows that exposure to direct sunlight on the chest of males increased testosterone levels by up to 120% over five days, and when the genitals received direct UV light, testosterone levels climbed to up to 200% more.[3]
The body readily absorbs Vitamin D3 and stores it throughout the body in its fat reserves. Vitamin D2 proves to be less potent and more difficult to store.
If you live in a Northern country you may well be deficient in Vitamin D due to lack of exposure to direct sunlight. This is especially true due to seasonal changes particularly in the winter months throughout Europe and North America.
---
Can I Find Vitamin D in the Food I Eat?
Several dietary food sources can provide the body with Vitamin D, and specifically Vitamin D3.
When looking for foods that contain the highest concentrations, you want to focus on fatty fish such as mackerel, salmon and tuna, beef liver, cheese, and egg yolks.  It can also be found in fortified dairy products such as milk and yogurt.[4]
A six ounce serving of smoked salmon contains 600 international units of vitamin D, making it an ideal D3 boosting food source.
---
So what is the Medical Science behind Vitamin D and Testosterone?
The male reproductive organs have been found to be the target tissue or vitamin D, and data shows a direct association between vitamin D and testosterone levels.
The participants involved 200 healthy, yet overweight men who were free from diabetes.
Participants received either 83 μg (3,332 IU) vitamin D daily for 1 year (n = 31) or placebo (n =2 3).
The starting concentrations were below < 50 nmol/l and testosterone was below average at 9.09-55.28 nmol/l for males aged 20-49 years.
The mean circulating Vitamin D concentrations increased significantly by 53.5 nmol/l in the vitamin D group but remained unchanged in the placebo group.
The end of the trial saw an increase in the total testosterone levels from 10.7 ± 3.9 nmol/l to 13.4 ± 4.7 nmol/, and free testosterone from 0.222 ± 0.080 nmol/l to 0.267 ± 0.087 nmol/l.
Those who were taking the placebo had little to no change in either their vitamin D or testosterone levels. It can, therefore, be concluded that vitamin D supplementation supports increased testosterone levels.[5]
In another study, 1362 men had their vitamin D levels and free testosterone levels measured. The end results made it clear that total testosterone and free testosterone levels were both connected to each other and directly affected by vitamin D.
Incremental increases in the percentage of Vitamin D would see a rise in both free and total testosterone levels.[6]
---
How Long Should I Use Vitamin D For?
While there are no long term studies that have been conducted on the effects of long term (5+ years) usage of Vitamin D supplementation, it is seen as a safe and natural hormone that can be topped up daily.
Being a fat soluble vitamin, it is important to take it with foods high in fat, such as oily fish, cheese and animal fats to help with proper absorption.
While the US Food and Nutrition Board advocate taking 600 IU of vitamin D, The Vitamin D Council promotes 5,000 IU per day for maximum benefit.[7]
Supplementation can be taken daily, though due care should be taken to listen to your body and pay attention to any possible side effects.
The only possibility of this is if you are taking 50,000 IUs or more a day for several months. You cannot overdose on vitamin D from direct sunlight.
While too little Vitamin D can be detrimental to your health, the same can be said about overloading your body with it.
Common problems with taking too much vitamin D include, but are not limited to Vitamin D intoxication, which occurs when the body's blood levels rise beyond 150 ng/ml (375 nmol/l).
As vitamin D is stored in body fat and released into the bloodstream slowly, the effects of vitamin D toxicity can last for several months after cessation of supplements.
Vitamin D can also cause elevated calcium levels in the blood leading to stomach cramps, nausea, loss of appetite and vomiting.
One study found that one woman who had been taking a supplement contained 78 times more vitamin D than the level stated leading to weight loss and nausea.[8]
---
Other Benefits of Vitamin D on the Body?
Vitamin D plays an important role in maintaining a healthy sperm count and high-quality semen.
Remember too that sexual health is directly related to testosterone production.
It also helps the body with inflammatory conditions, provides healthy support for the prostate and boosts the immune system to help the body fight infections.[9]
While all of these added health benefits may not be the main reason for supplementing, it is important in keeping all round body health in order to help you work out harder, longer and stronger to help you see the types of gains that you want.
---
Conclusion
There is firm evidence that vitamin D can help increase Testosterone levels in the male body in as little as 5 days from direct sunlight exposure or by using a high quality supplement.
5000 IUs would help keep your body at the optimal levels and can help increase muscle mass, while enabling the body to control and reduce fat storage more effectively.
Too little vitamin D can elevate male estrogen levels, which can result in weight gain, increased body fat storage, muscle loss, reduced sex drive, mood changes, and even an enlarged prostate and an increased risk of cardiovascular disease.
Remember if you live in the UK, North America or Northern Europe then you may well be vitamin D deficient due to lack of exposure to direct sunlight. Therefore you should supplement with vitamin D3, especially during winter months.
Improving your vitamin D levels can help with weight loss and reducing estradiol levels (male estrogen), therefore helping move the estradiol: testosterone ratio toward a balanced state.
Given its testosterone boosting properties, which are all backed up by various studies and clinical trials. Vitamin D is an important player in helping improve testosterone to optimal levels making muscle growth and cutting fat both easier and quicker.
Just 5000 IUs is all it takes to be on track to the body you desire and all without the need for injectable anabolic steroids or other potentially dangerous body building drugs.
---
Updated! The 5 Most Effective Testosterone Boosters in 2022!
Find out for yourself the top 5 natural T-boosters currently available on the market right now.
These are the best choices if you want to...
Build Muscle Quickly
Rapid Strength & Size Increases
Promote Fat Loss
Increase Energy
Enhance Sex Drive
Click Here to See the Full List!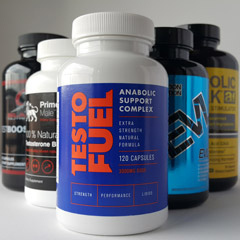 ---
References
[1] http://europepmc.org/abstract/med/9734509
[2] https://www.ncbi.nlm.nih.gov/pubmed/21427118
[3] http://press.endocrine.org/doi/pdf/10.1210/endo-25-1-7
[4] http://www.webmd.com/food-recipes/guide/calcium-vitamin-d-foods
[5] https://www.ncbi.nlm.nih.gov/pubmed/21154195
[6] http://onlinelibrary.wiley.com/doi/10.1111/j.1365-2265.2012.04332.x/abstract
[7] https://www.vitamindcouncil.org/about-vitamin-d/how-do-i-get-the-vitamin-d-my-body-needs/
[8] https://www.ncbi.nlm.nih.gov/pubmed/22043417/

[9] https://www.ncbi.nlm.nih.gov/pubmed/21427118
---