Testosterone is essential for male health, strength and the smooth running of your body.
The fact that it declines by approximately 1% every year after the age of 30 will leave you wondering who is a testosterone booster for and when should you start taking one?
The short answer is every man should at least consider a natural T booster if aged 18+.
A more definitive response can be broken down into these main categories:
---
Bodybuilders
Bodybuilders are constantly looking to increase their muscle mass and strength.
The only way to do this is to push your muscles to their limit. In the process you'll cause tiny rips and tears to appear in the muscles.
As the muscle heals it will grow bigger and stronger. Testosterone boosters increase your T levels and help this process to occur in 2 ways:
Protein Synthesis
Testosterone is an essential ingredient in protein synthesis.
This is the name of the process that repairs, strengthen and builds your muscles. The more testosterone you have the better your capability to increase muscle size.
Increased Energy
Low levels of testosterone are linked with fatigue alongside other symptoms.
Boosting your testosterone levels will increase your energy levels allowing you to work out harder and for longer. That's going to help to build bigger muscles quicker.
---
Athletes
As we mentioned a testosterone booster can help to increase your energy levels and your muscles mass. This means it's extremely beneficial to any athlete who wants to raise his or her game.
Many sports athletes can benefit from optimal levels of T including track athletes, swimmers, cyclists, boxers and mixed martial artists.
It should come as no surprise then that many players in competitive team sports like football, rugby and basketball use testosterone supplements to gain a competitive edge.
Energy and strength are two essential elements to keep an athlete at the top of their field. But, it needs to be from a natural T booster that encourages your body to produce more T naturally.
Remember synthetic testosterone is banned from almost all competitive sports.
---
Men Over 30
Your diet, exercise routine and even the stress you are under can all affect your testosterone levels.
Poor lifestyle choices combined with a natural age related decrease in testosterone means that you need a T booster just to function normally again.
If you've got the diet and lifestyle right you can still benefit from a T booster to help combat the 1% per year decline that comes with age.
It is possible to reverse this decline.
---
Men with Low T
The only way to know if you have low T is to have your blood tested and watch for the symptoms of low T.
It is important to understand the difference between free testosterone and bound testosterone. Free T is only approximately 3% of all the testosterone in your body.
This is the only T that your body can access. When you're having your T levels checked this is the one you should be interested in.
If your levels are low then you may be offered Testosterone Replacement Therapy.
This involves synthetic testosterone being injected into your body. It is a treatment you'll need to continue for life and can result in the shutting down of your body's natural testosterone production.
Before you resort to this; men with low T should look at their diet and take a T booster.
---
Peak Lifestyle Performance
It's not just those into athletic pursuits who can benefit from optimal levels of testosterone.
It also increases your mental states with boosted confidence, attention and creativity.
This is certainly a bonus in the business world where confidence, creativity and mental focus can help further your career and make you more money.
With improved mood comes greater self-esteem which makes it easier to stay motivated and on track with your goals.
---
Conclusion
Testosterone boosters are for any man who wants to perform at his very best regardless of age.
Although they are commonly used in competitive sports and bodybuilding if you have any of the symptoms of low T then they are certainly worth considering for your long-term health.
At the end of the day they give you the edge that comes from having optimal T levels in a safe sustainable way.
Greater strength & muscle mass, more energy, higher confidence and a healthy sex drive are just some of the benefits.
---
Updated! The 5 Most Effective Testosterone Boosters in 2022!
Find out for yourself the top 5 natural T-boosters currently available on the market right now.
These are the best choices if you want to...
Build Muscle Quickly
Rapid Strength & Size Increases
Promote Fat Loss
Increase Energy
Enhance Sex Drive
Click Here to See the Full List!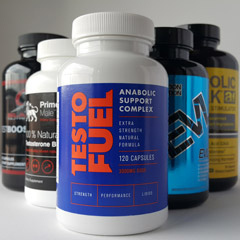 ---