Rating:
Price: $49.95

PROS

CONS

No Proprietary Blends
90 Day Money Back Guarantee
Some Effective Ingredients
Reasonable Price Tag

Under-dosed Ingredients
Customer Complaints About Money Back Guarantee
Limited Customer Results
Many Ineffective Ingredients
Poor Serving Schedule
Take a look at the Everlasting T website and you'll be instantly hit with several reviews stating just how fantastic this product is.
With a name which suggests that either the T-booster will last forever or you will. This product suddenly developed an interesting review potential.
What is particularly interesting is that Everlasting T is the main product of NutriPharm LLC.
Despite being in existence since 2011 they have a lot of complaints, particularly about the money back guarantee.
It claims to use a rare plant extract which has been shown in clinical trials to boost free testosterone levels.
It also uses an advanced testosterone formula which is certainly worth investigating. In fact there are several benefits:
Boost your libido.
Increase your muscle mass.
Enhance performance.
Improve your energy levels.
Everlasting T also arrives with a 100% money back guarantee which is worth testing on its own!
The claims, combined with the mixed feedback on this product, are enough to get me interested in finding out the real facts:
---
What Are The Ingredients And How Do They Work?
Ingredient Overview
A huge plus point for Everlasting T is the fact that you can see the entire list of ingredients, including the amount included.
This is better than a lot of the T-Boosters currently available and instills some confidence in this product.
After all, there is little more concerning than not knowing what you are actually putting into your body.
The main ingredients include Zinc, Magnesium, D-Aspartic Acid (DAA) to improve your natural production of testosterone while the B6 should reduce the amount of estrogen being produced.
These are extremely beneficial nutrients for raising T but the DAA is considerably under-dosed.
There are actually 15 different ingredients in this T-Supplement although not all of them are necessary, questioning how beneficial Everlasting T really is.
There looks to be one too many mild libido enhancers in small quantities rather than the powerhouse nutrients needed to ramp up test production properly.
It seems likely that this is a promising product without enough punch to really justify the claims. Here's more detail look at each of the ingredients of Everlasting T:
---
Magnesium (as Magnesium Aspartate) (225mg)
This is one of the best ingredients you can find in any T-Booster and is one that most people do not consume enough of through their diet.
Magnesium reduces the amount of SHGB in your system to increase your level of free testosterone. SHBG is known to bind to testosterone, leaving you will less available testosterone.
By removing the SHBG this testosterone is freed to be used by your body, specifically in building and repairing muscles.
Essentially you should benefit from more testosterone flowing freely through your blood stream.
Everlasting T has 225mg of magnesium which is 56% of the recommended daily value, an excellent start!
Zinc (as Zinc AAC) (15mg)
Zinc is another mineral which you will often struggle to get enough of from your regular diet but it is vital for testosterone production.
Once your body has absorbed this mineral it is used for reactions within the brain to create the Luteinizing Hormone (LH).
LH is a precursor to both testosterone and growth hormone. The more of it you have in your system the more benefit you will see to your overall testosterone levels.
There is 15mg of zinc in this T-Booster which is another good starting point!
Vitamin B6 (as Pyridoxine HCI) (5.25mg)
One of the biggest threats to testosterone in your body is actually estrogen, the female hormone.
Estrogen is known to convert testosterone into fat cells; these produce more estrogen which intensifies this vicious circle.  You become more feminine and fatter at the same time!
Although research into its effectiveness is limited, B6 has been shown it can inhibit the production of estrogen, potentially increasing your available testosterone and reduce body fat.
It's a nice touch to see it in Everlasting T but we do need to question why it is necessary to have so much of it, 263% of your daily value is exceptionally high.
Although this is a nice addition, its inclusion isn't really a game changer, it won't make much of difference to your T levels.
D-Aspartic Acid (500mg)
This is potentially the most important ingredient in any T-Booster.
Clinical studies have shown it to be as highly effective at stimulating the production of testosterone in your body. In fact it has been known to raise T levels by as much as 40% in less than 2 weeks.
Unfortunately the recommended amount of this is in region of 2,000 to 3,000mg, Everlasting T has just 500mg of DAA. It would be much easier for it to live up to its claims if it at least quadrupled this amount.
Tribulus Terrestris (60% Saponins) (300mg)
There is 300mg of this substance, which was once considered the ultimate testosterone booster.
In fact it was seen to be as potent as DAA. However human studies and research have not supported these beliefs.
Although it may be possible to boost your sex drive slightly it is still a poor ingredient to have in a T-Booster.
This is not a good choice and you won't benefit from its inclusion here.
Cissus Quadrangularis (2.5% Ketosteroids) (150mg)
If you are looking to lose weight or suppress your appetite then this is one substance that has been shown to help!
Unfortunately studies have not shown any benefit to T levels, rendering this another ineffective addition to Everlasting T.
Maca Root (100mg)
Including this might help you to feel manlier as research suggests it is good for your libido.
You might even confuse it with having boosted your testosterone level because of this. But, it has no actual effect on your testosterone levels.
Yet another unnecessary ingredient.
Eurycoma Longifolia 20:1 (100mg)

Also known as LongJack or Tongkat Ali and not a great addition to Everlasting T.
Some interesting studies have shown that it can help if you are suffering from erectile dysfunction.
However, although this will make you feel more manly there is not yet a direct link between this and testosterone levels. It is believed to inhibit SHBG and create more free testosterone but this is not proven.
Overall it's not the best option.
Avena Sativa 10:1 (100mg)
This is not a great addition to the T-Booster.
It has been shown to help reduce inflammation which could benefit your recovery after exercise. But, it has no effect on your T levels.
Horny Goat Weed (10% Icariin) (100mg)
The problem with adding this particular substance is that it is, again, increasing libido and erectile dysfunction.
Research shows no connection between this and elevated T levels. Another unnecessary addition.
Banaba Leaf (1% Corosolic Acid) (100mg)
Banaba leaf has been shown to assist your body in controlling blood sugar levels.
There is some benefit to this as research suggests unbalanced blood sugar can disrupt the production of testosterone.
This is unproven but the addition of this product will certainly not do any harm.
N-Acetyl-L-Carnitine HCI (100mg)
Research shows that if you add 2g of this to an older person's diet they are likely to show an increase in testosterone and stamina.
But, you need to be elderly and need more than the 100mg Everlasting T is offering.
The amount either needs to be increased or simply removed.
Mucuna Pruriens (100mg)
Also known as Velvet Bean. This substance comes from ground beans which have been shown to reduce the amount of cortisol in your body.
This reduces stress and allows more production of testosterone. In addition they contain L-DOPA which is an amino acid and a key stimulant in the natural production of testosterone.
Definitely a good addition!
Resveratrol (50%) (50mg)

Research suggests that this polyphenol is effective at elevating testosterone levels and blocking estrogen production; but only in high quantities.
This means it is another good attempt by Everlasting T but it is simply not in a high enough quantity to count.
BioPerine (2.5mg)
This is actually another name for black pepper which has been shown to be effective at speeding up the absorption of minerals into the body.
Although this is a useful addition there is not enough research yet competed to confirm whether this is an adequate and effective dose or not.
---
How do I take it?
Everlasting T recommends taking 3 capsules every day. They state you should take all three one hour before your dinner.
However, this is not a suitable way to take T-boosters.
No matter how potent the booster is it simply cannot boost your testosterone all day from just one serving.
Considering this is not the most potent of the T-Boosters we have seen on the market there is little chance it will successfully boost your T-Levels over an extended period of time.
---
Are there any Side Effects?
On the plus side there are no indications or reports of side effects. This isn't surprising considering the ingredients; there is nothing there which should give you an issue.
---
PROS
No Proprietary Blends

Check the label and you will see that every nutrient quantity is listed. This means we can determine the overall effectiveness of the formula and avoid potential side effects.
90 day money back guarantee

Everlasting T offers a 90 day money back guarantee minus postage charges. Although many customers have had issues see below.
Some effective Ingredients

Some of our top T-boosting choices are here. D-Aspartic acid, magnesium, zinc and B6 are all clinically proven ingredients. Although we would have liked to see some vitamin D3 in there.
Reasonable price tag

It's 49.95 for one bottle, $79.95 for two and $109.95 for 3. While it's not the cheapest, it's not the best formula either.
---
CONS
Low quantities of the essential ingredients

The D-Aspartic acid is much under-dosed here and that's one of the best nutrients in the formula.

Although not essential here the libido enhancer nutrients could do with being increased.
Money Back Guarantee Complaints

Unfortunately this guarantee does not appear to be as good as it suggests.

After lots of research we have found multiple cases where unsatisfied customers have returned the product only to be offered something different and told to verify that they have returned it.

Although Everlasting T provide directions regarding how to get your refund it seems that, in any cases, the funds are never received back.
Limited customer responses available to verify product

There is very little feedback out there and what there is quite poor when it comes to actual results.
Many ineffective ingredients

Your goal is to elevate your T levels. Everlasting T however is full of mild libido enhancers such as Maca Root, Longjack and Horny Goat Weed.

Whilst the inclusion of Tribulus is a completely worthless addition unfortunately.
Poor Serving Schedule

One serving a day is highly ineffective. Multiple servings a day is the only way to keep T levels elevated throughout the day.
---
What Are People Saying About Everlasting T?
If you look on the very professional looking website you will find several reviews which will tell you very little.
Unfortunately the reviews on Amazon are similar with one saying it is fantastic and the other not so convinced.
Although the reviews are mixed this is actually quite concerning.
The company has been producing Everlasting T for several years and yet it is difficult to find any quality reviews; just 4 on Amazon and a few on their own website suggests that there are more unhappy customers than happy ones.
---
Final Thoughts
Poor feedback and the subpar formula Everlasting T is likely to give you some temporary libido at best.
That's really where the problem is, they have loaded up the formula with mild libido enhancers and not focused on the core test boosting ingredients.
Drop the ineffective ingredients, add in some Vitamin D3 and increase the quantities of D-Aspartic Acid and then just maybe we'd see some Everlasting T!
---
Bottom Line
Our Rating:
Everlasting T had great potential, but unfortunately this is where it stays.
While magnesium and zinc are in reasonable quantities, there is much more B6 than needed and nowhere near enough of most of the other ingredients.
In addition, several of them are completely unnecessary.
Combine this with the fact that you need to take it in one dose and you are unlikely to notice any real benefit from Everlasting T. Although the price is attractive you can do much better.
---
Updated! The 5 Most Effective Testosterone Boosters in 2022!
Find out for yourself the top 5 natural T-boosters currently available on the market right now.
These are the best choices if you want to...
Build Muscle Quickly
Rapid Strength & Size Increases
Promote Fat Loss
Increase Energy
Enhance Sex Drive
Click Here to See the Full List!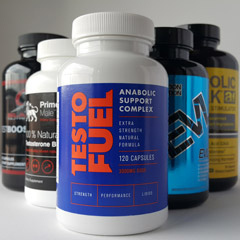 ---