Rating:
Price: $54.95

PROS

CONS

4 Effective Ingredients for T
Non-proprietary blend
Improved sleep
Reduced Stress Levels

Missing Some Key Effective Ingredients
Poor Serving Schedule
Ineffective & Unnecessary Ingredients
Mixed Reviews
Testro-X is produced by a company called Truth Nutraceuticals which takes great pride in announcing that this T-Booster is the development of Christopher Walker.
He is listed as a Neuroscience graduate from Duke University who has dedicated 10 years of his life to independent research regarding men's health.
This got my interest; surely a product which has had this much dedicated research will have something exceptional to offer.
It would seem likely that they will adopt a different set of ingredients to the norm.
If not, it might seem like Mr. Walker has spent a great deal of time getting nowhere.
The fact that every ingredient is backed by medical research suggests that Testro-X will be a potent supplement and worth looking into.
According to their own hype Testro-X will support you in 5 essential ways:
Improved testosterone levels
Aid in muscle growth and improve libido
Assist you in getting better quality and length of sleep
Increased energy levels
Make you feel more masculine and assertive
It's time to take a proper look at Testro-X and see whether it can live up to these claims!
---
What Are The Ingredients And How Do They Work?
Ingredient Overview
It is pleasing to see a complete list of the ingredients with the amounts of each one given.
Non-proprietary blends are always preferable to those which don't declare everything in their product.
At first glance the ingredients seem to stack well, they have magnesium and zinc which are both crucial to the natural development of testosterone in your body.
However it is concerning to find no trace of vitamins or DAA which could really improve its performance.
In fact the ingredients list is surprisingly short overall although it is a fairly decent nutrient profile give or take a few bad choices in there however…
Only 3 of the 9 nutrients will directly increase your testosterone; these are zinc, magnesium and boron.
Although Truth Nutraceuticals claim that Inositol, L-Theanine and L-glycine promote the gonadotropin-release hormone (GnRH) which is vital to start testosterone production, this is not the case.
There have been no significant human studies to show that these 3 nutrients increase testosterone in human males.
Although they do have some other benefits which we will discuss below.
Let's take a closer look at Testro-X formula:
Magnesium (as Magnesium Citrate) (150mg)
There is no doubt that this is an essential part of any T-booster.
Magnesium is known to inhibit the effectiveness of Sex Hormone Binding Globulin (SHBG).
As SHBG binds to any available testosterone in your body so anything which prevents this is good! When testosterone is bound it cannot be used by your muscles and other parts of your body.
Only free testosterone can. Magnesium's ability to inhibit SHBG means there is a greater amount of free testosterone available to be used by your body.
However, it is worth noting that the daily value for magnesium is 400g. You would expect a T-booster to give you approximately half of this as some will be obtained from the food you eat.
Unfortunately Testro-X falls a little short at 150mg, (38%). While this doesn't change the effectiveness of the magnesium it would be nice to see a little more.
Zinc (as Zinc Gluconate) (15mg)
Zinc is also an essential part of the testosterone production process within your body.
Studies have shown that zinc is essential to the release of the Luteinizing Hormone (LH). The zinc reacts with your brain to make this possible.
LH is a key element in the production of testosterone and growth hormone; both important to increasing your masculinity and muscle growth.
Effectively the more LH you have the better your production of testosterone will be.
Zinc is key to this process and it's great to see Testro-X giving you 100% of your daily value; it can be hard to consume zinc in your everyday diet.
KSM-66 Organic Ashwagandha Root Extract (400mg)
Ashwagandha has been shown to increase your testosterone production indirectly by reducing the level of cortisol in your body.
Cortisol is the stress hormone; it is released every time you find yourself in a difficult situation. The problem is that it prepares your body to fight or flight.
In this process it shuts down many of the other normal body procedures, including the production of testosterone.
Long term elevated levels of cortisol will be detrimental to your T levels and your general health. This herb has also been linked to increased sperm quality.
The addition of this herb is a good sign and continues to show that Testro-X have, so far, used components with scientific backing.
Forskohlii Root Extract (250mg)
This is an herb which has been used in traditional medicines for years.
It is believed to have a positive effect on testosterone production and can even help fat loss.
However the research into this herb is, at best, mixed.  Some clinical trials have found it to have no effect while others have shown some benefit for T-boosting and fat loss.
Unfortunately many of these surveys were conducted by a company offering a fat loss product with Forskohlii in it; making it hard to depend on the results.
This is one ingredient that would have been better if it had been left out; there are better choices for boosting testosterone.
Inositol (200mg)
This substance is thought to increase the flow of blood round your body.
This can be beneficial to absorption rates and could assist the key ingredients in Testro-X, magnesium and zinc, in being absorbed into your system.
It has also been associated with reducing anxiety which could help to lower cortisol levels and indirectly boost testosterone levels.
However, there are several studies which show that this supplement actually decreases testosterone levels in men and women.
The result? As an absorption agent it is not needed, black pepper is already present in Testro-X and as a T-booster it is debated. Again there are better choices and this is one that could be left out.
Glycine (200mg)
This amino acid has been linked with improved sleep and better glutathione levels.
Sure a good night's sleep aid T levels however this mineral won't directly raise them.
It has been linked with the production of muscle tissue but it should be possible to get enough of this mineral through your diet. It is common in fatty fish, meats and diary.
L-Theanine (100mg)
You might be prescribed this if you need to relax as it has been shown to have a calming effect on the body.
This may reduce cortisol levels but is largely unnecessary for this task as Testro-X already has Ashwagandha.
The improved focus which is linked with this amino acid may help you to workout harder in the gym but it is unlikely to have any beneficial effect on your testosterone levels.
This is now setting a trend, three useful ingredients and three which could be left out.
Boron (as Boron Citrate) (10mg)
Fortunately Testro-X has chosen to add boron.
This has been shown in numerous studies to increase your levels of testosterone. In fact a study in Naghii showed that testosterone levels could increase by as much as 28% in just 7 days by taking 10mg of boron.
Testro-X has 10mg which means it is a useful addition to this T-booster.
Bioperine Black Pepper Fruit Extract (10mg)
For years black pepper has been known to increase the absorption rate of minerals into your cells.
This is one of the most effective substances at doing this and a valuable addition to any T-Booster. It's good to see it present here!
Testro-X fares moderately well in the ingredients section, aside from a few ingredients which are simply not necessary the main issue is the absence of key vitamins and DAA.
---
How Do I Take It?
The guidelines tell you to take 3 capsules daily. However, these are to be taken together ideally just before you go to bed.
This is disappointing; no matter how effective the formula is, it highly unlikely that one serving will elevate your testosterone levels for a whole 24 hour period.
The best test boosters spread the servings throughout the day; this means your body is getting a constant supply of nutrients rather than one big dose and then a decline after a few hours.
---
Are There Any Side Effects?
The good news is that all the ingredients in here are clean and approved. It is highly unlikely that you will experience any negative side effects. There have been none reported by users so far.
---
PROS
Some Effective Ingredients

Contains four solid clinically backed nutrients for T-boosting and aiding proper hormonal functioning. These are zinc, magnesium, boron and ashwagandha.
Non-proprietary blend

All quantities are listed for each ingredient. This means you know what you are taking, how effective it will be and removes the possibility of unwanted side effects.
Improved sleep

Testro-X contains ashwagandha, glycine and L-Theanine. These ingredients are all linked with lowering cortisol levels in the body and helping you to relax. This is why you are recommended to take the pill in the evening before bed and should help with recovery.
Reduced stress levels

The same nutrients which may help you to sleep better work by reducing your cortisol levels. This effectively reduces your stress levels and helps you to focus on the task in hand. Again good for recovery and focus in the gym.
---
CONS
Missing Some Effective Nutrients

There are several key ingredients missing, specifically vitamin D3, aspartic acid, fenugreek and ginseng. These powerhouse nutrients would have made the formula so much more effective.
Poor Serving Schedule

One serving a day is not satisfactory to maintain elevated testosterone levels. 3 to 4 servings a day is the optimal way to take a test booster for maximum results.
Half the formula contains ineffective and unnecessary ingredients

Forskohlii has been shown to be unreliable. While L-Theanine, Inositol and Glycine have some benefits they are not needed in a T-booster and have not been shown to raise T.From the 9 nutrients listed only 4 are really going to benefit your T levels.
Mixed Reviews

Most of the testimonials we found either got great results or it did nothing at all for them. Overall results tended to be on the poorer side.
---
What Are People Saying About Testro X?
If you take a look at the Testro-X website you will find a number of reviews.
These appear to have come directly from Amazon. However, they show just 4 positive reviews and no negative ones; out of a potential 124 reviews with a 74% 5 star rating.
But, if you look at Amazon you will note there are 118 reviews and only 46% offer a five star rating. The negative comments seem to revolve round the product not doing anything for each customer.
A mixed review is not surprising as everyone has different levels of expectations. However, the discrepancies in the Amazon review figures is concerning.
You will also note that most people are either in the 5 star camp or the 1 star, it's a love or hate relationship.
It's difficult to gain a clear picture from these reviews but it is certainly concerning that the figures are being misrepresented on their website.
---
Final Thoughts
Out of the 8 core ingredients only 4 of them are of any worth to you in a test booster.
Christoper Walker really needs to go back to the drawing board with the Testro X formula. If he actually did some research he would not have included unreliable nutrients such as Forkohlii where results from human studies are inconclusive.
While we do appreciate he is taking a different approach to T supplementation by including scientifically proven nutrients to promote calm and restful sleep.
The idea being that it should create a better environment for your body to produce testosterone. However this is not the most effective way to promote testosterone.
These additional nutrients by themselves have never been shown to in human studies to increase T levels in men.
Stick to the powerhouse nutrients that are backed by human studies such as d-aspartic acid, fenugreek, ginseng, magnesium and vitamin D3.
---
Bottom Line
Our Rating:
The claim that all ingredients are natural and backed by research seems genuine.
Sadly this research doesn't show that they are the most effective testosterone boosters.
Sure several of the ingredients may help reduce stress and give you more focus in the gym, such as L-Theanine.
But when you buy a T booster you are looking to directly increase your test levels; the other benefits are just nice additions. Nutrients such as forskohlii and inositol seem to offer no discernible benefit at all.
Alongside this the lack of key vitamins and d-aspartic acid means that you can buy a much better supplement formula for your money; preferably one that is taken in several doses throughout the day.
This is not the best formula we have seen.
---
Updated! The 5 Most Effective Testosterone Boosters in 2022!
Find out for yourself the top 5 natural T-boosters currently available on the market right now.
These are the best choices if you want to...
Build Muscle Quickly
Rapid Strength & Size Increases
Promote Fat Loss
Increase Energy
Enhance Sex Drive
Click Here to See the Full List!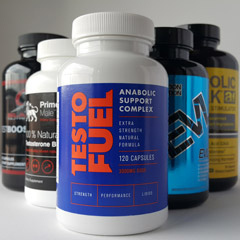 ---