Rating: 2.5 Stars
Price: $12.99

PROS

CONS

Too Few Ingredients
Mediocre Serving Schedule
Missing Key Ingredients
Bad Nutrient Dosing
The moment you see the price of Six Star Testosterone booster you'll want to know if it is effective.
Indeed, is it possible to produce a quality T-booster for such a low price?
It certainly got my interest, it's time to see if it's really 6 stars or just daydreaming.
Six Star T-Booster is one of the products available from Six Star Pro's Nutrition Elite Series.
The website is well laid out and appears to have a collection of awards, although none seem to be from recognized health bodies.
You will also note that several athletes appear to endorse this product but there is no direct testimony from any of them on the site.
The company has been established for a number of years and is a recognized player in sport supplements. However, the site offers very little information on them.
However you should be ready to be blown away as this product makes some amazing claims:
Increased testosterone in just 7 days.
Balances Hormones, specifically testosterone to cortisol rating.
Boosts performance and stamina.
The question is, can it live up to these claims?
---
What Are The Ingredients And How Do They Work?
Ingredient Overview
You can sum up the ingredients in this T-Booster by simply saying 'lacking'.
There are very few ingredients which is potentially why the price is so low.
We can tell you that there is either not an active dose to have a significant effect or there isn't the right nutrients to give you any benefit.
There is no sign of the big hitters in the testosterone boosting world such as D-Aspartic Acid, Zinc, Magnesium, Vitamin D3 or Vitamin B6.
It might be considered 6 stars if you consider the top rating to be 20 stars!
Calcium (45mg)
You already know that calcium is good for your teeth and helps to create strong bones. In fact, 99% of the calcium in your body can be found in these parts of your body!
So it's a Six star mineral!
However, this is a T-Booster not just a dietary supplement.
There have been a number of studies regarding whether calcium is capable of increasing your T levels. Early results looked promising. However, there are two issues which need to be considered:
All the studies used 35mg of calcium per kg of body weight; significantly more than this booster is offering.
Calcium only appears to be effective at boosting testosterone if it is taken in conjunction with an increase in luteinizing hormone. There is nothing in this T-Booster to suggest your LH will increase.
Research completed at the turn of the century also showed that taking calcium supplements will only have an effect in conjunction with exercise. The study looked at T levels with calcium and exercise.
Those who completed resistance training for 90 minutes each day and took calcium saw a significant increase in testosterone. The others did not.
Calcium is a six star mineral from your body's point of view. However, you might already be getting enough from your diet and there are far better ingredients to put in a testosterone booster.
Either way we are certain that if only 5% of your daily value is contained in this supplement it's really not going to make any difference
Anticatabolic Complex
Rhodiola Extract (As Rhodiola Crenulata) (Root) (386mg)
This is not a test booster, or at least not directly.
However, this herb, which grows in Siberia and Northern Asia, has been used for centuries in herbal remedies and has been shown to reduce fatigue.
That's great if you're looking to boost your energy levels before and after a workout! Fortunately there's more.
Studies have shown that rhodiola can reduce the amount of cortisol in your body. Cortisol is your stress hormone and is released every time you're stressed.
Chances are you're stressed a lot and there is too much cortisol on your system.
In itself cortisol is good. It prepares your body to fight or run away. But, in the process of preparing for survival it shuts down many of your normal processes. This includes your ability to produce testosterone!
Lowering cortisol levels will ensure your body can maximize T production.
Rhodiola can do this and this is backed by a number of studies.  One particularly relevant one was undertaken in 2007 and links with a patent filed in the US. It split a group of 70 men into two groups, half took 2 grams of rhodiola, the other half a placebo.
After 7 weeks the ones taking rhodiola achieved a 76% increase in testosterone!
However, the number of studies into this herb is still limited and the impressive result above is without exercise. If you exercise your cortisol levels will increase and the testosterone boost might not be so impressive.
So while it is good for controlling your mood and motivation, this is not a direct testosterone booster but it is a positive addition to this formula nonetheless.
Ginkgo Extract (As Ginkgo Biloba) (Leaf)  (2.7mg)
This herb has been used for centuries by the Chinese to treat a wide range of health issues.
It is very effective at increasing the amount of blood flowing to your organs. For this reason it has become known as a good alternative to Viagra for erectile problems.
Increased blood flow is generally acknowledged as beneficial, it can help to improve your cognitive function. There are also some studies which suggest that this can help to reduce cortisol levels and indirectly boost your testosterone.
In the right context this is a 6 star nutrient but there are two issues with this ingredient in this T-Booster.
Not an effective dose – studies into the effects of ginkgo use, on average, 200mg of the herb. This T-Booster uses just 2.7 grams; it's unlikely to have any real effect.
There are just not enough studies to justify its addition to this mixture. You need something that boosts testosterone, not something that simply makes you feel more virile.
Free (Active) Testosterone Stimulator
Boron Citrate (100mg) (Supplying 5mg Of Active Boron)
Research shows that up to 90% of the testosterone in your body is already bound to a compound known as the sex hormone-binding globulin (SHBG). In this form it is useless to your body.
Any substance which reduces the levels of SHBG in your blood will increase the amount of free testosterone available. Boron has been shown to do just this.
This is borne out by a study where men were given 10mg of boron daily for just one week. By the end of the week there was a decrease in female hormones and SHBG as well as a corresponding increase in testosterone.
It should be noted that cortisol levels also increased which is why boron is often paired with a cortisol reducer like rhodiola.
It's a good addition, but more of a 4 star nutrient, there are much better 6 star options available.
---
How Do I Take It?
The Elite Series used to come in powdered form, but the latest version of this T-Booster is now available in capsule form which makes it considerably easier to consume and transport.
The guidelines suggest you take 2 capsules twice a day. It simply recommends taking them with water and doesn't provide a time of day that is best.
While this is better than many of the T-Boosters on the market it's not good enough. To boost and maintain T-levels you need to take a supplement at regular intervals, ideally 3 or 4 times a day.
This might be on the right track but it's definitely lacking a few stars.
---
Are There Any Side Effects?
It's highly unlikely that you'll experience any side effects after taking this. In fact, it's unlikely that you'll experience anything.
However, there have been some users who have reported headaches, diarrhea, itchy skin and problems sleeping. It is worth noting that these are all symptoms of excess boron.
Considering there is only 5mg of active boron in this T-Booster so it seems unlikely this is the cause.
This is a perfect example of 'you get what you pay for'. The natural ingredients can be beneficial but there are not enough of them to significantly boost your T-levels.
---
PROS
Cheap

At just $12.99 (as low as $10 if you shop around) makes this product potentially the cheapest T-Booster you'll find.

But really you might as well throw that $10 down the drain because it is unlikely to do anything for your muscle and strength gains. This is a perfect example of you get what you pay for.
Contains Boron

This is about the only saving grace for Six Star.

Studies show that it can help increase free testosterone by reducing the count of the sex hormone-binding globulin (SHBG) in your body.
---
CONS
Too Few Ingredients

This formula is weak. There are really not enough ingredients for T boosting.
Mediocre Serving Schedule

Although 2 doses a day is better than most; 3-4 would be more optimal. Your body needs a constant supply of nutrients throughout the day to keep T levels elevated.
Missing Key Ingredients

The very best testosterone boosting ingredients are missing. D-Aspartic Acid, Vitamin D3, Magnesium and Zinc should all be present in a quality product.

These are the most effective, have the most scientific backing and have been proven to given users the best results.
Bad Nutrient Dosing

Quantities of ingredients don't match research levels.

While the Calcium and Gingko Extract are questionable nutrients for T levels, they don't contain the active doses anyway. Completely pointless!
---
What Are People Saying About Six Star Testosterone Booster?
The majority of the customer reviews emphasis of many reviews on this product is that it's cheap.
You will also find a host of comments suggesting it's a fantastic product and the results speak for themselves.
Unfortunately the ingredients can't support these claims, it's virtually impossible for any supplement to have a significant effect in just a few days as some have claimed.
To compound this the majority of the positive reviews only talk about having increased energy levels. Increased energy levels can be due to an increase in your testosterone levels, but this is not the only reason.
This mixture has several ingredients which are good at boosting energy levels, this can make you feel like your testosterone levels have risen, even though they have not.
More damaging is the most detailed reviews are actually negative. There are even several who have taken T levels before and after using Six Star only to find no discernible difference.
---
Final Thoughts
Pointless is the first word that springs to mind. If you forget that it's cheap, why would you bother taking it even if it was free?
Those out there who are serious about raising their T levels and building muscle mass will know the best ingredients available.
They won't be tempted by one fairly good nutrient Boron. Which incidentally you can buy for $10 with a 250 day supply on Amazon. We suggest you look elsewhere for a more effective solution to elevating your T levels.
---
Bottom Line
Our Rating: 2.5 Stars
There is little doubt that you are getting what you pay for. The Six Star T-Booster has an unimaginative title and this carries over into the ingredients.
It's not likely to give you a testosterone boost although at least it is light on your wallet and you might just get a 6 star boost in your energy levels.
But, if you looking for a test booster, there are much better ones on the market, don't waste your money with this one.
---
Updated! The 5 Most Effective Testosterone Boosters in 2022!
Find out for yourself the top 5 natural T-boosters currently available on the market right now.
These are the best choices if you want to...
Build Muscle Quickly
Rapid Strength & Size Increases
Promote Fat Loss
Increase Energy
Enhance Sex Drive
Click Here to See the Full List!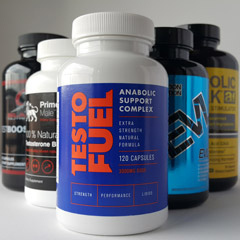 ---