Rating: 1 Star
Price: $30.99

PROS

CONS

Contains Zinc
Libido Boost
Attractive Price

Proprietary Blend
Missing Key Ingredients
Unproven Ingredients
Poor Serving Schedule
A-HD Elite is manufactured by Florida based BPI Sports.
They are an established player in the supplements market which gives them a level of respectability.
Couple this with an intriguing, off-beat, set of ingredients and a lack of negative feedback and you have my curiosity aroused.
The website is professional looking with a range of products and some useful information.
Unfortunately there is very little about the company itself. Although we did learn that BPI stands for Be Powerful Incorporated and the company started back in 2009.
The claims regarding A-HD Elite are relatively standard:
It should be noted that this product appears to be missing the usual key testosterone boosting ingredients.
However let's look further to discover if what they're offering can really boost your T levels.
---
What are the ingredients and how do they work?
Ingredient Overview
The first thing you'll note is that the ingredient list is unusual.
This could be a good thing, even though it is missing some of the most basic T-Boosting ingredients; including Magnesium, D-Aspartic Acid (DAA) and Vitamin D3.
However, once you look into more detail you'll realize that this is not an elite set of ingredients, unless your sole aim is to boost libido. Then it could be extremely effective!
It's difficult to see how this will boost your T levels or even turn you into an elite athlete! Especially when most of these nutrients have been lumped together in a proprietary blend.
This means we can't assess how effective they will be overall because exact quantities are not given.
Let's take a look at the nutrients in greater detail:
Zinc (as zinc aspartate)  (15mg)
This essential mineral is an excellent starting point.
Zinc is used by your brain to help produce the Luteinizing Hormone (LH). This is a precursor to both testosterone and growth hormone.
Both of which are essential to your ongoing health and muscle building efforts.
The more LH you have in your system the more support you give to raise testosterone levels.
This is a great start, even the amount is good.
It's worth noting that your body cannot retain zinc, you need to keep it topped up every day. The fact that it is essential to many different processes in your body is simply a bonus!
A-HD Elite (Proprietary Blend) (500mg)
Unfortunately this is where it becomes less elite and more mundane. All the other ingredients in this T-Booster are shrouded in a cloak of proprietary blend.
You know what you're getting, you just don't know how much. If it's under dosed it may not give you any benefits while if it is over dosed it can cause you health issues.
Caesalpinia Benthamiana (root) (???mg)
Studies have shown that this African herb can help to boost libido.
One study showed that a dose of 50mg per kg greatly improved the amount of nitric oxide in the body. This allows a greater flow of blood, and therefore oxygen, round the body.
The result is better muscle response and improved erections.
Unfortunately this will not improve your T levels.
The research has also only been carried out on rats, there is no guarantee it will have the same effect on humans.
50mg per kg means that, according to this research, the average adult male would need to take 400mg; it's highly unlikely that there is this much in this 500mg proprietary blend.
Chenopodium Album (seed) (???mg)
This is an Indian plant, often referred to as a weed. It is common in Indian traditional medicine so A-HD have this part right.
However, research has not yet shown any link between this plant and an increase in testosterone; in animals or humans. There is research that suggests it can improve libido but this has only been completed on rats.
You also have to ask if an elite T-Booster really needs additional libido boosting qualities.
It's worth noting that there is limited research which suggests this plant may restrict estrogen cell growth. The research is based on its ability to prevent the growth of estrogen dependent breast cancer cells.
Further research is needed but it could be a useful ingredient if it restricts the amount of estrogen in your body. Estrogen encourages fat storage. In turn this increases the production of aromatase.
Unfortunately aromatase is responsible for converting testosterone into estrogen, lowering your testosterone levels.
Reducing the amount of estrogen in your body is an important part of boosting testosterone levels and losing fat. If this plant can do that it's beneficial.
The problem is that it's an 'if' and the quantity of this ingredient remains unknown; it might have no effect at all!
Trichopus zeylanicus (leaf) (???mg)
The premise behind this Malaysian herb is that of a performance enhancer.
It has been used in traditional medicine to boost energy levels. This could help increase your stamina when working out.
Research on mice shows that, when they were given a minimum of 250mg per kg, their performance abilities improved.
However, research is limited and that would mean that the average male would need a minimum of 1,300mg; you're not going to find that in a 500mg proprietary blend!
You may also hear that this herb is capable of lowering your stress levels. If this is true then it could have an indirect effect on testosterone levels.
When stress levels are high many of your body's normal functions are temporarily paused.
This includes testosterone production. Lowering your levels of cortisol (the stress hormone) can help boost testosterone.
But, there is no proof that this herb can do this, it is just an elite theory. For now, it would be better left out.
Montanoa tomentosa (leaf and flower) (???mg)
This is a flowering part from Mexico which is actually related to the common daisy! It has been used in traditional medicine for centuries.
Its main use has been to improve sexual dysfunction. In effect it is yet another libido booster.
Research on rats confirms its ability to dramatically boost libido. However, there have not yet been any human studies.
Until human research is completed this is an unnecessary ingredient and will do nothing for your testosterone.
Curcuma longa (root and rhizome) [Curcumin] (???mg)
The final ingredient is not a libido enhancer! In fact it is part of the ginger family and the active part of turmeric.
It does offer a range of health benefits, including boosting your immune system and reducing inflammation. It can also improve blood flow which might help with your performance.
But, there is no research that suggests this will have any effect on your T levels. It's another wasted effort by a supposedly elite manufacturer.
---
How do I take it?
The instructions are to take 1 capsule, once a day. You need to do this on a full stomach.
This is shocking! Even if this was an extremely potent testosterone booster it would not be able to provide you a sustained increase in T levels through 1 dose.
An effective T-Booster needs to give you 3 or 4 doses a day. This will help to maintain your T levels.
A-HD Elite is not an elite booster; in fact it fails miserably at providing the right dosage.
To make it worse it suggests cycling this supplement; 2 months on and 1 month off. This gives the impression it has steroid like effects; which it certainly doesn't.
---
Are there any Side Effects?
The ingredients are all natural and generally considered to be safe.
In addition the quantities involved are low enough not to create an issue. It won't even give you the side effect of a boost in testosterone; which it's supposed to do.
---
PROS
Contains Zinc

This is one of the most critical ingredients in any T-Booster, so good job!

However this is the only proven testosterone boosting nutrient in the whole formula, it would be much easier and cheaper to buy a Zinc supplement.
Libido Boost

There's enough libido improving ingredients in this to suggest that you'll see an improvement in your sex drive.

This will probably make you feel manlier and could be mistaken for a boost in your T levels.

Although with only 500mg of unknown quantities per day it will be hit or miss.
Attractive Price

The price on the BPI Sports site is currently $30.99 for a 30 day supply; this is attractive for a test booster.

If it works.However considering more than 80% of the nutrients are garbage you can get a 60 day supply of Zinc on Amazon for less than $10.
---
CONS
Proprietary Blend

It's bad enough when a T-Booster adds a proprietary blend to their mix.

But when more than 80% of the ingredients included are in this blend it is really bad.

You therefore don't know how much of any of these nutrients are going into your body. This is a big con and potential risk for you the user.
Missing Key Ingredients

You should expect to find Magnesium, D-Aspartic Acid (DAA) and Vitamins D3 which are the best for increasing testosterone. Adding some vitamin B6 would also help with lowering estrogen. Here Zinc is the only really effective ingredient.
Unproven Ingredients

Lack of scientific research on included ingredients is highly disappointing.

To see that all the studies which support these ingredients do not show an increase in testosterone and many have only been completed on rats and mice.

A quality product should include nutrients tested and proven on humans.
Poor Serving Schedule

As mentioned, 1 serving a day is simply not enough, especially when it is only 500mg per day.

You need 3 or 4 servings per day to ensure your testosterone levels stay enhanced. The body can only absorb so many nutrients at a time.
---
What are people saying about A-HD Elite?

There are just 3 short reviews on their website.
Sadly they do little to confirm the effectiveness of the product, merely stating that it's good. These are too generic to believe they are genuine.
Bodybuilding.com has generally positive reviews but there is no detail confirming testosterone levels have improved.
In fact, all users are also exercising regularly so it's impossible to tell whether the supplement is having any real effect.
Interestingly in the bodybuilding.com discussion forums A-HD Elite is not rated at all.
Amazon presents a similar situation. 54% of reviews give it a 5 star rating but none of them excel at providing detailed information. In fact there are several which simply say they think it works!
---
Final Thoughts
If you don't fancy being a human guinea pig for BPI Sports with its under researched herbs then we suggest you avoid A-HD Elite.
None of the ingredients in their proprietary blend have been proven in human studies to raise T.
Half a gram of this unproven mix once a day is going to do benefit you very little. You may notice some mild libido enhancement at the very best but don't expect any great results.
Its only saving grace is that it contains Zinc. If you want to supplement with Zinc then take our advice and buy a 60 day supply for less than $10 on Amazon.
---
Bottom Line
Our Rating: 1 Star
This is not an elite product; in fact this is unlikely to even be a bottom range product.
It is highly unlikely to offer much, if any, improvement in your T levels. Forget about strength and muscle gains with A-HD Elite.
As a mild libido booster it should work, it might even offer some ability to enhance your performance and you could mistake this for a boost in your T levels.
But stop taking it and you're probably still see the same gains. This is a very poor product for raising testosterone, there are much better supplements available.
---
Updated! The 5 Most Effective Testosterone Boosters in 2022!
Find out for yourself the top 5 natural T-boosters currently available on the market right now.
These are the best choices if you want to...
Build Muscle Quickly
Rapid Strength & Size Increases
Promote Fat Loss
Increase Energy
Enhance Sex Drive
Click Here to See the Full List!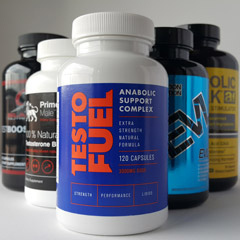 ---