Rating: 2 Stars
Price: $29.80

PROS

CONS

Some Good Ingredients
Affordable Price

Proprietary Blend
Poor Serving Schedule
Ineffective Ingredients
Key Ingredients Missing
T Male is obviously designed for men. It says so in the name!
Nature's Plus are the makers of T Male and they emphasize the fact that they have millions of customers around the world.
They are also keen to announce that they focus on high quality at every stage of the manufacturing process.
They have a range of natural vitamins and nutritional supplements on the market and promise to keep researching to ensure their products are the most effective.
It sounds to me like they're worth looking into. Can T Male deliver on their promises though?
According to them it should provide you with these results:
Boosted energy levels & endurance
Increased libido & sexual function
Enhanced strength and performance
Greater muscle mass
Higher testosterone levels
Sounds great to me, but the proof is in the ingredients themselves.
We do find that with companies who have a large range of supplements and don't specialize in one area such as testosterone enhancement don't always deliver the most effective solutions.
Are Nature's Plus Jack of all trades and master of none?
Let's take a closer look at the actual formula and see for ourselves.
---
What are the ingredients and how do they work?
Ingredient Overview
Straight off the bat this nutrient profile is disappointing looking at the large proprietary blend.
There are some good ingredients in there of course including Magnesium, Zinc, Vitamin B6 and even Boron plus the herbs Ginseng and Fenugreek.
But, there are also plenty of not so good nutrients such as Tribulus terrestris and frankly unnecessary ones like garlic, grape and apple extracts.
Without a doubt the proprietary blend dramatically reduces the credibility of the product.
Are you getting an active dose or if you are just wasting your money?
With just 200mg in the main blend it is most likely the latter. Many of the nutrients are under dosed meaning you get no benefit.
To improve performance Natures Plus should have added more powerful T boosting options.
These could include D-Aspartic Acid, Vitamin D3 and Oyster Extract powerhouse nutrients that are proven to raise T levels when dosed correctly.
These is really not the best formula we have come across, but let's take a look at all 18 ingredients in more detail:
Vitamin C (as ascorbic acid) (60mg)
Vitamin C is an important mineral for your body.
It is often associated with the prevention of colds and boosting your immune system.
It is very effective when mixed with garlic at boosting nitric oxide levels. This increases the amount of blood flowing round your body improving the nutritional supply to your muscles.
Unfortunately research is very mixed regarding its use as a T booster. While positive results have been shown in animal tests, none have replicated in human trials.
Vitamin E (d-alpha tocopheryl acetate) (30IU)
Vitamin E is great for improving your skin quality and it's a great antioxidant.
However, research is again conflicting regarding its ability to boost testosterone levels. One study shows that T levels can be increased with vitamin E but only with doses in the region of 400mg plus per day.
There is nothing like that here!
Other studies show that vitamin E actually reduces the level of testosterone in your body. But, it will also reduce the level of Sex Hormone Binding Globulin (SHBG).
This is the substance that testosterone clings to in your body rendering it useless.
Lower levels of SHBG could increase your levels of free testosterone; but may only compensate for the loss this vitamin causes!
In short, this is one ingredient that would be better left out.
Vitamin B6 (as pyridoxine hydrochloride) (2mg)
Vitamin B6 is a much better choice than the first two.
Unlike most vitamins B6 has been shown to help your T levels. It does this by reducing the level of estrogen in your body. This indirectly increases T levels and allows the testosterone you have to be used by the body.
This is a good addition although a quantity in the region of 5mg would have more effect.
Calcium (as calcium complex) (11mg)
You probably already know that calcium strengthens your bones and teeth.
In fact, recent studies show that it can have a positive effect on T levels. However, there is limited research into how this mineral helps to improve testosterone levels.
One study in 1976 and another in 2009 both show an increase in T levels. But more research is needed and it is worth noting that the studies used 35mg of calcium per day.
---
Magnesium (as magnesium aspartate) (80mg)
Magnesium is recognized as one of the fundamental elements when it comes to optimal levels of free testosterone.
It works by reducing the amount of a protein known as the Sex Hormone Binding Globulin (SHBG) in your body.
SHBG is seen to bind to your testosterone stripping it of its anabolic potency essentially making it ineffective and unavailable for your body to use.
Less SHBG means there is more available free testosterone left floating in your bloodstream for your body to utilize for growth.
The dosage here is 80mg is on the lower side. Between 100mg and 200mg would be better choice to really see the effects of this mineral.
Zinc (as zinc aspartate) (30mg)
This mineral is another good choice for T production.
Zinc works directly on the brain to increase the amount of Luteinizing Hormone (LH) in your body.
LH is the precursor to both growth hormone and testosterone production. The more LH you have in your system the more T you can produce.
Selenium (as sodium selenite) (35mcg)
This mineral is actually found in the soil as well as in a variety of foods.
You don't need much of it but it is an essential part of the metabolic process. It is believed to be essential for the formation of testosterone as well as improving the quality of your sperm.
Unfortunately there is not yet any research to confirm this. As such it would be better left out of this formula.
---
FuranoMax Proprietary Blend (300mg)
Fenugreek Extract (proprietary source of fenugreek furans, stanols and furanostanols from whole Trigonella foenum-graecum seed)
The key ingredient in this blend is Fenugreek extract.
This is a good addition. Fenugreek is an herb originating from Asia which has been used in traditional Indian medicine for years.
As well as increasing libido it has also been shown to help regulate your blood sugar levels.
Lower blood sugar levels means your body has to produce less insulin.
Now because insulin is known to directly decrease testosterone levels this blood sugar regulation supports your body's ability to produce more testosterone.
A surprisingly good addition by T male and a generous quantity too!
---
T Male Proprietary Nutrient Blend (200mg)
Another blend and this one looks very under dosed.
With 8 ingredients that make up 200mg blend we can safely assume that most if not all of these nutrients won't be active doses.
Tribulus Terrestis
This used to be considered an essential ingredient for boosting testosterone.
Sadly research has now shown us that it has no effect on humans. It does increase testosterone in rats so might be a benefit if you're a rat and don't mind being castrated…
You might see a mild increase in libido, but this really isn't a good choice.
Turmeric (curcuma longa rhizome) (standardized curcuminoids)
This traditional Indian herb belonging to the ginger family is present in most curries.
It's considered very good for your health due to the number of antioxidants it contains. However there has never been any direct link to testosterone levels.
Ginseng (panax root)
This is an herb used in traditional medicine.
It has been used for centuries as a remedy for low libido. It does this by increasing nitric acid in your body which improves blood flow.
It should improve the time in which it takes for the testosterone to get into your body.
Similar to Fenugreek it has also been linked with blood sugar control; again reducing insulin levels allowing higher levels of testosterone.
This makes it a good addition, but unlikely to be an active dose rendering it useless.
Garlic Extract
A species of onion, garlic has been used in traditional medicine for centuries.
It is good for a variety of health benefits including increased immunity. Lowering blood pressure and cardiovascular health.
There are studies on rats that suggest it may be beneficial to serum testosterone but more research is needed.
A nice addition for general health but here it won't do anything for you testosterone production especially with these low doses.
Glycine Propionyl-L-carnitine
This amino acid is naturally produced in the body.
It is used for treating poor circulation and congestive heart failure. There are also links to it improving erectile dysfunction.
However results have only been seen with much higher doses of 500mg. Remember the entire blend is only 200 mg!
Don't expect to notice any differences with this one.
Rhodiola Rosea Extract
This adaptogenic herb grows naturally in cooler mountain areas.
It is effective at boosting your mood, fighting depression and can even increase your energy levels.
However, there is no research yet that links it to boosting T levels. A nice addition but without knowing the quantity we can't tell you if it will give you any benefit at all.
L-Histidine
Another amino acid that occurs naturally in the body for many metabolic processes.
Most adults are unlikely to be deficient. It is used for treating anemia and rheumatoid arthritis.
No studies show links with increased hormone production. A completely unnecessary addition.
L-Phenylalanine
This amino acid found in foods like eggs, meat, milk and soybeans is also good at boosting your mood by indirectly boosting dopamine levels.
It's also worth noting that it has been shown to be largely ineffective when taken as a supplement orally. Your body will break it down too quickly for proper absorption.
ViNitrox (150mg)
Grape (vitis vinifera) and Apple (malus pumila) extracts (supplying approx. 60% [90 mg] polyphenols)
Perhaps this is an attempt to include this T booster as one of your five fruit a day.
Rich in antioxidants grapes are highly beneficial for overall health including a healthy heart by promoting healthy blood flow and function.
Apples are another super food with a host of health benefits that include lowering cholesterol and preventing cancer.
What is clear is that there is not yet any research which suggests that either can have a positive impact on your T levels.
Although both nutrient rich food these two ingredients don't need to be here, it is just filler.
Boron (as citrate) (5.5mg)
This mineral is actually very rare; it occupies just 0.0001% of the Earth's crust.
Research suggests this might help reduce the chances of you developing prostate cancer. This is a good reason to add it!
Even better is the fact that studies also show it is effective at boosting T levels and reducing estrogen levels.
In fact it's a great addition to T Male.
---
How do I take it?
One serving is 2 capsules. It is recommended that you take 1 – 2 servings a day.
This is not the most effective serving schedule for maximizing results.
You need 3 – 4 servings per day in order to boost and sustain your T levels around the clock.
Your body benefits from getting a constant supply of nutrients. T Male just isn't offering enough over the course of a 24 hour period.
It is worth noting that you can also get this T booster in a liquid form. There are very few difference between the two formulas although the liquid form maybe easier for some people to consume.
At 60 capsules  per bottle if you do take 2 servings a day it means you only get a 2 weeks supply per bottle – not great!
---
Are there any Side Effects?
Despite the proprietary blend the ingredients appear to be all natural and you are unlikely to suffer any side effects from them.
You're also unlikely to see much of a T boost but that's a different story!
---
PROS
Some Good Ingredients

Magnesium, Zinc, Fenugreek and even Boron are worthwhile effective nutrients for supporting optimum T levels.

Ginseng is also a great addition but there is a good chance that it may be under dosed here and therefore offers little benefit. Overall there isn't really enough to give you maximal results.
Affordable Price

The RRP is $29.80 per bottle but you can find it cheaper at various retail outlets.

For a 30 day supply taking 2 capsules a day it is fairly reasonable. But if you take 2 servings a day which is 4 capsules you only get a 15 day supply doubling the price.

The formula isn't all that great but at least they don't charge you a fortune.
---
CONS
Proprietary Blends

There is really no excuse for a manufacturer giving you ingredients without quantities.

This simply means they are free to change the mix each time. Not only do you not know how much of a substance you're getting, you won't even know if the mix is the same each time.

There is no way of being assured on consistent results. Not knowing if the formula supplies an active dose basically means you are very likely wasting your time and money.

It may be having absolutely no effect at all. Judging by the small size of the blend this is more than likely here.
Poor Serving Schedule

Offering 1 – 2 servings per day is not the most effective way of scheduling a T booster.

3 – 4 servings are required to ensure your T levels stay high over a longer period of time. Of course if you do take 2 servings a day then 1 bottle only lasts you 15 days.
Ineffective & Unnecessary Ingredients

Tribulus was once considered the king of testosterone boosters; it is now the black sheep.

Including this simply shows that they have not done their research properly. It's not encouraging.

There are also a surprising number of ingredients which research shows have no effect on testosterone levels.

While some of these might be nice additions for your health they are wasted in something you buy specifically to raise your testosterone.
Missing Important T Boosting Ingredients

Although there are some T boosting ingredients, it would be nice to see some D-Aspartic Acid,Vitamin D3 and even some Oyster Extract.

This would massively improve the performance of this product.
---
What are people saying about T Male?
The Nature's Plus website is well laid out but there seems to be a lack of testimonials regarding their products.
This is surprising if they have millions of customers; surely one of them has something nice to say?
A look at Amazon starts to show a clearer picture. Just 45% of customers give this a 5 star review. The rest are evenly spaced from 4 stars to just 1.
In fact most of the reviews simply support the findings of this review; T Male has simply no effect.
Unfortunately the 5 star reviews don't help. The majority of them are one-liners with comments such as 'great stuff' or 'thanks, good product'.
This suggests that the comments might not be genuine. They certainly do nothing to confirm how effective this T booster is.
In itself this confirms that this product isn't going to do much for you.
---
Final Thoughts
Ultimately another poor performing formula here.
T Male may give some small benefits with regard to libido and energy but when it actually comes to raising testosterone it just doesn't cut the mustard.
The results from customers bears this out too. Although fairly well priced, we can't honestly say you are getting your money's worth.
As mentioned in the intro although Natures Plus produce a huge number of supplements this formula shows they are clearly not experts when it comes to testosterone boosting.
---
Bottom Line
Our Rating: 2 Stars
Not terrible but could be a lot better. This review reads like a school report for a reason.
There are parts of this product which show some promise and parts which are clearly very under researched.
The inclusion of the unproven Tribulus and the addition of many unnecessary nutrients brings any research they did into question.
The fact that it includes a proprietary blends with hugely under dosed nutrients is simply the nail in its coffin.
As you can see for yourself this is not the best option if you want to maximize your results there are much better products now available on the market.
---
Updated! The 5 Most Effective Testosterone Boosters in 2022!
Find out for yourself the top 5 natural T-boosters currently available on the market right now.
These are the best choices if you want to...
Build Muscle Quickly
Rapid Strength & Size Increases
Promote Fat Loss
Increase Energy
Enhance Sex Drive
Click Here to See the Full List!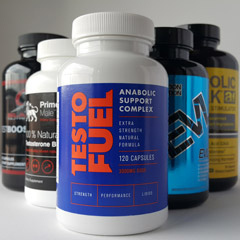 ---