Rating: 2 Stars
Price: $59.95

PROS

CONS

Includes 3 Good Ingredients
May Boost Libido
Reputable Company
Money Back Guarantee

Proprietary Blend
Missing Key Nutrients
Unproven Ingredients
Poor Serving Schedule
Expensive
Test Worx from Superior Labs claims to be America's highest rated booster.
Indeed it appears to be one of the more popular T boosters on Amazon. So that's certainly enough to get our attention.
The question is whether their large following is a result of clever marketing or have they produced one of the best products on the market?
They promise to create products with zero harmful additives and highly potent ingredients so it's definitely time to find out more.
They make the usual claims:
Improved muscle growth & recovery time.
Boosting Libido.
Increased energy.
Helps remove body fat.
Increase testosterone.
Lots of great potential benefits then, but does the science back it all up? Let's look at the most important aspect first, the ingredient formula.
---
What are the ingredients and how do they work?
Ingredient Overview
Straight away this is not an encouraging start!
The list of ingredients is fairly short and there is a proprietary blend which means the nutrients cannot be analyzed properly.
Let's start with the positives, it contains Zinc which is powerful mineral vital to the testosterone production process.
Nettle Root is a good addition too because it has been show to boost levels of free testosterone, however we don't know how much is here so it could do absolutely nothing for you.
Although not a game changer, Vitamin B6 is a good supporting ingredient to help keep estrogen levels lower.
Ok so there are 9 ingredients and those are the only 3 that will give you any benefit in the hormone department.
Tribulus and Maca Root have never been shown in human trials to boost T although they may have a mild effect on libido.
LongJack is potentially good if you have very low T levels, otherwise if you are in the normal range this is just wasting space.
L-Arginine is a pointless ingredient, it is normally found in pre-workouts to improve muscle pumps.
We guess it was added to improve erections, but oral supplementation of this nutrient has been shown to be highly ineffective due to poor absorption rates.
How could they have improved it?
Well there are several important ingredients missing, such as Magnesium, D-Aspartic Acid (DAA), vitamin D3, Ginseng and even Fenugreek.
All of these could have dramatically improved the performance of this product.
Although the ingredients may list exceptionally well for a libido enhancer this is meant to be a testosterone booster!
In conclusion this is not a very effective formula and you should look elsewhere.
Vitamin B3 (as niacinamide) 40mg
It is believed that vitamin B3 plays an important role in the flow of blood round your body.
As such it can help your brain and memory to function better and ensure your muscles have the energy they need to function properly.
It has also been suggested that B3 helps to increase the level of growth hormone in your body.
However there is very little research to support this claim at this time. This is one component that could have been easily left out.
Vitamin B6 (as pyridoxal-5-phosphate) 5mg
Vitamin B6 is a better choice as it has been shown to increase androgens in your body; encouraging testosterone production.
In addition it has been linked with suppressing the production of the female hormone estrogen in your body. Lower levels of estrogen allow for higher levels of testosterone. That's good enough for me!
Although this is a good supporting ingredient it is not really a game changer.
Vitamin B12 (as methylcobalamin) 500mcg
The third B vitamin to be included in this formula is known to benefit sperm mobility and concentration. Sadly this is not the same as boosting your T levels.
It is important for normal brain function and has been linked with improving your mood and boosting your energy levels.
However, no research has yet been completed which suggests it can act as a T booster.
This is another ingredient which could be left out. Test Worx is off to a poor start, 2 out of 3 of the first ingredients are unnecessary!
Zinc (as zinc Citrate) (20mg)
The mineral Zinc is a great choice for testosterone production.
Zinc is used within your brain for many important chemical processes.
One of these is to help it create Luteinizing Hormone (LH) and Follicle Stimulating Hormone (FSH). These hormones are the precursors to both testosterone and even growth hormone.
Essentially the more LH and FSH you have in your system the better your T production.
Zinc is a vital part of this process so this is definite a plus!
Test Worx Proprietary Blend (950mg)

The following ingredients are all part of a proprietary blend which means we don't know the dosages involved and it's impossible to analyze the formula properly.
Tribulus Terrestris (standardized to 20% Saponins)
This has been rumored to be a powerful T boosting compound; unfortunately recent research does not confirm this.
In fact, studies suggest that this herb, grown mainly in dry climates, is not effective at boosting T levels at all. Although there is some evidence to suggest it may have a mild effect on your libido.
The T boosting effects of this herb have only been confirmed on studies involving rats and in petri dishes. So far the positive results shown by rats are not reflected in human clinical trials.
This is definitely a bad choice, you won't notice any difference with this now debunked and outdated herb.
Maca Root
This plant originates from Peru, specifically the High Andes.
It has been used for centuries in traditional medicine and has been shown to be a mild libido booster and good for overall general health.
However, there is no evidence which suggests it is effective at boosting T levels.
You may have better erections and sex drive but without the knowing the exact quantity here this is uncertain.
Another ingredient which could be left out.
Nettle Root
This is, surprisingly, a different cup of tea!
Nettle root offers some of the most painful stings you can get. But, research also suggests it is effective at boosting levels of free testosterone
It does this by binding to the Sex Hormone Binding Globulin (SHBG) in your blood. This protein usually binds to testosterone cells rendering it inactive for the body to use.
Lignans (polysaccharides) in the Nettle roots binds to the SHBG which reduces its ability to bind to testosterone; effectively increasing levels of free testosterone which is available for your organs and muscles.
This is definitely a positive addition allowing more free testosterone to freely circulate through your body.
Eurycoma Longifolia Extract (LJ100) (standardized to 40% Saponins and 22% Eurypeptides)
This plant is native to Malaysia and is often referred to as Tongkat Ali or Longjack.
It is a potent libido enhancer and this finding has been supported by a number of studies.
Unfortunately the majority of the research into its effectiveness as a T booster has been on either rats or men with very low levels of testosterone.
While it may help you get back to normal testosterone levels it won't help boost them to the optimal levels you are looking for.
Although It should, along with several of the other ingredients, boost your libido.
However without knowing the exact quantities it is impossible to say if this will have any benefit at all though.
L-Arginine
This is an amino acid which is useful for a number of functions in the body.
One of these is to increase the amount of nitric oxide in your blood. This opens the blood vessels and allows oxygen and other nutrients to move round your body faster and more effectively.
This could energize you and encourage you to workout harder and for longer. It could potentially improve the quality of your erection too.
However an active dose of this nutrient is between 3g – 6g and considering the whole blend is less than 1g you will not see any benefit here.
Add in the problems seen with supplementing orally, your body actually struggles to absorb it properly, and it next to useless.
A bad choice and another wasted ingredient.
---
How do I take it?
They use an unnecessarily complicated but still poor serving schedule!
The bottle advises you take 1 serving (2 capsules) in the morning 15 minutes before eating. You should do this for 5 days and then stop for 2 days.
After every complete bottle take a week off before starting the next one. One bottle will last you 6 weeks with this schedule.
The problem is one dose in the morning is not going to be enough to boost and sustain elevated T levels; even if you had the best possible ingredients in this T booster!
You need to take 3 or 4 servings per day to ensure your testosterone levels stay elevated.
In addition the suggestion to cycle this booster either shows they are unsure of the ingredients or that they are attempting to suggest it works like anabolic steroids.
The truth is, it doesn't.
---
Are there any Side Effects?
The ingredients are natural and unlikely to provide you with any side effects.
There will always be some room for issues as you don't know the quantities of the ingredients in the proprietary blend. But they are unlikely to give you any issue.
---
PROS
Includes 3 Good Ingredients

Zinc is recognized as one of the most important minerals in the production of testosterone.

Vitamin B6 is a good supporting nutrient to help to control estrogen levels. While the Nettle Root could potentially boost free T levels, although it uncertain how much is here.

Is 3 nutrients enough? Highly unlikely.
May Boost Libido

There are several ingredients Longjack, Maca Root and Tribulus which may improve your libido.

Although without quantities it is hard to say, let's hope they work together synergistically to help in this department.

Although at the end of the day you want to boost your T and libido boost just isn't the same.
Reputable Company

Based in California, USA Superior Labs have been in business for many years so you can be certain they are no fly-by-night company.

It is also reassuring to see they manufacture their products in FDA registered and GMP certified facilities.
Money Back Guarantee

Superior Labs state that if you are not 100% satisfied with their products then you simply need to let them know.

I didn't see any details about the terms and conditions on their website, but it seems genuine.
---
CONS
Proprietary Blend

Not knowing how much of each ingredient you are putting into your body is a big negative for any supplement.

The problem here is that it's difficult to trust a company which can't identify the quantity of each ingredient.

Does it contain active doses? If not you are wasting your money. Are any nutrients over dosed? If so you could suffer from potential side effects.

You just don't know how much of each ingredient you are getting each time, there really is no excuse for manufacturers to hide the dosages.
Missing Key Nutrients

Zinc, Nettle Root and Vitamin B6 are a great start but this is where it ends.

They need to be accompanied by more proven T boosters such as Magnesium, Vitamin D3, D Aspartic Acid and some Fenugreek to really provide you with effective result.

You could even include some oyster extract. Sadly Superior Labs didn't feel it was necessary in this product.
Unproven Ingredients

The fact that Test Worx boasts it includes only the best ingredients leave me more than a little disappointed when I read there is Tribulus in the mix.

Research now proves this herb is no longer the king of T boosters. Maca and Longjack are not the best options here either lacking solid clinical evidence for raising the male hormone.

There are just one too many libido enhancers here.
Poor Serving Schedule

To effectively boost your T levels and sustain them for maximum results you need to be taking your booster 3 – 4 times a day.

Test Worx offers just one serving in the morning which won't do enough to sustain your testosterone all day.
Expensive

The price on Amazon is $59.99.

While there is more expensive options available this is a lot of funds for something that is unlikely to have any effect on you; except perhaps boost your libido a little.

A high performance price for a sub-performing product.
---
What are people saying about Test Worx?
The official Superior Labs website is well laid out but there are no visible reviews from customers. This is a shame as it would add to the credibility of the site.
In contrast Amazon offers nearly 6,000 reviews, a star rating of 4.3 and a 71% feedback with 5 stars.
This bodes well for Test Worx!
There are 431 reviews with just 1 star and the majority of these appear to have tested the product for at least 5 or 6 weeks with no visible results.
What is interesting is the 3 star review which states that they are giving away free bottles for positive reviews.
When you combine this with the fact that every one of the 5 star reviews seems to be exceptionally detailed you start to question how all these reviews have appeared.
I've reviewed a lot of products but you don't usually see long detailed reviews like this. It leaves me wondering if Superior Labs is cleverly boosting their reviews?
The ingredients formula here certainly don't back up the claims that are being made in these reviews.
---
Final Thoughts
An inadequate formula.
There is simply too many libido enhancers and not enough proven testosterone boosting ingredients here. The proprietary blend is a real turn off for me and that price is just daylight robbery.
They should bring out a 2.0 version based on the latest research to compete with the stronger competing products.
---
Bottom Line
Our Rating: 2 Stars
When you look at a T booster from someone who has been manufacturing it for years you have high expectations.
Unfortunately these expectations are quickly dashed when you look at the poor nutrient profile.
The formula is old, outdated and on the whole unproven; Test Worx simply doesn't work. It's missing way too many key ingredients to ever be considered an effective T booster.
Our advice is to save your funds, look elsewhere and purchase a better quality T booster.
---
Updated! The 5 Most Effective Testosterone Boosters in 2022!
Find out for yourself the top 5 natural T-boosters currently available on the market right now.
These are the best choices if you want to...
Build Muscle Quickly
Rapid Strength & Size Increases
Promote Fat Loss
Increase Energy
Enhance Sex Drive
Click Here to See the Full List!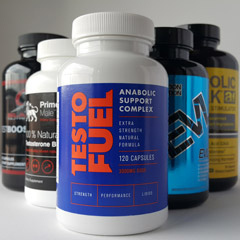 ---