Rating:
Price: $39.99

PROS

CONS

Some Effective Ingredients
No Proprietary Blends
Backed by Mr. Olympia Winner Dexter Jackson

Vitamin D Type Unclear
Unproven Ingredients
Dosage Schedule Ineffective
Test Booster 1.0 comes from Blade Nutrition, a supplement company founded by the 2008 Mr Olympia winner Dexter Jackson.
It's undeniable that someone like Dexter has all the credentials when it comes to building muscle but does his line of supplements help you build muscle?
This testosterone booster claims to….
Support testosterone
Support muscle growth and strength
Promote estrogen balance
---
What are the ingredients and how do they work?
No proprietary blends are used so every ingredient is clearly listed on the label. The inclusion of D-Aspartic Acid is what should really help boost your T levels in this product.
I am happy to see Vitamin D and Zinc in there too which are both nicely dosed, although I have my reservations about the form of vitamin D being used.
If it's the D3 form then you are onto a winner but if it's the less effective D2 form then you are going to see less than satisfactory results.
Including Tribulus is a complete waste of your time. DIM & DHEA are both ingredients that could have been left out as they lack any hard evidence when it comes to effectiveness.
Vitamin D (4000 IU)
This a great start, Vitamin D is one of the best nutrients it has been scientifically proven to naturally increase your testosterone levels.
This essential vitamin is created when your skin is exposed to direct natural sunlight.
If you live in North America or Europe then you probably don't get enough vitamin D, especially during the winter months.
In fact it's certain you will be suffering from lower levels of testosterone without some form of supplementation.
This product contains plenty of this vital vitamin which should get your male hormones moving. However there is no indication as to whether it is the type D2 or type D3 vitamin D.
Studies have shown that D2 is harder for your body to absorb and it's also less stable than D3, essentially making it less effective.
You should be looking for Vitamin D3 on the label if you want the best muscle building results.
ZINC (Oxide) (15mg)
Zinc is another top ingredient; this mineral has been shown is studies to support healthy testosterone levels.
Used for a variety of processes in the brain it also helps promote the luteinizing hormone (LH) which is the precursor to both testosterone and growth hormone.
Your body does not produce this mineral so you need to consume it either through food or supplementation.
Men with clinically low T are often seen to have low levels of this essential mineral.
D-Aspartic Acid (1500mg)
Good to see a generous amount of this amino acid. Supplementing with DAA is considered one of the strongest and most consistent ways to boost your test levels naturally.
Clinical trials have proven that it can boost your T levels by up to 42% in just a few days.
DIM (Diindolylmethane) (50mg)
This is a nutrient that is found in vegetables such as cabbage and Brussels sprouts.
Although some studies have shown this nutrient may help lower your estrogen levels by working as an aromatase inhibitor there is no solid proof that it will do so.
Therefore I would say the estrogen control overall in this product is lacking.
DHEA (Dehydroepiandrosterone) (25mg)
This is actually a hormone, it is generated within the body and controlled by the adrenal gland. As you age levels of DHEA will decrease.
It has been linked to increasing both testosterone and estrogen levels and is a precursor to all sex hormones.
As such is hard to supplement with and may not have the desired effect of increasing testosterone but it may raise estrogen instead.
Tribulus Terrestris (100mg)
This is a poor choice for boosting testosterone production. At one time it was thought to be an effective ingredient and was heavily marketed as such.
However today it is common knowledge that it will not promote your testosterone levels and the clinical studies back this up.
It may however have some mild effects on your libido.
---
How do I take it?
Take one serving (3 capsules) twice per day. One serving in the morning and the second serving mid-afternoon or on workout days 30 minutes before your workout.
Do not exceed 2 servings in a 24-hour period.
Now while the servings maybe potent there is only so much the body can absorb at one time.
The best test boosters will require you to take 3 to 4 servings a day because it minimizes the risk of any of the ingredients being wasted.
This keeps your levels raised consistently over a 24 hour period.
---
PROS
Effective Ingredients
Containing proven ingredients such as D-Aspartic Acid, Vitamin D and Zinc should make this a solid product.

It certainly has some potential when it comes to you boosting your test levels.

Non-Proprietary blend
All the ingredients and amounts are clearly listed on the label.

You should stay away from proprietary blends because certain companies will fill out their products with bulking agents so you never really know exactly what you are getting.

Mr Olympia Winner Dexter Jackson
Blade nutrition was founded by former Mr Olympia winner Dexter Jackson. Having such a big name backing this product is very reassuring.

The fact that he has put his name to these products means he is staking his own reputation.

The IFBB pro still competes and lives the bodybuilder lifestyle so the chances are high that his products will be good quality.
---
CONS
Vitamin D Type Unclear
Although this is a highly beneficial ingredient it is unclear whether type D2 (ergocalciferol) or type D3 (cholecalciferol) is being used.

While vitamin D2 is a synthetic and weaker alternative, vitamin D3 has a lot more clinical evidence behind it.

D3 is the far more effective form, I suspect they are using D2 which may have a small benefit but it's less stable and not as easy for your body to absorb.

Unproven Ingredients
There is no excuse for including an ineffective ingredient like Tribulus Terrestris when it is common knowledge that it does nothing to boost your T levels.

The inclusion of DIM is also questionable due to the lack of concrete proof.

DHEA is also something you need to be careful of when supplementing because it is difficult to predict and known to raise estrogen levels.

Dosage Schedule Ineffective
Servings are split up so you take two servings a day. This is certainly a problem when it comes to keeping your T-levels raised over a 24 hour period.

The most effective boosters continually supply your T-levels throughout the day with nutrients. This keeps raising your testosterone and/or blocking estrogen.
---
What are people saying about Test Booster 1.0?
There are no user testimonials on the official Blade Nutrition website in the UK and the US website redirects to their retail page on bodybuilding.com.
It's fair to say that this is not the most popular product online so there aren't many customer reviews out there.
On the retail websites we have found that reviews by users are generally favorable although the results are definitely a mixed bag when it comes to gaining lean muscle mass.
---
Are there any side-effects?
There have been no reported side effects with Test Booster 1.0.
---
Final Thoughts
My first thoughts on seeing the ingredients profile was that this product showed a lot of promise. But on further research into the facts, the more disappointed I became.
The form of vitamin D used is unclear. The dosage schedule is certainly not optimal and user feedback could be better.
It does have some positives though such as including D-Aspartic acid and this coming from a big name like Dexter Jackson the quality is going to be good.
---
Bottom Line
Our Rating:
This is a decent product with some proven ingredients, but there is nothing outstanding about it.
It had the potential to be a 4 star product but is let down by various issues that could have been avoided.
These issues are not going to give you the best results possible. There are certainly better options for you to spend your hard earned cash.
---
Updated! The 5 Most Effective Testosterone Boosters in 2022!
Find out for yourself the top 5 natural T-boosters currently available on the market right now.
These are the best choices if you want to...
Build Muscle Quickly
Rapid Strength & Size Increases
Promote Fat Loss
Increase Energy
Enhance Sex Drive
Click Here to See the Full List!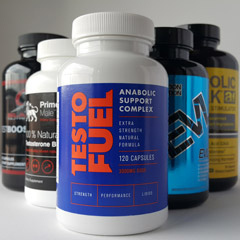 ---