Rating: 4 Stars
Price: $39.99

PROS

CONS

Some Effective Ingredients
No Proprietary Blends
Competitive Price
Better Sleep

Some Unproven & Ineffective Ingredients
Dosage Schedule Ineffective
EVLTest is a very popular testosterone support complex from Evlution nutrition.
Due to its popularity we decided to take a look and see whether it lives up to the manufacturer's claims, or if it's all just marketing hype.
Not only do they claim it will support your muscle growth and strength gains, but apparently you will enjoy a better night's sleep as well.
This product claims to…
Support natural testosterone levels
Increase muscular strength
Increase stamina
Enhance performance
Support optimal sleep
But how well will it work for you?
This review looks at the science behind the formula to see how effective it really is.
We have also recently reviewed Evlution nutrition's fat burners Lean Mode & Trans4orm, but lets continue with this particular test booster analysis.
Here is what we found:
---
What are the ingredients and how do they work?
Ingredient Overview
It's great to see this is a non-proprietary blend so you know exactly what you are getting in each tablet.
We were impressed with the main ingredients: DAA, Vitamin D3, Zinc, Magnesium and Fenugreek.
These are all science backed ingredients which are effective for boosting T, although we would have liked to have seen higher levels of vitamin D3 in there.
Tribulus Terrestis has been proven ineffective when it comes to raising T-levels. The inclusion of  it here really lets this product down, it's a definite negative.
Lets look at the nutrients in more detail…
D-Aspartic Acid (DAA) (3,120mg)
A large dose of this clinically proven testosterone boosting ingredient should help raise your T-levels.
Studies have already shown that supplementing with D-Aspartic Acid, increases your testosterone production by up to 42%.
Tribulus Terrestris Extract (750 mg)
Unfortunately the inclusion of this herbal extract will be a massive waste of time for you.
Tribulus has been consistently proven to have no real effect on raising your testosterone levels. It may however have small effect on your sex drive (libido).
Fenugreek Seed Extract (500 mg)
This traditional Indian herb commonly found in curries is a rich source of antioxidants and known for its powerful libido enhancing properties.
It has also been shown to help promote free testosterone in your body by reducing insulin levels.
Diindolylmethane (DIM) (250 mg)
Found in vegetables like broccoli, cauliflower and kale, the theory is that this compound will act as aromatase inhibitor which means it will reduce your estrogen levels.
Currently there is no solid evidence that this ingredient will work for you. Without real proof this is certainly something they should have been left out.
Vitamin D (as Cholecalciferol) (1,000 IU)
This steroid hormone is essential when it comes to healthy test levels. Scientists have shown that if you lack vitamin D3 in your body, you will have low testosterone levels.
Although EVLTest contains enough to make a difference, you will find that the very best T-Boosters have higher levels of D3.
Zinc (as Monomethionnine and Aspartate) (30 mg)
An important mineral when it comes to supporting healthy T-levels.
It's not naturally produced in your body, so you need consume it as a food or as a supplement.
Various studies have shown Zinc supplementation helps boost your testosterone levels.
Magnesium (as Aspartate) (160 mg)

Another essential mineral that helps promote free testosterone in your body by working with the Sex Hormone Binding Globulin (SHBG).
SHBG is a type of protein that removes the anabolic potency (usefulness) of your body's testosterone for muscle building.
Magnesium will inhibit the protein, reducing the process and allowing you to have more free testosterone in your body.
Vitamin B6 (as Pyridoxine HCI) (11 mg)
This vitamin has been linked to the reduction of the female hormone estrogen.
It does this by working with the C2 pathway, here B6 has the ability to control the metabolic rate of estrogen by binding to the receptor and slowing it down.
This decrease means the hormonal balance is more in favor of testosterone.
ZMA
The combination of the above ingredients Zinc, Magnesium and B6 is a supplement known as ZMA.
Used by athletes and bodybuilders as a recovery aid; studies have shown that ZMA will help the body to achieve deeper levels of REM sleep.
---
How do I take it?
You are recommended to take a single dose of 4 tablets on an empty stomach 30-60 minutes before you go to sleep.
This unfortunately is a highly ineffective dosage; you should consume 3 to 4 servings throughout the day to keep your testosterone levels boosted over a 24 hour period.
---
PROS
Some Effective Ingredients

EVLTest contains some of the effective ingredients that you should look for in a good testosterone booster.Vitamin D3, Fenugreek, Zinc & DAA have all been scientifically proven to support healthy testosterone levels.
No proprietary blends

Thankfully Evlution nutrition lists all their ingredients and the exact amounts on the label so that's a definite plus.You should avoid proprietary blends because it's unclear exactly what ingredients the supplement contains and in what quantities.
Competitive Price

A month's supply of 120 tablets is only $34.99 on BodyBuilding.Com which is cheaper than many of its competitors.
Better Sleep

The ZMA helps promote a deeper night's sleep which is an optimal time for testosterone and GH (Growth Hormone) secretion.
---
CONS
Unproven & Ineffective Ingredients

Including Tribulus Terrestris is a real let down.Although it has been a popular ingredient in the past it has now been proven to be totally ineffective when boosting your T.

DIM is another ingredient which lacks any concrete evidence when it comes to reducing estrogen.
Dosage Schedule Ineffective

The best testosterone boosters require you take 3-4 servings a day which may be inconvenient to some but it is the most effective way to keep your testosterone levels raised in a 24 hour period.Nutrients are continually supplied into the bloodstream with this dosage schedule.

However EVLTest recommends one dosage a day, so you may spike your T levels initially but they will gradually decline throughout the day.
---
What are people saying about EVL Test?
When looking for reviews on Evlution nutrition's official website we could find no user testimonials.
On Bodybuilding.com the reviews are generally favorable with users having mixed results when it came to increasing their strength and building muscle.
What seemed to work overwhelmingly well for users was it helped them have a good night's sleep.
When researching on Amazon.com we found mixed or average reviews.
Some customers were seeing some minor muscle gains while others saw no significant difference.
Although it could be a placebo effect most users found they got a better night's sleep.
---
Are there any side-effects?
No reports of any.
So you certainly shouldn't see any adverse side-effects with this product.
---
Final Thoughts
First of all I am really impressed to find science backed ingredients like DAA, D3, Zinc, Magnesium and Fenugreek in this product.
This makes it a worthwhile test booster but the inclusion of the ineffective ingredient Tribulus is a big mistake, they should have added more of the proven ingredient D3 for example.
Customer feedback is generally good although results of muscle and strength gains are mixed.
Whether it acts as a placebo or not it does appear to help promote sleep but then again any product containing ZMA will do the same thing.
---
Bottom Line
Our Rating: 4 Stars
This is a pretty effective testosterone booster and it made our top five products, however for most users it appears more effective as a sleep aid.
The dosing is certainly wrong if you want the best results.
If you are serious about getting the most from your workouts and building lean hard muscle then there are certainly better products out there to boost your testosterone levels.
---
Updated! The 5 Most Effective Testosterone Boosters in 2022!
Find out for yourself the top 5 natural T-boosters currently available on the market right now.
These are the best choices if you want to...
Build Muscle Quickly
Rapid Strength & Size Increases
Promote Fat Loss
Increase Energy
Enhance Sex Drive
Click Here to See the Full List!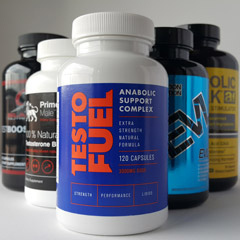 ---