Rating: 2 Stars
Price: $67

PROS

CONS

Uses Effective Ingredients
Money Back Guarantee

Proprietary Blend
Missing Key Nutrients
Expensive
Very Mixed Reviews
Potential Side Effects
Poor Serving Schedule
Looking to reload your testosterone levels? Test Reload proclaims to be the supplement you're looking for.
However, the response to a potentially good list of ingredients has not been exceptionally positive. Combine this with the questions surrounding Test Reload's founder, Mike Chang and you have my interest.
It's time to find out whether this really will reload your circuits and boost your testosterone levels, or not.
Mike Chang started by giving fitness advice on YouTube via his Six Pack Shortcuts channel. He has built up a considerable following and launched several supplements off the back of this including Six Pack Sleep, Afterburn Fuel and Afterburn Aminos.
However, there are many who question whether the shortcuts he offers are really going to be effective. This casts doubt on his supplements as well and makes it worthwhile investigating further.
Here's what he claims Test Reload will do:
Promote fat loss.
Build muscles.
Increase production of testosterone naturally.
Reduce your estrogen levels.
---
What Are The Ingredients And How Do They Work?
Ingredient Overview
In a word; 'disappointing'.
The fact is that this product is marketed by a fitness guru with an extensive following and yet it is missing key testosterone building ingredients.
You would expect to find Zinc, Magnesium and Vitamin B6 in any good T-Booster. Sadly, these are missing in Test Reload.
In addition, you need to know what you are putting into your body to ensure you are getting the best possible effects. Test Reload does not allow you to do this.
Vitamin D3 is the only ingredient which states a quantity, the rest are simply included as a proprietary blend.
Not only does this mean that you don't know how much of each nutrient you are putting into your body, the amounts can even change between orders without you knowing!
Disappointing is putting it politely, you don't know if it will reload your system or tear it apart!
Vitamin D3 (as Cholecalciferol) (4000 IU)
Vitamin D has been connected through scientific research with strong, healthy bones.
You get most of the vitamin D you need from the sunlight, although this might be significantly less in the winter.
There has been a variety of studies performed into the effects of D3 on testosterone levels and all of them conclude that the key level is 3,300 IU. Regular doses above this level will equate to approximately 25% higher levels of testosterone after one year.
This is an excellent start by Test Reload.
Important Note: It should be noted before continuing that the following ingredients do not have specific amounts; they are grouped together as the Test Reload Proprietary Blend.
D-Aspartic Acid (??? mg)

This is one of the most potent nutrients to enhance testosterone production.
Research has shown that D-Aspartic Acid (DAA) is used for various chemical processes in the brain to produce the luteinizing hormone (LH).
The luteinizing hormone is a precursor for the creation of both testosterone and growth hormone. LH is instrumental in regulating testosterone levels.
Research suggests that a good level of DAA in a test booster is between 2000 mg and 3000mg.
Unfortunately, while this is a good addition we just don't know how effective this will be in Test Reload. There could be 1mg or 4000mg!
Fenugreek Seed Extract (std. min. 50% saponins) (??? mg)

This substance does not act directly on you testosterone levels. But it does have the ability to help control your blood sugar levels.
Excess insulin in the body will restrict the level of testosterone your body is capable of producing. Research supports this conclusion.
Fenugreek is an important ingredient to allow your body to produce more testosterone. Of course, it is most effective when mixed with magnesium and zinc which have been shown to boost testosterone production.
Unfortunately, there is no indication of how much Fenugreek is in this proprietary blend; meaning you have no idea whether it will have any effect or not.
Munica Pruriens Extract (std. min. 98% L-DOPA) (seeds) (??? mg)

This can have positive effects on T-levels. But, again it is impossible to tell in Test Reload as there is no indication of the amount included.
Munica Pruriens is a climbing herb. It originates in India and has been used in Indian herbal medicines for many centuries.
Most importantly studies show that this herb has a high level of L-DOPA which is known to be a precursor to the production of dopamine.
Dopamine is known to regulate androgen levels, boost production of growth hormones and stimulates the release of GnRH in the hypothalamus. This then increases the rate of testosterone production naturally in your body.
Lepidium Extract (std. min. 06% Macamides/Macaenes) (Maca tuber) (??? mg)

Maca root is a herb grows in central Peru and has been used in traditional medical remedies for centuries. There is good reason for this!
You'll find a substance known as p-methoxybenzyl isothiocyanate which has been linked through a variety of studies with boosting your libido levels.
However, although an increase in libido may make you feel like you have more testosterone, there is no evidence to suggest that it has any effect on T-levels.
This is the first strike against Test Reload; there is no need for this ingredient in a T-Booster.
White Button Mushroom Powder (whole mushroom) (??? mg)

The theory behind this addition is that white button mushrooms can help to reduce the level of estrogen in your body. This is important.
As you age estrogen levels increase. Alongside this, estrogen turns testosterone into fat, which actually promotes the production of estrogen in your body. This can seriously harm your depleting testosterone levels!
By reducing estrogen you'll be improving your testosterone levels.
Unfortunately you don't know how effective this will be as there is no indication of how much WBM is included in Test Reload.
Even more importantly, there is a limited amount of research regarding how effective WBM is; there are much better alternatives which can be added to reduce estrogen with proven effects. B6 is a prime example of a proven estrogen reducing compound.
Boron (as Boron Citrate) (??? mg)

The final listed ingredient of the proprietary blend is Boron Citrate.
Although research is fairly limited the indications are good. Boron can help your body to hold onto the nutrients it needs to produce testosterone.
It also has a direct effect on your T levels and your estrogen levels, moving T up and estrogen down.
This is good but you'll already know the issue; it's impossible to say if there is enough of this in Test Reload to have the desired effect.
---
How Do I Take It?
One bottle of this T-Booster will cost you approximately $67.
You'll get 120 capsules in each container which is equivalent to 30 servings.
The guidelines suggest you take 1 serving (4 capsules) approximately 30 minutes before a meal. Unfortunately this is not the best way to take any T-Booster.
One serving each day means the effects of the T-Booster will wear off as the day progresses. It would be better to split it into three or four servings of one capsule each as this will help to maintain your testosterone levels.
It is worth noting that the manufacturer recommends taking this for 12 weeks and then resting for 4 before continuing again. This makes me question what the ingredients are really doing to your body.
Put simply, this is not a satisfactory way to take a T-Booster.
---
Are There Any Side Effects?
It is unlikely that you'll have any side effects from these ingredients as it stands.
However, as it is impossible to know how much of each ingredient is in the mixture it is possible that you could experience some stomach issues; particularly if there is a high level of fenugreek present.
There are user reviews which confirm stomach upsets, aching joints and diarrhea from using this product; proceed with caution.
---
PROS
Uses Effective Ingredients

There are some great choices, some of the best in fact for increasing your T levels.

Vitamin D3, D-Aspartic Acid and Fenugreek. Unfortunately we can't determine how effective they will be for you because the doses are not given on the label.

So much potential then but fails to deliver you solid results.
Money Back Guarantee

A 60 day money back guarantee is good news. However we found various reports of the manufacturer not honoring their guarantee.
---
CONS
Proprietary Blend

Nearly all the ingredients are hidden behind a proprietary blend.

This is not good for anybody other than the manufacturer who can save money by giving you smaller doses of the better ingredients and larger amounts of the cheaper nutrients.

How do we know if they are clinical doses? How do we know they are not going to cause you side effects? Avoid this formula.
Missing Key Nutrients

Important ingredients are missing; Zinc, Magnesium, Vitamin K2 and Vitamin B6.

These are powerful minerals and vitamins that should be standard in any decent T booster. They are clinically proven and highly effective.
Expensive

At $67 it is a terrible price. Especially when you don't know exactly what you are getting from this supplement.

It's very bad value; most of the money for this product has been spent on marketing the product rather than giving you the very best formula.
Very Mixed Reviews

A wide array of reviews which we will explore below in more detail. Overall it's not a positive general consensus, there are too many question marks over this product.
Potential Side Effects

There are some reports of sickness and this isn't really surprising when we can't see the exact nutrient quantities in this formula.
Poor Serving Schedule

Just one serving a day. This is not the best way to maximize results.

The best way is to take 3 to 4 servings a day spreading them over a 24 hour period so T levels are kept constantly elevated for maximum benefit.
---
What Are People Saying About Test Reload
A quick look at the sixpackshortcuts website and you'll find several impressive reviews. You'll also find a 60 day money back guarantee if you don't like the product for any reason.
Unfortunately you'll also find a disclaimer that tells you the reviews are unverified, which tells you there not worth the time it took you to read them.
Amazon offers a mixed bag of results. There are those which will tell you that it is fantastic. But there are also those that will tell you that it has no effect, made them feel sick and that they have had no success claiming the money back guarantee.
This is not surprising. Most people who gain followings on YouTube have loyal followers who will defend the person to the last. This tends to create extremes of opinion and makes it very difficult to know how effective the product really is.
This is reflected by the fact that there are 175 reviews but it only has a 3.8 star rating.
Important Note: Since Mike Chang left Six Pack Shortcuts they have re-branded this product in a new white bottle. Instead of it saying "Mike Chang Fitness" on the bottle it now reads "Seniority Health". We can confirm however that it has exactly the same ingredient profile as before and it's just as bad!
---
Final Thoughts
Very disappointed. Although it includes some great ingredients the formula is a complete dud.
The company behind this product, Six Pack Shortcuts, are also of questionable trustworthiness. If you have been in bodybuilding and fitness for any length of time you will know there are no real shortcuts.
Maybe if they spent less time and money marketing their products and more time on the actual science behind them they would give you a beneficial product. We can't recommend this at all.
---
Bottom Line
Our Rating: 2 Stars
There are simply too many questions which are left unanswered. Without knowing the exact amounts you'll never know what you're putting into your body or if you get the same amounts each time you purchase a bottle.
The doubts over the authenticity of Mike Chang further blur the issue. This leaves me to believe that if you're looking to reload your T-levels this product could leave you playing Russian roulette with a semi-loaded gun!
It's possible it might improve your testosterone levels, but if you're really looking to reload then there are far better products available.
---
Updated! The 5 Most Effective Testosterone Boosters in 2022!
Find out for yourself the top 5 natural T-boosters currently available on the market right now.
These are the best choices if you want to...
Build Muscle Quickly
Rapid Strength & Size Increases
Promote Fat Loss
Increase Energy
Enhance Sex Drive
Click Here to See the Full List!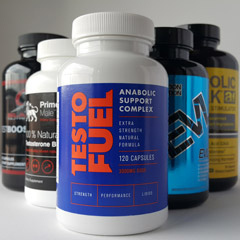 ---