Rating: 2.5 Stars
Price: $32.99

PROS

CONS

No Proprietary Blends
Mild Libido Enhancing Properties
Low Price
Vegan/Vegetarian Friendly

Missing Key Ingredients
Under Dosed Ingredients
Doesn't Raise Testosterone
TestoJack appears to be a clever play on the need for men to jack up their testosterone levels as they age or maybe you want to pack on muscle mass and get jacked!
So perhaps the 200 refers to the percentage increase?
Sadly no, it's actually named after the 200 mg of LongJack extract contained in the formula. We will get to how effective this herb is for your test levels soon.
This T-Booster seems to emphasize the fact that it is vegetarian friendly, cleverly attempting to corner a part of the market.
But, it's coupled with a cheap price which leaves me wondering if it can really produce the necessary effects, or if it is simply a clever marketing gimmick which will leave you feeling pumped but not jacked.
It's certainly enough to get my interest, so let's take a look at what they're offering.
In fairness the manufacturer NOW Foods only makes the following claims:
Enhances virility.
Supports healthy sexual activity.
NOW Foods is a well-established health foods and natural supplements company which has been in existence since 1968, which suggests they know what they're doing!
Operating out of Illinois in the USA this company certainly offers a lot of products including beauty products and food ranges, not just supplements.
Sometimes we find that larger companies offering a very large range of products tend to be Jack of all trades but mater of none. However let's look closer at this particular product first.
---
What are the ingredients and how do they work?
Ingredient Overview
In a word, 'lacking'.
If you're looking for something to boost your libido then there is a good chance that this natural botanical formula may suit your needs.
But closer analysis shows these nutrients are under dosed, it's unlikely it will benefit your libido and sexual performance.
If you're looking for a T-Booster there is more disappointment because there is very little in this nutrient profile will have any effect on your T levels.
In fact most of the ingredients are under dosed and there is a definitive lack of the most important T-boosting ingredients, Zinc, Magnesium, D-Aspartic Acid (DAA) and Vitamins D3 and B6.
This is definitely less jacked and more pencil-necked!
Tongkat Ali (Root) (Eurycoma longifolia Jack Extract) (200mg)
This is herb is also known as Longjack.
It is known to have a mild effect on libido levels. While this is borne out by a variety of studies on rats and humans, its effects on T levels are not so impressive
A double blind placebo controlled study of 13 healthy athletes saw them consume 400mg of this compound on a daily basis. All participants had 6 weeks of Eurycoma and 6 weeks of a placebo.
The results showed no change in test levels. This is not the only study to show this and suggests that this ingredient is unnecessary for boosting testosterone.
However another study did show it raised participants libido and improved erectile function but this was when supplementing with 300mg daily and here we only have 200mg.
A fairly promising ingredient for sex drive but not for T.
Organic Maca Root (Lepidium meyenii) (6:1 Concentrate) (500mg)
Research and history suggest that doses of between 1,500 – 3,000mg of maca root can have a significant impact on your libido.
Unfortunately there are two problems with this.
Subsequent research shows that it has no effect on T levels, which is disappointing in a test booster.
This offering contains just 500mg, which is not enough to significantly affect your libido.
In effect, this won't jack testosterone or increase sex drive making it another unnecessary ingredient or wasted opportunity however you want to look at it.
Epimedium Extract (Horny Goat Weed) (Aerial Parts/Leaf) (min. 3% Icarin)  (250mg)
This herb originates from China and has been used in Chinese medicines for centuries. The key ingredient in this is icariin which is known to be an effective aphrodisiac.
Marketing suggests that Horny Goat Weed can boost test levels by simulating your leydig cells and reducing cortisol levels.
However, there have not yet been any human studies to confirm these claims. In fact, the strongest indication of an increase in testosterone was found in one study of rats.
The rats were given 80mg of icariin but critically showed no change in other hormones, such as luteinizing hormone, which is essential for testosterone production.
This makes it unlikely to be a sustainable method of boosting T levels; there are better alternatives to add to this mix.
So while you won't notice any spikes in T with Horny Goat Weed you may notice a mild spike in your sex drive.
There has been some promising research to show it may help with erectile dysfunction. However most of this research has shown you need to consume larger quantities of at least 900mg to get the full benefits and TestoJack 200 only has 250mg.
Tribulus terrestris Extract (Fruit/Aerial Parts) (250mg)
One of the worst performing T boosting ingredients on the market.
This extract offers protection to your organs and studies show you may experience a mild increase in libido.
However, while research and studies are promising when it comes to its ability as a libido enhancer this only with huge quantities. 250mg is not a large dose.
As yet there have not been any studies with humans which confirm its ability to boost testosterone levels.
It may be a good addition for general male health and boosting virility with the right doses, but a waste for raising testosterone.
American Ginseng Root (Panax quinquefolium)  (75mg)
This is not a libido booster! It has been linked with boosting your immune system. In fact, you'll often find this as an addition to cold medicine.
It has also been shown to assist in lowering cortisol levels in your body. This is helpful as high cortisol levels will inhibit the production of testosterone.
Indirectly this may benefit your testosterone production, however much more research is required.
Panax Ginseng Root (Panax ginseng)  (75mg)
This is often referred to as Asian Ginseng and offers a completely different story! This herb has been shown to boost T levels and even improve your cognition and erections!
It works by increasing the nitric oxide in your body; this promotes blood flow and boosts energy. Alongside this it reduces blood sugar level which prevents insulin from blocking the production of testosterone.
Research also shows that panax ginseng can reduce prolactin which kills testosterone. It also inhibits 5 alpha reductase, preventing the conversion of testosterone to DHT.
This is an encouraging ingredient but the amount needs to be jacked up.
Studies show the recommended amount is 400mg; TestoJack 200 has just 75mg.
Muira Puama (Ptychopetalum olacoides) (Root/Stem) (12:1 Concentrate)  (50mg)
Also known as Velvet Bean Unsurprisingly we have another ingredient which is known to boost your libido.
This herb originates in the Amazon rainforest and has been in use for many years as an aphrodisiac.
A study by Jaques Waynberg confirms this, 362 men with erectile problems were given Muira Puama for 2 weeks and showed significant improvement in erections and desire for sex.
Subsequent studies have shown this to be true and are attributed to its ability to increase bloods flow round your body.
The problem is that there are limited further studies and none relating to its direct effects on testosterone.
In addition the dosage is very low at 50mg, most studies where it has been effective have been with large dosages between 1000-1500mg.
Therefore it is unlikely you will notice any benefits from this nutrient,
---
How Do I Take It?
This is one bit they've done well with in contrast to many of the T-boosters I review.
You need to take two capsules three times a day; they need to be taken with food which makes it relatively easy to remember them.
While the optimal serving is 4 times a day, 3 is very good. This will help to keep your libido levels high and would keep your T levels jacked, if it helped with testosterone.
---
Are There Any Side Effects?
The ingredients are all natural and should not provide any issues when taking it; unless you already have an allergy to any of them.
However, it is always useful to see the response of people taking this T-Booster. Reports of elevated aggression and difficult sleeping are relatively common.
There is also a concerns that Tribulus Terrestris may increase the weight of your prostate (benign prostate hypertrophy).
Of course, other studies show that it prevents prostate enlargement and can even prevent prostate cancer; the jury is still out on this one!
---
PROS
No Proprietary Blends

This is what you want to see on any supplement you take.

We can clearly see all the ingredients and importantly the quantity of each nutrient.

This not only shows you how effective it is overall but you can guard against any over dosed nutrients that could cause you health issues. Good job.
Mild Libido Enhancing Properties

The main emphasis of this booster is certainly centered on raising your sex drive.

While it does contain some of known libido enhancing nutrients some of them are seriously under dosed. It's going to be hit or miss whether you will experience any benefits, it will be mild at best.
Low Price

At $32.99 for a month supply it is very tempting for beginners and newcomers.

However if you have any knowledge about natural T boosting formulas you will realize this brings very little benefit in terms of serious testosterone boosting and improving performance.
Vegan/Vegetarian Friendly

You won't find any animal-based ingredients in this product. Many supplements use gelatin to make the capsules but these don't.
CONS
Missing Key Ingredients

This is just not a serious all round test booster.

It is lacking real performance which is due to the absence of potent nutrients like D-Aspartic Acid, Zinc, Vitamin D3 and Magnesium.
Under Dosed Ingredients

Lots of the ingredients don't use the proper clinical dose.

How can we expect any benefit or effects if they don't use the active doses used in clinical trials.

This is very disappointing because even though it's not an effective test booster it even falls short when it comes to libido enhancing.
Doesn't Raise Testosterone

Apart from the Asian Ginseng (which is under dosed) none of the ingredients contained in this formula have been shown in clinical studies to raise T levels.

This lack of scientific backing is very apparent.
---
What Are People Saying About TestoJack 200

The first thing you'll note is that there are no reviews available on the Now Foods official website.
This might be because the product is mainly aimed at libido enhancing; customer may feel embarrassed about admitting the issue.
Looking on Amazon the results are not promising. Less than half of the users have given 5 star feedback. Unfortunately most of these are simple one liners, not providing you with the ability to assess how genuine they are.
The rest of the reviews are split across the spectrum but cover such responses as 'no effect' and even some which have tested their T levels before and after only to find they have not changed.
Even taking a look at bodybuilding sites you'll quickly note that TestoJack 200 is only recommended when stacked with other supplements.
While this might sound encouraging you have to question whether TestoJack 200 is actually playing much of a part in the gains these people are experiencing.
---
Final Thoughts
You are far better actually raising your testosterone levels properly than taking a libido enhancer like TestoJack.
Remember that successfully raising you T will not only give you a higher sex drive and better sexual performance.
It will also help you build lean muscle, shed excess fat, raise your energy levels, improve your mood and increase your confidence.
Our recommendation is to use a better all-round T booster that will shift your hormones into a higher gear properly.
You are therefore gaining all the sexual performance benefits that this product has set out to do but failed whilst enjoy a load more.
---
Bottom Line
Our Rating: 2.5 Stars
TestoJack 200 markets itself as a libido booster and it does show some slight promise in that department.
However, when taking a supplement you can get the same benefit from an array of more complete T-boosters; by actually increasing your testosterone you are adding a lot more benefits.
Although it's a good effort and is available at an exceptionally low price, it simply doesn't do enough or do it well. The ingredients are under dosed and generally ineffective as both a test booster and libido enhancer.
In addition it's missing the critical T-boosting nutrients. Although you could use it alongside other supplements to give the desired effect you'll never be sure just how much this supplement is contributing to your success.
In short this product will not jack up your testosterone levels and offers little libido and sexual performance benefits.
There are so much better offerings on the market which can do this.
---
TestoJack 300

NOW Foods also do another formula in the same line, with a similar name called TestoJack 300.
The difference being that it contains 300mg of Tongkat Ali (Eurycoma longifolia Jack Extract) instead of 200mg.
In fact LongJack is the only ingredient in the formula.
The price is $39.99 for 60 capsules which will last you 2 months.
The larger dose could help with libido and mild erectile dysfunction but obviously offers no testosterone boosting benefit as mentioned in the nutrient breakdown above.
Essentially this is just a Tongkat Ali supplement which can be found for a quarter of the price with other brands if you shop around.
---
Updated! The 5 Most Effective Testosterone Boosters in 2022!
Find out for yourself the top 5 natural T-boosters currently available on the market right now.
These are the best choices if you want to...
Build Muscle Quickly
Rapid Strength & Size Increases
Promote Fat Loss
Increase Energy
Enhance Sex Drive
Click Here to See the Full List!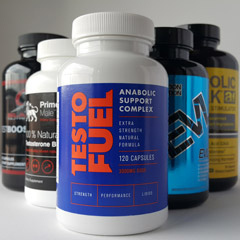 ---