Rating: 3 Stars
Price: $29.99

PROS

CONS

Some Effective Ingredients
Non-Proprietary Blend
Affordable Price

Missing Essential Ingredients
Mediocre Serving Schedule
Ineffective Nutrients
Limited Availability
When a company wins the 2015 bodybuilding.com supplement awards and claims to be both science backed and barbell-tested then you have to wonder if they have found the T-booster that everyone is looking for.
It's certainly enough to make me want to see what all the fuss is about. Take a look at the facts with me and discover whether this is the real deal or should be left as grit under your shoe.
True Grit make several impressive claims, these include:
Increasing free testosterone and decreasing Estradiol.
Lowering cortisol levels.
Dramatically boosting serum testosterone, not just boosting it!
Improving your muscle mass
Boosting strength
Increasing your energy levels.
Let's look at the hard science to determine if the best option to get your test levels moving upwards…
---
What Are The Ingredients And How Do They Work?
Ingredient Overview
Sadly these ingredients are not the best.
Despite the award and a good reputation there are a range of ingredients which serve little or no purpose and only a few, Zinc, Fenugreek and Boron which are likely to help you improve your testosterone levels.
Studies into Shilajit have been unreliable giving inconsistent results when it comes to raising T. Ashwagandha can indirectly enhance T by reducing cortisol levels but it is far from being the most potent or effective nutrient to do so.
Of more concern is the fact that the most important ingredients, magnesium, vitamin B6 and vitamin B12 are missing. In fact, it would also be useful if it had some D-Aspartic Acid too.
True Grit appears to be missing some of the most important ingredients which would give it real grit; until they re-write the formula there are many other T-Booster's which will give you the results you want.
Zinc (as Zinc gluconate) (15mg)
Zinc is an essential ingredient into any T-Booster.
It is one of the most important minerals in your body as it tells your brain to create Luteinizing Hormone.
This hormone is essential for your body to create testosterone and growth hormone. You need both of these hormones to maximize your masculinity and experience muscle growth.
Having this is essential and is a great start to the True Grit formula. The amount is equivalent to 100% of your recommended daily value
Fenugreek Extract (as Trigonella foenum-graecum), seed (300mg)
This is an Indian herb which has become extremely popular as an ingredient in test-boosters.
In the past it has been used as a tea but research has shown that it is excellent at enhancing libido. Many people have promoted Fenugreek as a means of increasing testosterone which it can do indirectly.
It works to reduce your insulin levels helping to reduce the amount of sugar in your blood and increase the support available for testosterone.
This makes it a valuable addition to this formula both for helping to boost T levels and making your feel stronger.
Broccoli (as Brassica oleracea), whole plant 

Supplying Diindolylmethane (DIM)

(250mg)
Broccoli extract contains a substance known as DIM which is actually in almost all green vegetables.
Research has shown that regular consumption of DIM will reduce your likelihood of contracting several cancers, including prostate cancer. It does this by helping your body to keep its hormone levels correct.
It has also been suggested that DIM can help to decrease the amount of unmetabolized estrogen in your body. Estrogen is responsible for increased levels of SHBG (Sex Hormone Binding Globulin) in your body.
Unfortunately SHBG attracts testosterone and once it has bonded with the testosterone your body will be unable to use it. By reducing estrogen levels there will be less SHBG and less testosterone which cannot be used.
Unfortunately, while this sounds fantastic there is not enough research or studies to support this theory. At this stage it is a hopeful but unproven ingredient which might be better to leave out of the mixture.
Ashwagandha Extract (Sensoril®) (as Withania somnifera), root and leaf (125mg)
This is another herb which has been shown to offer an indirect benefit on T levels.
Research shows that there is an indirect link between testosterone levels and ashwagandha. It is known to lower the amount of cortisol in your body.
Cortisol is your stress hormone. While this is useful, elevated levels means that your body is diverting resources from other, less essential activities.
By reducing cortisol levels your body will have the resources it needs to produce more testosterone.
As a bonus you'll find that lower stress levels will improve your ability to focus on tasks throughout the day.
This is a good idea.
Shilajit Extract (PrimaVie®)

Standardized to 50% Fulvic Acid 

(100mg)
Shilajiit extract has been used in many traditional medicines.
It originates from the Himalayan markets and is believed to boost T levels as well as improving sperm production and even your hemoglobin levels.
This sounds great but the problem is that there is very little research completed on this natural compound. In fact, it is believed but not known for certain, that it is plant matter which has decomposed over millions of years.
The few studies which have been conducted give a generally positive indication:
A study sponsored by PriaVie (a shilajiit manufacturer) completed in 2015 for 90 days, with volunteers between the ages of 45 – 55 showed a 19% rise in free testosterone.
An Indian survey lasting 90 days used 35 infertile volunteers and showed an increase of 23% in serum testosterone levels.
Unfortunately, neither of these studies used control groups and were on small numbers of people. In addition other surveys have come up with conflicting results.
It is unlikely that shilajit will have any positive effect on your testosterone levels and it would have been best to leave it out until proven conclusively one way or another.
Boron Citrate

Supplying 5mg of Boron

  (100mg)
Now this compound is a completely different matter.
Boron has been the subject of a number of clinical trials and the results are extremely positive.
It is worth noting that Boron is needed by your body for a variety of functions. It is part of the muscle building process and the even helps to give you strong bones.
The studies show that it has a positive effect on the amount of testosterone in your body and can even help to reduce the amount of estradiol (estrogen) in your body.
This is a worthwhile addition to the True Grit T-Booster
Safed Musli Extract (as Chlorophytum borivilanum), root 

Standardized to 5% Saponins

(50mg)
This ingredient is not commonly heard of although it used to be a common myth that it was a good testosterone booster.
All research that has been conducted to date shows that this is a safe bet if you don't want to increase your T levels. In fact, it doesn't have any discernable effect on the human body.
It is possible that this will boost your libido slightly but there are other minerals which will do this better. It would be best to leave this one out.
Bladderwrack Extract (as Fucus vesiculosus), whole plant (50mg)
Initial research supported the idea that this brown seaweed based extract could boost your metabolism. Unfortunately more recent research suggests that this is not the case.
In fact, there is nothing that suggests this could boost your T levels.
This is another ingredient which could be safely left out.
Yacon (as Smallanthus sonchifolius), root – (50mg)
This substance doesn't claim to aid with testosterone boosting but it does claim to be an appetite suppressor.
Unfortunately, there doesn't appear to be any research to confirm this diagnosis and it certainly won't have any effect on your testosterone levels.
---
How Do I Take It?
True Grit should be taken twice a day. Each serving is 2 tablets; the guidelines suggest one serving in the morning and one in the evening.
Unfortunately this is just not good enough. 3 to 4 servings a day is optimal. Staggering servings 12 plus hours apart will not provide a sustained boost to your testosterone levels.
It is simply too much to ask of any supplement. Instead, four servings of 1 capsule might be more appropriate.
Please note, this does not mean you should purchase True Grit and adjust the dose accordingly. If you do it is likely to have even less effect than it will in its current form.
---
Are There Any Side Effects?
Considering the list of ingredients it is highly unlikely that you will experience any side effects. All the ingredients are natural and potentially useful.
It's a shame that they are not all useful for boosting testosterone.
---
PROS
Some Effective Ingredients

Zinc, Fenugreek and Boron are all present in this formula and are scientifically proven to be effective at boosting testosterone. As you can see that is only 3 out of the 9 ingredients though.
Non-Proprietary Blend

All ingredient quantities shown; there are no proprietary blends present.A fully disclosed nutrient profile means we can see the exact dosages and therefore how effective it is overall. It also means we can determine if there will be any side effects.
Affordable Price

There is no doubt that $29.99 for 120 capsules (30 days supply) is reasonably priced. However you do get what you pay for here, it's not a great ingredient profile.
CONS
Missing Essential ingredients

We would expect to see more powerful nutrients in this formulas. Specifically magnesium, vitamin B12 and B6 are missing.Performance could have been greatly improved with options such as Vitamin D3 and D-Aspartic Acid being included.
Mediocre Serving Schedule

With just two servings a day your body is not getting T boosting nutrients around the clock.Servings are not optimized for consistent T boosting and therefore you won't maximize T levels and muscle building potential.
Contains Ineffective Nutrients

Too many ingredients in the formula that don't aid testosterone production. Shilajit, Safed Musli, Bladderwrack and Yacon are all nutrients that don't have enough solid scientific studies behind them.
Limited Availability

Currently the only place to buy is on BodyBuilding.com. If you live in the US that is fine, but international customers have been known to wait weeks, depending on your location.
---
What Are People Saying About True Grit Test Booster
One look at the extremely professional True Grit website and you'll see a wealth of information concerning the details of this test-booster and how great it is. However, you won't find any reviews from customers.
In fact, the only customer reviews appear to be either on the bodybuilding.com site, which is the main place to purchase this T-Booster, or on Amazon where you can locate True Grit for sale by a company known as 'Supplement Shopping'.
Verified reviews on the bodybuilding.com site give this T-Booster a 7.5 rating. Issues include increased irritability and no visible effect.
This is reflected by Amazon customers. The rating is just 3.4 stars and there are several comments regarding it having no effect, increased irritability and even the fact that the pills are large and difficult to swallow.
---
Final Thoughts
True Grit is a relatively new company and I like the fact they are taking the non-proprietary route with their formulas. They are very open and transparent about their nutrient profiles.
While I respect the fact they are trying some new and promising ingredients the clinical studies just don't support their use as effective T boosting ingredients.
Maybe we will see a revised formula in the near future from them but for now we can't really recommend it.
---
Bottom Line
Our Rating: 3 Stars
Taking a T-Booster might give you the grit to do more down at the gym and pack on more muscle. But taking True Grit is unlikely to produce the results you are hoping for.
The simple fact is that it doesn't have enough of the right powerful ingredients to make a significant difference to your testosterone levels.
There are much better products currently available on the market that will give you the results you want. We can't recommend this supplement.
---
Updated! The 5 Most Effective Testosterone Boosters in 2022!
Find out for yourself the top 5 natural T-boosters currently available on the market right now.
These are the best choices if you want to...
Build Muscle Quickly
Rapid Strength & Size Increases
Promote Fat Loss
Increase Energy
Enhance Sex Drive
Click Here to See the Full List!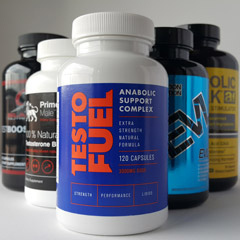 ---