Rating: 1.5 Stars
Price: $79.95

PROS

CONS

No Proprietary Blends
Contains Fenugreek
Money Back Guarantee

Missing key ingredients
High price
Poor serving schedule
Ineffective Ingredients
The black bottle adopts a minimalist approach, even the name doesn't shout out "I'm a testosterone booster".
This makes me wonder if Pronabolin is so good that it doesn't need to make a big fuss.
It certainly got me interested enough to find out more! The company is based in New York and has been operating since 2008.
They offer a small range of supplements but there is very little information regarding themselves and their research methods.
Pronabolin does promise to:
Boost testosterone levels
Increase you strength and stamina
Improve vitality
Lose excess body fat
Magnify your libido
As always we will take evidence based approach to the ingredients to see how effective they are. We will also see what kind of results users are getting, so read on!
---
What are the ingredients and how do they work?
Ingredient Overview
A definite plus is that Pronabolin uses a proprietary blend which means all the nutrient amounts are listed.
This helps you determine how effective the formula is overall and avoids any surprises with side-effects.
Sadly the ingredients do not look promising. Pronabolin should replace the ineffective nutrients Horny Goat Weed, Longjack and Tribulus with clinically proven ingredients.
The best T boosting ingredients are Zinc, Magnesium, D-Aspartic Acid, Vitamin D3 and even Ginseng; none of which are present in their formula.
You will find Fenugreek which has been shown in studies to help support higher T levels.

But, the addition of Tribulus Terrestris is troubling, certainly when it common knowledge that it doesn't raise T.
Any company that claims to have fully researched their product should know that this is no longer accepted as a T boosting ingredient.
Overall it is a poor choice of nutrients. However let's take a look at what Pronabolin has to offer in more detail:
Tribulus Terrestris
(45% saponins)

(650mg)

At one point this was the king of testosterone boosters.

Research was even shown to confirm the claim that it could boost T levels.

Unfortunately this research was conducted on rats; no human clinical study can back this up. It is possible that it'll raise your libido, but even this effect is small.

This is not something you want to see in a T booster anymore and its inclusion here leads me to question the "countless hours researching and developing" that Pronabolin claim to have done.

36% of this blend is made up of Tribulus which is a huge waste of time and money for you.
Fenugreek Seed Extract
(50% fenusides)

(300mg)

This is a much better addition to the formula.

These seeds have been used in Indian cooking and as a medicine by the Ayurveda for thousands of years. They are known to help soothe the digestive tract.

But, the reason why this is a great addition to this T-Booster is in its ability to regulate your insulin levels.

Insulin is produced every time you eat in response to the increased rate of glucose in your body. While this is necessary to deal with blood sugar, through a process known as homeostasis it will affect your T levels.

In short, high levels of insulin equates to lower levels of testosterone. Fenugreek regulates the insulin, allowing your testosterone levels to increase.

This is a good addition!
Digestive Proteolytic Blend (250mg)
This is a mixture of various minerals such as Bromelain, Papain, Peptidase and Protease.
There is some research that suggests this can help your digestive system work smoothly.
Unfortunately, although Pronabolin suggest that this can improve absorption there is no scientific research to confirm this.
There are certainly no research programs which suggest that this could improve your T levels; making this a waste of space in this formula.
Coleus Forskohlii (Plectranthus Barbatus) (125mg)
This is an herb, native to Nepal, Thailand and parts of India.
It has been used for centuries as a traditional medicine to treat an array of heart conditions.
It is thought its ability to strengthen the heart can improve blood flow and lower blood pressure. This can boost your energy and has been linked with an improved libido.
However, this is not the same as a boost in your T levels, clinical studies have shown several unreliable results when it comes to boosting testosterone.
Much more research is needed in this area and for now should have been left out until conclusive evidence is available.
Milk Thistle (Silybum Marianum) (120mg)
This has been used for many years as a natural alternative to help with liver issues.
It is claimed it can help to lower bad cholesterol and help if you're suffering from type 2 diabetes.
However, there is not yet any real research to confirm these findings although studies show that it is full of antioxidants and can help limit inflammation.
Again, there's nothing to suggest it will boost your testosterone levels. This is another ingredient which could have been left out.
A trend seems to be occurring.
Alpha Lipoic Acid (100mg)
This organic compound also known as ALA is known to be a powerful antioxidant.
Research shows it prevents damage to your cells and can help to boost your levels of vitamin C and E.
However, although research shows that it can help you to burn fat this is of little benefit here. Granted, as testosterone levels decrease your body fat will increase.
But if you're taking a good T booster and exercising body fat shouldn't be a huge issue.
Although there are studies to show it can work to improve blood flow and help regulate blood sugar. So potentially if can work similar in a similar way to Fenugreek lowering the body's need for insulin
Although this won't be nearly as effective as Fenugreek and it may only benefit you to a minor extent.
It's not doing any harm here but it should have been swapped out for something more powerful.
Eurycoma Longifolia Extract 100:1 Extract (100mg)
You may have heard of this substance as Tongkat Ali or LongJack – unfortunately it's not a great choice.
It is a flowering plant from Malaysia and has been used for centuries in traditional medicine to treat erectile dysfunction.
There are suggestions that this can boost testosterone in those with low testosterone but the research is mixed.
Effects have only been shown in rat studies and these results have never been scaled up to human studies so the results are unreliable.
An improved sex drive is almost guaranteed but with much higher dosages than 100mg. If you're after a boost in T levels; this isn't likely to help.
There are better options available.
Horny Goat Weed (10% Icariin) (100mg)
It is likely that this Chinese herb also known as Epimedium has aphrodisiac properties.
This can certainly improve your libido and sense of well-being.
You will also find reports that it encourages the production of Leydig cells; which stimulate testosterone production. However, there are not yet any human studies to confirm these findings.
All research has been conducted on rats and one study even saw a drop in T levels. Until more research is done this is one ingredient that is better left out.
Note that the dosage is normally around 200mg so with only 100mg this may only mildly boost your libido.
Black Pepper Extract (95% piperine) (15mg)
This is not just something that you add to food to improve the flavor.
In fact, black pepper extract is excellent at improving the absorption of nutrients into the body. This means any goodness in the T booster will be available to your body faster.
This is not a T booster but it is helpful when taking a testosterone booster.
---
How do I take it?
The guidelines tell you to take 3 capsules once a day.
One serving a day will simply not be the most effective serving schedule.
Even if this was packed with T boosting goodness, one does will elevate your testosterone levels for a short while. They will then gradually decline.
The only way to effectively boost and maintain elevated levels of T is to take 3 or 4 servings per day. Pronabolin just isn't giving you enough servings!
---
Are there any Side Effects?
All the ingredients in this are natural so it is unlikely that you'll experience any side effects.
However, fenugreek is known to cause stomach upset and digestive issues in some people. This could be the reason why Pronabolin has included digestive proteolytic blend; to ease any discomfort.
---
PROS
No Proprietary Blends

It's always encouraging when a manufacturer includes the quantity of each ingredient.

You can therefore determine how effective it is overall i.e. it contains a clinically active dose. It also means there are no surprises with over dosed ingredients which can potentially cause side effects.
Contains Fenugreek

Fenugreek has been shown to help control insulin levels which aids testosterone production; this is a good addition.

ALA works in a similar way and is therefore an ok choice but it is certainly not as effective as Fenugreek.
Money Back Guarantee

Although this was a controversial pro here in the office.

While they do offer a money back guarantee the terms are unclear. It doesn't actually specify how much of the supplement you are allowed to use before the guarantee is null and void.
---
CONS
Missing key ingredients

Sadly the most effective clinically proven T boosting ingredients, Zinc, Magnesium, D-AA, Vitamins D3 and B6 are all missing.

This formula leaves little to boost your T and should make you question their research process. Every one of these nutrients are safe and would have improved this blend dramatically.
High price

You can buy Pronabolin for $80 this price puts you at the top end of the T boosters which is pretty outrageous considering how ineffective the formula is.

This really isn't a price that the ingredients can justify.
Poor serving schedule

Once a day is simply not enough to sustain elevated T levels around the clock.

Servings should be 3 or 4 times a day for fast and efficient testosterone boosting. Pronabolin should know this if they've done their research.
Ineffective Ingredients

There are too many questionable ingredients in this mix.

Tribulus has been shown to be ineffective at boosting T levels, it should be left out. Equally, milk thistle, Horny Goat Weed and LongJack are not really adding to the capabilities of an effective mix.

They don't need to be in here.
---
What are people saying about Pronabolin?
You won't find any testimonials on the official website which doesn't bode well.
Take a look at Amazon and you'll see a very mixed bag of customer reviews. In fact, they are spread fairly evenly across the range, with 25% of users giving it just one star.
The positive reviews seem to focus on the energy increase that people feel; which is great but not a sign of improved T levels or muscle gain.
The less positive reviews all simply state that it doesn't work; with one stating that it gave him kidney issues immediately.
There is nothing here that suggests it will give you the T boost you need. I agree with many of the reviews, don't waste your money!
---
Final Thoughts
Although this product is aimed at men with low T rather than gym rats it neither raises testosterone nor addresses the symptoms of low testosterone. 
We would expect some more effective nutrients like D-Aspartic Acid to raise T and maybe some anti-estrogen additions such as Vitamin B6 or Lutolin to combat age declining T levels.
To top it all off they are charging $80 for this formula which is impossible to justify.
We recommend you don't waste your money and look for a product that contains the most effective testosterone boosting ingredients.
---
Bottom Line
Our Rating: 1.5 Stars
Disappointing but not surprising.
Pronabolin hasn't made a huge fuss about itself preferring to avoid the attention in the hope you'll believe the hype they publish.
But with key T boosting ingredients missing, questionable ingredients included and over a third of the formula containing the now debunked Tribulus.
This is not a T-booster that will give you the results you want or deserve especially when spending this amount of money.
We really cannot recommend you take this product, there are far better testosterone boosters on the market.
---
Updated! The 5 Most Effective Testosterone Boosters in 2022!
Find out for yourself the top 5 natural T-boosters currently available on the market right now.
These are the best choices if you want to...
Build Muscle Quickly
Rapid Strength & Size Increases
Promote Fat Loss
Increase Energy
Enhance Sex Drive
Click Here to See the Full List!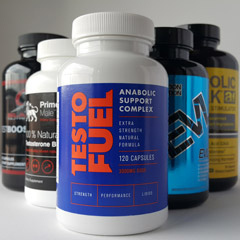 ---