Rating: 2 Stars
Price: $48.98

PROS

CONS

Contains D-Aspartic Acid & Fenugreek

Proprietary Blend
Missing Key Ingredients
Ineffective Nutrients
Poor Serving Schedule
TestroVax is created by a company called Novex Biotech.
You can find their product through the big online retail websites but they don't appear to have their own website and there is little information to be found on the company itself.
This is not the only supplement they produce, Growth Factor-9 being is another one, which is why it is concerning that there is no information about them.
But what really got my interest was that they claim to offer a 42.1% increase in serum testosterone within just 12 days!
I have to question if this is even possible, never mind whether this product is the one to do it.
The rest of their claims are standard for a T-Booster:
Increased muscle growth
Boost energy levels
Improved libido
Better testosterone levels
Let's look into the formula to see if the science behind the formula supports these statements.
---
What are the ingredients and how do they work?
Ingredient Overview
Disappointing is the best way I can describe this ingredients in this formula especially when you see they are using a proprietary blend.
Overall this formula is very unlikely to give your testosterone levels a boost; in fact it even includes a nutrient proven to make them drop!
There are just simply too many ingredients which don't add anything positive to the mix and should have been left out.
The fact that the majority of the ingredients are included in a proprietary blend means you don't know how much of each nutrient you'll be getting.
Without this knowledge we can't determine how effective the formula will be overall.
Although D-Aspartic Acid, Fenugreek and Ashwagandha are great additions this is not really enough, especially when we don't know the exact quantities.
In fact it is missing some of the best performing T boosting ingredients such as Zinc, Magnesium and Vitamin D3 all of which would all be welcome addition.
These would have greatly improve the performance of this poor performing product.
Vitamin B6 (as pyridoxine HC)  (2 mg)
B6 cannot be stored by your body, it is therefore essential to make sure you have enough of this vitamin every day.
It plays an important part in the production of hemoglobin which carries oxygen round the body.
It's also vital to the transmission of messages between nerve cells.
But, most importantly here, it promotes the production of androgens which will trigger your body to produce more testosterone.
In addition, it will also work with the brain to regulate hormones that encourage estrogen production. The consequence is a reduction of estrogen. This will indirectly increase your T levels.
While this provides 2mg we feel they could have upped the dosage to a more beneficial 5mg.
Folic Acid  (400 mcg)
Folic acid is actually a water soluble vitamin B and is usually associated with female pregnancies.
However, it is also an important for creating new proteins. It is known to help prevent heart disease and Alzheimer's. It can also reduce your risk of Type 2 diabetes and even depression.
In terms of T-boosting potential its ability to create protein will speed the process of muscle repair and generation. This could indirectly increase your T levels.
However there is no research to confirm this and there are better options to add to any T-Booster.
Vitamin B12 (as cyanocobalamin) (6 mcg)                
This vitamin is essential for many functions in your body, including brain function and the operation of your nervous system.
However, research suggests it does not have a direct effect on your testosterone production. But, it does play a part in the production of quality sperm which could make you feel manlier.
It is also known to boost your energy levels, perhaps helping you to work out harder and longer in the gym.
This is not a bad choice but will not actually boost your T levels.
---
Testrothione Proprietary Blend

(2.7 g)


By now you should know my feelings on proprietary blends, it is never good that a manufacturer doesn't tell you how much of something is in their product.

This makes it impossible to know if it will have any effect or not.
(D)-Asparaginic Acid (??? mg)

Having said that, this is an encouraging start!
D-Aspartic Acid has been shown in many studies to help increase testosterone including one that showed the 42.1% increase in 12 days.
D-Aspartic Acid, or DAA, is known to trigger a chemical reactions in your brain which encourages the production of Luteinizing Hormone (LH).  LH is essential to the production of both testosterone and growth hormone.
Unfortunately between 2,000 and 3,000mg is considered an active amount for T boosting. Unless the entire proprietary blend is made up of DAA it seems unlikely there is enough in here.
Therefore we can say right now this product will not give you the 42.1% increase to your T levels.
This is a great nutrient, but likely under dosed and therefore you won't experience the full benefits of an optimal dose.
Fenugreek
(Trigonella foenum-graecum) (seed)
Powder
(??? mg)
Research shows that this herb originates from southern Europe and parts of Asia and offers a range of health benefits.
Studies also show that it has a positive effect on your blood sugar levels. This decreases the amount of insulin you need to produce and allows more production of testosterone.
Unfortunately we can't tell if there is a healthy 100mg or just 1mg in this mix.
(S)-2-Amino-5-guanidinopentanoic Acid HCl
(??? mg)
This substance is often referred to as L-Arginine and naturally occurs in fish, red meat, dairy products and poultry.
It is an amino acid which is good at raising nitric acid in your body. This allows your muscles to work harder, increasing your ability to work out.
Unfortunately this is as close as it gets to boosting your T-levels; there are no studies which show it directly or indirectly changes your testosterone.
Resveratrol (Polygonum cuspidatum) (root) Extract (??? mg)

This is a surprising ingredient as it comes from red wine and has been associated with boosting your life span.
It is found in red and purple grapes as well as peanuts, blueberries and cranberries. You can even locate it in the root of Japanese knotweed.
There have been studies linking it to increasing overall blood flow and improving the absorption of certain nutrients. This may help you absorb TestroVax at a faster rate.
While that is great, there is no evidence to suggest that it has any effect on your T-levels.
Grape (seed & skin) Extract (??? mg)

The extract of grape seeds is believed to help boost your metabolism by increasing blood flow and reducing your blood pressure.
It can also help you to absorb nutrients faster. While these are good health benefits they won't help improve your T levels.
Rhodiola rosea (root) Extract (??? mg)
This herb comes from the arctic regions of Europe, America & Asia and is used extensively in Chinese medicine.
It has been shown to help reduce feelings of depression and boost your energy levels. This could help you to feel motivated to complete your workout, but it won't help your T levels.
Research also suggests this could help improve your muscle recovery and your mental abilities, but more research is needed into these areas.
We feel it would be more a more beneficial nutrient in a pre workout.
Licorice (Glycyrrhiza glabra) (root) Powder (??? mg)
You are probably aware of licorice as a sweet with a distinctive taste.
It originates from southern Europe and parts of Asia but its main ingredient is glycyrrhizin, this is the sweet part of the root.
However there have been numerous studies into this compound and all agree that it reduces your T levels, not something you want in a T booster!
Red Clover (blossoms) Powder (??? mg)
This is a common supplement for women going through the menopause. It is said to help balances the hormones.
Unfortunately several studies of this herb, common to Europe and Asia show that there is no effect on your T-levels. It should just be left out of this mix.
Damiana (leaf) Extract (??? mg)
Studies in rats have shown that this Mexican and Central American herb can have positive effects on libido.
It also showed some promise at blocking the conversion of testosterone into estrogen. However, there are no studies on humans which confirm this.
Until further research is completed this is another unnecessary ingredient.
Withania somnifera (root) Extract (??? mg)
This herb also known as Ashwagandha is native to India, North Africa and the Middle East. It loves dry climates.
Most importantly it has been shown to help reduce the levels of cortisol in your body. This is the stress hormone.
Not only will this reduce your risk of a host of diseases, it will also allow your body to produce more testosterone.
This is a good ingredient but you must be concerned about how much of it is in the formula, it seems unlikely there is enough to provide any significant assistance to your T levels.
2-Aminoethanesulfonic Acid (??? mg)

This amino acid is also known as taurine named after the Latin word for bull.
The original substance was actually collected from bull urine or semen. However, today it is generated as an artificial supplement.
It has been suggested that it can promote longevity of life and will increase your metabolic rate by boosting the flow of blood round your body.
This can make you work out harder in the gym and maybe speed up nutrient absorption but it won't help your T levels.
Schizonepeta (aerial parts) Powder (??? mg)
This herb calls China and Korea its home; it's used in traditional Chinese medicine.
It does appear to help reduce inflammation in your joints which could help recovery and endurance while training.
But, again no study has shown a positive effect on testosterone levels.
---
How Do I Take It?
Novex Biotech tell you to take 1 serving of 3 tablets every morning with breakfast and that you should consult a medical doctor before you start.
Even if this was the best T booster on the market it would not be able to give you sustained high levels of testosterone on a single dose a day.
You need to keep the nutrients topped up in your system around the clock to maximize the effect. This means taking them 3 – 4 times a day, not once.
---
Are There Any Side Effects?
There have not been any reports of side effects but it is difficult to say there are none.
After all, you don't know exactly how much of each ingredient is in this mix and how it could affect you.
However the fact that this is not an effective T-Booster you shouldn't need to worry about side effects; just take a different T-Booster.
---
PROS
Contains D-Aspartic Acid & Fenugreek

These are both nutrients that have been clinically proven in studies to raise testosterone levels.Unfortunately because the quantities are hidden behind a proprietary blend we don't know if they are using active doses and therefore how effective they will be.
---
CONS
Proprietary blend

The vast majority of the ingredients in this product are included in a proprietary blend; you simply don't know exactly what you are putting in your body.

Without knowing the quantities of nutrients you just don't know how effective the formula will be overall.While it may do nothing there is chance nutrients are over dosed and cause side effects and health issues
Key T-boosting Ingredients Missing

You should expect to find key T boosting nutrients like Zinc, Magnesium, Vitamin D3, perhaps even some Oyster extract or Ginseng.None of these powerhouse ingredients are present making it a poor performing supplement.
Many Unnecessary Ingredients

You will find a host of ingredients that will do nothing to benefit your testosterone levels.Granted some may have a mild effect on your libido and energy, but you get that with higher levels of test anyhow.

Worse still you'll notice they included licorice which can actually reduce your T levels!
Poor Serving Schedule

A good T-Booster will provide your body with 3-4 servings per day.

This will help to maintain testosterone levels all throughout the day giving maximum results.This product offers one daily dose which is not enough for effective T boosting.
---
What Are People Saying About TestroVax?

Visit the bodybuilding.com site and you'll see several very positive customer comments.
Unfortunately none of them seem to have any evidence attached to them. They are generic comments such as "great product".
If you take a look at Amazon you'll find a more realistic and mixed response. Only 50% of users have given it 5 stars but again most of the comments are short, "excellent product" type responses.
There are also plenty of those who say it had no effect and they got no results. 
The same is true on GNC, where we find very mixed results from customers when it comes to strength and muscle gains.
This leaves you certain that this is not the product it is hyped up to be.
---
Final Thoughts
Testrovax is the perfect example of what you want to avoid.
They claim a 42.1% increase in serum testosterone in 12 days based on a studies that use between 2000mg to 3000mg of D-Aspartic Acid.
Yet the whole proprietary blend is 2700mg including 12 other ingredients.
It is therefore impossible that Novex Biotech uses optimal doses for all 13 ingredients listed. The lesson here is to avoid supplements using proprietary blends with hidden dosages.
Either way this is not the strongest formula of ingredients we have seen and therefore recommend you look elsewhere.
---
Bottom Line
Our Rating: 2 Stars
With only two effective ingredients of any note hidden behind a proprietary blend this test booster doesn't have much going for it.
With lackluster customer reviews and a poor nutrient profile this product may have some mild energy and libido benefits but is unlikely to have any effect on raising your testosterone.
There are much better products on the market to look at before you to even consider purchasing this one, especially when this one costs $50.
---
Updated! The 5 Most Effective Testosterone Boosters in 2023
Find out for yourself the top 5 natural T-boosters currently available on the market right now.
These are the best choices if you want to...
Build Muscle Quickly
Rapid Strength & Size Increases
Promote Fat Loss
Increase Energy
Enhance Sex Drive
Click Here to See the Full List!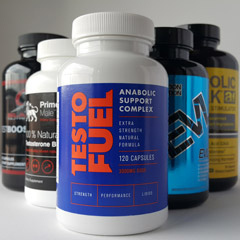 ---