Rating: 1 Star
Price: $89.99

PROS

CONS

Contains Some Good Ingredients

Proprietary Blend
Missing Key Nutrients
Expensive
Free Trial is a Scam
Unnecessary ingredients
Poor Serving Schedule
Testomenix first came to my attention as it appeared to be offering a completely free trial. This suggests the firm has a huge amount of confidence in their product.
This sounded too good to be true so I have thoroughly investigated and reviewed this product for you.
First the manufacturer makes some impressive claims:
Increased libido.
Boost Your Muscle Mass.
Improved energy levels.
Boost testosterone levels, of course!
Assist you in performing better.
However we found a quick look online displayed several concerning issues:
The official website doesn't appear to exist; you are simply forbidden access.
There is a difference in the duration of the free trial. The terms show 17 days but the registration process shows 14 days.
Amazon shows a 4.4 star rating but a search for Testomenix shows an array of negative pages and comments.
More details on these findings later in the review. There is certainly reason to be concerned.
For now let's take a look at the nutrient profile in more detail and see if there is anything positive in their formula…

---
What Are The Ingredients And How Do They Work?
Ingredient Overview
One look at the ingredients list and you should be putting this back on the shelf.
In short there are many ingredients which serve no purpose and there is a distinct lack of D-Aspartic Acid, Magnesium, Zinc, Vitamin D3 and Vitamin B6. These are all substances which are known to support and encourage the production of testosterone.
On top of this the amount of calcium is displayed but all other ingredients are simply listed as a proprietary blend.
If you don't know how much of each ingredient you are taking or if it is the same with each container then you can't be certain if it is having a positive effect, no effect or even a negative effect on your body.
What is the point of building muscle if it has a negative effect on your health; you can't do this if you don't know what you're putting in your body.
Here's a more detailed breakdown of the ingredients:
Calcium (as Calcium Carbonate) (44.28mg)
You are probably already aware that calcium is essential for strong bones and teeth.
What you might not know is that research has linked calcium with testosterone production. Unfortunately the exact mechanism is not yet understood.
But, it is believed to be connected with its ability to regulate the release of neurotransmitters. A good example of this is an increase in dopamine will cause your testosterone levels to increase.
As long ago as 1976 research shows that calcium, in conjunction with luteinizing hormone (LH), shows a significant increase in testosterone levels. This was as opposed to LH by itself.
A further study in 2009 confirmed these results but only on active participants, sedentary ones experienced little or no difference.
Calcium is a good starting point for Testomenix. But, you do need to be active and already not getting enough calcium from other sources.
The fact that this only contributes 5% of your recommended daily amount is really not that encouraging.
---
FlowViv MAX-TEST Blend (1484mg)
Horny Goat Weed (leaf) (???mg)
For many years it was believed that horny goat weed could have an effect on male virility and strength.
Unfortunately studies are inconclusive. In fact, there are no human studies relating to this natural compound!
Studies using rats vary. One study showed an increase in testosterone levels without affecting any other hormones. However, another study showed that too much horny goat weed can actually reduce testosterone.
The fact is there simply isn't enough research to support the claims or the addition of this ingredient in your T-booster. There are much better alternatives.
Tongkat Ali Extract 100:1 (root) (???mg)
This is a medicinal herb which originates in Thailand and has been used in traditional medicinal remedies for years.
Interestingly there has been a variety of studies completed with this herb. The results are encouraging but not definitive.
Testosterone levels when using healthy subjects over 40. It had the same effect on men with moderate stress, elderly men and even those with late onset hypogonadism.
But, in another study it had no effect on a group of healthy men aged between 30 and 55.
It is debatable whether this is a worthwhile addition; particularly as all these studies used between 300mg and 500mg but we have no idea how much is in Testomenix. It might have no effect at all.
Saw Palmetto Extract (fruit) (???mg)
This is actually a small palm tree from the Florida region.
The berries from this tree have been used for centuries to help treat urinary and reproductive issues, particularly those which are associated with enlarged prostate.
Research suggests that saw palmetto can help to stop the conversion of testosterone into dihydrotestosterone. While this will not increase your production of testosterone it will increase the amount of free testosterone in your body.
As such this means there is no harm in adding it to this T-Booster but it is unlikely to provide you with a significant increase in your testosterone levels.
Orchic Substance (???mg)

This substance is extracted from the testes of a bull; suggesting that it can provide a potent boost to your male health and testosterone production.
Sadly there is no research to support this claim. It simply sounds good. After all, who wouldn't want to be as tough as a bull?
The fact is that it's an unnecessary ingredient which will not boost your testosterone or even your libido.
Wild Yam Extract (root) (???mg)

This natural plant is used in laboratories to create estrogen and dehydroepiandrosterone.
This is done via the disogenin found in the plant. This substance has also been linked with improved bone strength, increased energy levels and libido.
However, there is no research to suggest that it can boost testosterone levels. In fact, the majority of studies center on it as an alternative to estrogen therapy. This s not something you want to be added to your body if you are looking to boost testosterone.
This is an unnecessary addition and could actually harm your testosterone levels.
Sarsparilla (root) (???mg)
This is another nutrient that appears to offer no benefit to your testosterone levels.
It has been suggested that this plant can improve libido and help testicular health; but there is no research to support these claims.
It has been shown to help you improve focus but this simply means you might be able to work out for longer. But this won't boost your testosterone levels and shouldn't be in this T-booster.
Nettle Extract (root) (???mg)

This is a much better choice for a T-Booster.
Research shows that nettle extract prevents Sex Hormone Binding Globulin (SHBG) from binding to the testosterone in your body. It does this by binding to the SHBG itself.
This ensures there is more free testosterone available to be used by your cells, muscles and organs.
A definite plus for Testomenix although the quantity of nettle extract is unknown.
Boron (as Boron Amino Acid Chelate) (???mg)

The final ingredient is Boron which is a naturally occurring mineral.
Research shows that this mineral supports the process of testosterone production in the body and can even reduce the levels of estrogen.
As estrogen turns testosterone into fat, there is a significant benefit in reducing its presence in your body! Unfortunately, it is unknown whether there is a little or a lot of Boron in this mixture.
---
How Do I Take It?
Every bottle contains 60 capsules. You take two a day which means that you have a month's supply for $89.99.
Testomenix suggest you take 2 capsules at the same time every day. Even if this was an incredibly potent testosterone booster this would be insufficient.
To be effective you need a testosterone boost 3 or 4 times a day; this will ensure your T levels stay high and don't drop off between doses.
---
Are There Any Side Effects?
The list of ingredients would not suggest any side effects; they are all natural and should not cause any issues.
Of course, the fact that you don't know the exact quantities of each ingredient does mean it will be hard to know if the effects will be the same every time.
Quantities can easily be changed without your knowledge even if the ingredient list remains the same.
---
PROS
Contains Some Good Ingredients

Nettle Extract and Boron are both shown to help with testosterone production.

While Boron can also help reduce estrogen. But without knowing the amounts included it is impossible to say how beneficial they will be for you.
---
CONS
Proprietary Blend

A big no! Without knowing the individual amount for each nutrient you cannot be sure how effective the formula is overall.

Far worse is that you could be consuming dangerous quantities causing side effects and/or long-term health issues.
Missing Key Nutrients

The most essential T-building minerals Zinc and Magnesium are missing. By adding D-Aspartic Acid and Vitamin D3 you would dramatically improve the effectiveness and results from this formula.
Expensive

Price is shockingly high at $89.99. You may be able to find a cheaper deal on Amazon, but why bother paying top price for a poor performing product.
Free Trial is a Scam

The Free trial is simply a sneaky way to get your credit card details and not a genuine offer. Buyer beware!
Unnecessary ingredients

Too many unnecessary or detrimental ingredients that will give you absolutely no benefit.
Poor Serving Schedule

Only one serving per day. This is not the best way to maximize a T boosting supplement.

You need 3 or 4 throughout the day to supply your body with nutrients needed to keep T elevated over a 24 hour period.
---
What Are People Saying About Testomenix?

This is where it gets interesting.
Amazon gives this T-Booster a 4.4 star rating. There are a large number of positive comments. However, what is concerning is that all these comments are very similar and short.
Every customer was exceptionally happy with the muscle building effects and energy increase.
Considering the ingredients in Testomenix this seems unlikely. The product is simply not an effective T-Booster.
When you consider this with the fact that the free trial is simply a way to entice you in then it becomes logical to assume that this is actually a scam.
In order to get your free trial you need to provide your payment details. As soon as the trial period is over you'll be charged $89.99 a month & you'll also be signing up to an auto re-order. This amount will be debited every month and a bottle of Testomenix shipped to you.
On top of this the terms and conditions are nearly impossible to read, making it highly likely that you'll miss the cancellation date and be stuck paying for a product you don't want.
There are many cases of customers having problems with the "free" trial.
---
Final Thoughts
It's outrageous that so many customers have actually been ripped off by their free trial offer. It certainly explains why their website is currently unavailable.
Although you can still buy their product on Amazon, we recommend you don't. Not only is it a terrible T boosting formula but how can you really trust a company with such underhand business tactics.
Avoid this product!
---
Bottom Line
Our Rating: 1 Star
This is not an effective T-Booster. The ingredient label simply does not provide us with enough detail and the majority of nutrients are completely ineffective.
Combine this with customers getting scammed and the very mixed results and you have a product which looks incredibly dubious and is certainly one you should avoid.
The free trial is more likely to boost Testomenix's wallet than your testosterone levels.
There are far better choices than Testomenix, which might just prove to be more of a menace than a natural remedy.
---
Updated! The 5 Most Effective Testosterone Boosters in 2022!
Find out for yourself the top 5 natural T-boosters currently available on the market right now.
These are the best choices if you want to...
Build Muscle Quickly
Rapid Strength & Size Increases
Promote Fat Loss
Increase Energy
Enhance Sex Drive
Click Here to See the Full List!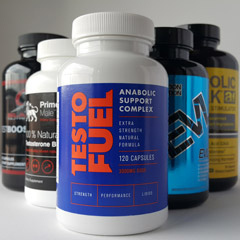 ---