Rating: 3 Stars
Price: $59.95

PROS

CONS

No Proprietary Blends
Some Effective Ingredients
Libido Boost
Money Back Guarantee

Key Ingredients Missing
Mediocre Serving Schedule
Unproven Ingredients
Expensive
What do you get when you combine synthetic with steroids? Syntheroid from XPI Supplements apparently.
This appears to be another company marketing their natural testosterone booster as an anabolic steroid alternative without the downsides or side effects.
While this is highly unlikely, the product website gives a rundown of the benefits of this T booster, the clinical trials which back up its research and even shows a range of reviews and FAQ's.
They certainly make some good claims:
Boost Muscle Growth
Improve performance & stamina
Increase libido
Higher testosterone levels
Helps burn fat
The XPI supplement company has been based in Utah for the last 6 years. They sell several other products including a pre-work, a creatine complex and protein powder among others.
Whilst it's impossible that a natural test booster can give you the increases in testosterone that synthetic steroids can, let's see how it stacks up against the best natural products on the market.
Let's start with look at the science and clinical studies behind the ingredients.
---
What are the ingredients and how do they work?
Ingredient Overview
First it must be noted that the suggested daily intake is two servings; so you are in fact getting double of every quantity listed here per day.
The good news is they use a propriety blend so we can see exactly how much of each ingredient you are getting and therefore how effective it is going to be.
A generous dose of D-Aspartic Acid and Fenugreek make this a positive start but after that the ingredients start go downhill.
A large proportion of the nutrients are just libido enhancers, there is no clinical evidence that these will effectively raise T levels. Essentially making this more of a herbal Viagra.
This is certainly not the best formula we have seen for enhancing testosterone. Let's however look at the nutrients in greater detail.
D-Aspartic Acid (1560mg)
This is a great start and a solid option for testosterone production.
D-Aspartic Acid (DAA) is an amino acid which has been shown to be an essential part of the testosterone production process.
DAA is naturally produced by your body and it is a trigger for the release of Luteinizing Hormone (LH); this hormone is a precursor to both testosterone and growth hormone. Both of these are essential to your muscle building goals.
A study in 2009 conducted on human and rats was the first to discover the potential for DAA supplementation and can be considered the momentum behind its addition into the world of T boosting.
Studies show that 2,000 – 3,000mg range is the amount you need to be fully effective. Although Syntheroid's per serving seems little low at only 1560mg.
The directions are to take two servings a day which means you get a dosage of 3,120mg.
Fenusterols (Fenugreek Seed Extract) (50% Steroidal Saponins) (300mg)
This herb from southern Europe and western parts of Asia is another strong ingredient.
It is known to boost your libido. However, it is also very effective at controlling your blood sugar levels. This is important because lower blood sugar means your body will create less insulin.
Insulin has been seen to upset your hormonal balance meaning it can lower your testosterone.
By supplementing with Fenugreek you can ensure insulin levels are lower ensuring more support to your overall T levels.
It has also had many health benefits including helping to reduce the chance of you contracting diabetes, lowering cholesterol levels and reducing cardiovascular risks.
Even the amount of this ingredient is good, well done Syntheroid!
Tribulus Terrestris (40% Saponins) (300mg)
Unfortunately this is where things take a turn for the worse. It also brings into question the claim that Syntheroid makes to have fully researched all the ingredients.
Years ago this was extremely popular; it was the ingredient to include in every T-booster. But times change.
Studies completed in the last five years on this herb have shown that Tribulus has no effect on testosterone production.
It can potentially improve your cardiovascular system which might help you to work out for longer and harder; but it won't boost your T levels.
It will may mildly increase your libido though so you might feel manlier!
This is one ingredient that should have been left out, you are not going to notice any benefits.
Horny Goat Weed (10% lcariin) (100mg)
There have been plenty of studies into the effects of this Chinese herb.
The plant is also known as Yin Yang Huo, Fairy Wings and even Rowdy Lamb Herb.
It has been used for centuries by the Chinese to treat erectile dysfunction and is considered to be a powerful aphrodisiac. However, it is not a testosterone booster.
In fact, there are no studies completed on humans that show this could boost T levels. Some studies on rats suggest it might be possible but they also show it can decrease T levels.
This is another ingredient which would be better left out.
Maca Root (100mg)
Studies show that this plant from the Andes in Peru is an effective libido booster.
This is confirmed by its use in ancient Peruvian medicine. However, while it will make you feel more interested in sex it will not have any effect on your T levels.
Studies have consistently shown that Maca has no real effect in human studies when it comes to enhancing testosterone.
This is yet another ingredient which doesn't need to be in this T-booster. It's starting to become a trend.
Eurycoma Longifolia 20:1 (100mg)
This flowering plant is native to Malaysia and is often referred to as Tongkat Ali. It is a very popular addition to many T boosters; but that doesn't make it an effective one.
You may also have heard of it as simply 'Longjack'.
Studies show that it can help to boost testosterone levels, this should be good news! But, sadly the research indicates it is only effective if you have low T levels. It won't raise them to optimal levels.
This is backed by research; the only studies to have found that Longjack can boost T levels are on those with very low levels of testosterone or have been conducted in a petri dish; not inside the human body.
Guess what? This is another ingredient that would be better left out. There's a pattern emerging.
Boron (as Boron Citrate)  (5mg)
Finally something positive in this T-booster!
Boron is a mineral that you can get from the food you eat. Unfortunately you are not likely to be consuming enough of it. In fact, it is one of the rarest substances on this planet!
Research has shown that boron is effective at blocking estrogen production in your body.
This is useful as estrogen encourages fat storage and this encourages the conversion of testosterone into more estrogen!
It is also effective at decreasing the sex hormone globulin (SHBG) which means there is more free testosterone flowing through your blood for your body to use.
In fact a recently completed study shows that 6mg of boron daily can boost your T-levels by nearly 30%!
This is definitely a positive addition.
Bioperine (5mg)
This is a patented extract of piperine, effectively a black pepper extract.
It has been shown to be good at increasing the absorption rate of your body, allowing you to soak up nutrients and supplements faster.
It won't boost your T levels but it will help you absorb essential vitamins and minerals faster to increase your testosterone levels naturally.
---
How Do I Take It?
Twice a day but this could be improved.
The guidelines tell you to take 3 capsules two times a day ideally first thing in the morning and last thing at night on an empty stomach.
This is not the worst serving schedule but it is not optimal. To build and maintain T levels around the clock you should be taking 3-4 servings a day.
---
Are There Any Side Effects?
The ingredients in this product are all natural and fully disclosed.
Unless you have an allergy to any one of these ingredients it is unlikely that you'll suffer from any side effects.
It should be noted that fenugreek has been linked with stomach upsets. However this is very rare and not when taking doses this low.
---
PROS
No Proprietary Blends

It's important to see that all the ingredients are listed with their individual quantities.

We can then determine if there is an active clinical dose or if there is potential for side effects.

A lot of manufacturers hide their blends behind proprietary blends and therefore it is impossible to know exactly what you are taking. There is no issue here.
Some Effective Ingredients

The inclusion of D-Aspartic Acid is a real plus, this is one of the most effective ingredients to get you T levels moving on the up.

Boron and fenugreek are also good additions.
Libido Boost


There's an array of ingredients which aren't useful for boosting your T levels but they might just improve your sex drive.

However you need to understand that if you testosterone is boosted to optimal levels a benefit of this is enhanced libido any way.

It is far better to raise T and enjoy the other benefits as well including muscle mass increases, strength gains and fat loss.
Money Back Guarantee

It shows some confidence in their own product if they are prepared to offer a 90 day money back guarantee. This is a definite plus!
---
CONS
Several Key Ingredients Missing

For such a well-researched product it's surprising not to see key nutrients like Zinc, Magnesium, Vitamin D3 or Ginseng. These all would have made the formula much more effective for boosting your T levels. In fact of the 8 ingredients in the formula only 3 of them will support optimal testosterone levels.
Mediocre Serving Schedule

Although two servings per day is better than one, it could be much better.

The best testosterone booster use 3-4 servings per day to keep T levels raised around the clock for maximal gains.
Unproven Ingredients

There are several ingredients including Tribulus, Horny Goat Weed, Maca Root and LongJack which were believed to help raise T levels at one time.

Recent research has shown that they don't, the best they can offer is some mild libido enhancement which is not going to help you build size and strength.

Price not Justifiable

At $59.95 the price is comparable to some of the best T boosters on the market; but this is not one of the best formulas.

That makes it difficult to justify spending this much on Syntheroid.
---
What Are People Saying About Syntheroid?
Reviews on the official website are fairly positive and show several men who are very happy with the results; they quote mood improvements, improved recovery, better sleep and improved energy.
Interestingly only one mentions an improvement in strength.
Amazon tells a different story however.
Out of 73 reviews just 33% gave it 5 stars, 34% gave it 1 star. That's one of the worst review ratings I've come across!
Worryingly even the 5 star reviews don't extol its virtues; they simply say "does it work? Your guess is as good as mine but I felt better taking them."
The 1 star reviews are more telling, there are people who have actually had their T levels checked before and after using this product; they show no improvement in T levels.
With most people reporting no noticeable difference this is one product that won't be going on my shopping list.
---
Final Thoughts
It is disappointing because this testosterone booster had potential with the generous serving of D-Aspartic acid. Add to that the Fenugreek and Boron and it is a half decent product.
That however is where it ends. More than half the formula is filled with ineffective nutrients. While it is fairly good effort at an average T supplement it needs many improvements to make it one of the top performing products on the market.
---
Bottom Line
Our Rating: 3 Stars
As you can see the name is little more than a gimmick.
It's not comparable with synthetic testosterone or anabolic steroids for effectiveness it doesn't even compete with the top natural testosterone boosters on the market.
3 good ingredients really isn't worth $60 of your hard earned money. Whilst the serving schedule is passable it could be improved and the customer reviews are far from inspiring.
In fact, there is little to persuade me that anyone should be taking this product for serious muscle and strength gains. If you are looking for a herbal Viagra it could be an option.
---
Updated! The 5 Most Effective Testosterone Boosters in 2023
Find out for yourself the top 5 natural T-boosters currently available on the market right now.
These are the best choices if you want to...
Build Muscle Quickly
Rapid Strength & Size Increases
Promote Fat Loss
Increase Energy
Enhance Sex Drive
Click Here to See the Full List!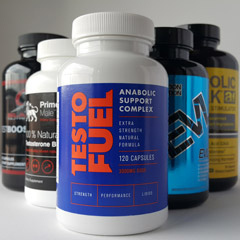 ---