Rating:
Price: $69.99

PROS

CONS

Optimal Serving Schedule
Effective Ingredients
30 day money back guarantee
Non-Proprietary Blend

Potential Side-Effects
Underdosed Nutrients
Expensive
Contains Oyster Extract
Limited Customer Feedback
Tek Naturals Inc. is the firm behind TestoTek.
They have been producing this T-Booster for many years now but they have recently overhauled the formula.
The question we need to ask is whether this new 2.0 formula is any better than the last one and is it more effective?
There are certainly striking similarities to the previous formula and to other T-Boosters on the market.
It is this that has caught my interest. In fact, there is an uncanny similarity to TestoFuel, the current market leader.
Has TestoTek managed to revolutionize their product with the 2.0 version or have they just weakened their own muscles?
They are happy to promote this product and claim it will:
Build lean muscle
Increase your strength & stamina
Dramatically improve your libido
Destroy body fat
Improve cognitive functions
Allow your confidence to grow and your mood to remain calmer
Grow your energy levels and destroy fatigue.
That's a pretty impressive list of claims which could be very hard to live up to. You could say as hard as you want your muscles to be!
---
What are the ingredients and how do they work?
Ingredient Overview
TestoTek has included an impressive range of ingredients in a non-proprietary blend which is a great start. Also promising is the fact that nearly all of them are beneficial to your testosterone levels.
However, there are a few faults with this product, specifically there is not enough vitamin D3.
This is one of the most powerful vitamins for boosting testosterone. Unfortunately this formula is not even providing half of what you need.
Perhaps more worrying is the zinc and vitamin B6 content; there is way too much of both of these in this T-Booster.
This means you are very likely to suffer from some side effects whilst taking this product which we will describe later in this review.
So while the formula is pretty good there are a few flaws which leave you vulnerable to side effects.
Overall this is not a formula we would recommend due to the potential problems.
Vitamin D3 (as Cholecalciferol) (2,000 IU)
Take a look at any study on the effects of vitamin D3 and you will be pleased to see that it has been shown to improve your levels of testosterone.
This is good news in a product that promotes its T-boosting abilities!
In fact, vitamin D3 is actually a hormone and is known to be responsible for regulating in excess of 1,000 of the processes in your body; it's important!
Unfortunately before you start jumping for joy it is worth noting that the recommended daily value for vitamin D3 given by the vitamin D council is 5,000 IU.
TestoTek will not even give you half of what you need. You may see some effects, but the dose is far from optimal.
Hopefully this half-hearted approach will not apply to all their ingredients!
Vitamin K  (as Menaguinone) (50mcg)
Vitamin K has been shown to reduce your risk of cardiovascular disease.
It does this by reducing the amount of plaque and calcification inside your arteries.
This is beneficial for any process in your body. Nutrients, including testosterone, are carried in our blood stream. If this is flowing better then the nutrients will be readily available when they are needed.
Although current research is limited it does suggest that this vitamin can help to boost your T levels.
It might be worth reducing the dose in this formula until further research is completed because it is on the high side.
However the fact that it promotes general well-being and will improve the flow of testosterone round your body does make it a worthwhile ingredient overall.
Vitamin B6 (as Pyridoxine) (50mg)
You know your test levels decrease as you age, that's why you're looking at T-Boosters!
But did you know that the levels of estrogen start to creep upwards?
As you age you're not better at getting in touch with your feminine side, the estrogen is simply making you more feminine!
B6 has been shown to encourage your body to produce androgens which will help your T levels to increase. But, more importantly in the right dose it will work directly on your brain and regulate hormone production.
In particular B6 can reduce the amount of estrogen in your body, preventing testosterone from being converted to estrogen and increasing free testosterone levels.
Unfortunately TestoTek seem to have taken this one to extremes. With 50mg it is providing you 2,941% of your daily value!
This is an issue which needs addressing and is potentially devastating for this formula. Research shows that excessive amounts of B6 can lead to gastrointestinal (stomach) issues as well as dermatological (skin) problems.
The recommended maximum tolerable upper intake level for an adult in Europe is 25mg. TestoTek falls well outside these guideline at double. There is far too much of this substance to make me comfortable.
You might not think you can overdose on vitamins but you can. If you don't want to test this theory then you would be best to avoid TestoTek.
Vitamin B2 (as Riboflavin) (20mg)
This is often overlooked but can be a valuable addition to your T-Booster.
Current research shows a link between B2 and the production of testosterone.
More importantly it reduces the effectiveness of 5 alpha-reductase. This enzyme is known to cause baldness as a side effect of converting too much testosterone into dihydrotestosterone.
While this is a necessary process for development too much will reduce your free testosterone levels. B2 will indirectly help your testosterone levels, but at the same time it might also stop you going bald!
Pantothenic Acid (as D-Calcium Pantothenate) (10mg)
Also known as Vitamin B5. If you're looking to lose weight then this is the vitamin for you! B5 is known to be a fat metabolizer.
It does also serve a useful purpose; it helps to regulate your adrenal system which supervises the production of sex hormones and cortisol.
It also improves the uptake of oxygen into your body, helping you to train harder.
This is all good stuff but it is not really an essential ingredient to boost your T production.
Zinc (as Zinc Oxide) (25mg)
You need zinc; it's the foundation of your testosterone building process.
Zinc is known as the building block for Luteinizing hormone which is an essential part of the testosterone production process.
However, the daily value is set at 15mg and the upper tolerance is set at 40mg. Although you might not get much from your food 25mg is more than you need.
In fact, they should reduce it to prevent complications to your health. Especially for those who consume a diet rich in zinc because TestoTek does give you more, in the form of oyster extract which is also very high in zinc.
Combine the two with your diet and you could be overdosing on zinc. This can lead to a variety of symptoms, including fatigue and lethargy.
Ironic that the T-Booster which should boost your T levels and energy will actually make you more tired!
 D-Aspartic Acid (2000mg)
This is a great choice.
DAA acts directly on the brain to stimulate the production of the testosterone producing hormones; in the same way that zinc does.
However you have to ask why the manufacturers have over-dozed on zinc and then under-dosed on DAA. The recommended amount to make a real difference to your T levels is between 2000mg and 3000mg.
TestoTek is at the bottom of this range which means it is giving enough to make a difference, but as you would be told at school, 'could do better'. There would be no harm in increasing this a touch.
Mucuna Pruriens (Std. to 40% L-Dopa) (175mg)
This is a welcome addition to the TestoTek ingredients.
Mucuna Pruriens has been shown to reduce the levels of cortisol in your body.
Cortisol is the hormone released every time you are stressed; even confronting a difficult situation will cause this chemical to be released.
It prepares you to deal with the impending issue but it also stops the production of many other hormones, including testosterone.
The problem is that it's hard not to be stressed in the modern world.
Fortunately Mucuna Pruriens inhibits the production of cortisol. It is said to only be effective at levels over 300mg. While the new formula has 175mg it's not enough; TestoTek needs to go the extra mile!
Stinging Nettle Root 4:1  (100mg)
This is a bit of a prickly one!
The root of this nasty plant can reduce the amount of SHBG in your body. This means there is less SHBG for your testosterone to bond to and more free testosterone in your body.
Fenugreek (std. to 50% Saponins) (75mg)
In keeping with the overall trend of TestoTek there is not enough of this substance in the ingredients. Fenugreek does improve your libido and androgen production.
But, crucially it also assists in balancing your blood sugars.
This is not just beneficial to diabetics. Constantly changing insulin figures can play havoc with your testosterone production.
Oyster Body Extract  (70mg)
Oysters are choked full of zinc and this is probably the reason they have been included in the ingredients. However, there is such a thing as too much of a good thing.
Excess zinc can cause a number of serious side effects.
Combining the oyster extract with the zinc in this T-Booster could potentially push you over your daily limit when taken alongside a diet rich in zinc.
Siberian Ginseng (50mg)
Research suggests that this type of ginseng can help to reduce the amount of SBGH in your blood stream. This will create more free testosterone.
It is also rumored to help improve blood flow by boosting your levels of nitric oxide; this will give you a better, longer lasting, erection!
---
How do I take it?
Every container has 120 capsules in it. This is enough to last you for 30 days.
Their guidelines suggest that you take them four times a day, evenly spaced. This will help to ensure that your testosterone is boosted and remains boosted for as long as you keep taking the capsules.
This is an example of a T-Booster actually getting it right. By taking the capsules at regular intervals you will be able to maintain high levels of all the nutrients in your system, ensuring that T levels are optimally boosted.
---
Are There Any Side Effects?
Yes, you're likely to grow a third arm.
In fact this will not happen although it could potentially improve your weight lifting…. But there are some serious side effect associated with consuming too much zinc and that is very possible with this overdosed formula.
Some of the symptoms associated with too much zinc in your body are:
Headaches
Stomach Cramps
Nausea
Loss of Appetite
Diarrhea
Vomiting
As mentioned above there is also far too much B6 in the formula. This can lead to neurological damage long term with people losing their ability to control bodily movement. These are the symptoms to look out for:
Nausea
Extreme sensitivity to sunlight
Heartburn
Unsightly & painful skin patches
These are not things you want in exchange for a ripped muscular body.
---
PROS
Optimal Serving Schedule

Regular servings throughout the day ensure that your body is kept topped up with the nutrients which is necessary to elevate T around the clock.
Effective Ingredients

There is a good range of test boosting ingredients. Although many of them are not clinical dosages and potentially unsafe.
30 day money back guarantee

If you don't see the results you expect you can return your supplement bottle within 30 days for a complete refund.
Non-Proprietary Blend

All the nutrient quantities are listed in full. We can see how effective the formula is and if there are any unsafe dosages.
---
CONS
Potential Side-Effects

There is too much Zinc and vitamin B6. Both of these can cause serious side effects both in the short term and long term. It is very concerning and a major issue with this formula.
Underdosed Nutrients

While the vitamin D3 is far below their recommended amount to be effective, we feel they could have topped up the d-aspartic acid to make it more powerful.
Expensive

At $70 a bottler it is at the higher end for T boosters with a premium price.
Contains Oyster Extract

This is not an option for anyone with a shellfish allergy
Limited Customer Feedback

There are not enough customer reviews and testimonials about the new formula to really assess results. Website testimonials look too contrived to be taken seriously.
---
What Are People Saying About TestoTek?
Unsurprisingly the reviews on the Testo Tek website all sing the praises of this T-Booster.
The guys may seem genuine, covering a good age range and giving detailed testimonies, but we have to say most of the images look very stock.
If you take a look at the reviews on Amazon you will see that the reviews are much more mixed, with several commenting that there is no noticeable effect and others simply stating it was good.
This, along with too much positivity on the TestoTek website suggests that the picture is not quite as transparent and rosy as they would like you to believe.
Interestingly many of the reviews report that they have reduced their intake to one capsule at each serving. This reflects the complications you can expect to have when overdosing on B6 and zinc.
In all honesty there are simply not enough positive comments to balance out the negative and this leads me to question the authenticity of the testimonials on the TestoTek website.
---
Final Thoughts
Quite frankly this looks like a clone of the market leader TestoFuel with some extra ingredients thrown in.
Unfortunately they don't seem to have done their research properly which means they have both an underdoesd and overdosed formula.
While you may benefit from this formula in the short term it is far too risky to take long term due to the very high zinc content.
If you feel any of the symptoms mentioned, then reduce the dosage immediately or even better stop taking it.
Natural testosterone boosters are meant to be extremely safe when they have been developed properly.
---
Bottom Line
Our Rating:
A good attempt by TestoTek but definitely they could have done better with the formula.
With the abundance of scientific research available it should have been easy to spot the key areas where they messed up.
We can never give a high score to something that is going to cause you health issues.
So despite the well-presented package and potentially powerful formula you should definitely avoid TestoTek.
---
Updated! The 5 Most Effective Testosterone Boosters in 2022!
Find out for yourself the top 5 natural T-boosters currently available on the market right now.
These are the best choices if you want to...
Build Muscle Quickly
Rapid Strength & Size Increases
Promote Fat Loss
Increase Energy
Enhance Sex Drive
Click Here to See the Full List!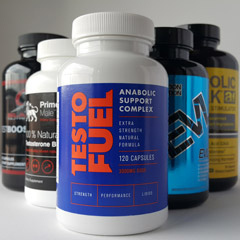 ---