Rating: 2 Stars
Price: $59.99

PROS

CONS

No Proprietary Blends
Some Proven Ingredients

Key Ingredients Missing
Under Researched Nutrients
Bad Serving Schedule
Expensive
Joe Weider aka "The Master Blaster" created the Mr. Olympia contest and made many great contributions towards the world of bodybuilding.
So when I came across this T-Booster supporting his name, I had to investigate further!
Sadly the official website for this product offers very little information regarding the company behind this product but it does do a good job of trying to sell this T-Booster.
However after some digging about we found it is produced by Weider Global Nutrition based in Phoenix, Arizona.
The Weider brand has actually been going since 1936 which is a good sign. But do they know anything about natural test boosters?
The standard testosterone boosting claims apply to this product:
Boost T levels
Improve performance and stamina
Lower your body fat
Increased nutrient absorption
Improved strength
Let's look at the ingredient formula and see if there is any science to back up these claims; and more importantly if it will be reliably effective for you.
---
What are the ingredients and how do they work?
Ingredient Overview
A great start because it uses a proprietary blend, which means none of the nutrient quantities are hidden and we can truly see how effective it really is.
There are some very good ingredients in here, such as Vitamin D3 and Zinc but the former is massively under dosed. Ashwagandha is also a noteworthy, but certainly not a game changer.
After that it gets disappointing. Many of the most powerful ingredients are missing, such as D-Aspartic Acid (DAA), Magnesium, Fenugreek and Ginseng.
More concerning is the fact that several of the ingredients don't have enough clinical research to back their inclusion in an effective T-booster.
This means you're wasting your money and consuming things that you either don't need or may have a detrimental effect on your T levels.
This is not a very complete nutrient profile for effective testosterone boosting. A little more research would have gone a long way!

Vitamin D3 (as cholecalciferol) (400 IU)
Did you know the human body needs 24 vitamins to function properly?
Vitamin D3 is one of those vitamins; in fact it is an active participant in over 1,000 processes inside your body.
You mainly get it from direct exposure to sunshine but it is also available to a lesser extent in foods such as fish, milk and eggs.
Therefore it is advisable to supplement D3 if you work indoors or you live in country where sun exposure is low.
Interestingly, although called a vitamin, D3 is actually a steroid hormone and is fundamental to optimal levels of testosterone in your body.
There have been numerous studies on all age ranges of men and the results have all indicated it can boost your T levels.
It's a great first ingredient but they have under dosed it. Research shows a 25.2% increase in T-levels but only if you take it in quantities of 3,000 IU or more per day.
Weider Prime falls a long way short on this one, you are unlikely to notice any differences taking it in this product with 400 IU.
Vitamin B6 (as pyridoxine hydrochloride) (10 mg)
B6 is a good addition to the mix, it works in two ways.
The first is to stimulate the production of androgens, which tells your body to produce more testosterone.
The second is, in large enough quantities, it can react with the brain to reduce the amount of estrogen being created by your body.
As estrogen encourages fat storage and the conversion of T to estrogen it is important to keep this in check.
Vitamin B12 (as methylocobalamin)  (120 mcg)
B12 is another vitamin that is extremely beneficial to your body.
Research suggests that this might be beneficial to improve your testosterone levels.
However, the majority if the research already undertaken is on rats, there are very few studies on humans and these do not provide the expected improvements.
Studies have shown this vitamin can boost your sperm quality but this is not enough to justify its inclusion in this T-booster; there are better options available.
Calcium (as dicalcium phosphate)  (35 mg)
You probably already know that calcium plays an important role in bone and teeth strength.
But you might not have realized that it also plays a part in boosting T levels.
A study completed in 1976 with rats showed that adding calcium and Luteinizing Hormone (LH) to their diets significantly boosted T levels, more than just adding LH.
A further study in 2009 using 35mg of calcium per kg showed a bigger increase after resistance training than without the calcium.
The indications are potentially positive but more research is needed to confirm that it is a useful addition to this mix.
Zinc (as mono L-methionene sulfate) (L-OptiZinc
®

) (15 mg)

This is one ingredient that Weider Prime has got spot on.

Zinc in known to be one of the most important elements of testosterone production.

It is used for chemical reactions in your brain to produce the Luteinizing Hormone; this is the precursor to the production of testosterone and growth hormone.

The quantity used is even a generous active dose. Top marks for this one!
Chromium (as chromium picolinate) (Chromax®) (200 mcg)
This is an unusual ingredient in a T booster although potentially a useful one for fat burning.
Chromium is known to regulate insulin levels in your body. If your body is not concentrating on making insulin then it can focus on other substances, such as testosterone.
However, research suggests that supplement is only of benefit to those with low levels of chromium.
Unfortunately this is a good attempt but another ingredient that needs more research before it should be added. This is a great nutrient for a fat burner, not for a test booster.
Diindolylmethane (DIM) (50 mg)
This substance is found in leafy green vegetables, such as broccoli and cabbage.
It is thought to boost T levels by reducing the amount of estrogen in your body.
As already explained this will reduce the amount of testosterone being converted to estrogen and therefore boost your T levels.
Unfortunately the reality is that there is simply not enough research to support the theory.
This is another ingredient which should have been left out until more research has been completed.
Ashwagandha Extract (root) (KSM-66®) (675 mg)
This is an herb which originates in India and has been part of Ayurveda medicine (a traditional Indian system of medicine) for centuries.
The theory is that it will reduce your stress levels while boosting your strength and stamina.
Ashwagandha has been seen to lower stress levels; specifically by reducing the production of the hormone cortisol. With less cortisol in your system you give your body better conditions for T levels to rise.
There have been several studies into this powerful herb and the general consensus is that it has the potential to help boost your T levels indirectly.
While a fairly good addition it is not a game changer and there are better ingredients which could have been used.
Cordyceps Extract (mycelia) (390 mg)
This is a mushroom which originates from Asia and has been part of traditional Chinese medicinal practices for centuries. It actually grows on the backs of caterpillars!
Initial studies suggest that this mushroom might be beneficial to your T levels as it boosts the functions of enzymes in your body which convert cholesterol into testosterone.
However, there are also studies that show it is effective at boosting estrogen levels; not something you want.
Until more research is completed this is an unreliable ingredient and one I'd rather not see it in my T- Booster.
Piperine (from black pepper) (Bioperine®) (5 mg)
Piperine is simply the posh name for black pepper.
This has been shown to help you absorb nutrients more effectively. This is good but it's only as good as the supplements and nutrients you're absorbing. It does nothing by itself to boost your T levels.
---
How Do I Take It?
Just one serving a day – the serving schedule could be much better.
According to the instructions on the bottle you should take 2 capsules with food, either in the morning or the afternoon.
This is simply not good enough. To boost and maintain your elevated levels of T you need to be taking a booster 3 -4 times a day. Taking it just once will provide a boost that simply fizzles out after a few hours.
---
Are There Any Side Effects?
The ingredients in this T-booster are natural and shouldn't cause you any issue. However, there is some concern over DIM.
Some people taking DIM have reported stomach upsets, nausea and diarrhea; especially when taken in this high a dose.
---
PROS
No Proprietary Blends

Any T booster which has the decency to show how much of each ingredient you're getting is starting off on the right foot.

No matter whether the ingredients are good or bad, you can see exactly how much of everything is going into your body.

You can see if you are getting an active clinical dose or not which means you know how effective it will be for your T levels.

It also prewarns you of any over dosed nutrients which may cause unwanted side effects.
Some Proven Ingredients

It's encouraging to see clinically proven nutrients like Zinc and Vitamin D3 in the formula which are two of our favorites.

However the Vitamin D3 is hugely under dosed at 400 IU so it is unlikely to do anything for you. Vitamin B6 and Ashwagandha are notable addition but certainly not game changers.
---
CONS
Key T Boosting Ingredients Missing

Weider Prime would be much more effective if it had more potent clinical ingredients.

Core nutrients like Magnesium, Fenugreek, D-Aspartic Acid and Ginseng. There are too many of these fundamental T boosting nutrients missing giving this formula poor performance where it counts.
Under Researched Nutrients

You'll quickly note that many of the ingredients on this list are lacking in solid scientific research.

Unless an ingredient has been proved to be effective it is better to leave it out and add something which is known to work.

Vitamin B12, Calcium, Chromium and a few others all need to be researched more thoroughly with regard to their T boosting efficacy before being added to a commercial product.
Bad serving Schedule

One serving a day is simply not sufficient.

If you get a T boost from this product it will quickly fade after a few hours when excess nutrients are flushed out of your system.

An effective T booster must be taken 3 – 4 times a day to allow nutrients to be continually supplied to your body, which maximizes T levels and therefore results.
Expensive

For what you get with this product $59.99 is on the high side for a poor performing test booster.

While this is the price on Weider Prime website you can get it at a cheaper price on the big retail websites, but it is still overpriced considering its effectiveness and ingredients.
---
What Are People Saying About Weider Prime?
The reviews are not great but this is not so surprising considering the ingredients involved in this product.
Unsurprisingly there are half a dozen positive ones listed on the Weider Prime website. But they are almost too gushing and there are no reviews questioning the authenticity of the booster.
This is in direct contrast to the other reviews you'll find. For instance on Amazon which has 68 reviews with an average of 3.7 stars. Just 41% of customers rated it at 5 stars. In general results are below average for muscle mass and strength gains with this test booster.
There were nearly as many who gave it just one star and their comments seem incredibly genuine. In fact, several of them state that this T-booster sent them to the emergency room.
This is enough to persuade me that there are better supplements you can take, without the risk.
---
Final Thoughts
Joe Weider is the father of bodybuilding, creating the Mr. Olympia, the Ms. Olympia and Masters Olympia bodybuilding competitions.
So with such a great influence on the bodybuilding and fitness industry it is a shame his name is attached to such a disappointing product.
The formula just doesn't add up, there simply isn't enough powerful ingredients to fully boost your testosterone levels to optimal levels and to give you the very best results.
It feels like this supplement is relying on the legacy of Joe Weider to sell it rather than its ability to give you a strong performing test booster.
---
Bottom Line
Our Rating: 2 Stars
Using the name of an important figure in the bodybuilding industry certainly gets the publicity this product needs.
But sadly, it fails to live up to the standards we would expect from a top performing supplement.
There is simply too little clinical research on several nutrients, while many of the key ingredients are missing.
Add to that reports from many users getting poor results and it is just not worth your time or money.
We recommend you look elsewhere because there are much better products available.
---
Updated! The 5 Most Effective Testosterone Boosters in 2022!
Find out for yourself the top 5 natural T-boosters currently available on the market right now.
These are the best choices if you want to...
Build Muscle Quickly
Rapid Strength & Size Increases
Promote Fat Loss
Increase Energy
Enhance Sex Drive
Click Here to See the Full List!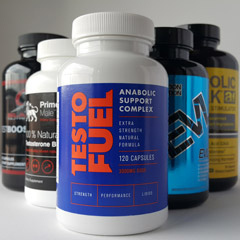 ---